SOFTWARE DEVELOPMENT for
startups

Get a dedicated team focused on your project

See tangible results every sprint

Save up to 4-5 weeks on software development for startups with
Startup Booster Toolkit
20

years

of startup

development

300

professionals

number of tech experts

3–5

months

average app development time
Let's talk business
Software development services for startups
Every app must have a well-planned and agile core for future maintenance and updates.
Here is what you can get to make it happen:
MVP development

As a startup with a restricted budget, you need to present your idea as soon as possible. With IT Craft, you streamline your product down o core features only. Getting your core product into the market quickly to test response saves you money, time, and resources.

Project rescue

You already have some available source code but need a different team to keep pace with your timeline. You get a comprehensive technical audit, a suggested path, and assistance to get back on track.

Full-cycle development

You get all and any services to handle your needs in software development and maintenance experts in one place. You focus on what to deliver and to whom. You get technical implementation and all support you need for your vision.

Product pivot

User feedback suggests a different path to successful market acceptance. No problem. No lost time. Together we figure out the best option. You get changes implemented with minimum hassles.

Technology migration

To ensure a fast and efficient development process, startups often rely on third-party services. At IT Craft, we design mobile app architecture to ensure fast migration when a service shuts down or, later on, you decide to replace any third-party utility with custom code.

Team augmentation

You seek growth while your team is overwhelmed with an infinite number of tasks. You are constrained in hiring and onboarding new team members. Instead, you can hire a development team for the same price. You get needed expertise to keep pace with your goals.






Do you, too, want to be on this list of flourishing companies?
Tell us your startup idea and get a roadmap to successful launch.
Contact us
Startup development packages
Proof-of-Concept
MVP
Fully functional app

Number of features

1-2

3-6

7+

Number of features

Free
Free


Free

Project documentation

Yes

Yes

Yes

UI/UX

Yes

Yes

Yes

Coding & QA

Yes

Yes

Yes

BA

Optional

Yes

Yes

Iteration

2 weeks

2 weeks

2 weeks

CI / CD

Yes

Yes

Yes

Test automation

No

Optional

Yes

Post-release guarantee support

No

Yes

Yes

Server maintenance

Optional

Optional

Optional

Timeline

160+ hours
1-2 months
450+ hours
3-5 months
1,000+ hours
6-8 months
or more
Get
Get
Get
What you get—what you can always count on:
Results after every sprint
Our teams use the
Agile approach to software
development for startups: you get working functionality in a live environment at the end of a sprint. You can test it. You can offer it to your users to test.
Plans before a sprint and detailed reports after a sprint
Working Agile also means transparency. You monitor your IT Craft teams' plans and activities. You always know where your money is going.
Clients' visits are always welcome
Come visit our
Kharkiv (Ukraine) office
to meet your future development team. Our office is spacious—plenty of room to share your vision and discuss development strategy in quiet. Or, visit our headquarters in Berlin, Germany and meet our top management to discuss your project.
NDA
We are happy to sign an NDA to ensure your innovations and ideas are safe. Have you introduced any specific management policies for your onsite team for security reasons? We are happy to apply for your
outsourcing team
also.
Post-release support
We do not abandon you right after your project has launched. We stay with you and your project to ensure everything runs smoothly.
Dedicated team
We select developers based on project scope. If you prefer your team works exclusively on your project, we can ensure this happens. You can interview everyone in your team before your project starts.
Stable team squads
o ensure workflow stability, our senior team members have over 7 years of successful projects under their belt while working at IT Craft.
Expertise augmentation
IT Craft has six departments. Each department has its own specialization. When expertise is needed, we have resources to quickly add them to your project.
Convenient communication
For your convenience, we use many means of communication (email, Skype, Slack, Jira, Redmine, etc.). You choose the one that best fits your needs.
Save development time with Project booster toolkit
Resource saving software development process for startups
Can software development ideas for startups be implemented faster and for less? Of course, they can. This is how you can save when working with IT Craft - startup app development company:
1
Project Booster Toolkit
IT Craft has designed special software development tools for startups. This is a set of reusable components that any app contains. By applying for app development using
Project Booster Toolkit
, you still get a custom app but speed up the initial development process stage by up to 160 working hours or one month of development.
2
Agile
The Agile approach made software development for startups possible. A startup is research. You build an MVP, validate your hypotheses, and make updates based on data you get. This is only possible when your team is Agile. This is what you get: development of what you really need, not what is on the list of requirements. This saves you months of developing useless code.
3
CI / CD
Continuous Integration / Continuous Delivery makes several releases a day possible. Users get new updates without being distracted from their work. Developers focus on significant activities. They have more time to focus on code development. Introduction of CI / CD best makes instant deployment possible.
4
Test automation
This works best for fully functional projects with a large codebase. By introducing test automation on your project, you free up human resources instead of hiring more and more engineers. Machines do boring, repetitive, routine tasks. You always know new features do not affect old functionality.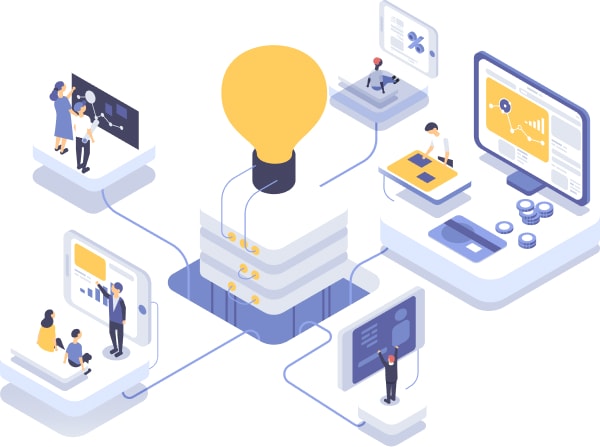 Do you want to find the best for your money among software development companies for startups? Not sure where to start?
Download A Guide to Outsourcing Software For Startups to get the answer
how outsourcing software development will work for your startup
I want the checklist