Software outsourcing has been the new normal for a long time.
No wonder. Tech talent shortage is one of the biggest risks for all industries where successful competition depends on how well software is built, developed, and maintained.
Tech giants have established a firm foothold. Many tech giants and smaller tech companies occupy the top charts on the lists of the companies offering the best working conditions. For example, seven out of ten of the world's best employers in 2019 are IT companies. Hiring and retaining local experts becomes a challenge.
Rather than trying to compete directly, companies use software outsourcing to level the chances to win the competition.
Still, concerns remain. Especially, for those who have not tried software outsourcing before.
It is easy to get lost when choosing the correct next step towards fruitful cooperation. Types of teams and software outsourcing models vary greatly. Costs of custom software development range radically. Benefits seem elusive, so it is not always clear which team suits you best.
Let's look together for insights!
What is software outsourcing?
The term "software outsourcing" is broad. At a glance, it signifies that one company hires an independent contractor (company, team, or freelancer) to handle software development and maintenance activities instead of getting the job done internally.
As an effective model, software development outsourcing makes cutting operational costs possible and helps the client company with long-term improvement.
Disruptive software outsourcing makes a difference. According to Deloitte, disruptive outsourcing includes Cloud Computing, Robotic Process Automation, and Artificial Intelligence (AI). To some, AI might sound like something in the future, but 93% of organizations are considering or have already adopted cloud services. The future has arrived.
What makes choosing the right company for software outsourcing so complex?
There are at least three reasons:
Specific company requirements

Company requirements vary greatly. Companies can outsource everything from simple repetitive tasks to complex processes. As a result, software outsourcing companies and their clients need to invest time and effort figuring out the right type of service and finding the right balance between cost, timeline, and quality.

scope of work

Project scope can vary from simple 20-hour projects to a 10-year-long project on back-end development and maintenance with 65 engineers working simultaneously at the project's height. Moreover, complex projects require effort on building the right workflow for effective software development outsourcing.

Required level of expertise

A company needs to make sure that the outsourcing company it chooses is able to handle the required level of complexity and difficulty. When the company values long-term sustainability, projects should not be outsourced to an inexperienced team.
The above-mentioned factors give an overview of the range of software development services.
IT Craft's expertise in custom software development
Adorama

Adorama is one of the biggest retail businesses for photographic supplies and equipment. Adorama's vast catalog offers its clientele everything they might need in photography.

With the start of the ecommerce era, Adorama's internally built system faced growing competition from tech giants. Adorama needed a team able to modernize its ecommerce solution to keep pace with a dynamically changing market landscape. They needed a platform to support all its businesses. Frequent changes, scalability, and fast load time were among its requirements.

The work started with a small pilot task to ensure the development team could handle the requirements. Soon the scope of work expanded. The development team rebuilt, maintained, and supported the system.

Amesto

Amesto Translations is a former division of Amesto Group specializing in translation services. It was acquired by Semantix in 2018. One of Amesto's valuable assets was its cloud portal designed to help translators reach different services. IT Craft helped the company design, launch, and maintain a system capable of handling thousands of daily user requests.

When Amesto's product owner approached IT Craft, he was looking for a new development team that could keep up with a project's growing workload. The team took over a small project and soon project cooperation expanded. The development team helped integrate different systems into one seamless solution. The range of tasks varied:

The team worked on the system's front end.
Developers integrated payments options.
They built an API to integrate a machine translation engine to the system.
Software outsourcing services
When searching for software outsourcing companies through a directory, e.g., Clutch or GoodFirms, businesses can easily become overwhelmed by the variety of available software outsourcing services.
Still, they can be divided into two big groups. The two major groups of software outsourcing services are project based and operational. The division depends on where the "end line" is.
Project-based outsourcing means the scope has a beginning and an end. The list includes:
full-cycle, software development outsourcing – e.g., b2b order management software
single activities within software development cycle
integrations and tuning
Operational software outsourcing services focus on "endless" activities:
software maintenance
security monitoring
And others—the list of operational software outsourcing services is long.
Can software outsourcing companies do both project-based and operational activities?
Yes. Businesses only need to know in advance who is going to maintain software after its launch: an in-house team, the current software outsourcing company, or a new provider.
Software outsourcing models
Software outsourcing models rarely specify details of software development on a certain project. But they do build a bigger picture of desired destination, type and length of cooperation, and pricing.
Based on distance
The main division is based on the geographic principle. There are three software development outsourcing types depending on a company's location.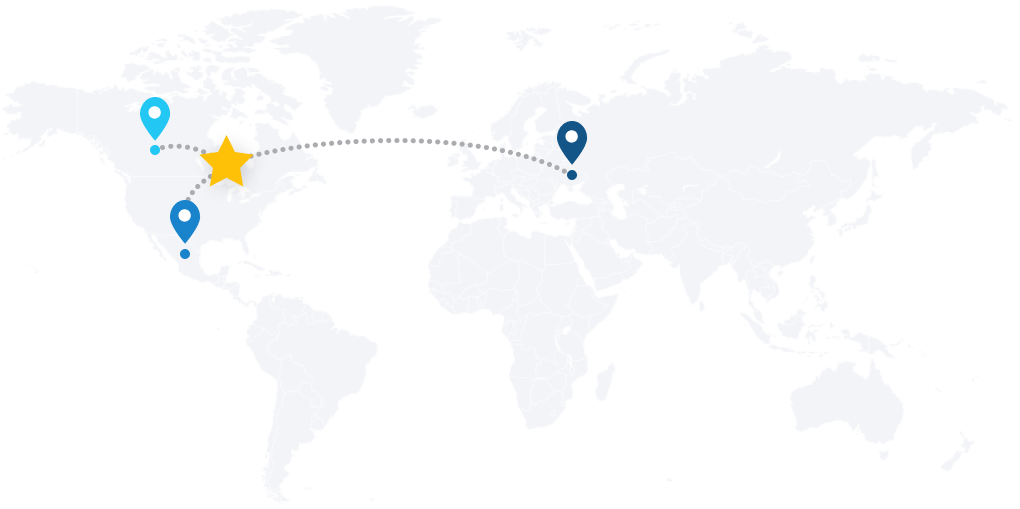 Onshoring

provider resides in the same country as client

Nearshoring

provider is located in a neighboring country

Offshoring

provider works in a distant land
What points should be considered?
Pricing – company's location directly affects hourly rates. South-Eastern Asia and India provide the cheapest prices. Rates in Eastern Europe and Latin America are slightly higher. The US, Australian, and EU companies are the most expensive.
Time difference – logically, onshore and nearshore companies work from the same or similar time zone while there is often a considerable time difference working with offshore companies.
Cultural competence – workers from distant countries often share different cultural views and values. Still, it is possible to find people with a Western or Western-like mindset. Conduct a thorough interview and ask for references when choosing a provider.
Therefore, choose the USA or Western Europe if response time and cultural similarity are crucial for project survival. If you have a simple project and limited budget, look for an Asian company. However, if you need a fine balance, you should hire a company from Eastern Europe for software outsourcing.
Based on team engagement
It all depends on project scope and business needs. A product owner can hire a specialist, a team, or even an entire department. Let's discuss the questions what, where, and how.
The two principal ways of software outsourcing:
Complete outsourcing

the development team takes over the entire software outsourcing.

Team extension

the development team performs selected software outsourcing activities and coordinates its effort with client's in-house team.
The former model works for the businesses who have no team.
The latter suits businesses with two types of projects:
need a short-term help to complete a project
seek certain missing expertise to strengthen the in-house team
Based on finishing line
A software development team can be engaged with project-based or operational software outsourcing activities. Or a combination of both.
Delivery team

team develops software, delivers it to the product owner, and helps during the guarantee period. No maintenance included.

Dedicated team

team helps with app maintenance. It also works on updates and adding new features.
Pricing-based software outsourcing
A software development team can be engaged with project-based or operational software outsourcing activities. Or a combination of both.
Fixed price

client and provider decide on a firm price for the defined, preliminary scope of work.

Time and material

client pays hourly—total of the amount of time the team has spent working on his or her project.
The choice depends on the clarity of requirements.
Here is a short recap. These points affect the choice of software outsourcing models:
budget range
desired timeline
importance of immediate response
elaborated requirements
scope of work on a development project and its maintenance
Pros and cons of software outsourcing
In short, many companies opt for software outsourcing hoping to cut costs of software delivery.
But this is not the only reason. In the vast majority of software outsourcing examples, clients search for expertise.
Reliable software outsourcing companies bring value to a project rather than lower expenses directly through low hourly wages.
Pros of software outsourcing include
Cost reduction — a software outsourcing company usually resides in a cost-effective location which lowers expenses. Directly by handling maintenance of old projects where spending internal team's time would never pay off. Indirectly—and more importantly—when an experienced outsourcing development team lowers costs by introducing technical innovations into business processes.
Access to tech experts — another important reason for software outsourcing is accessing tech experts best suited for the project. When applying for software outsourcing, businesses can find outside software developers who have mastered the exact skill set required. They have done this before; they will do it for your business.
Adding missing expertise — there are hundreds of software development technologies. One person or a small team cannot master them all. In case of a growing workload, software outsourcing will help the in-house team optimize efforts. For example, outsourcing team can help seamlessly migrate from one to another third-party service.
Optimized resource management — software outsourcing can help with optimization of resources. A development team will produce source code that does not excessively consume resources. When there is a better option, developers will offer it. This makes it possible to save on hardware, licenses, and subscriptions while substantially improving the entire infrastructure.
Overall process improvement — with more hands available, an IT department can deliver improvements regularly making company's processes more effective. Moreover, an outsourcing team helps make workflow more effective with its outsider's look. Also, when the team has more experts, it can better focus on the needs of the end user, thus keeping them in mind when building software. This helps overcome resistance to innovations.
According to Deloitte's study on software development outsourcing, a software outsourcing company creates value the following ways: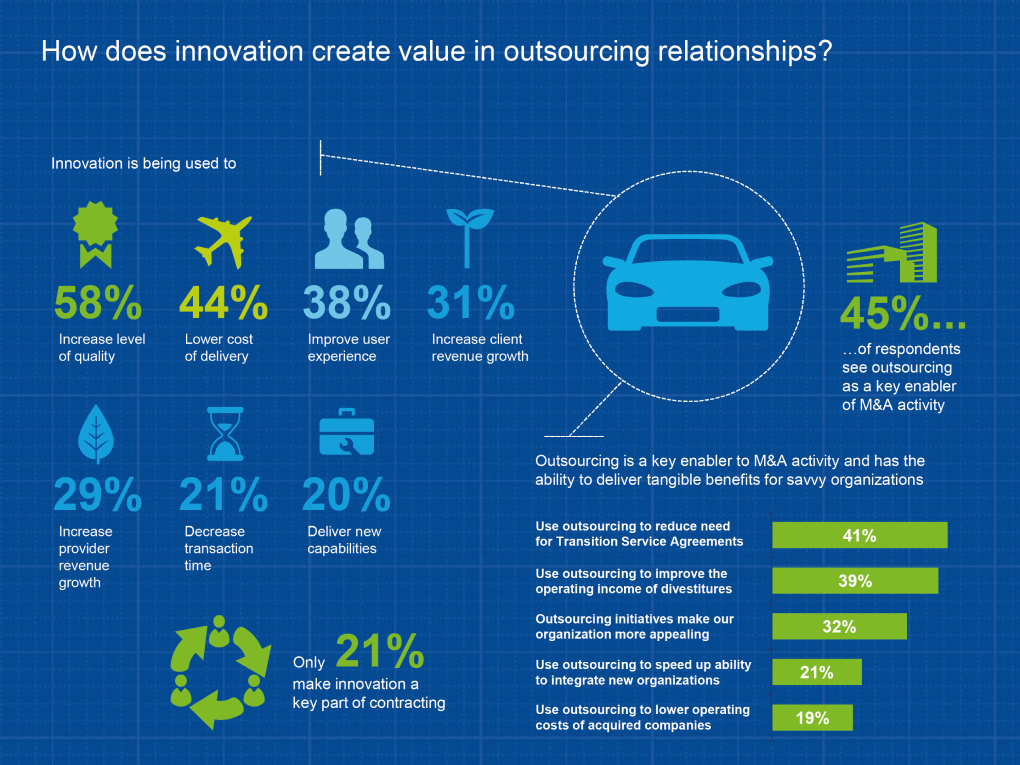 But the flip side of software outsourcing includes both short-term cons, such as lack of experience and unachievable promises, and long-term business challenges. Below is a list of common pitfalls
cons of software outsourcing include
Lack of business knowledge by the supplier — features might take longer to develop than expected or software might lack essential features.
Overpromises and underdelivers — the chosen software outsourcing teams lacks the required level of technical competence and delivers low-quality code.
Hidden costs of software development outsourcing — a development company strives to charge for the things that would be included in cost estimates anyway.
Loss of internal skills and competences — company employees become less motivated in learning particular technologies.
Loss of control over fundamental processes — there is no one remaining in-house who knows how software corresponds to business processes.
Growing dependence on software outsourcing — a company becomes incapable of hiring and retaining a strong core in-house team.
Risks of supplier's instability — a provider might not be able to retain its engineers resulting in low-quality code.
Decreased quality with time — a development team or individual members might lose their motivation when working on maintaining the same codebase for years.
Short-term risks include a software outsourcing company failing to deliver source code on time and on budget or the source code is unusable.
Long-term risks? A business might become too dependent on a software outsourcing company. In its turn, this can end up in unjustified costs of outsourcing services. Or the client might face losses in case if the chosen provider experiences any challenges. Is there any solution? Yes, always demand to deliver a structured, well-documented project. In this case, transitioning project to another team will never become a nightmare.
Software outsourcing examples
This section encompasses four common software outsourcing cases based on IT Craft's experience. Here you find the context of software outsourcing examples and a short description of activities.
Case one
Starting from scratch
A client wanted a large, web-based management system where end users had many options to track and manage their activities. Because he had previous experience in software outsourcing, details were quickly finalized.
The team had daily meetings with the client when they discussed that day's deliverables and plans for the next day. This made it possible to keep pace with a tight deadline.
Case two
Old software redevelopment
A company had amazing desktop software. But it was losing its clients.
IT Craft team initially started with small support tasks. It soon became evident that the company needed to go with SaaS to remain competitive in the market. The team redeveloped the software completely to a cloud solution with the Web and mobile apps.
Case three
Taking over existing project
A client had demonstrated a prototype of its web system to an investor. He needed a team to launch an MVP. Cooperation started with analysis of requirements and code inspection. The team advised starting the project anew because existing source code raised security concerns. The team determined estimated scope and continued working on its maintenance.
Case four
Project rescue
The client faced a situation when its then-current team lost momentum. He approached IT Craft with the request to improve and launch its iOS app. After a code inspection, it became clear that it was possible. The team started working on improving the existing source code and adding missing features. It delivered on time.
Do you want more real-life examples on how software outsourcing works?
Check out case studies from IT Craft's portfolio!
view portfolio
How to outsource software development
Check out this simple but valuable, short eight-step guide on software development outsourcing.
Find a reliable company

Discuss requirements

Develop together a roadmap

Have all details clarified

Get the work started

test the results after each iteration

Get software launched

Start software maintenance
Follow these steps to receive working source code.
Here is a short recap of the most important recommendations when planning to outsource software development:
Stay realistic.
Communicate regularly with the team.
Opt for responsibility.
Ensure knowledge transfer.
Eliminate dependency.
Follow recommendations to eliminate risks of outsourcing software development for your business.
Software development outsourcing at IT Craft
Since 2001, IT Craft has successfully completed over 2250+ development projects, from small websites to large SaaS solutions adjusted to specific industry requirements.
A general software development company with several strong areas of expertise, IT Craft provides several types of software outsourcing services. As a result, the company satisfies various needs for software outsourcing throughout the software life cycle.
The main areas of expertise include:
When?
Sometimes, a company needs advice on which direction to go with its software. In this case, IT Craft can help with a software audit by one or more company experts. Based on its outcome, IT Craft's experts suggest a possible roadmap with detailed steps on its implementation. The company receives a detailed report with practical recommendations.
The client company uses this report to reflect on the current state of its software and decide on the further development direction.
What?
making an interview with stakeholder(s) or product owner
doing code inspection
comparing source code and requirements
identifying strong and weak points of the provided solutions
making a list of recommendations
providing the client with a detailed report
When?
This option is best-suited for startups. Startups need to start as soon as possible. They must be active and dynamic to survive. Startups need prototypes to illustrate their idea and get funding.
IT Craft can help with rapid prototyping. A development team helps launch a working proof-of-concept. Startups can explain their hypothesis best.
What?
discussing the app idea and startup's plans
determining what is possible within the desired timeline and budget
elaborating the set of requirements
developing source code
launching the prototype
Full-cycle software development
When?
Both startups and established businesses need teams able to take on the entire software development project. This can be a CMS-based, e-commerce website. It also can be mobile or a Web app or even also custom, internal software available only within a company's intranet.
IT Craft teams can do different project types. Startups can benefit from MVP development. Bigger companies often need fully featured apps. Everyone benefits from Agile.
What?
discussing a list of requirements
providing an estimate
elaborating on scope and timeline
working in iteration-wise mode on project activities
launching software
starting post-launch guarantee period
When?
A company launched its software long ago. Over time, updates become increasingly more painful. Certain features are even impossible. However, the company is stuck with its outdated software. On one hand, they need a new maintainable solution. On the other, software development can take several months in an optimistic estimate. They cannot stop the company's workflow even for a second!
In this case, IT Craft offers a gradual, step-by-step migration. The old software is replaced with new models without paralyzing the company's workflow.
What?
discussing stakeholders plans and desired features
discovering company's workflow and software in-use
decomposing the project into digestible modules
redesigning software architecture keeping stakeholders' plans in mind
migrating onto new modules one after another
replacing old source code with new
maintaining and updating new codebase
When?
It is quite possible that the deadline is approaching and it becomes evident that the current team is not able to keep its promises. There can be various reasons, from lack of competence and too-optimistic estimates to high churn rates on the outsourcing company's side and lack of required competence level.
IT Craft can help based on the condition the code is workable. Unfortunately, it sometimes makes more sense for a project to start anew rather than trying to save what has been already done.
What?
discovering a company's plans, requirements, and deadlines
doing code inspection
offering roadmap
elaborating requirements and starting development
developing and testing source code
launching the app
providing documentation to the client
When?
The company lacks specific expertise to complete the launch of a project. Or, the team's workload keeps growing while the budget does not. The vacancy cannot be filled immediately due to timeline or budget limits. Software outsourcing can help.
In this case, IT Craft assigns a team specialized in the desired area of expertise (e.g., test automation, back-end development, VR development, DevOps, etc.) who works as a part of the client's team.
What?
determining scope of work
determining outsourcing team squad and size
completing a pilot task
measuring team performance
deciding on future cooperation
working in iteration-wise mode on project activities
maintaining constant communication with the other team(s)
providing detailed plans before and delivering reports after each iteration
When?
Keeping an in-house team working day and night can be too expensive. Still, many companies need a reliable, proactive team to maintain its software solutions 24/7/365 ensuring 99.8 % uptime. They also need professionals who can update servers according to security standards, monitor suspicious activities, perform data migration activities, and more.
There is a special department at IT Craft that focuses on support and administration.
What?
determining scope of work
agreeing upon SLA (service-level agreement)
starting activities
providing detailed reports
Remember. When outsourcing software development to IT Craft, you can always be assured the job will be done on time, on budget.
Promises made. Promises kept.
Conclusion
To sum up, outsourcing software development enables quick access to specific technical expertise.
What is the greatest value software outsourcing provides? Thousands of businesses have the opportunity to launch long-awaited improvements rather than postponing them or bloating their budget.
Software outsourcing makes it possible to get technical implementation for accumulated business knowledge at a reasonable price.