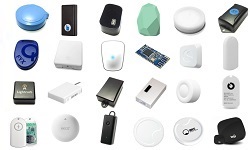 When it comes to indoor navigation and mobile advertising solutions, BLE beacons technology is rapidly gaining popularity. In previous posts, we discussed reasons to adopt and ways to implement beacon-based indoor navigation. In this blog post, we compare vendors offering beacons for commercial use.
There is a vast range of producers from all over the world, from enterprises to startups. BLE beacons vary in price and features. There are few chipset suppliers, so beacons manufacturers should deliver similar solutions. However, BLE beacons have a range of distinctive features that heavily impact both development time and total system price.
As a software development company, we need to be aware of what BLE beacons manufacturers can offer our clients. So, we created a detailed chart based on the data collected from vendors' websites. Our aim: filter information important for buyers.
Because the chart below serves as a starting point for a short list of potential suppliers, our focus was on characteristics crucial for implementation of a context-based advertising solution or an indoor navigation system.
Overview:
Preliminary notes. The main challenges of the task were completeness and availability of information. We left some of the fields blank because the vendors' websites lacked relevant information, usually because they did not consider the missing information to be their competitive edge. However, we continue to update this post as accurate information becomes available.
Beacons consist of four primary components which we detail below:


The table contains the following information:
Name/beacon model. Beacons appear in alphabetical order. When vendors offer several models, we select the basic model.
Website. There is a link to either the official vendor site or to the marketplace particular beacons are sold.
Price. For our research, we took the price of a single beacon or the minimum dev kit. However, as with most products, the bigger the pack, the lower the single-unit price.
Size, mm (millimeter) / shape. For beacons, size seems the least important characteristic. What seems relevant is how inconspicuous a beacon can be on the wall and whether or not it suits a facility. Beacons are usually square; the Ø means diameter for round models.
Battery capacity, mAh (milliampere-hour). In theory, performance time of a beacon depends on its battery's mAh. The bigger the battery capacity, the longer a beacon works; however, the lifetime of a battery depends on working conditions.
Beacons function from following types of cell batteries:
• Coin Lithium Ion cells 240 mAh (CR2032, small)
• Coin Lithium Ion cells 620 mAh (CR2450, medium)
• Coin Lithium Ion cells 1,000 mAh (CR2477, large)
• Alkaline AA
• Alkaline AAA
Transmission power, dBm (decibel-milliwatts). It determines the power ratio of the signal the BLE beacon sends.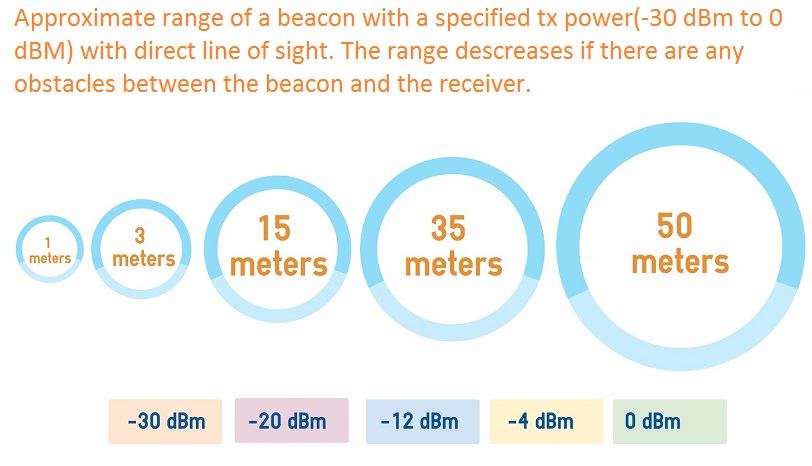 Transmission range This is how far the beacon can transmit a signal in theory. Practical rates are usually lower than stated maximum. Range is influenced by the transmission power.
Advertising interval. This parameter determines how often a beacon sends a signal. Usually, the default value is 100 ms (milliseconds) or 10 times per second. Respectively, 5000 ms means that one signal in five seconds is sent. The advertising interval and transmission range are crucial for battery life.
USB version. Even when BLE beacons are low-power-consuming devices, when on peak performance, they can deplete a battery relatively quickly. Manufacturers can grant one of three options for beacons:
1. USB adapter
2. USB dongle
3. USB-powered beacon [in a series]
Sensors. This is also an interesting option. Some vendors either equip their beacons with various sensors or offer them as an option. This applies to Arduino-based solutions which are used for smart houses, but they can also be used for indoor navigation (e.g., accelerometer).
SDK / Support of different protocols. Nothing is impossible but an SDK shortens development time and saves money. However, the SDK type is not always clear from the spec. By default, beacons use an iBeacon-based SDK which supports iOS and Android where services need to be registered. When a vendor offers other options, we list them in this column.
Country. The delivery time and taxes depend on a vendor's location, so it might be profitable to buy a more expensive model but save on delivery and tax payments.
Note. Any helpful things that do not match with any category are listed here.
See comparison table
Name of beacon
Price for min. pack
Form factor/ size, lw ×h
Battery / Capacity, mAh
Trans-mission power, dBm
Trans-mission range, m
Adver-tising interval, ms
USB version
Sensors
SDK / Support
Note
AprilBeacon 202
Upon request
40 ×40 ×18
Coin L
-30/+4
to 30
600
Available in another model
no
iOS/Android SDK
Various form factors available. Designed to work with Arduino
BKON A1
$ 30.00 / 1
60 ×36.5 ×8.75
AAA × 2
-30/+4
100+
100-1285
no
no
iOS/Android SDK
Water proof
Blue-beacon Mini
3 / € 59.00
70 ×50 ×29
Coin M
-40/+4 with 4 dmb step
30-150
100 to 5000 with 100 ms step
USB dongle, € 63.00
no
iBeaconEddystone supportSDK
Bluecats
3 / € 59.99
Round with cat's ears Ø76 ×27.80
AA × 2
30/60 (high/low RF)
USB dongle (20/40 m trans. range)
no
Open source Android/iOS SDK web platform for subscription
Buyer's logo is available as an option
BlueBar beacons
1 / £ 20.99
100 ×35 ×18
Coin M
-24/0
30-100
Both power adapter and USB dongle
no
iBeacons/iOS SDK
Account with limitations
Dragonfly v. 2.0
1 / $ 29.99
39 ×19 ×5.8
Coin S
to 100
Direct power via micro-USB
no
iBeacons compatible Android/iOS SDK
EasiBeacon
3 / € 59.99
Round2.7 ×2.7 ×0.7
Coin S
-40/4
USB adapter
no
iOS / Android SDK
Cloud platform
EMBC01
Upon request starting from $ 18.25
round30 ×10
Coin S
15
100
n/a
EMBC02 comes with accelerometer
Alt Beacom
30
500
75
1000
Estimote
3 / $ 99
Irregular form
Coin L
-20/+4
5-50
100-2000
Accelerometer and temperature available as options
iBeacons/iOS SDK
Battery not replaceable
Gimbal series 10
1 / $ 5.00
40 ×28 ×5.5
Coin S
-23/0
to50
Proximity Beacon U-Series 5
temperature
iOS/Android SDK
Platform and Gimbal beacon manager app available
Gimbal series 21
86 ×77 ×25
AA × 4
Gelo
1 / $ 35.00
AAA × 2
no
no
iOS/Android SDK
Suited for use Outdoors; easy integration to PhoneGap/Cordova
Glimworm
4 / € 99.00
Coin M
2 – 20 – 50
100-7000 in 15 steps
Can be powered via a USB cable
Can be extended
Open source iOS/Android SDK
WaterproofConfigura-tion app availableCan be branded
iBKS 105
Round Ø30.1 ×314 ×75
iBKS USB for
3 / $ 1-8
i4 Pilot Beacon
3 / $ 1-8
Round 36 ×16
Coin L
200
no
no
Config app available
Kontakt
3 / $ 81.00
Coin L
-30/+4
1-10.240
no
no
iOS/Android SDK
Particle
1 / $ 20.00
65 ×35 ×11
Coin S
no
no
iOS / Android SDK
RadBeacon Dot by Radius Network
1 / $ 14.00
Coin S
-20/+4
5-50
USB power supply
no
iBeaconAltBeaconEddystone
Config app available
RECO
3 / $ 57.00
Ø45 ×20
Coin M
-20/+4
no
no
iOS / Android SDK
Redbear Beacon B1
2 / $ 22.00 each
Panel format25 ×70 ×18.3
AAA × 3
-23/+4 in five steps
to 50
100-1000
no
no
SDK in beta as open source code
Suited for integration into other solutions (arduino)
Roximity Model O
Upon request
26 ×10
AAA × 3
60
no
no
iOS / Android SDK
Manager app available
Sensorberg iBKS 102
3 / € 69.00
Coin S
no
no
open source iOS / Android SDK
Manage-ment platform available
sensortag
1 / $ 29.00
Coin S
50
no
temperature, humidity, pressure sensors, accelerometer, gyroscope and magnetometer can be integrated
iOS / Android SDKEddystone
App and Wiki available
Twocanoes
3 / $ 149.99
65 ×80 ×26
USB power adapter
no
Administra-tion tools
Got an idea how you can use BLE beacons to boost your business? Ask for a quote!
Worthy of note: the end price might include additional costs like taxes, delivery, paid subscription, etc. Before clicking the "Buy" button, check out whether paying more for beacons ends up saving you money.
SDKs and cloud platforms are standard. But vendors provide them on different terms: an open source code or a ready-for-use platform. Which is preferable depends on needs of a specific service.In conclusion Obviously, there is never a final version for tables such as the one above. Changes occur daily (e.g., only minutes we completed, Kontakt changed the price from $84 to $81). Besides, vendors continually strive to improve the quality of their BLE beacons, add support of Eddystone, introduce new features, offer upgraded models, e.g., waterproof or equipped with various sensors, etc.