How effective—really—are medical and healthcare apps? Picture your typical clinic: crowded, tension hangs in the air with underlying tones of frustration. People in temporary or constant pain, some glassy eyed with flu symptoms, exhausted mothers holding hot, screaming children: all approach reception to check in and wait.
How can apps help with that laborious, daily occurrence in every town and city across the USA? Can they reduce workloads and help clinic staff work more efficiently? Can they reduce stress both for staff and patients?
Yes. Yes, they can. Medical and healthcare apps help increase both accessibility and availability of medical services for patients. They collect, exchange and clarify data used by various departments.
Who needs custom medical apps?
In the medical and healthcare industry—who doesn't need an app to help out!
The app required depends on the service provided and each user's role in the treatment process.
So, who needs a custom healthcare solutions ?

Hospital / clinic administration

Doctors

Patients

Insurance companies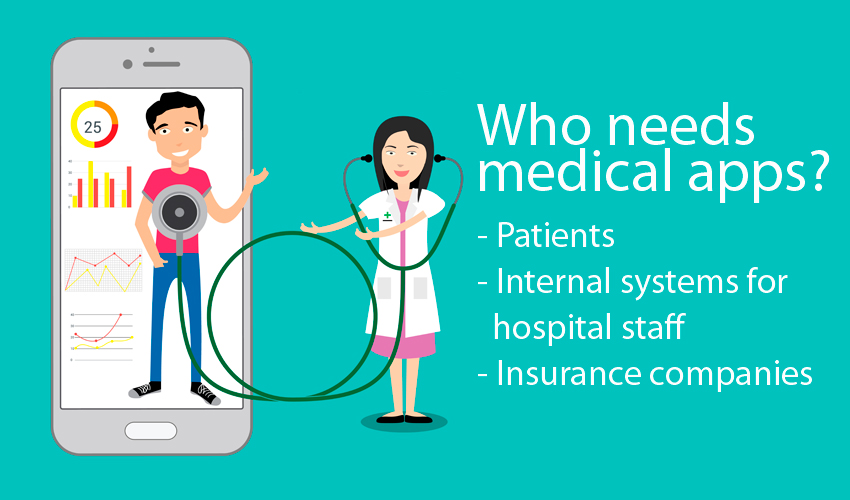 There are several types of apps a healthcare provider can use for data collection, management, and exchange. Mobile and Web apps can help with diagnostics, remote monitoring, medical referencing, release of sensitive information, and more.
---
Hospital / clinic administration – to simplify communication and information management inside the clinic. These solutions help manage treatment—from admission and therapy to discharge. Improvements for doctors and nurses include:
System for registration and patient feedback (it can also include patient survey forms)

Diagnosis and treatment system where doctors can assign, record, and track treatment process

Solutions to help manage prescriptions and exchange information with pharmacies

An alert system for nurses and duty doctors

Apps to help medics share knowledge and receive advice in difficult or urgent cases (a good example here is Figure 1, Instagram for medics)
---
Doctors – digital solutions to collect and give an overview of patients' state of health, decrease diagnostics time, share knowledge and ask questions from peers, quickly retrieve reference, and explain patients' diagnoses / treatment plan in an interactive way:
IoT-based monitoring devices to track patients' state of health

AI-based analytical tools to manage data collected by medical devices

Sensor-based systems

tracking patient movement

to improve recovery from injuries

Augmented Reality apps with an extensive library of 3D models of the anatomy of the human body for reference and/or simple explanation of medical information

Internal secure messengers or hospital intranet network for communication and retrieval of internal sensitive information
---
Patients –easy access to clinical services. These users need apps mainly for patient-clinic communications to access medical services quickly and easily.
Online appointment system (e-queue)

Messenger chatbots to answer frequent questions in an interactive way

Access to medical test results from any convenient place

Visit doctor online (suited for minor injuries or flu) to get recommendations and a prescription

Video communication for emergency diagnosis/treatment online (might be crucial when the patient is traveling around the world and needs competent consultancy for diagnosis or in case of an emergency)

Remote monitoring devices to detect any threatening symptoms at an early stage

Reminder apps for patients on at-home treatment
---
Insurance companies – look after financial side of treatment. Healthcare management software helps insurance companies cut administrative costs and still process vast amounts of information they receive every day from their partners. Software solutions for insurance companies can:
Aggregate treatment bills and prescriptions

Manage health-care-related correspondence and release of sensitive information (like

Arctrieval

)

Automatically identify errors to help settle disagreements on treatment costs (e.g.,

DRG Claims Management

)
---
Specifics of medical software development:
HIPAA compliance. The biggest challenge of custom medical apps is that medical software contains sensitive data that must not fall into the hands of unauthorized people: enhanced data encryption is required. Since it is the app owners who bear the ultimate responsibility, the app must comply with the most crucial rules of the Health Insurance Portability and Accountability Act (HIPAA) or the Joint Commission on Accreditation of Healthcare Organizations (JCAHO) standards in order to be sure it is safe to use the app.
Web or mobile app? Medical apps need both: a web-based and mobile app. Usually this is a native iOS mobile app for iPads, since desktop computers and iPads are the most common devices in US clinics. Desktop computers are prevalent at reception, pharmacies, and in doctors' examination rooms, while nurses and doctors use iPads on the go. However, our experience does not exclude other options like native Android apps or cross-platform development. The custom health app development of technologies depends on what devices are available or how the clinic is planning to upgrade their hardware.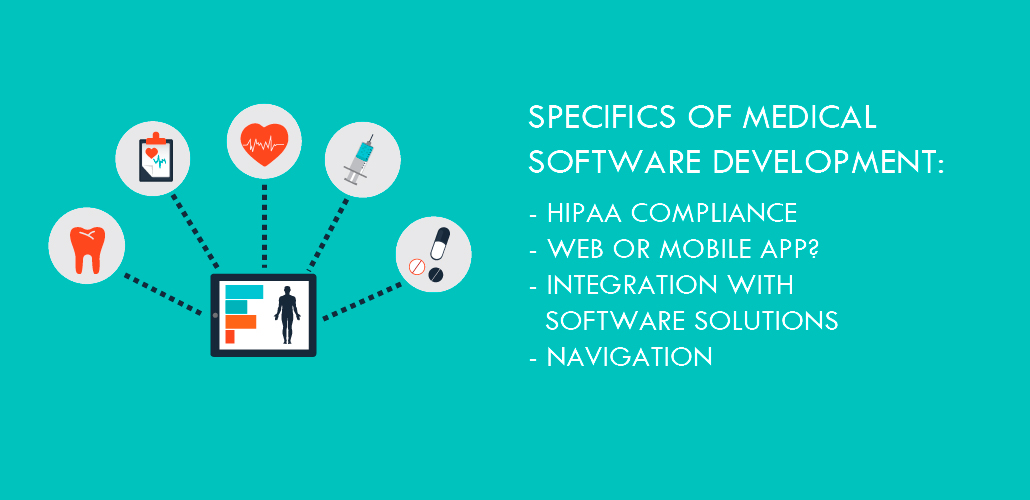 Integration with existing environment and software solutions. Usually, a clinic has already been using software in its processes, and it will take time to redesign the workflow without any downtime. The new software must be compatible with an already-existing environment and be able to seamlessly exchange data with it.
Clear and intuitive navigation. This is a must for users to be able to use the app quickly and flawlessly even during the most stressful situations. Visualization elements also help. For example, an AR mobile app can be used to activate reference materials, e.g., for e-learning or for a quick check during an operation.
Benefits for a clinic from custom medical app development
Enhanced security through code base ownership. It easier to maintain the app, monitor and eliminate any suspicious activities when you know your app architecture, its strengths and weaknesses.
Clinic promotion: a medical app provides value for patients by easier access to medical services.
Treatment history available with a few taps to help doctors quickly get an overview of a patient's state of health.
More accurate diagnoses and easier to analyze findings using AI and big data of regular examinations.
E-queues together with appointment reminders help forecast specialists' workload and detect health problems at early stages through regular examinations saving patients' time and money—and, perhaps, life.  
Creation of a healthcare app is a complex challenge that requires tight collaboration between several development teams. However, a custom medical app brings benefits to better cover a clinic's software-specific needs. While having a particular focus, an app serves interests of its users ensuring only authorized people have access to sensitive information.
A custom app can be adopted quickly by being better attuned to a specific software environment.