Gone are the days when bulky desktop computers are the only way to access the exciting world of the Internet. At this point, it is easy to say that mobile is the future of everything, if not its present. In fact, the time is near when people will be using smartphones—and nothing else—for connectivity.custom healthcare apps development
Even small business enterprises understand this quickly spreading trend. The third quarter report released by leading mobile security provider Good Technology showed how custom business apps, covering a wide range of areas includingaircraft manufacturing, insurance claims processing, wealth management, and police crime fighting, grew by 107%  from the second quarter, taking the lead as the most activated app category based on the users of Good Technology's Security Mobility Platform. Business apps rose as much as 731 % from last year. This exponential growth is a testament to the rapid rise of custom app development during the past three years.
Good Technology CEO Christy Wyatt said, "The rapid rise in custom app development illustrates that organizations are seeing mobility as a real opportunity for competitive advantage and security as a critical requirement in enabling trusted mobility."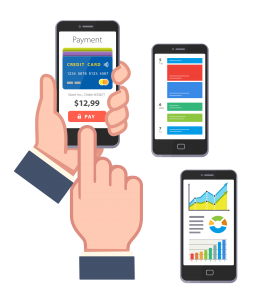 Indeed, custom mobile app development can improve businesses in a number of ways. For one, it can act as a virtual office where owners can easily access customer feedback from their mobile phones The virtual space can consist of several things, such as a project management software, client relationship management software, document sharing, time tracking, and the like. Hence, it can easily facilitate customer relationships, as long as you know what kind of app your business could use.
Having a mobile business app can also contribute to marketing. Many custom website programming companies have been developing applications geared towards a target audience and sponsored by their corporate funders. In turn, corporate funders are given advertising opportunities to gain product exposure and reinforce their brand to a relevant user group.
You can easily tie in technologies like push notifications and geo targeting (ibeacon navigation) to your mobile business app in order to collect data about your target clients. This will enable you deliver timely and relevant offers in order to boost revenue.
You may even increase your conversion rates by adding automatic fill-in features for your in-app forms so that the customer does not have to go through all the effort typing repetitive data.
But perhaps one of the biggest advantages of having a mobile app is its ease of access on the part of the tech-savvy user. Users no longer need to access the clunky business website in a mobile phone or tablet in order to make a transaction. A business mobile app is more efficient when accessed in various devices. As the number of smart phones and tablets continues to increase, your enterprise is able to keep up with the trend and give you a competitive advantage.
Companies that transform their business processes through mobility will help achieve new levels of success, and there is no other time to do it but now.
Read also about: Custom Healthcare Apps Development