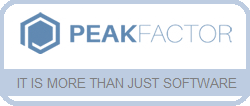 Introduction:
A computing network seems to be the best way to stay in touch whether you are a farmer somewhere in Argentina or a big German enterprise with offices established all over the world. This is why lots of messengers and social networks compete for users' attention.
However, not every network is suitable for business purposes. In the enterprise case, it is harder to manage communication because enterprises have many structures and connections, both horizontal and hierarchical, different priorities, and accessibility rules. We all have, in general, similar business communication issues and therefore need a combination of tools, such as a messenger, a task tracker, a calendar with a reminder, an event tracker etc. Another issue is security concerns.
This is why dozens of services have been developed to simplify business communication, with regard to both service integrity and security. In this post, we would like to show how Peakfactor NoC (Network of communities) – a service we enjoy working on – helps build intranet community networks.
What is Peakfactor NoC
Peakfactor NoC is a platform for intranet communication. It helps organize teamwork inside the companies, i.e. exchange messages, create events, start group discussions, arrange meetings, track payments, administer and share data, manage projects and do hundreds of other things people do every day on their work PCs.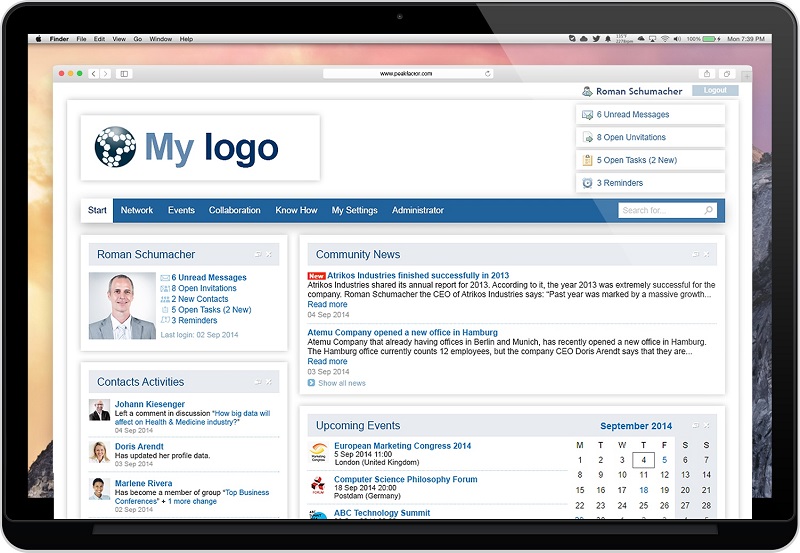 Users:
The NoC solution was intended initially to serve as a management tool for pharmaceutical companies. While designing the product, we took into account the peculiarities of our target audience. For example, we had to consider that the majority of our key users are middle-aged people and may be inexperienced computer users.
Over time, NoC has expanded their target audience and collaborates with different businesses. Now, the NoC service addresses all groups that need to manage their own secure community network, no matter young or middle-aged, bigger or smaller, experienced or not.
Sure, the needs and wishes of NoC customers have become more diverse, thus they may prefer different, if not opposite options. In return, we have to consider them all while adopting the best practices. This has they resulted in the key features of the NoC concept.
Key features
Modularity – you pay for what you use.
Depending on the price, customers choose up to 9 modules from the list. Every module contains enough tools designed for a certain scope of work.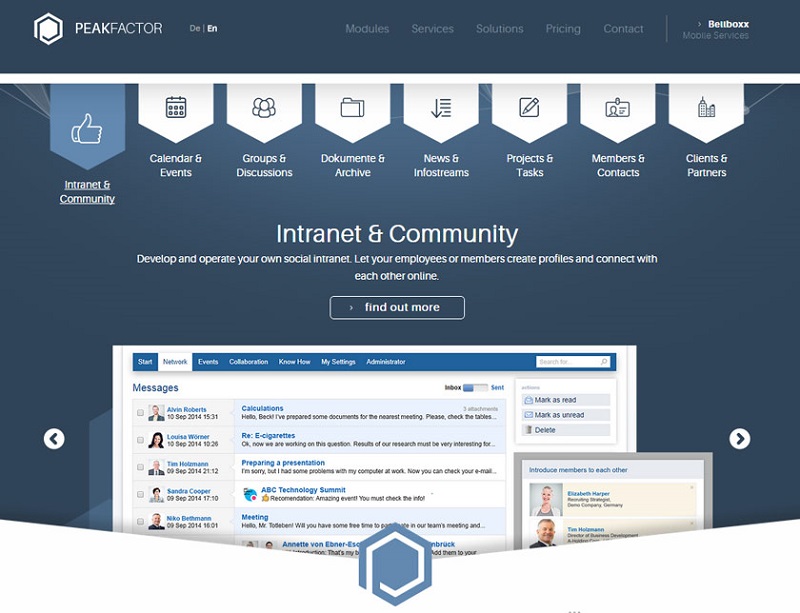 NoC provides the following modules:
Intranet & Community – allows you to administrate groups, create users, share content and other functions for normal community work.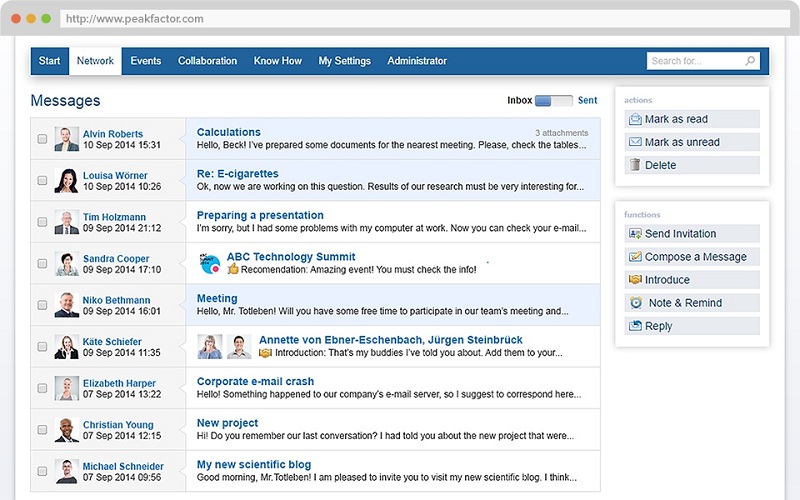 Calendar & Events – helps create and manage activities, from individual calendar to event data upload, allows attendee registration etc.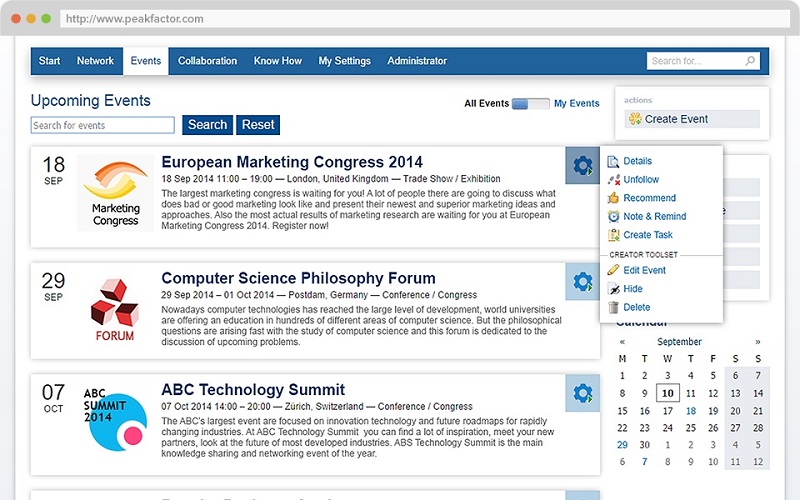 Groups & Discussions – is a tool to create groups and start discussions.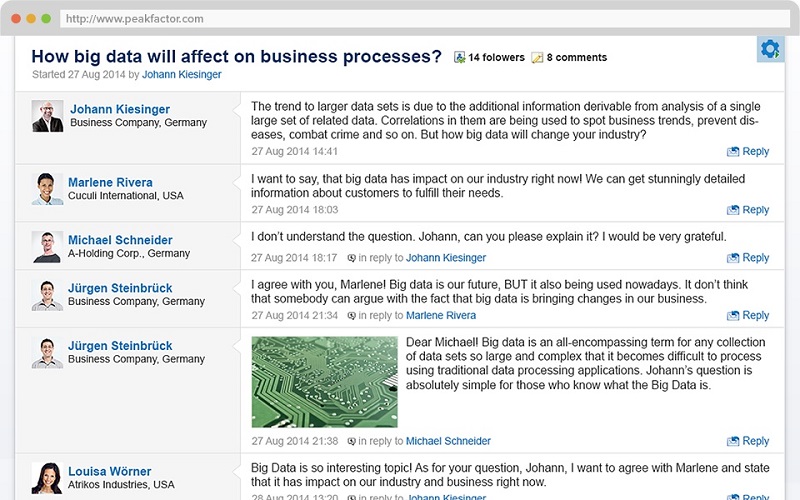 Documents & Archive – supports various manipulations on files, uploading of all file formats, information structuring in folders and sub-folders, information sharing, etc.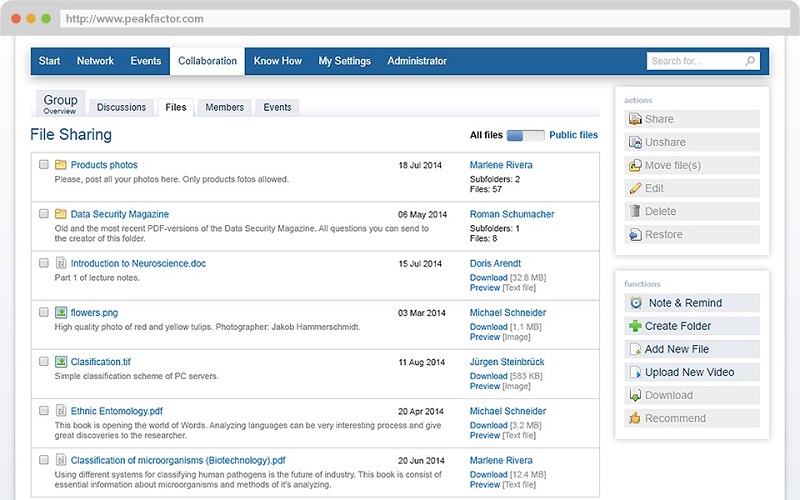 News & Infostreams – contains large functionality for news management. Content editors or administrators can create newsletters, news discussions, subscriptions, statistics, and information streaming to selected groups.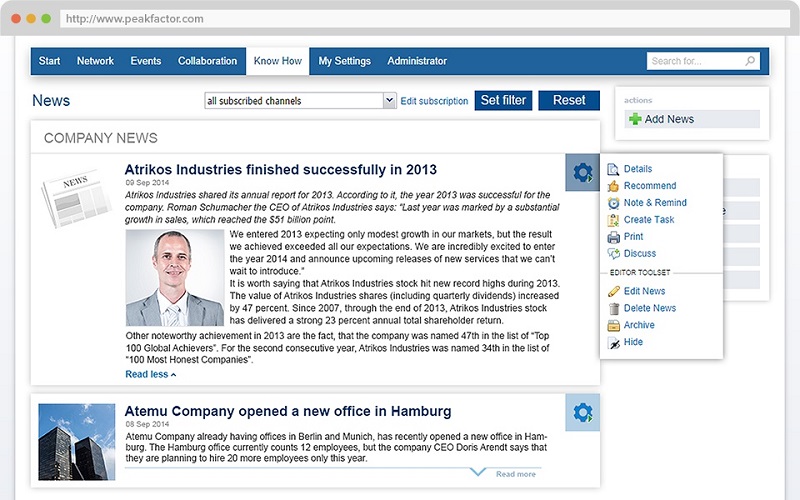 Projects & Tasks – helps divide created projects into tasks with individual assignments. In this module, administrators can track the progress and set deadlines. Moreover, when needed, external users can get access to created tasks.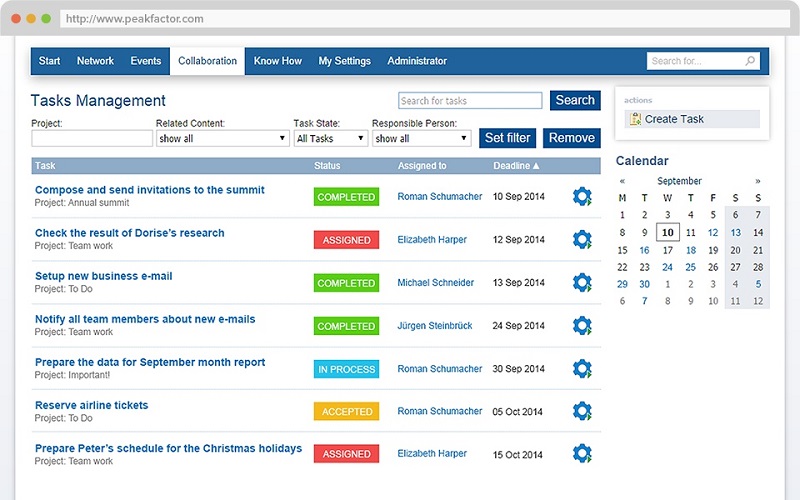 Members & Contacts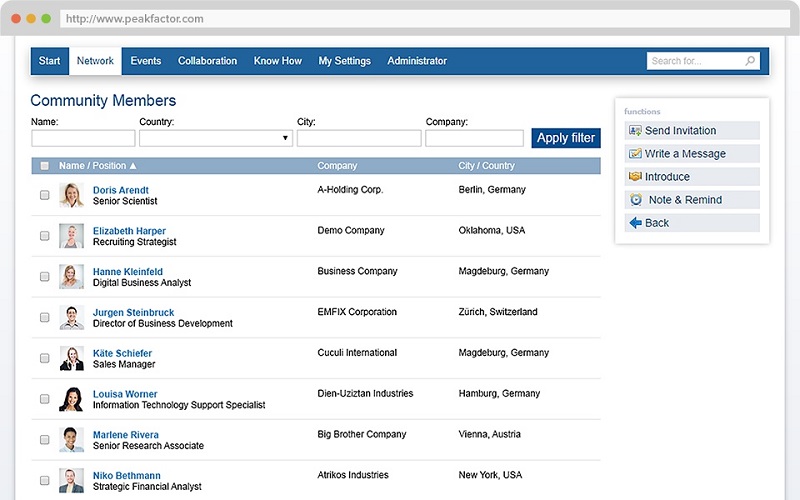 Clients & Partners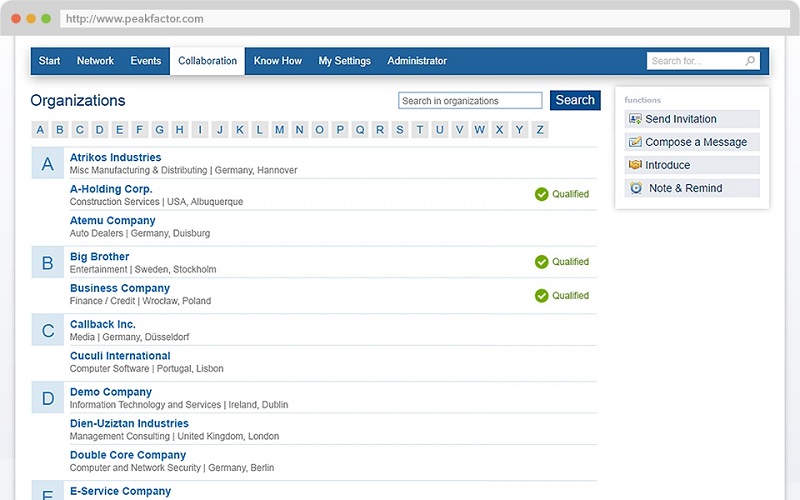 In fact, you can choose several modules to make your own combination of functions.
Scalability – you can start with basic features and then extend your functionality any time you need it.
Customization – shows flexibility in Peakfactor policy. Upon a client's request, specific modules can be created which will be available only for those customers to be adjusted to their current networks.
Accessibility – is the service keystone. NoC allows you to set up user access which can be either free or payable. Moreover, you can make an intranet network invisible and register users only by invitation.
The system has a variety of different roles. From Trial members, who can access the system only for a certain period of time, to Content Editors, who manage specific types of content, to a system Administrator who creates new communities and manages users.
Technologies
Development of the system which has such a rich functionality is an extremely interesting and useful experience for us in development, testing, design, and content management.
To build NoC Peakfactor we have used the following main technologies:
LAMP (PHP, MySQL, Linux, Apache), Javascript, jQuery.
Multiple websites per server (communities).
Memcache and Memcacheq (solutions for highload servers).
We should tell you about our work on service reliability. NoC contains several auxiliary technologies, as well as deployment, and self-testing systems to ensure a secure 24/7 operation. The testing system includes several virtual machines with parallel cloud processing that allows us to find issues before the users do, as well as to tweak changes without any interference in network functioning.
In conclusion:
Implemented features make Peakfactor a nice example of how to do things right when starting a service by it satisfyting customers' expectations in a secure, reliable, and customizable environment.
From our side, this is an engaging challenge for us to be a part of a unique but valuable project like Peakfactor. This is what makes us passionate about programming.
Do you alredy have  a concept of your mobile app or website?