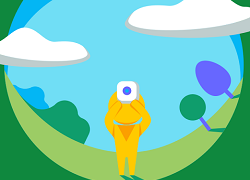 Do you ever dream about the Seven Wonders of the World? Or scaling mountain peaks? Perhaps would you like to dive to the bottom of the sea?
Now all this can be done right in front of the PC screen when using photo services like Google Street View with panoramic views of many amazing places on our planet—like the Elborus Mountain peak and the underwater world of Galapagos Islands, as well as such widely known sights as the Taj Mahal and the Great Pyramids of Giza.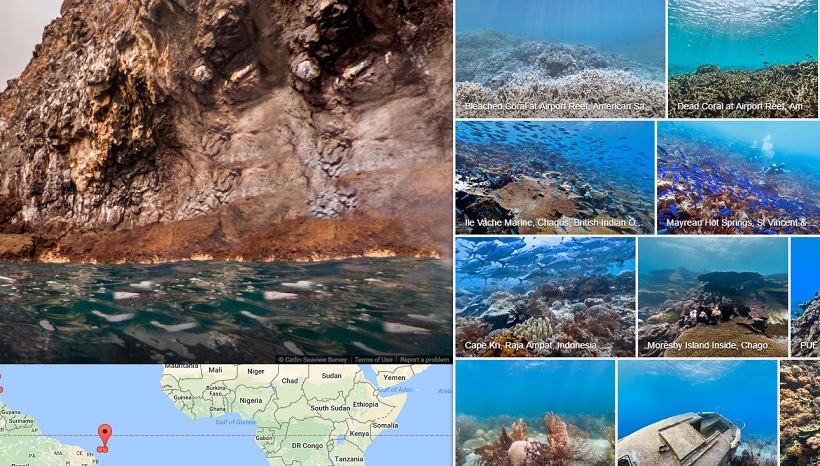 And maybe you are really traveling and would like to share your photos of scenic views with others? Then you are also invited here—to Google Street View service. 
Perhaps you have a more practical purpose and you would just like your business pinned on the map, so that your clients can find you easily? Or you would like to show off the beautiful new interior in your office or present the new charming shop window display to your potential clients. In all these cases, Street View service is ready to assist you. How? Let us talk about this.
So, what is Street-level Imagery?
In addition to maps based on images taken by satellites and drones, many modern topographic services also provide panoramic views made on the ground. These could be panoramic shots of wide-open spaces—streets, landscape, natural features—as well as panoramic views of house interiors.
What services provide Street-level imagery?
The pioneer and doubtless leader in the area of street-level imagery is Google. It has developed both Google Street View and Google Earth services.
The Street View project started in 2001 as the CityBlock Project, Stanford University research project sponsored by Google. The technical results of this project were used as the basis for the StreetView project after the project ended in 2006.
Google takes the development of its street-level imagery services so seriously that it created special cameras to take panoramic photos automatically. Google continuously improves equipment to transport cameras; for example, its tracker was invented specifically for this purpose. This tracker fastens and holds a camera right above the on-the-go traveler to get shots from a defined angle.
Street-level imagery is also provided by such services as Yandex, Bing, Yahoo, and Here.
There are also other services on the market specializing in photo and video street shots such as Mapillary, Photosynth, and others.
In this article, we only discuss Google because it is the real trailblazer on this journey. All other services copy its strategy to a greater or lesser extent.
What can be seen on Street View panoramas?
Here you can find:
– streets of metropolises of all the continents
– streets of cities in many countries
– museums, restaurants, company offices
– natural features like panoramas shot from mountain tops, underwater landscapes, photos from hard-to-reach places
The 2015 statistics state that Google Street View contains images of 5 million miles of roads, covering around 90 countries and about 3,000 cities. It is easier to list countries not presented in Google Street View than those included.
(Regions marked with blue were presented in Google Street View in 2015):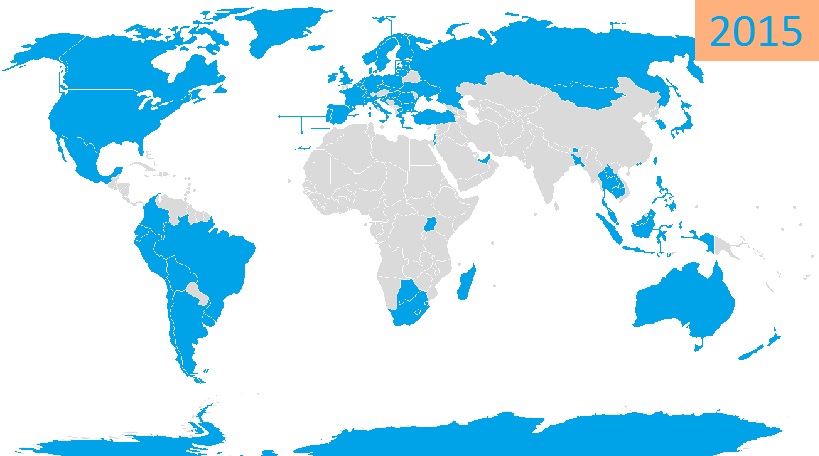 Photo tours of the following interesting places can also be found in Google Street View service: Argentina National Park, Mont Blanc, Amazon forests, vast expanses of Alaska, Grand Canyon.
Using this service, it is possible to virtually visit the top 17 world museums, including London's Tate Britain Gallery, the Uffizi in Florence, the Palace of Versailles in France, the Museum Kampa in Prague, the Van Gogh Museum in Amsterdam and the State Hermitage Museum in St. Petersburg, Russia, among others.
A limited number of pictures in those museums were shot with exceptional precision (up to gigabytes of pixels) so that users can view them with zoom function in great detail.
So how is street-level imagery created?
Street imagery is created by Google and its myriad users worldwide.
Google has its own team of engineers making panoramas with equipment developed precisely for this purpose:
– driving Google cars in many cities of the world
– carrying tracker (available for rent)—a camera holder looking like a backpack, with a comfortable transportation system
– bogie (used to make photos inside buildings)
– a snowmobile with a camera support
– velotrike (a 3-wheeler used to take shots in places inaccessible to a Google car)
Users can also add panoramic photos to the service. Those shots should correspond to defined requirements from both a technical and content point of view.
Recently, Google developed a special process to certify local photographers. After certification, these experts are recommended by Google to those interested in placing photos of their houses and premises on a service map.
Who benefits from Google Street View?
Besides curiosity-driven researches, the panoramic shots are used in practical purposes, such as:
1) Those great panoramic pictures provide the human element with a great deal of information that can be used according to the terms established by Google. There are separate sections in Google's policy concerning commercial and non-commercial projects. As a rule, you will have to pay for using Google products in your commercial project; however, non-commercial projects may have unlimited use of Google map data if Google is properly credited and the data has not been altered.
The position of Google itself is very interesting: the company performs such expensive and massive works to shoot the whole Earth surface. What is driving them?
As Google states, "We adhere to the idea of an open Internet and we take part in different projects aimed at the development of the ecosystem network and further Internet evolution."
What a wonderful mission! ☺
2) Google Street View panoramas serve as the basis for other services integrating Google API. A good example of such third-party service based on Google panoramas is GeoGuessr game application. GeoGuessr is a web-based game suggesting that players guess their location in the world while seeing only shots from Google Street View with some clues. This game was released in 2013 and received hundreds of thousands of unique visitors daily just a week after launch. This is a commercial project and suggests a pro version for a small subscription. A good example of a map-based start-up, we think!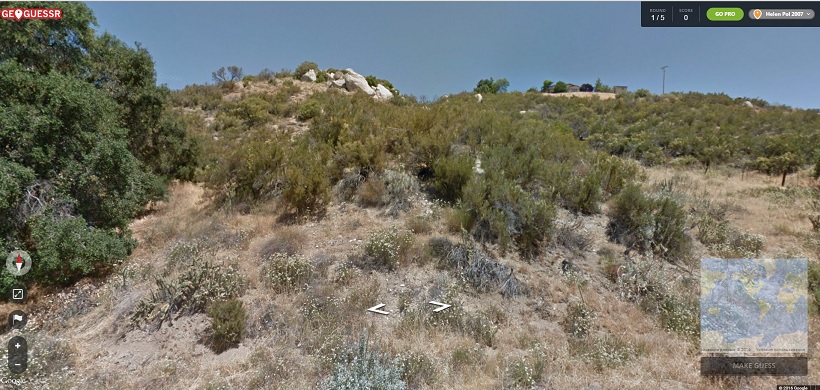 3) Google Street View service provides a special program for hotels. In particular, Google announces the following statistics: "If a hotel or restaurant suggests a virtual tour, the possibility of booking increases twofold. Potential clients aged between 18 and 34 make bookings 130% more often after a tour review.
67% of interviewed users would like to see more virtual tours. And the others? 26% of users are indifferent to the virtual tours and only 7% consider them unnecessary.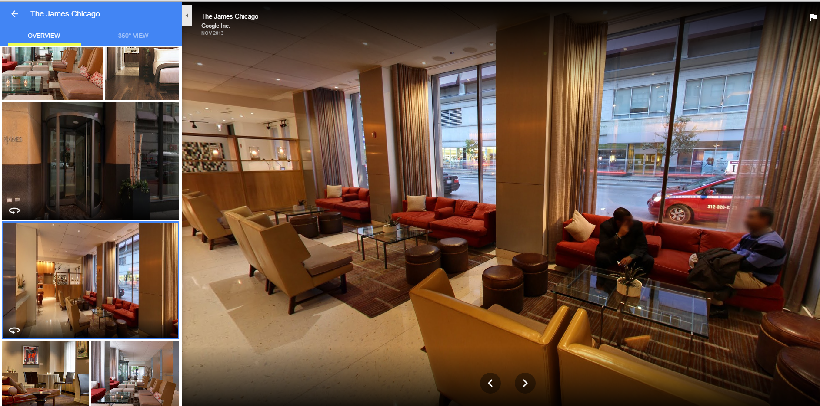 Some difficult questions for public photo service
Google Street View has not avoided some tough questions that have not been resolved completely till now. As a result, there is a list of countries prohibiting Google to take shots for Google Street View in their territory (including Germany, Croatia, and the Czech Republic).
These tough questions include:
1. Questions of security and privacy.
Initially Google was led by the idea that if any person or a building was present in the street, where they could be seen by anyone, then their photo could also been placed publically. However, Google changed its approach after numerous complaints and now the system blurs faces and car numbers automatically on the photos. Also, users can now send a request to blur any element on a photo that they consider to be non-public.
2. Time machines
One more disadvantage of Google Street Panorama service is the infrequent updates of its photos. As a result, the time interval between 2 photos of the same location (if the repeat photo is done) might be several years. But Google has turned this into an interesting thing and created a "time machine"—a thematic set of photos illustrating changes of the same place during years. This is quite challenging!
Finally, what conclusions can be made for street panorama services?
– They are enjoyable to see and inspiring for tourism and traveling!
– They could be a simple tool for advertising.
– They are also a great platform to implement new ideas and create start-ups based on maps and geo-location in general.
And here we can help you with the implementation of your ideas in the format of web and mobile applications! ☺
ITCraft is already ahead of the curve with these ideas—and more. We have already implemented some Web and mobile solutions based on Google Maps API. These were start-up services our clients asked us to help them develop. The result? These are now successful applications used for people dealing with traveling in some capacity: flying, driving, biking, hiking, camping, canoeing, bird watching, mountaineering—the list for adventure is endless!
RocketRoute.com service – a SaaS for private pilots that helps them log their flights with one of the air traffic controller organizations and plan their route on a map. This service started as a test application for pilots flying in Western Europe for the safety of air navigation and now covers the whole of Europe and USA—more countries to be included in the near future.
My.ViewRanger.com – a social network where users can plan and exchange routes. Also user can obtain actual map data from special map providers. This service developed over time from a basic community solution to an expanded social network (which keeps growing) integrated with a great number of custom map providers' APIs—some are free, others are not; it all depends on the provider.
We are happy to assist our clients at the initial stage of their start-up and help them grow. We strive for long-term cooperation to help them mature in their business and succeed—to reach the top!