Summer is over and I have to tell you, it was one of the best I can ever remember. I bet hope yours was marvelous, too!
It all began on June 7, 2017, when we had our first day at GEO IoT exhibition in Brussels, Belgium. Our partner, Mustafa Almusawa Alhashemi, founder of Smart Navigation Systems, and our IT Craft team attended the GEO IoT. About 200 participants in Indoor/Outdoor geolocation, IoT and Big Data industries took part, ranging from the smallest start-ups to industry giants. During the 16 thematic sessions, we enjoyed a great IoT event of knowledge sharing, networking, innovation discovery, business collaborations, and discussions.
We helped Mustafa Almusawa showcase the technical side of both InNav and School Bus products:
We also discussed business opportunities with other potential partners. We visited booths of Indoo.Rs, Estimote beacons, Navigine to talk with their representatives and discuss possible options of using Kontakt.io Gateway to further enhance the InNav application.
Listen to EU Reporter's, Catherine Feore (www.eureporter.co) interview with Mustafa Almusawa:
Interview with Mustafa Almusawa Alhashemi (CEO of SMART NAVIGATION SYSTEMS) about indoor location solutions and his company's product, InNav, during GEO IoT Conference on June 8, 2017, in Brussels, Belgium
Mustafa Almusawa Alhashemi, founder of Smart Navigation Systems, talks about indoor location solutions and his innovative product, InNav, that uses the latest modern technologies. This application makes it possible to use smartphones for orientation inside large facilities like shopping malls, hotels, airports, hospitals, fair trades, conferences, stadiums, restaurants, etc.
Here are some photos taken there too!
[masterslider id="4"]
But the fun didn't stop there! At the end of June, our School Bus application was ready for deployment and use. It was a great event for us since we had been working closely with the Smart Navigation Systems team throughout the year. And now, several schools are ready to deploy and test it in the Gulf Region!
July brought us more great news! The innovative Smart Navigation Systems startup was among the finalists of the Gulf Capital SME Awards in the category of Start-up Business of the Year Award. Congratulations!
August was equally effective thanks to our Smart 5D application! It has been released, updated and ready for use. You can listen to an interesting, exciting interview with Mustafa Almusawa about this solution.
Summer is over, but not events.
On September 12, 2017, Mustafa Almusawa gave a presentation discussing his experience in developing his products, Smart5D and InNav in line with Abu Dhabi's best practice in indoor mapping at the OGC Mobile Location Service Domain Working Group in Southampton, UK .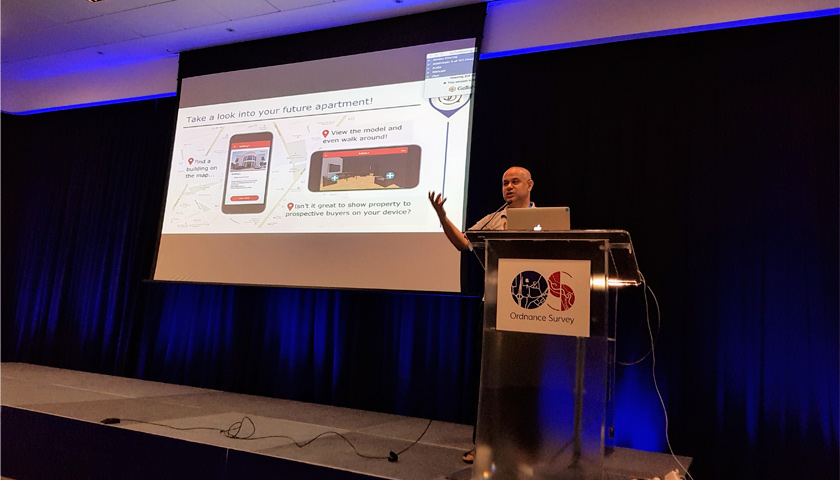 Dozens of opportunities came our way this summer to discover fascinating people and their ideas. I hope Autumn 2017 continues along summer's exciting and fruitful trajectory for all of us!
P.S. Opportunities never end. Mustafa Almusawa is an exhibitor at 37th GITEX Technology week to be held on October 08-12, 2017 in Dubai. Everyone is welcome to meet Mustafa.