There is no lack of wearable fitness trackers in today's world. Using smart devices with installed dedicated apps, makes boring, repetitive tasks like intensity training (time, distance, heart rate, calories burnt and similar things) more bearable.
But when it comes to biomechanics, smart fitness trackers fall short. They can neither help with physiotherapy to recover after injuries nor improve technique when working out.
On the bright side, different startups strive to fill in this gap in hardware and software development creating their own original kits.
Most biomechanics startups focus on a specific industry aiming to provide the best solution for their respective niche (e.g., tracking movements of baseball players or boxers). This strategy works for big industries with deep pockets.
Consider an alternative approach: using an inexpensive platform designed for rapid application development. This helps startups make biomechanical apps for their own specific purpose.
Enter Notch: a startup with a great future.
Notch is a biomechanical platform for a wide-ranging audience―both from tech and non-tech worlds: everyone who wants to capture motion data and make sense of it. It provides enough tools for startup development: quick prototyping and MVP to study the audience's interest. It also suits those who just need basic functionality.
What makes Notch different? Does it work in your industry?
The points we analyzed include:
Hardware

Software

Platform benefits

Use cases
So, why choose Notch?
In short: Notch is suited for data collection and analysis of any physical activity.
Read also: Wearable Technology That Promotes Physical Fitness. 3D Motion Tracking System
The Notch story: when canceled Kickstarter campaign has zero impact on future success
A NYC-based startup, Notch first appeared in 2013 on the main pages of big digital media, like TechCrunch, The Verge, and Ars Technica, announcing a Kickstarter campaign for its motion capture system developed to study and measure human movement.
Consumers seemed unprepared for a Bluetooth-based, motion-tracking platform considering it more of a specific niche product. As result, the Kickstarter campaign never reached its goal, but no one would give up.
Notch startup continued improving the sensors to achieve impressive results raising interest among tech experts. And, the Notch team began collecting awards. To date:
2014—L'Office Budapest Startup Competition

2015—14th Wearable Week held in Munich

2017—Best of CES2017 in the category, Wearables
More importantly, Notch launched its kit (6-sensors, a docking station, adjustable straps together with access to SDK and apps) in 2016. This enabled a worldwide audience to explore its gear, including sport fans, therapists, scientists, artists, software developers, and many others.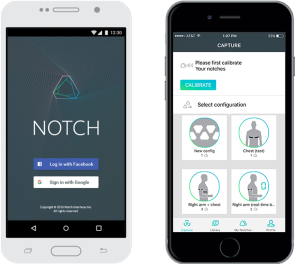 What does Notch offer its early adopters?
Notch hardware. As mentioned above, the core of the Notch tracking system is a set of six advanced lightweight sensors designed for half the body. Also, the Notch kit contains a charging dock, a clip mount, and adjustable straps (special clothing API for fashion designers promised), so everyone can easily mount sensors on preferred part of body: arms, legs, head, chest, etc. Choice depends on which range of motion user wants to track.
The sensors are waterproof, thus suited for any sport activity. Each sensor has an accelerometer, a gyroscope, and a magnetometer onboard plus internal memory for data storage.
Notch Sensor Values
Gyroscope
±250, ±500, ±1000, ±2000dps
Accelerometer
±2, ±4, ±8, ±16 g
Magnetometer
±4/ ±8/ ±12/ ±16 gauss
Sampling frequency
5Hz, 10Hz, 20Hz, 40Hz, 50Hz, 100Hz,
125Hz, 200Hz, 333Hz, 500Hz
Sensors can stream data in real-time mode when the user has one or two sensors on. For three or more sensors, the data is stored in sensor memory and exchanged by the smartphone app via Bluetooth Low Energy or via a USB cable with the desktop app Origo Notch after the action is complete. This communication workflow enables saving precious energy for data capturing.   
The battery life of Notch sensors is about six hours in non-continuous mode. The lowest recorded time is 2+. Charging takes ca. one hour.  
Memory Capacity
40Hz
80 min
100Hz
30 min
500Hz
6 min
Users can mount up to 16 sensors simultaneously—even more with some adjustments to ensure more precise tracking. (Notch is testing a system with up to 40 sensors.)
Notch software. Notch pursues the same strategy as BLE beacons manufacturers like Kontakt and Estimote. Both offer a dedicated app that allows using sensors "as is" and a development platform to create custom solutions tailored to the needs of a particular industry (Our proud example for Kontakt is InNav, a BLE beacons-based navigation and positioning app.)
These features open up Notch sensors for everyone. To start experimenting, users only need a kit and Notch companion, a free app for data transfer to a smartphone to replay the recorded movements on it.
For users (like most of us), the workflow is straightforward:
Open the app

Turn on sensors

Connect sensors with the smartphone

Fix sensors on the body

Remain inert for several seconds to calibrate the sensors

Record the action

Download the result

Review the record as a 3D model
For developers, Notch offers all necessary development tools engaging them to create custom solutions based on Notch tracking algorithms. After registering, developers get access to SDK (both iOS and Android supported), demos, and 3rd-party apps. Notch also provides tutorials, documentation, and support.
Notch benefits
Notch is an app-ready platform for personal and commercial use, ensuring both app development and utilization of Notch sensors through the standard app. This is what makes Notch so attractive:
Flexible configuration. Users may add or remove sensors to track or model different motion—almost on the fly. When a session is over, users transmit information to a desktop or a smartphone then remain still for a few seconds so sensors can recalibrate and be ready for the next session.  
Low entry barrier. Users: with only a kit and a smartphone, users can start working and getting results. Developers: Notch excels at helping developers quickly start working on an app by granting access to tools and knowledge base. Another plus: no extra science or special programming skills required.  
High customization degree. Notch helps collect and make sense of motion data. This is standard procedure. Notch SDK enables incorporating Notch hardware and tracking algorithms to 3rd-party apps for wide-ranging purposes: create own samples, automatically collect and analyze motion data, build models, and much more.
Use cases
As result, Notch is suited for a vast range of activities. Any industry where biometrics is studied and/or visual instructions are crucial can adapt Notch to its specific needs.
Sports. Sensors mounted on an athlete gather data to monitor performance. Athletes can compare it with pre-set modules or create their own set for reference. They can see any weaknesses and prevent unnecessary injuries caused by wrong technique.   
Healthcare. Using Notch with its available motion models, healthcare professionals can track patients' movements and explain how they should move to enhance recovery.  
Entertainment. Similar to sports, Notch helps dancers using pre-set models to demonstrate correct moves. Also, Notch sensors are used to decrease production costs by helping create 3D movie characters.
Virtual reality. Notch developers have an ambitious plan: replace VR controllers with Notch sensors to improve the gaming experience. Notch sensors ensure more natural game control through a player's body with little, if any, inconvenience to the user.
To sum up. Notch is a great platform. It has a dedicated app to start working right here, right now. Its tiny sensors are comfortable and convenient to use. Also, it has enough tools for different biomechanical software development.
Everyone interested in biometric tools should try it.