Ecommerce sites must run regular performance testing
Any QAs from all software testing companies will tell you this:
EVERY. MILLISECOND. COUNTS.
According to a HubSpot survey on website speed, 50% of desktop / laptop users abandon websites that take longer than 2 seconds to download. Whereas, 66% of mobile user respondents are slightly more patient: they give you 3-4 seconds.
And, remember: followers are fickle. If your website performance slows, user retention slips. Several case studies show that improved performance positively affects business goals.
Two examples proving that reducing download times increases business:
Pinterest reached a 15% sign-up increase from Google search results after reducing perceived wait time by 40%.
AutoAnything experienced a 12% sales growth as soon as they reduced download time by 50 %.
Conversion decreases as download time increases
A fast website impacts ecommerce tremendously. Websites with download times under 2.4 seconds enjoy the highest conversion rate (1.9%).
Just consider the results of one-second increase in download:
78% conversion decrease
64% increased bounce rate
4.3% loss of revenue per visitor
Conversion is not the only problem with slow websites. They are not likely to attract repeat customers: 79% of customers say they are unlikely to buy from the same slow website again.
Google, too, frowns upon and "punishes" slow websites: every extra second of download costs an 11% loss of page views and lowers SEO ranking. Therefore, no matter how hard you try investing in market promotion, you lose potential customers to ecommerce sites who do regular performance testing and keep their website downloads speeds fast.
You must be 100% sure your service is as fast and responsive as possible. The cost of a second chance is too high—or even impossible. Think about your car: if you buy a new car and never do maintenance on it, it will gradually falter and fail. Same is true of your website.
What does performance testing focus on?
Performance testing helps keep your ecommerce business solution available for every user—all the time.
Consider this: Everything can run well when there are a few users…but…
What happens when many users work simultaneously?
What happens during peak loads?
How demanding can user workloads grow before the server goes down?
What happens then?
Performance testing provides information regarding website / app speed, stability, and scalability under pre-determined workloads.
This is how a web page appears on a user device and what issues could prevent your service from immediate response: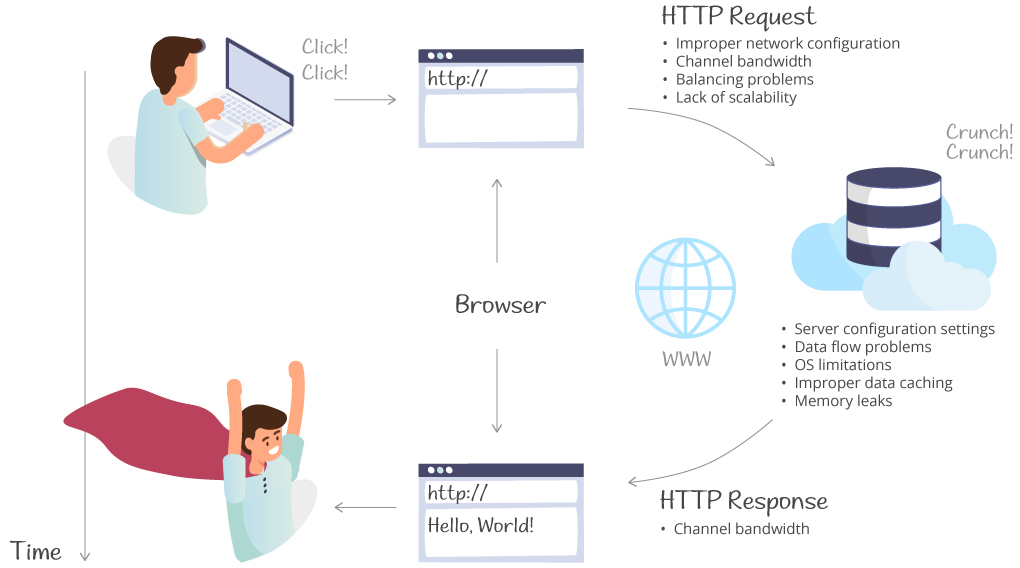 Performance testing targets the following goals:
Check performance specifications and prepare a test plan on them.
Determine server response time of a given node and compare it to the response time of another node.
Check response time of the render.
Determine throughput performance and transaction time.
Software testing consultants can determine how much time an app or a website needs to receive a request, process it, and return information to the user.
In general, performance testing includes six kinds of activities aimed at different goals: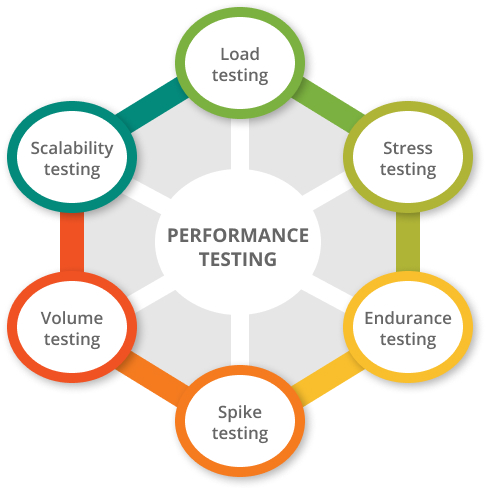 Check how well system supports increasing user load.
What it aims to determine:
How and when the system reacts on increased user load to meet growing needs.
When the number of users increases, software starts consuming extra resources automatically to handle increased workload. When user demand decreases, the software automatically decreases demand on resources.
Examine system performance under anticipated normal and peak conditions
What it aims to determine:
How many users can work in a system simultaneously.
Examine what happens when workload reaches extreme capacity.
What it aims to determine:
Establish whether the system can recover without serious repercussions after the workload decreases and user data remain undamaged, i.e., when many users access the website at the same time in response to a mailing campaign and place orders.
In a worst-case scenario, software withdraws money from a bank account but does not finalize the order.
Determine how long software can handle expected workload.
What it aims to determine:
Check for memory leaks.
During high-peak annual shopping days (3-4 days), many users visit and stay on ecommerce websites for a relatively long time. While the number of users does not exceed expected amounts, servers go down due to memory leaks: server resources decrease as online shopping hours increase.
This is critical because it results in direct losses: nothing gets sold when the website is down.
Check how the system sustains any sudden workload increase.
What it aims to determine:
The maximum number of users that could prevent others from access to the system protecting software from excessive workload.
Test system's reaction on varying database volumes.
What it aims to determine:
How many database records system it can handle.
For example, in the first hours of a Black Friday sale, the number of records is low and everything runs fast. But the database keeps growing with every new purchase, so the system rejects declines processing new ones and fails to process bigger-than-expected amounts of data.
What does performance testing workflow look like?
Just as with any QA/QC activity, performance testing has several absolutely mandatory steps: they cannot be skipped. By formalizing these steps, QA engineers ensure they provide relevant results to boost the entire mobile app development process.

Identify initial parameters – knowing what kind of test and production environments software uses helps optimize performance tests from the very beginning. It also helps detect possible pitfalls and bottlenecks.
Determine acceptance criteria – it is crucial to set up goals and success criteria for performance tests and also be aware of how these criteria correspond to app development strategy. QA engineers determine performance criteria and document them in specifications.
Identify user scenarios – determine how end users might use the app, how user scenarios vary and can be grouped, if possible, and where the peak resource consumption can be expected.
Design tests – create tests based on predetermined user scenarios and outline the metrics to be collected.
Develop load models – calculate what load rates will be used and what parameters measured.
Execute tests – run tests under all pre-determined scenarios.
Analyze results and report – reach conclusions based on data received then share test results with responsible people to improve app performance.
Draw recommendations for performance improvements – оffer a plan to speed up website functioning and/or prepare it for user influx.

How can you determine if your website performs well?
Websites, such as Web Page Test, and browser developer tools or plugins, such as Page Speed, can give you insight on your website performance. The following service helps you gain insight on your website performance.
Put the link below and see the result.
Does your website perform well? You can check it on your own below:
Still not sure how this works for your business? Find out now. Check the impact calculator to see how website speed affects your revenue.
Important note [herein lies the bottom line]: Be aware website download speed might change when the load increases, but your website must always maintain the same high-level user experience.
This is where we help you: together, we determine your website limits, improve its performance under different conditions ensuring consistent user experience for all your customers (= no losses caused by technical issues).
How it works in real life
Once upon a time, an IT Craft QA team helped a retail business prepare its ecommerce website for Black Friday. The business had an online store with all its merchandise kept in a warehouse. It was crucial for the QA engineers to ensure smooth functioning of the website because it was a short-term but very busy event. System failure meant immediate and drastic direct losses.
The team received information on the planned mailing campaign and discussed the goals. Users would open a letter with special offers then go to a specific website where they would make their purchases.
At the initial stage, QA checked the website on available resources and possible bottlenecks:
Problems in website source code
Database operating speed
Back-end environment
All resources were optimized based on anticipated threshold and peak amounts then tested during several iterations using all types of testing. After each iteration, parameters were optimized and source code fixed.
The result? During the Black Friday sale, the online store worked superfast and reliably while the QA team ensured 99.9% uptime for the website.
There were so many orders made through the website that the warehouse team was busy packing up and sending orders for the next three weeks (no exaggeration!).
How does performance testing improve the bottom line?
Software Maintenance
Apart from finding and resolving performance issues, the main role of performance testing on a project is to monitor software ensuring user satisfaction with software speed.
Hardware Configuration
Due to improved configuration, performance tests make it possible to cut down operation and maintenance costs, thus optimizing hardware investment.
Delivery time
Being an essential part of CI/CD, performance tests help prevent issues with updates or detect them as soon as possible when those occur.
Need a perfect combination of professional expertise and flexibility? Contact us today to find out how we can improve your software performance.