Three Simple Ingredients of Pokémon Go Success and How Augmented Reality App Can Work for Your Industry
From the moment of its announcement, Pokémon Go has been a story of success; only people who have heard nothing about it remained unfazed.
Moreover, the majority of those who have tried the game definitely love it.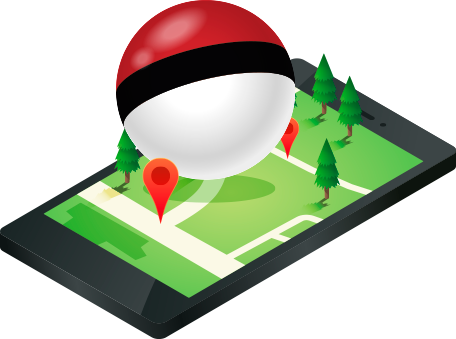 Pokémon Go has broken several records (according to Survey Monkey):
Over 75 million users worldwide (as of July 26, 2016) even though it was available only in 32 countries.
The most popular mobile game in the US. Estimated number of active players is about 26 million, most of them return regularly.
High download rates so the game keeps attracting new players.
High in-app purchase rates per an active user that is also a sign of high-level engagement.
In this blog post, we discuss what made Pokémon Go the most addictive app so far.
The game is popular despite some drawbacks. It does not have sophisticated mechanics— just tapping on Pokémon on the smartphone screen and trying to catch them. There are few objects of interest—only PokéStops and Gyms. You can join one of three teams that differ only by their colors (your choice is based on your favorite color). Any battling is pretty much automated, so a player's level matters more than skills. This might cause issues with game balance in the future when newcomers lose motivation to play the game because they are unable to beat opponents with higher levels.
Also, Niantic's servers have been inconsistent for several days, either freezing or not letting players log in. And, the game website does not look very informative. As a result, the app itself received 3.9 points on Google Play and 3½ stars on Apple Store. However, the app is more likely to gain a stable community around it and be recognized as a pop culture phenomenon.
Previously, we were taught that so many performance issues would cost apps heavy user retention and eventual failure. But this is not the case for Pokémon Go. Here's why:
Ingredient 1:
Concept. A pure winning strategy. Pokémon is a well-known, long-lasting franchise with a worldwide community. It unites a lot of various content from trading cards and toys to anime and video games. Pokémon Go mobile game is a logical extension of the franchise every Pokémon fan could only dream about: Pokémon adventure world in your hometown. Now you can go outside, seek Pokémon in your location, hunt and catch them, train and compete with your friends. Therefore, chances of people not interested in a future app release are slim to none.
Ingredient 2:
Active social game. Pokémon Go has low entry barriers. It does not require special equipment or a special smartphone. You do not even need a top smartphone. You might choose to buy the Pokémon Go Plus device (which is sadly not yet released) to avoid attracting too much attention. The app is free, players pay only for in-app items to boost the level up of the character.
We pointed the lack of gameplay as a drawback—but it is also an advantage. Players can start the game right here, right now with no time spent on learning. Since the game is based so strongly on real-world interactions, gamers explore the world around them.
Moreover, Pokémon Go drives social interactions making players talk to other players when looking for Pokémon, PokéStops, defending or attacking Gyms. Pokémon Go inherited this feature from Ingress, another augmented reality-based game where cooperation is most important.
Therefore, fun and social experience is valued higher than skills and achievements. Newbies are welcome.
Also, walking is healthy!
Ingredient 3:
Technology. What I love the most in Pokémon Go is that it clearly proves: it is possible to develop a budget augmented reality mobile app and introduce it successfully to the mass market.
So, what is augmented reality? Augmented reality is the "ability" to embed multimedia content into the real world when pointing a camera on real-world objects. This is what makes it possible to "see" Pokémon, e.g., sitting on a lawn in your favorite park.
Pokémon Go is not the first product of developers experimenting with augmented reality; they have created truly amazing things.
For example, when you have an IKEA catalog and a dedicated app, you can put the catalog where you want to place a piece of furniture, point your smartphone camera at it and see how well the items fit in your home.
Here is another example, now combined with BLE Beacons, the native iOS app, Histopad. Read our blog post describing how the app works.
In short, the app helps reconstruct life in the medieval castle, Château de Chambord in France. BLE Beacons trigger an event. On the iPad screen, visitors see how the castle looked back in the times of the King Francis I or read historical information about the castle and its habitants. Moreover, the app has gamification elements to raise kids' interest. When pointing at an object (e.g., a chest), kids can open it and collect treasures or different items. Also noteworthy: Histopad really unites family members when they are touring around the castle using the iPad, sharing fun and experience with each other.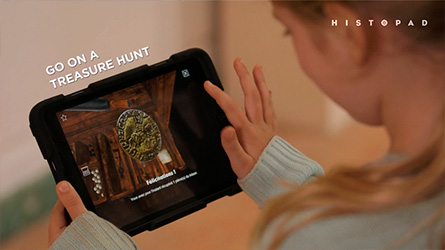 Summary. Augmented reality is not a completely new trend, but Pokémon Go proved that this technology has huge potential, and it is definitely welcome on the mass market. Augmented reality is mature enough to be implemented for both low cost and custom software solutions; it can be combined with other new technologies, like iBeacons, yet still work on most current device in 2016.
Augmented reality improves user experience in the following ways:
Socialization
Interactivity
Visualization
This is a big step towards the future. Augmented reality helps see different things as a part of our everyday world (perhaps with virtual reality, we will be able to touch them).
Therefore, it will help you present your product to your clients, as with IKEA. Or you can create your own game. I would be happy to play Dungeons and Dragons one day and see a firedrake sitting on my couch.