The SaaS (software as a service) app market shows constant growth in the recent years. This tendency is closely related to development, improvement and increasing accessibility of cloud hosting services. So, what is behind the growing market demand for SaaS applications? What is the relation between SaaS app market growth and modern cloud systems? While these two questions are far from being weird we will try to find an answer to a quite surprising question first.
The SaaS Concept Offers More for Less
Have you ever heard about a sidewalk lane for smartphone users? No?
This is a "brand new technology" to prevent accidents related to mobile devices. Authorities of a Chinese city decided to separate in this way heavy consumers of mobile devices from other pedestrians. "How is it related to SaaS applications and cloud hosting," you may ask. The answer is directly. The increasing number of mobile devices and mobile computing devices as well as availability of Internet access nearly everywhere dramatically transform users' practices. Consumers of computer software want to stay online, they need access to their data and software on the go. People are literally addicted to the things they can do online whether related to their job or not. For this reason, users' activities migrate from desktops to mobile devices and various modifications of portable personal computers. Software users start doing many things through their smartphones, tablets, phablets, netbooks, ultrabooks, and laptop-tablet hybrids. This fact is probably the reason for European Aviation Safety Agency (EASA) to declare that mobile phones, smartphones and other electronic devices can be left switched on during flights.
Simply put this trend can be described as follows. Users need to run complicated algorithms on low-computing power devices. And the best option to do so seems to be externalizing data processing to a more powerful device which is obviously a server.
What means this trend to producers and marketers of computer software? If they want to stay the course, it is vitally important to make sure that the potential users of their software can enjoy its unique features in the right place at the right time. This requirement becomes a game changer. Software suppliers are forced to change their approach and try something new. This growing demand of the market in the combination with decreasing prices for cloud hosting (remember the need to run complicated algorithms on low-computing power devices?) and its increasing possibilities creates perfect conditions for a breakthrough in development of SaaS applications.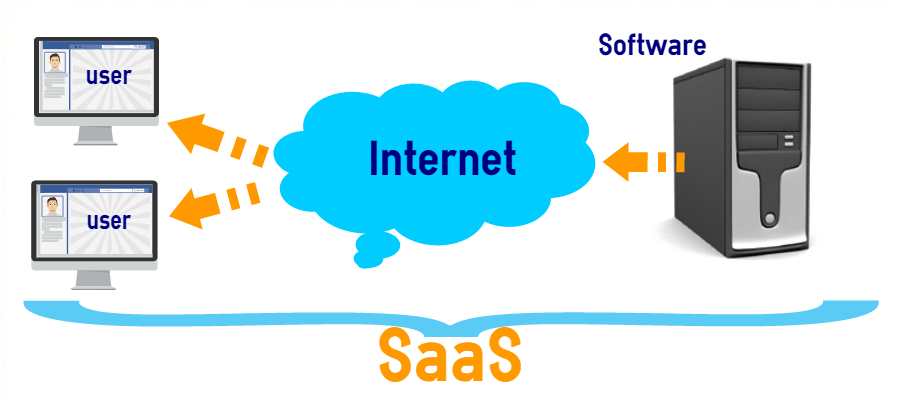 SaaS applications don't create a new concept itself but redefine the old ones and significantly improve them. SaaS distribution model offers additional benefits for both end users and software companies. Let us have a quick look at the main advantages of such applications. The major benefit for end users are lower costs and subscription based billing whereby subscription can be cancelled at any time. A big plus for software developers and customers is ease of deployment, updates, maintenance, and patch management. The software distributed based on the SaaS model is globally accessible, it allows to make sure that all users have the same version which in its turn assures smooth collaboration.
These benefits are significant to those users who constantly deal with changing data. Due to the advantages described above SaaS has become a common model for many applications. This delivery model is used for messaging software, office applications, accounting, customer relationship management and collaboration tools. The leading enterprise software companies have included SaaS applications into their strategy. And of course, small to medium companies follow them.
DevOps consulting services can help you increase quality of software delivery on your project.