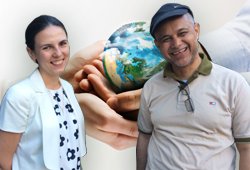 The new year always means the fresh start and setting new year's resolutions with some deadlines. At the same time, to others it could mean a major, significant point in time when they are ready to make drastic changes in technology using a secret weapon to market their business. Whatever the reason, people go forward and begin a new life, set a goal that actually means "a dream with a deadline" for them.
Therefore, an important question is: why do those people do it? What is the vital energy which drives and inspires them? And, most importantly, what could we consider doing for our own business to feel satisfaction in what we are going or have already achieved?
Recently, I had a pleasure to talk to Mustafa Almusawa Alhashemi who is the founder and  CEO of Smart Navigation Systems, a startup based in the United Arab Emirates (UAE). I have always loved talking to successful people, listening to their stories of success, thoughts and ideas, finding out more about their vision and mission. I am grateful to Mustafa for making time to talk to me and giving a chance to learn more about him and let me share this interview with you. Just to inspire. Just to let you unlock your creativity. It's just inspirational and fantastic! Check this out:
Dear Mustafa, please give us some information about you so that our readers could feel and imagine who you are and what you are doing.
I am the founder and  CEO of Smart Navigation Systems, a geographical information sciences and electronic professional with an unprecedented experience record, a broad skill set and strong initiative. I worked as a project manager of  a variety of projects related to Control Systems, Telemetry, Surveying and Geographical Information System. I am a member of few program advisory committees in the local universities and colleges as well as regular guest speaker at the academic firms. I am an active member of Abu Dhabi Scientific Club and Abu Dhabi Spatial Data Infrastructure working groups. I have established my start-up  and I am now adding positive contribution to achieve UAE Government vision to  be world first class knowledge based society and economy.
How the idea of Smart Navigation Systems has appeared? Who or what inspired you?
The idea of Smart Navigation Systems came in response of UAE government call to UAE nationals to establish their startup, small and medium enterprises to participate in building the nation knowledge base economy. Our Government leaders have inspired me with their ambitious visions and supporting actions aiming to make UAE among the best countries in the world.
Can you see some results and progress after one year has passed as you are an owner of the Smart Navigation Systems?
I have seen substantial progress in the first year where our first product of building smart indoor positioning  and navigation (IPIN) mobile application is almost coming to finalization.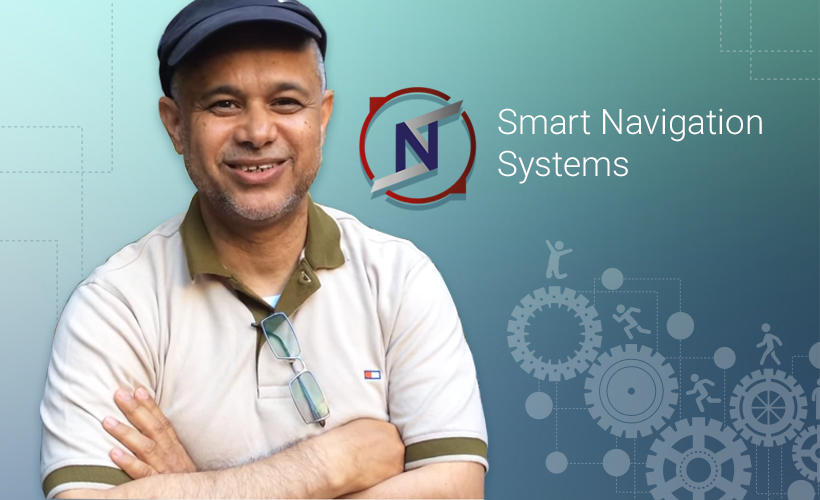 What do you see as an originality of your system? How do you feel the users will be satisfied and happy with your app?
We trust that the users will be delighted to use our IPIN application since it is being designed in very innovative ideas and developed in very high and professional level.
What is the secret of your success? How do you manage to do everything?
The secret of our success is working in a commitment and passion in the field of our domain of experience in cooperation with successful partnership. I manage tasks and duties adopting the strategy of working smarter and not harder, define priorities and maintain balance between work and life style.
Who helps you manage the projects?
My family members are helping me with the current project. This helps transferring the knowledge and experience to them while I avoid being isolated from them by getting busy with the business.
How do you plan to develop your business?
I have developed our business in a business model based on investing on my ideas, experience with full ownership and local UAE branding. Application development is done in partnership with the best internationally recognized firms,
Do you have enough time for your pleasure after the work?
Sure  we play football twice  a week, have many family gathering and attending social and science activities. The key word is maintaining balance between work and family life.
What are your future plans?
Our future plan is to develop innovative location-based solutions: enhancing the indoor location solutions, develop 3D based solutions for the property market and safety, develop products for the consumer electronics.
Can you give any advice for people who want to start their business?
The advice is to work in your domain of experience, be innovative, maintained balance between business and family life and make your business like your hobby , achieve win-win situation with your carefully selected efficient partners, utilize opportunities in your local environment, get to the market as early as you can with your innovative ideas and project as soon it is ready, work smarter not harder, think big , start small and act quickly.
What books or videos can you advise to read/watch to develop the personal and professional skills?
DON DODGE Gives Pitching Advice to Startups & Entrepreneurs at LAUNCH 2014!
I would recommend you to watch the video shared by Mustafa. It is short, but very inspiring. It just wants to say that it is indeed really, really, really hard to get anything done, but if you want to get something you should be the front line and find ways to do things that your competitors can't. There is not any spectacular opportunity to start. Just start whenever you are ready. It is obvious and easy once you know how to run it!
What do you think? Share your thoughts below…