Can an app have more than one target audience? Absolutely not in medicine: security reasons and diverse needs of different user groups to name just two reasons why medical apps are different.
Who are healthcare app users?
Who benefits from medical apps? Who uses a healthcare app to optimize workflow, establish a secure communication channel, and reduce stress levels for both clinic personnel and patients?
Hospital administration – manage treatment process, patient history, appointment bookings

Doctors – get tools for diagnostics, treatment control and management

Medicine students – use for reference and study

Patients – receive consultations and treatment

Insurance companies –exchange information with clinics and clients—securely and efficiently.
You can find more information about healthcare app users in the post Custom Medical and Healthcare Apps: Do people really need them?

Types of healthcare apps
Below is a list of healthcare apps. We categorized them based on each app's purpose, primary audience, and core functionality.
Medical apps for hospital administration:
Clinical management apps – view and manage staff workload, get statistics on clinic's functioning, plan activities, and more.
Software for data collection and processing – facilitate automatically making sense of clinic data.
Apps for referencing – include medical coding, current standards, and reference about treatment monitoring.
Apps for release of health records – exchange, send, and receive sensitive health information securely.
Apps for emergency alerts – send push notifications to duty doctors, nurses, EMS.  
Healthcare apps for patients:
Way-finding apps – BLE beacons-based indoor navigation apps to find the shortest way inside a medical facility.  
Electronic appointment systems – help users make appointments: no phone calls needed.
Health condition tracking apps – used to monitor heart rate, oxygen level, blood pressure, blood sugar level and other body parameters. Usually, they are combined with special sensors.
Reminder apps – help users manage prescriptions, remember appointments and medicine.
Software for a healthy lifestyle – includes fitness tracking apps, sleep monitors, exercises monitors, baby development assistance, calorie calculators, and more. It can be implemented as apps for smart watches and fitness tracker
Web and mobile applications for doctors:
Patient management apps – access patients' health records, diagnoses, tests results with a few taps.
AI-based diagnostics apps – help manage data from remote tracking devices patients wear every day.
Reminder apps – facilitate remembering appointments, patient's name, and myriad details.
Reference apps – find relevant information on diseases and treatment in a few taps. Can also contain functionality to ask colleagues' advice.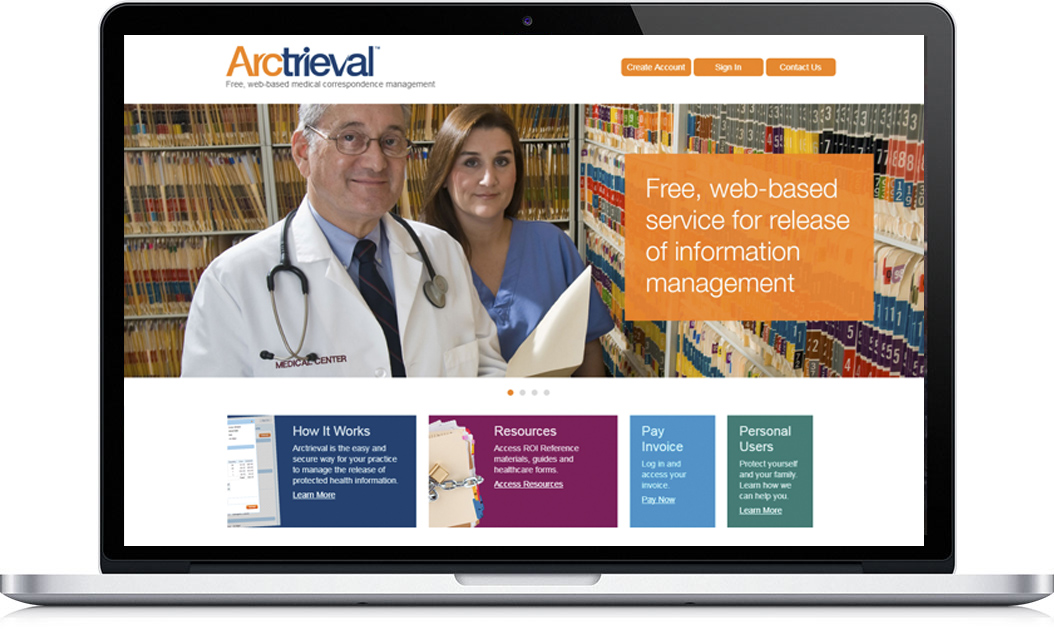 Medical apps for students:
eLearning solutions – use web and mobile apps  in classes and laboratories to learn and review.
Referencing apps – access reference materials in seconds: descriptions, pictures, and videos.
AR anatomical maps – visualize human body and handle it in an interactive manner.
Streaming apps – online presence during surgeries; require extra security restricting unauthorized access.
Software for insurance companies
Solutions for secure data exchange – receive treatment information.
Apps designed to automatically detect errors and issues refunds.
What is essential when starting medical app development?
There is much advice on the dos and don'ts of creating a good app. Let's focus on the don'ts healthcare providers should be concerned about.
Below are relevant points to consider both before starting medical app development and during the development process.
Concern: Security is not given top priority
It's obvious that saving on security leads to lawsuits but since security is expensive some providers might consider implementing shortcuts.
Point: Security remains number one priority and must be considered at every level, from app database architecture through code standard to the choice of 3rd-party service providers. Imagine seeing an operation live streaming in a shopping mall because of hacking.
Concern: Poor usability
Your app could be brilliant technically but your audience might have deeply ingrained habits and beliefs. As a result, they might use the app incorrectly and then undermine the whole idea as not working.
Point: The best way is to start with an MVP development, get feedback on app use then improve it by adding new features or correcting it to fit best to user routine.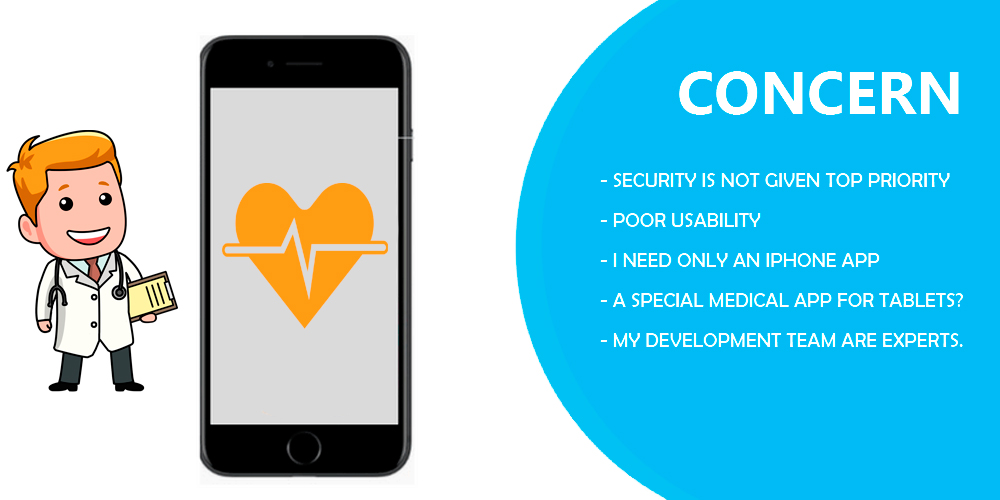 Concern: I need only an iPhone app (also, I need only desktop- /Android, etc.)
For convenience, your audience can usually access your services from more than one device . For example, they can enjoy reading a short report from a smartphone screen as a short reference and later reading all details in full report in a pdf on desktop display.  
Point: A combination of a mobile and Web app is the best. Users might use a desktop at the office and an iPhone/iPad app when in the field. They benefit from being able to open your app on any device.
Concern: A special medical app for tablets? Smartphones ought to be enough for anybody
Many US clinics prefer using iPads. Although tablet usage has not yet peaked in healthcare industry, it is more suited for use inside a clinic due to a wider screen, longer battery life and better performance compared to a smartphone.  The problem is a native iPad mobile app adds 25%–50% to the overall scope of work. iOS developers must manage their own code and adjust it to different screen sizes, etc.
Point: The best user experience is only possible with adjustments. Since your audience prefers the convenience of using iPads, they need a special healthcare app for iPads.
Concern: My development team are experts. They know what they have to do
This might affect both in-house and outsourcing development team. Product owners too often have little to no time to communicate regularly with the development team.
Point: Lack of bilateral communication works against the success of any app development project. Since creating a poor medical app bears many financial risks, the best option is to delegate its creation to someone who has a finger on the pulse of the project, can always respond and make decisions efficiently and effectively.
To sum up, the healthcare industry is adopting mobile devices to its everyday practice. Users—patients, doctors, hospital administration, students, and insurance companies—need different apps specifically designed to their needs to simplify their routine.
Development of a medical app needs a thorough approach in all aspects. It does not tolerate, poor user experience, cutting corners and lack of communication.