Everybody agrees Android and iOS are traditionally the leading platforms for mobile apps. A well-known fact is that the Windows platform has its audience and admirers. Another fact: Microsoft is a big player, so the trends this company follows are worth special attention.
One of the most recent Microsoft acquisitions was cross platform app development Xamarin. Will this cross-platform technology grow under the ownership of Microsoft? Or will it fall under the wheels of its new owner and never become a real competitor to native programming?
To answer this question, let's bust some common myths about cross-platform development.
Myth 1. All cross-platform solutions have neither native performance nor native appearance.
In the past, this was absolutely true. However, time moves on. Xamarin busts this myth. It complies with C# code in a proper manner, so the UX of a Xamarin-based app works and looks the same as a native app.
Myth 2. Cross-platform development means fewer bugs.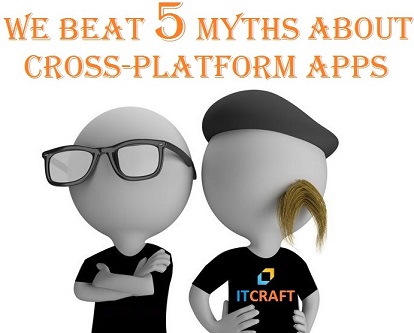 Certainly, all Xamarin-based apps share the same source code, so there will be fewer bugs than in three separate native apps. However, a bug-free solution is unlikely to ever be developed. Unfortunately, a code without bugs simply does not exist, just as there are no rules without exceptions. Bugs are caused by human error and can be corrected via testing.

Myth 3. Porting source code from another platform will be enough to launch a Windows app.
ITCraft has been developing mobile apps since 2010. We can state categorically no tool exists, as yet, that enables 100 % successful code porting from one platform to another.
What is the main disadvantage of native programming? It is limited to one individual platform. This means that when there is the necessity to build a Windows app, it should be developed from the ground up.
This is why many popular companies have their mobile apps available only on one platform – or start with one platform and expand once the apps are solid enough. For example, Instagram introduced its iOS app first and only 2 years later became available on Google Play.
Myth 4. Only native apps can function offline.
This is 100% myth. A Xamarin-based app can require both an instant Internet connection or work offline.
Myth 5. Cross-platform development is easier development approach than native.
Although Xamarin enables developing the same business logic for three platforms, the development process itself is hardly easy. As with native apps, development on Xamarin covers all the following steps:
Adapt all requirements to iOS, Android, Windows
Design app architecture
Write source code
Testing and deployment at Apple Store, Google Play and Microsoft Store
The myth list goes on, but the above-mentioned are the most common. Even if Xamarin has some drawbacks, they are caused more by platform popularity than native app development.
However, it is clear that Xamarin-based, cross-platform app development holds its own compared to native apps. Furthermore, Xamarin opens a Windows platform, which is not possible with native apps.
Technologies evolve rapidly, so Xamarin has every chance to become a strong competitor of native iOS and Android development in the nearest future.
In the next blog post, we discuss development costs. What is cheaper: native development or Xamarin? There is no definite answer yet, but we might find an answer.