Our life and especially shopping became much easier with the appearance of the Internet and online stores.
According to Digital Information World statistics,  people spend more than $1,201,173 online every 30 seconds. And this huge amount increases every day, not even every day: every minute!
This is the main reason why many companies, ranging from the biggest enterprises to small shops have reoriented their business towards efficiency and a strong online presence.
And here, e-commerce development opens up new possibilities for them. The main question for store owners is how to choose the right technology for their e-commerce website. Because many online store owners use Magento CMS for their websites, we discuss such fundamental questions as the advantages of using Magento, development costs and timeline.
Just starting out? The information below is useful for those who have just started along the e-commerce path.
Planning an upgrade? This information will be equally interesting for those who already have an e-commerce store and are contemplating upgrading their existing website or migrating to a different CMS.
What are the main benefits of Magento CMS?
The main benefit of Magento is its extensive functionality available for immediate use right after installation (click on this link to see the whole list). The set of features that Magento CMS contains allows making custom solutions with any degree of complexity and processing huge data volumes. Magento solutions provide excellent performance under high load.
At the same time, the Magento platform has an adaptive web design. This means that the customers will feel comfortable using a Magento-based website on any device.
Another advantage for business owners is the ability to create and manage multiple online stores with just one admin panel. The system also allows assigning specific product characteristics, working with multiple currencies and converting them quickly and efficiently.
Certainly, to make things work smoothly, the system requires essential resources. This is why it is far better to use a more powerful dedicated server rather than using shared hosting.
Nevertheless, owners of small, medium and even large online stores choose Magento because of its functionality, easy integration with third-party services and free community edition: these are the main reasons to choose this CMS.
Famous brands using Magento for their online stores:
Samsung
Ford
Christian Louboutin
Lenovo
Olympus
How much does a Magento website cost?
The estimate below represents core features for a website with basic (minimum) functionality. The estimate depends very much on your requirements and list of features. If you want to extend simple functionality, just compile a list and ask us to give you an estimate based specifically on all your needs.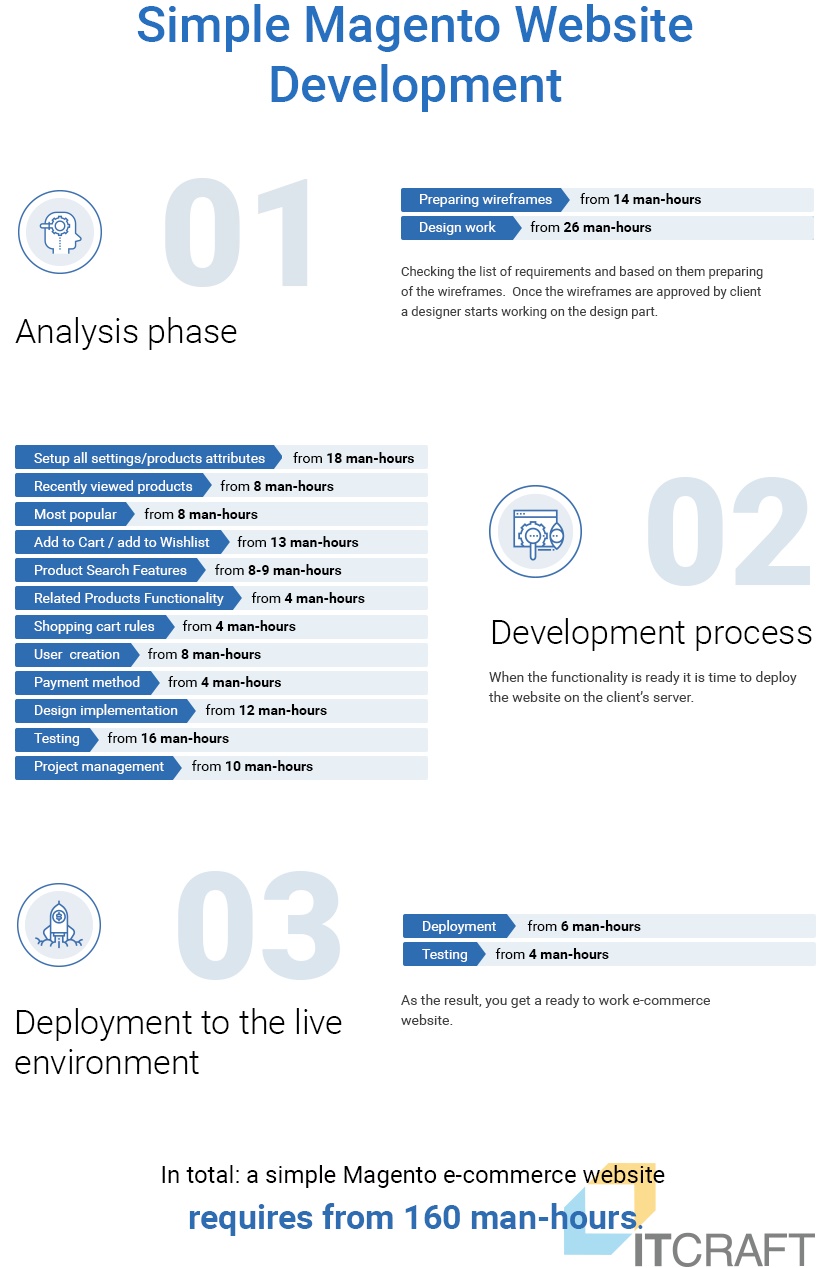 ---
The cost for a simple Magento project starts from $3,200 at $20 per hour to $24,000 at $150 per hour.
Costs of Magento Community
There are 2 types of Magento licenses available for e-shop owners:
Magento Community

Magento Enterprise edition
Magento Community offers a free license; about 25% of all e-commerce shops are based on it.
Although a free platform, Magento Community exceeds the already-existing e-commerce platforms in terms of offered functionality. It has become one of the most popular and most-used platforms available.
Costs of Magento Enterprise Edition
Magento Enterprise is a paid license used by all the famous brands—Nike, Bulgari, Watches of Switzerland, Pepe Jeans, Oliver Sweeney, Olympus, and others.
While having the same core modules, Magento Community and Magento Enterprise Edition have many differences.
All the advantages of Magento Enterprise are aimed at increasing and maximizing website performance and enabling shop owners to attract more consumers to their stores.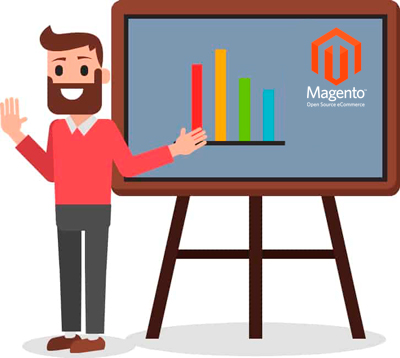 Magento Enterprise offers the following unique features:
User segmentation by different criteria like gender, age, already-purchased items, first time on the website, history of users' reviews, etc.

Offers an ability to set up the up-selling and cross-selling blocks and offer different conditions for all segments

A very flexible loyalty system and gift cards

A private 'Sale' option for specific groups of consumers

Advanced Return Management system

A more advanced algorithm of order making
Pricing for the Magento Enterprise Edition starts at $20,000 USD and increases in accordance with annual income revenue.
Magento themes
If you don't want to spend the time on a custom design for your future website, there are lots of ready-to-use themes on the Internet. Buy one to start your online business very soon.  
Pricing for Magento themes starts at $29 USD. The more unique, pretty and stylish you would like your future website to look, the more you need to pay for the theme.
The biggest challenge is to find the right theme. You can search through the Internet or go to the ThemeForest to buy it  . Also, you can ask your development team to find a few options—the most user-friendly, modern, and mobile responsive options—to help you choose something and then customize it.
How much does a Magento website cost to host?
Since Magento hasn't provided a hosting service for its clients, the question of website hosting has become very popular. Many people do not take website hosting  into consideration when assessing costs. This item on the cost list can be considered as important as developing the website itself.
The price range for the hosting starts from $20 USD/month for shared hosting and up to $4,000 USD for multiple dedicated servers or cluster hosting environments. In case you have more than 500 daily visitors and a huge number of items, it is more cost efficient to consider having a dedicated server. The geographic location of the hosting service should be chosen in accordance with the location of your audience. (For example, if most of your visitors are from Australia, then you should buy a server in Australia rather than in France.) To determine the best package, you need to test hosting during a trial period (Every hosting provider should offer this) or you can ask your development team for support and suggestions for the best option to suit your website business needs.
Also, you might need a DevOps team to help you deploy your software on servers and minimize maintenance costs by optimizing server usage.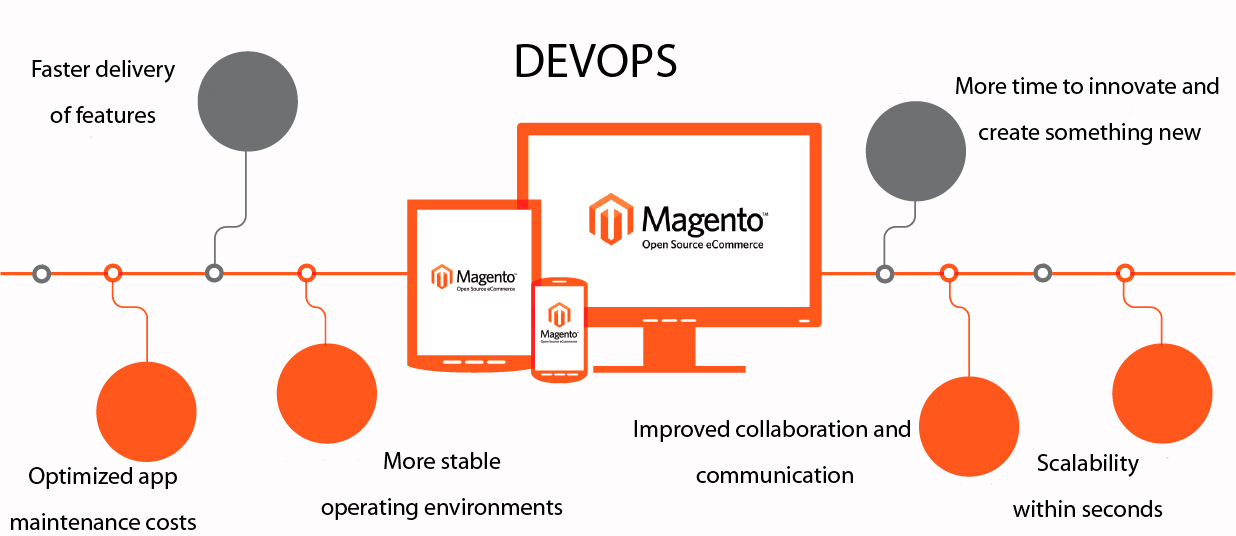 Who to hire to develop your Magento store?
When it comes to development, it is never an easy question to answer:
which is a better option to hire— Magento developer or a Magento development team?
Determine what is the most important thing for you: price or quality?
Of course, if you already have an ongoing e-commerce store and need some maintenance to be done, it is better and faster to go to your previous developer/team. But if you want to build your e-commerce business from scratch, you need to take time to consider your options.
Here are some tips that will help you:
 

Be careful if a freelancer promises you too much.
Ensure you choose someone who will not disappear after the project launch but will be your technology partner in the future.
If you choose to hire a single programmer, make sure you understand how to work with programmers. Create a plan that ensures both process and progress are covered. Remember you must manage both the programmer and delivery on your own. Know the risks and how to avoid them.
You can always test a team or a freelancer with a small trial task
Pay proper attention to the testing process. If this is a freelancer, understand there is no ideal code no matter how many years of previous experience a programmer has. If this is a team, make sure they include QA engineering as part of the estimate
 

Be aware if the agency promises you to dedicate a team for a song
 

Pay attention to the communication side. Make sure that they understand your needs—and ask questions.
If you hire an agency, you can always ask for references.
We will be happy to analyze your project requirements and proceed with a detailed estimate. Do you want to know how much it costs to develop a Magento e-commerce website at IT Craft? Find out with our free estimate.