Our life and especially shopping became much easier with the appearance of the Internet and online stores.
According to Digital Information World statistics,  people spend more than $1,201,173 online every 30 seconds. And this huge amount increases every day, not even every day: every minute!
This is the main reason why many companies, ranging from the biggest enterprises to small shops have reoriented their business towards efficiency and a strong online presence.
And here, e-commerce development opens up new possibilities for them. The main question for store owners is how to choose the right technology for their e-commerce website. Because many online store owners use Magento CMS for their websites, we discuss such fundamental questions as the advantages of using Magento, development costs and timeline.
Just starting out? The information below is useful for those who have just started along the e-commerce path.
Planning an upgrade? This information will be equally interesting for those who already have an e-commerce store and are contemplating upgrading their existing website or migrating to a different CMS.
What are the main benefits of Magento CMS?
The main benefit of Magento is its extensive functionality available for immediate use right after installation (click on this link to see the whole list). The set of features that Magento CMS contains allows making custom solutions with any degree of complexity and processing huge data volumes. Magento solutions provide excellent performance under high load.
At the same time, the Magento platform has an adaptive web design. This means that the customers will feel comfortable using a Magento-based website on any device.
Another advantage for business owners is the ability to create and manage multiple online stores with just one admin panel. The system also allows assigning specific product characteristics, working with multiple currencies and converting them quickly and efficiently.
Certainly, to make things work smoothly, the system requires essential resources. This is why it is far better to use a more powerful dedicated server rather than using shared hosting.
Nevertheless, owners of small, medium and even large online stores choose Magento because of its functionality, easy integration with third-party services and free community edition: these are the main reasons to choose this CMS.
Famous brands using Magento for their online stores:
Samsung
Ford
Christian Louboutin
Lenovo
Olympus
How much does a Magento website cost?
The estimate below represents core features for a website with basic (minimum) functionality. The estimate depends very much on your requirements and list of features. If you want to extend simple functionality, just compile a list and ask us to give you an estimate based specifically on all your needs.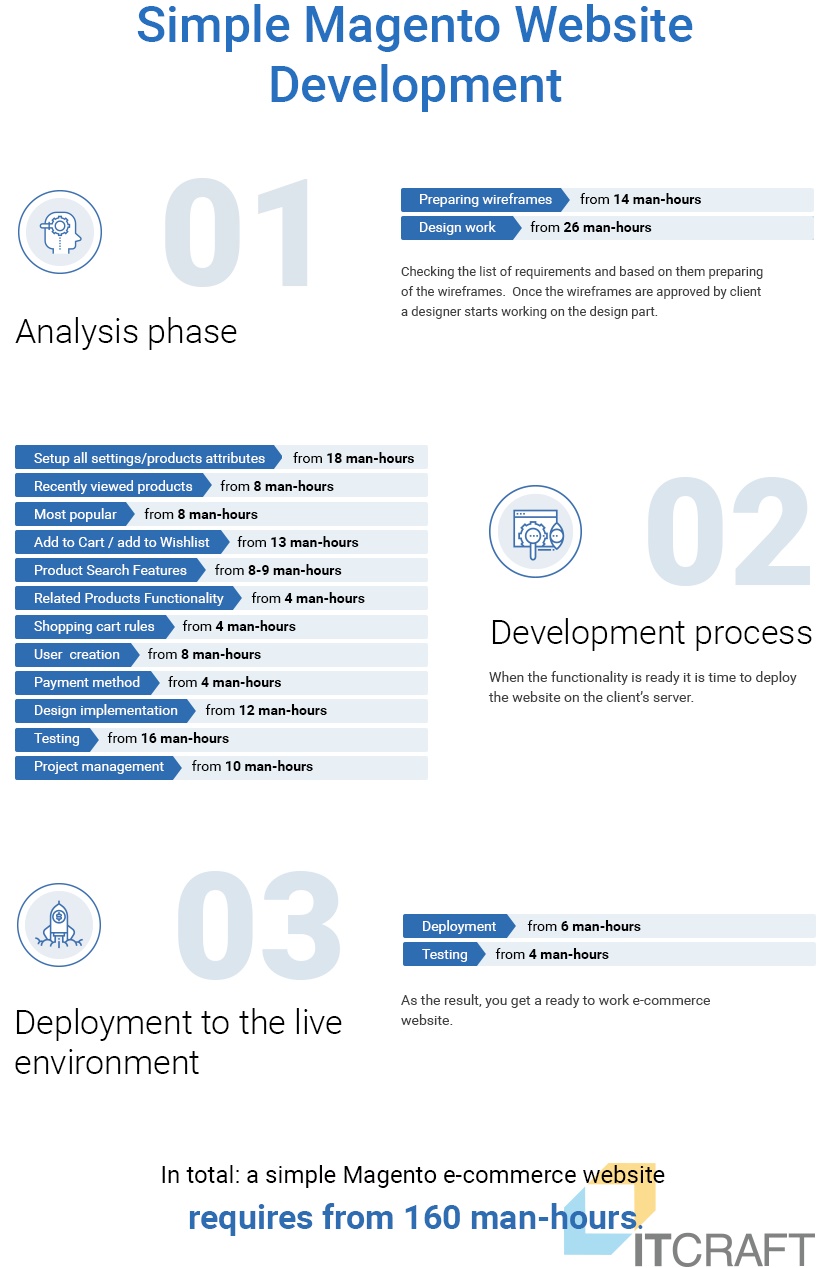 ---
The cost for a simple Magento project starts from $3,200 at $20 per hour to $24,000 at $150 per hour.
How much does it cost to develop a Magento e-commerce website at IT Craft?