Phone Gap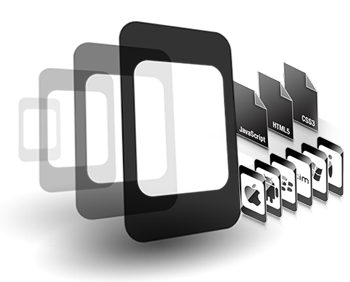 PhoneGap is a technology that turns your web service into a mobile-friendly hybrid app for a reasonable price. This is a very popular framework for web-based solutions development as it utilizes the latest versions of web technologies all developers work with: HTML5, CSS3, and JavaScript.
What makes PhoneGap a good option for you:
It is free and open source;
It enables to build apps using standardized APIs for any devices on any platform;
PhoneGap framework allows to employ the app development tools and services, like jQuery Mobile, Sencha, etc;
It grants access to device hardware like accelerometer, camera, geolocation, etc.;
PhoneGap is more focused on the write-once-run-anywhere model. Its aim is to deliver a native app experience by wrapping an HTML-based application into a native app shell of each platform;
For the reason above, PhoneGap web apps can be distributed and installed via native app stores;
Since apps use the same codebase porting is no problem anymore. This helps to avoid additional work of separate code writing.
PhoneGap benefits for developers and business owners:
Simplicity – by avoiding native development languages, you save time for search when the team members do not have specific skills.
Multiplatform – it is easy to reuse and maintain the codebase, as well as make changes in it.
Shorter development cycle – you save time and effort by doing the same amount of work.
Deployment to an app marketplace like App Store– makes your hybrid app look trustworthy in your customers' eyes.
PhoneGap app development with IT Craft
Our PhoneGap team has various experience in app development. We are always committed helping customers solve their issues in the best possible way. Please feel free to contact us!
How it works?
Contact Us