Drone Software Development
The drone industry is emerging in every sector of the economy. Drones are being used to help agriculture, videography, journalism, building inspections, and search-and-rescue missions. But it isn't just this new piece of technology and hardware that is bringing new opportunities to these industries—it's software.
So, are you considering starting a drone-based business?
Already have one?
Either way, you are in the right place!
Our team of experienced software developers can create the applications – both web and mobile – that will help your business grow.
What kind of software can we build for your drone?
We can create actually any kind of software application for your drone—either using or not the drone SDK and API.
This kind of software does not require your drone SDK/API availability:
Processing data collected by your drone after the flight
Any operations around your drone / drone business not involving the real-time flight data
Examples:

MyFlyZone application ITCraft developed for one of our German clients:
This application allows private drone pilots to view zones legally restricted for flight around their geo-location and to inform other pilots in the same area that a definite zone is temporarily occupied by a drone. Here the mobile application defines the user location with the help of the smartphone GPS function. The legally approved air map is hardcoded in the application. No direct interaction with the drone at the time of flight is necessary, as the drone flies within a legally predefined area.
View project

An application for an insurance company using drones for audit purposes: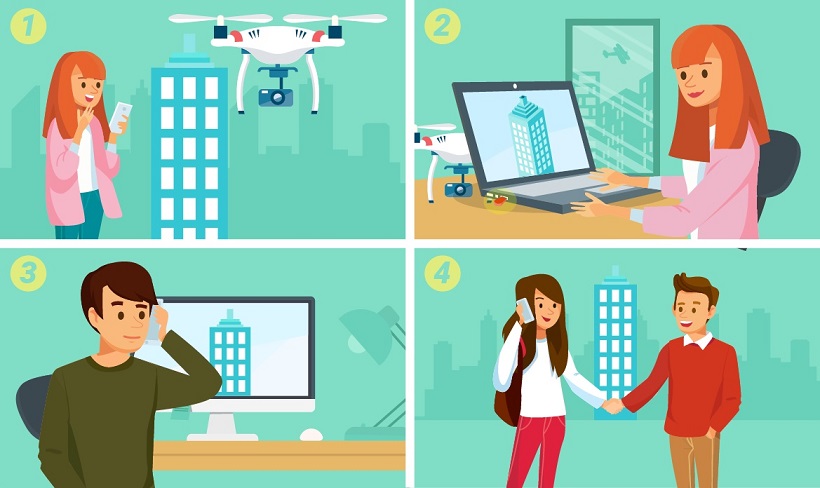 A business management application allowing software programming company employees to process insurance cases and assign a drone audit, when necessary, keeping all case details in one place. All people involved receive notifications on the case progress (including the drone pilot receiving notifications about the time and place of the audit to be made). The materials provided by drone (photo, video) are enclosed with the case with comments and conclusions. Here the data collected by the drone may be passed to the office application in a hassle-free way (either through a cloud service or data carriers).
This kind of software requires your drone SDK/API availability:
Real-time flight management (tracking your drone in real-time, updating the route on the fly)
Exchanging data with your drone on the fly (photo, video transmission)
Flight planning
Examples:

An application for a drone racing event:
A downloadable application for smartphones allowing participants to register, create a profile, interact with other participants (chat, messages), and also allow tracking drone race parameters in real time during the competition (speed, distance, competition result), available prizes and any other functions an event requires. The drone transmits the data directly to the mobile application at the time of racing. This requires drone SDK/API.

An application for a company investigating damages from natural disasters: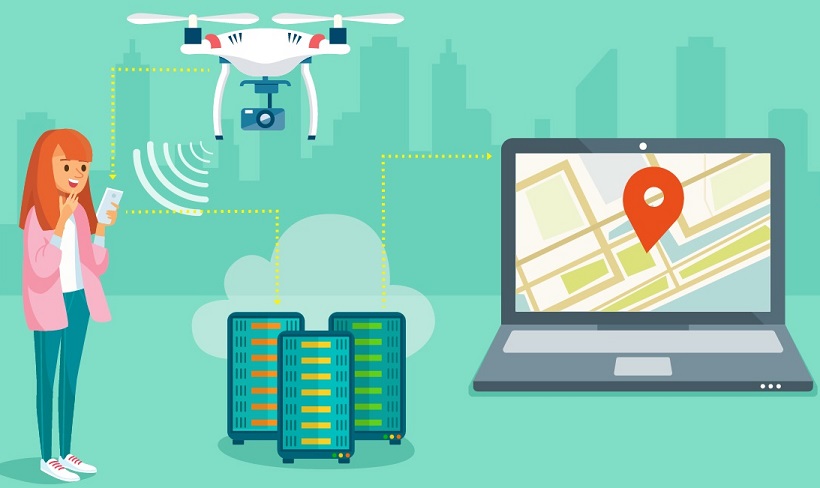 Part one – a mobile application for a team distributed in several geo-locations that allows collecting all the images and survey data from several drones in one place. Part two – on a desktop computer, it is possible to review and analyze all the details collected by the drones and depict the results in diagrams and 3D maps. Here the data collected by drones is transmitted to the mobile applications in real-time then sent immediately to the central office application to allow quick investigation and visualization of the pictures of the damage, and make urgent decisions on the disaster recovery.
Drone models providing SDK/APIs for custom software solutions:
DJI drones
3D Robotics drones
Parrot drones
Any drones that manufacturers provide SDK or API for interaction with drone hardware at a high level
Get in touch and share your ideas with us.
Together we will find the best solution for your business needs!