Android App Development Company IT CRAFT
About OS Android
Google Android is the world's most popular mobile platform, which is run on more than 1 billion smartphones around the world. As an open marketplace, Google Play allows deployment of Android applications broadly and to hundreds of millions of users across a wide range of Android devices.
Android is an exciting platform not only for consumers, but for developers as well. It offers various tools with advanced features for developing, debugging, and packaging. Open, distribution-free nature of Android allows easy customization and upgrading. It is no wonder the Google Play store officially reached over 1 million apps published!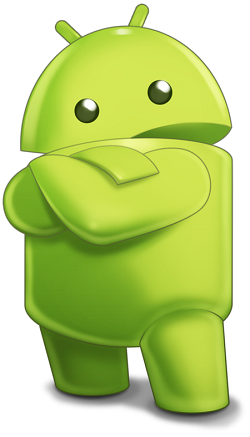 The latest given stats prove Android is the fastest growing OS — Apple ®, Windows ® and BlackBerry ® are behind, every day another million users power up their Android devices to look for digital content it offers. The number is increasing constantly, because Android gives a world-class platform for creating apps and games.
Android for your business
Engage audiences, promote offers, personalize and customize the product to make it uniquely yours – that is far from the complete list of benefits your business can get from Custom Android Apps Development. Mobile apps market is ruled by custom Android app development as it encourages presence of innovative and dynamic apps for mobile users worldwide.
Android apps development
We take pride in an experienced team of Android app developers for hire, skilled at developing Custom Android Apps. Succesful launches of Android apps in Business, Tools, Books & Reference, Social Networking, Entertainment, Photography, Education and other categories is what we have to prove. No matter if you need an Android app to maintain relationship with your existing customers and expand your reach to new prospects, our objective is to to create a state-of-the-art app to exceed your expectations. We will turn any creative idea of yours into reality and make it compatible with any Android smartphone, tablet or Google TV.
Why our android app development company
In a market crowded with Android app development companies, agencies and different offshore specialists, selecting the right mobile developer can be a real challenge. Understanding this, we focus on peculiarities that make us different. We are proud to make Android apps that are:
technically sound
user-friendly
creatively designed
supported after launch
Our Android experts have best-in-class skills and proven expertise in mobile application development by using the following technologies:
Java for Android Development;
Client-server model;
Pixel perfect design;
Push notifications;
Location services and Google Maps;
Media support;
Statistics and social media integration;
Integration with any open-source API and social platform;
Optimization.
Where to start
Feel free to get in touch and share your Android app idea even if it doesn't have a real shape yet with . Combining your inspiration and our Android experience, we will be able to build an innovative concept together. Once you take a decision to hire Android app developer with us, our team will jump into action and send you thoughtful feedback to address your request.
OUR PROJECTS