Magento Development Services Outsourcing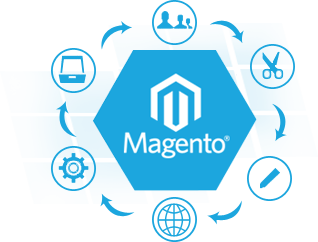 ECommerce is one of the most important directions in our work and we truly love working in this field. Among all available eCommerce platforms that simplify the development of eCommerce websites, with no doubt, Magento is software trusted by the world's leading brands. Magento provides a solid shopping website platform out of the box and used for developing truly scalable and state-of-art eCommerce portals. Many of the store configuration functionality like categories, management of static pages, pricing, product set up and update, placing and running efficient marketing campaigns, etc., are built in this awesome eCommerce platform.
Besides, Magento offers a gigantic selection of free extensions from professional development companies that can add more functionality to the basic system. Thanks to this Magento is considered to be the most customizable eCommerce system possible. The existing functionality can be extended both using already available extensions and developing new ones.
However, it's important to correctly configure Magento for the best performance in your environment. Every Magento developer should remember that Magento offers a definite set of implementation and configuration guides to be followed accurately, otherwise there is a risk of non-effective operation which will directly affect sales. This is the reason why Magento is better to setup with the help of expert Magento developers. It is ssential to know the system well and be able to customize and program it so it operates in the most beneficial way.
If you are considering using Magento as your eCommerce platform, we have years of experience working with Magento and can help you setup, customize, deploy and maintain your Magento platform.
What we offer:
Magento web development from the ground up;
Updating of existing Magento website with rare payment systems;
Adding unique functionality;
Changing out-of- the-box Magento functionality to meet your special requirements;
Optimizing the firm productivity of existing solution based on Magento.
Our Magento experience includes:
Module development to integrate Magento and caching proxy server Varnish to get the best performance of the website;
Subscriptions and Recurring Payments Magento module development with the bills created automatically for monthly purchases that are done with the payment systems, which do not offer recurring payments;
Magento Product Import module development to simplify the first data entry from external excel files into online store;
Custom Banner Magento module development to offer lots of unique configuration options;
Magento Gift Card module development to offer gift cards, gift vouchers at birthdays or anniversaries;
Update of Magento Backend Panel design and functionality to meet client's preferences;
Magento Email Templates setup and customizing;
Magento Orders setup and customizing;
Adding a separate page to show discounted products and much more.
We never stop developing our skills, therefore Magento outsourcing services we provide ensure stable solution that will contribute to your revenue growth.
How much does a Magento website cost?
The estimate below represents core features for a website with basic (minimum) functionality. The estimate depends very much on your requirements and list of features. If you want to extend simple functionality, just compile a list and ask us to give you an estimate based specifically on all your needs.