Mobile Software Testing Services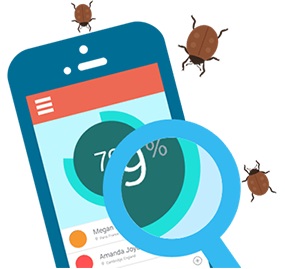 Mobile and web-based apps are probably the most challenging types of solutions. A standard app uses several technological platforms and thousands of code lines. Apps must function on different OSs, screen sizes, and hardware without lags on. To add to the challenge, mobile app technologies get frequent updates which might result with some features being broken.
Testing and QA management are a must in the following cases:
Major updates of OSs, frameworks, and tech platforms
Examination of a new app before the final release

Changes in app architecture

New requirements
Our experience covers all ranges of mobile testing needs, from test case planning to choice of relevant methodology to implementation of proven approaches.
We use best practices, cutting-edge technologies decreasing testing time, thereby reducing testing costs while always retaining the same quality level.
We provide the following services to cover needs for mobile testing and enhance app performance:
Performance

Network (Wi-Fi, 3G, Bluetooth) usage
Resources usage (CPU, battery etc.)
External resources (external libraries, frameworks)
Code/DB architecture

Installation

Installation environment

Updating version (Upgrades)

Data integrity (consistency)

Functional testing in all levels (Component/Integration/System)

Testing the requirements/business process

Regression testing

Security

OS Support

Cross-platform
Native apps

Security and Vulnerability

Penetrating tests

Security Standards (OWASP, ISO/IEC)

Encryption

Statical/Dynamical

analysis

Interruption

External services (call, sms)

Aircraft mode

Custom permissions

Non-Functional

Performance / Load Testing

Usability Testing

Configuration Testing

Smoke/Sanity Testing

Memory Leak

Garbage collection

Memory consumption

Code review
Our aim is to provide the best performance and stability on all devices listed in the product's specification.
To make this happen and to ensure app functionality fully corresponds to your requirements, we are happy to expand our device collection in order to meet your special hardware requirements.
How it works?