Team augmentation—when you hire an outside team or developers—you quickly add missing expertise to a project.
This is crucial in a market where software engineers in all recognized specialties are in high demand: Web, mobile, QA, embedded engineers....literally, everyone.
The strong trend has continued for over a decade. Why?
Businesses need engineering expertise to adapt to the new, digital reality where customers become users and users become customers.
The demand in custom development services continues to increase.
So, too, the demand for more software engineers.
Team augmentation is a solid answer to this global challenge.
Software development market statistics
For decades, the software development industry has grown at an enormous pace. For example, 16 of NASDAQ's top 20 companies work with either software development or hardware manufacturing, or both.
Let's look at software revenue as a relevant example.
Software revenue growth in world's ICT industry kept rising from 2005 to 2019. Numbers are in billions of USD.

Source: ResearchGate
The software market enjoyed profit growth for over 12 years straight! This is mind-boggling.
2020 is the first time that growth flatlined. In fact, according to Gartner, companies experienced a 5.4% decrease in 2020.
However, forecasters say the industry will grow again in 2021. Small and mid-sized companies will continue establishing digital foundations for their businesses. Vaccines are easing up the economic tension caused by Covid-19, so businesses can be optimistic about this year.
Worldwide IT Spending Forecast (Million of U.S. Dollars)

Source: Gartner
Even more notable, the European tech scene grew massively in 2020.
Total estimated enterprise value ($B) of European tech companies
founded after 2000, in private and public markets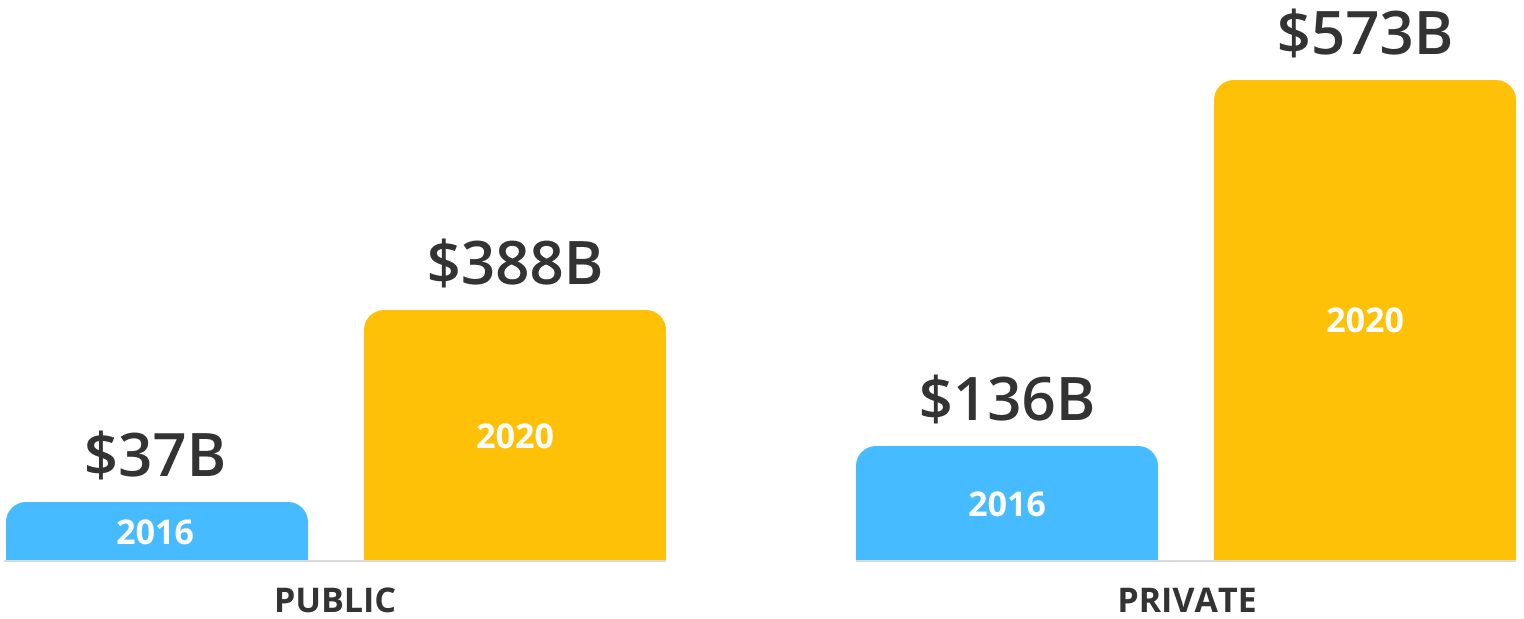 Source: State of European tech
All in all, a stable revenue increase signals that the software development industry is making progress at a remarkable pace despite many challenges.
An expanding development industry requires a growing number of skilled engineers to augment teams and handle an increasing scope of work.
Trends and drivers on software development market
Basically, high demand and low supply create pressure on small- and mid-sized businesses and pushes them to look for team augmentation.
The FAANG giants—Facebook, Apple, Amazon, Netflix, and Google—are on the World's Best Employers 2019 list. Other renowned tech companies, such as Red Hat and Intuit, are on this list, too. Having substantial fiscal resources, they can offer candidates:
impressive salaries
opportunities to work with—and often on—cutting-edge technologies
spacious "all-included" campuses
Such companies:
Constantly need engineers for expanding projects.
Want competence and effectiveness.
Take care of workforce by offering them the best working environments to facilitate greater production output.
Any businesses that cannot offer the equivalent are left in the dust.
Many non-IT enterprises also need software engineers. More and more products rely on software. Cars, planes, warehouses—everything becomes "smart" and "automated". Because of this, many companies either plan to start their own tech departments or want to expand.
Demand for tech professionals is skyrocketing. The market lacks available software development engineers, security specialists, IT consultants, and many other types of professionals.
Candidates become the most valuable resource in this ever-expanding market. Because of this, tech companies pursue an aggressive hiring strategy hoping to hire the most talented candidates. The FAANG leaders drain top talent from the US labor market.
In 2019, US companies had nearly one million vacant positions. TechRepublic reported the CIOs were most challenged finding and onboarding professional tech experts.
According to Code.org, the USA lacks IT specialists. Code.org reports about over 433,000 open jobs US-wide. The number of fresh graduates with a degree in Computer Science equals only 71,000+—about 16% of demand.
EU countries experience similar challenges. For instance, The Munich Eye discusses the profound shortage of skills in the German labor market. The Swiss Research Institute Prognos AG estimates the German market could face a shortage of nearly 3 million software engineers by 2030.
Software developers are now in as much demand as scientists, engineers, and medical workers.
The German Federal Agency of Employment is striving to overcome by establishing skilled worker programs:
Despite the pandemic and the associated situation on the labour market, securing skilled workers remains an important issue. This is because shortages of skilled labour continue to exist in various occupations and could become even more acute in the future, including in the industrial and service sectors.
The deficit affects small and medium-sized companies the most.
According to the reports from Germany's largest digital association, Bitkom.org, the number of open vacancies for IT experts more than doubled between 2017 and 2019.
For the first time, there are over 100,000 open jobs for IT experts in Germany
Number of the positions to be filled in the entire economy

Source: Bitkom
With a serious shortage of engineers, companies face a long-term challenge of finding good professionals to fill all the vacant positions.
Tech giants have even begun fighting for college and university graduates.
Yet, IT keeps growing and demand remains in lock step. So, small and mid-sized companies need to consider cost-effective alternatives.
Team augmentation could become the top priority.
Ambiguous impact of COVID-19 on the market situation
The impact depends on the type of service a company offers.
Companies hit hard by COVID-19:
food and restaurants
travel companies
…and other businesses requiring direct human interaction.
For example, Airbnb had to lay off 25% of their staff.
Some software development projects have been put on hold in a "worse-case" scenario.
The following categories are in high demand:
Custom software is the basis for "safety-first" socialization.

Zoom, Netflix, Twitch, and their alternatives keep growing. They make a "stay-at-home" lifestyle possible. People join digital trends now even when they did not need digital services in their previous life. There are simply no other options.

Companies adjust to remote work mode.

Demand on IT services grows according to Deloitte Research reporting on the impact of COVID-19 on technology sector. Since everyone works from home, companies need to:

Invest in cloud infrastructure.
Adopt custom software solutions.
Enhance security.

Also, companies need to consider workforce diversity. They would be wise to avoid "all their eggs in one geographical basket". Far wise to select geographically distributed teams to avoid this problem.

Team augmentation is part of this prudent plan.

Companies return to postponed plans.

Postponed plans will be put into action as soon as the market revives. According to IDC's forecast, this will begin this year.

IT Spending 2020-2023

Worldwide IT Spending YoY Growth, December 2020 Forecast

Spending will even increase compared to pre-coronavirus times. Businesses will optimize their processes still keeping in mind a possible pandemic outbreak. Software and IT infrastructure will be a part of this plan. Team augmentation will help them rebuild business processes within or for less time.
Team augmentation as a plausible growth strategy
Since market pressure remains high, there are several possible sources for further expansion of an IT department:
Accept cost raise and keep searching for skilled candidates

This suits teams with big budgets.

Opportunities to gather a 5-star team.
Long and expensive.

Establish an internal job training program and look for unconventional candidates

This works for companies with diverse departments

One-man army experienced in programming and respective knowledge domain.
A small pool of candidates interested in both business domain and coding.

Opt for staff augmentation services

This suits a company that quickly wants to add expertise on a project and/or has more scope than the internal team can handle:

Decreased risks through geographical diversity. .
Long- and short-term needs are covered.
Large pool of experts.
Increased importance of clear communication and cultural differences on a project.

Hybrid model

This works for businesses that share risks between internal training and outsourcing team augmentation.

Sustainability through team distribution.
Accumulated business knowledge.
Access specific technical expertise (e.g., AWS hosting management).
It also keeps costs down.
In the next two parts, we analyze how we build an effective workflow and provide use cases from a company's experience.
Part two discusses:
hybrid team composition
benefits of staff augmentation
guidance to solving classic problems of outsourcing software development use cases.
Several companies cooperate with IT Craft based on the team augmentation model. Here is what it looks like.
Are you looking to add missing expertise to your project?
Contact us to see how we can help.