You are good at what you do. And you love doing it. You enjoy your life.
But one day you wake up and realize… The right moment has arrived for you to make a decision—an immediate decision.
No more delay!
You have an idea which you want to bring to fruition. You want to attract a lot of clients and earn the money you deserve. 
You are completely energized!
You have some money to build your first minimum viable product (MVP) and the key question comes to your mind:
How much do I need to cover the MVP development costs and test my business idea?

Will that figure $5,000, $10,000 or, perhaps, $50,000?
Good question.
You know all the inspiring stories about startups like Facebook, Uber, Instagram, etc.They followed these recommendations to become successful:
They had reliable people who were proficient at implementing their ideas.
Startup founders determined and solved the most burning problems of prospective customers in their business.
Costs for MVP development were as low as possible saving a fortune in the beginning.
You have the right partners and you know how to solve customers' pain points.
What should you figure out before you start calculating costs to build an MVP?
But before we discuss the crucial steps to success, let's answer these questions.
1) What is an MVP?
2) Why do you need to begin your startup with it?
The basic definition provided by Eric Ries, the author of Lean Startup, states the following:
The minimum viable product is that version of a new product which allows a team to collect the maximum amount of validated learning about customers with the least effort.
Therefore, MVP proves the saying: Start Small Win Big in Business. MVP development gives an opportunity to:
test ideas and users' behavior before creating a full version of an application
react quickly to unexpected changes based on user feedback
In our previous post, we described the idea of MVP for startups in detail.
Now let us focus on MVP price.
How much does an MVP cost? What aspects affect the price?
MVP pricing varies significantly depending on such aspects as:
1) opting for a freelancer or a company
2) establishing scope of work necessary to complete MVP (design, features, API development)
3) choosing web or mobile app first
Being energized by possible success, you should carefully consider each aspect mentioned above. They are crucial for your business and launching your MVP.
1 Freelancer vs. Company. Which one to choose? How would MVP costs deviate?
There are many platforms where you can find inexpensive specialists to work with. Consider these popular platforms, Upwork and Freelancer. You can find either local freelancers or remote experts ready to build an MVP for you. They offer a wide range of skills and expertise. Be wise in choosing. You can easily double-check their proficiency by just giving some test tasks.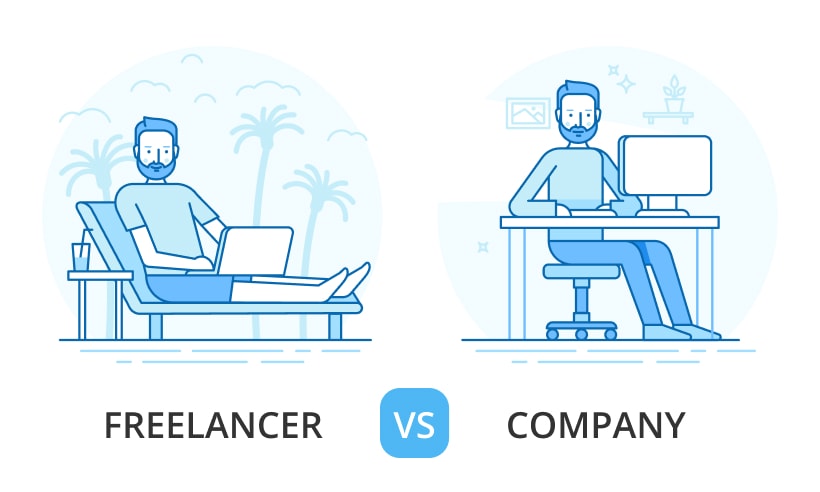 The main advantage of using freelancers is that such specialists usually cost less. On average, developers' hourly rates range from $18 – $100 (Asia vs. North America).
The number of working hours also varies. Let's assume that one month has 22 working days. Every work day has eight working hours.
Consider the Eastern European hourly rate. It is in the middle range, between Asia and North America.
A software developer will cost ~ $6,160 (mid-range hourly rate in Eastern Europe, one month of full-time work). You would also need a UX designer @ $3,500. And a QA specialist to thoroughly test the app @ $2,850.
Thus, a freelance team for one month costs approximately:
$6,150 + $3,500 + $2,850 = $12,500 USD.
Of course, the amount depends on whether you work with local freelancers or remotely (hourly rates might differ; the sum will vary).
Also, you should also include indirect costs of time you spend managing and coordinating your team.
The biggest disadvantage of working with freelancers is greater risk. If they get sick or go on vacation, it will be very difficult-to-almost impossible to find an immediate replacement for that person. Also, freelancers often get bored with their current tasks or are snowed under by requests. They can just stop answering and you have no way to reach them. So, if you decide to work with a freelancer, it is safer to work with a local one.
Considering MVP development with a company , MVP pricing ranges greatly depending on whether you have decided to work with a local agency or nearshore/offshore outsourcing. However, along with the price, you get assurances the development process is well established and can trust the team at that company. They have skills, knowledge, and resources to meet and/or exceed your expectations. There is no need to manage different individuals on your own. You have the whole team managed by a dedicated project manager and you can count on this person to keep their promises. You get an MVP done properly and within agreed time frame.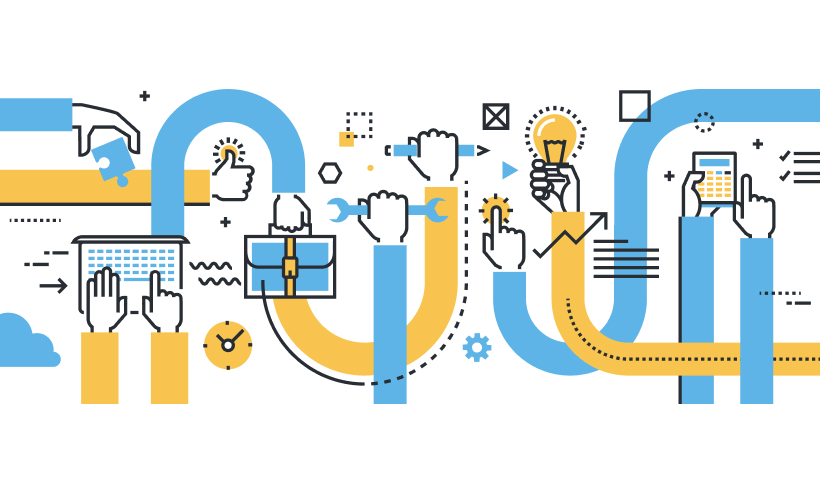 The most popular and reliable resource to find a reliable firm is Clutch. Clutch has become well-known because it provides transparent information and checks every review left by clients on their companies.
Depending on a region, the hourly rate ranges from $100 – $250 per one specialist (North America) or $25 – $45 (Eastern Europe). Assuming teams from different regions spend the same 22 work days, 8 working hours, the average estimates for MVP development using a local agency will be between $45,000 – $65,000. MVP costs using outsourcing MVP development services will be between $17,000 – $30,000.
Thus, we see that the approximate MVP pricing might be:
~ $12,500 USD if you go with freelancers
~ $17,000 – $30,000 USD if you prefer onshore/offshore outsourcing
~ $45,000 – $65,000 USD if you work with a US-based company
2 How does project scope affect the MVP price?
Launching an MVP looks like pushing a car: the hardest part is going from zero to some movement. Even if it is just a little bit. Of course, it is good to have big goals, but they are too scary. Therefore, it is so important to define and prioritize the actual scope of work for the first MVP launch.
For an MVP, it is vital to have a simple, good-looking design with some basic, key features to get feedback from users. Cost for the design part depends on design complexity. Being attractive and elaborate doesn't come cheap. Testing is also important to ensure the app runs smoothly. And, of course, the app needs to be deployed. To make this happen, project management and business analysis are an integral part of a successful MVP development.
Take online food delivery services as an example and consider the high-level requirements of a food delivery app.
Nowadays, a food delivery app is quite popular. As a rule, a food delivery business requires both iOS and Android native applications, plus a website. The basic feature list looks like this: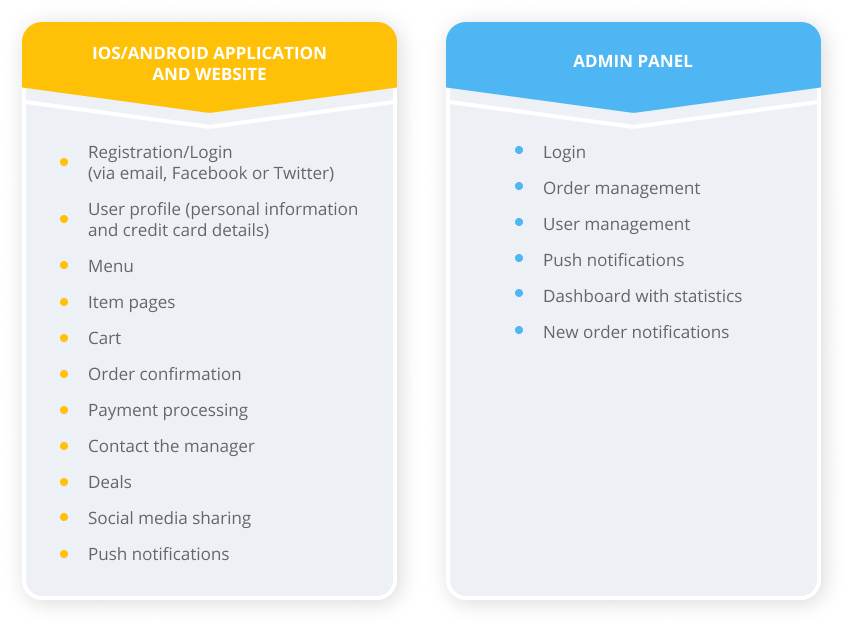 | | |
| --- | --- |
| Activity | Time per HR. |
| Analysis (wireframes + SRS) | 80 |
| Design (web and mobile apps) | 190 |
| iOS app development | 200 |
| Android app development | 200 |
| Web app + Admin panel + API development | 250 |
| Testing, Stabilizing | 400-600 |
| QA testing, stabilization | 390 |
| Project management | 98 |
| Total | 1408 |
3 Web or mobile? What comes first?
Choosing a target platform is a challenge for most startups. Web or mobile app… what should come first?
It depends on two things: budget range and desired feature list.
On one hand, MVP price is lower when you launch a website. You do not need to choose between iOS or Android app first. Also, evidence confirms that most of traffic comes from mobile websites: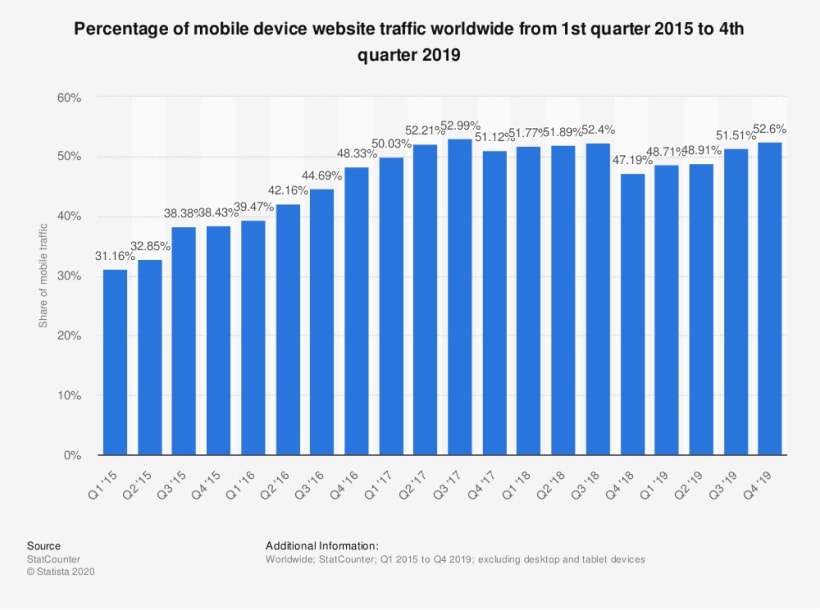 On the other, we all know that mobile apps are faster. Mobile app users can enjoy an offline mode if there is no Internet connection. Therefore, a mobile app can be your next step after your startup gets traction.
Thus, we can see that both mobile apps and web apps are equally good. The only limitation might be MVP development costs. When going with mobile app development, you need to keep in mind that costs will be doubled in order to cover both iOS and Android features.
4 Do you need a promotional website?
You do. No excuses.
General rule of thumb: start with a website. Announce your presence, invest money in marketing to let people know about your product. In parallel, develop an app. Users will use the app only after they find information about you on your website or via other social media streams. They will not open your app if there is no info about you on the Web. They want to make sure they will benefit from your offer.
Here is the bottom line.
With an app, you boost effectiveness of your target audience. You help people solve their problems.
You should create an MVP first and test user interest. When you make a preliminary analysis and consider what should be developed first, it will be easier to manage MVP pricing and be truly effective with the first launch.
Do you need assistance? Just click the button below and let us take the small step together before we are to do great things further!