Custom software development
Software is the key to success in the digital-focused world. Be one step ahead of your competitors delivering experiences none of them provides.
Let's discuss
Expert-level help to power up your digital transformation. Accelerate your business growth with top expertise.
Experience
Our company has accumulated wide experience launching successfully software across various industries.
Industry expertise
Over 20 % of IT Craft's engineers have been working in the industry for 15 – 20 years covering critical current and old development technologies.
Long-term partnership
Many of our clients not only choose to stay with us but also provide references and recommend our services to others.
Download your Software outsourcing smart guide
Finding right outsourcing partner is crucial for your business success. We will explain how to get one.
Download now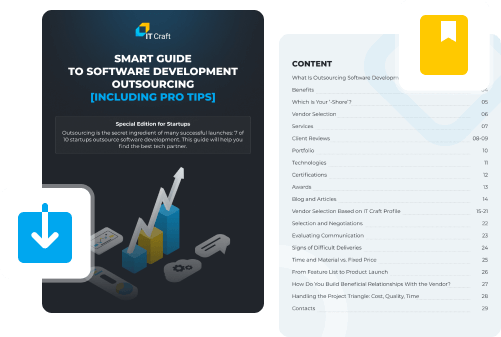 Our clients'

success stories

. We love to hear what they say about us.

Stories of people impressed by our service offerings
UAE
Mustafa Alhashemi, Founder at Smart Navigation Systems
"IT Craft has managed the project in a very efficient manner with a high degree of professionalism and responsiveness."
Germany
Martin Berg, Co-founder at 99coaches
"We've built [our app] based on some really good communication, trustworthy environment that speeded up the process of building the app, integrating customer feedback."
USA
Adam Orsi, VP of Development at Flexwise
"The team is always available whenever needed to answer questions or take care of problems."
Do you want to improve
your digital strategy?
Get all required help needed for successful launch and maintenance.
Contact us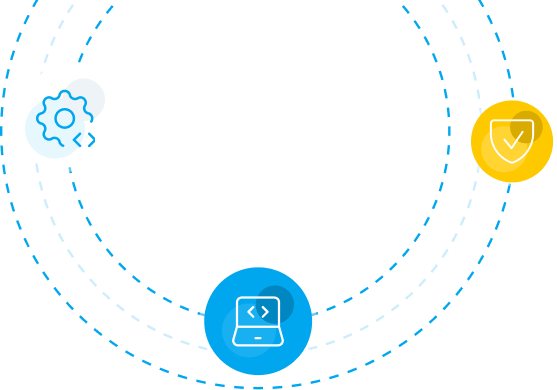 How we work
Providing initial assessment

After you send us a request, our team gets in touch with you to discuss project specifics. We make an initial assessment based on provided information.

Discovering your project and creating a roadmap

The team goes through all essential project details, clarifies unclear points, and works out a roadmap.

Implementing the roadmap

Team members work Agile providing deliverables every two weeks. When software is ready, they launch it on a live server and/or publish in app stores.

Analyzing
performance

The team helps you evaluate the results and decide on further development direction.

Maintaining, improving, and expanding

The team optimizes app performance, provides required security updates, and adds functionality end users want.
Unique
approach

IT Craft developers treat each new project with the beginner's mind to provide the best solution to the client needs.

Focus on
value

The team prioritizes the feature list based on the provided business value. If you change your strategy, we reevaluate ours and focus on what is important.

Fast-paced deliveries

Our teams work in two-week Sprints. You test the results immediately. Using acquired best practices and know-hows enables us to deliver up to 30% faster. 

Cost optimization

The IT Craft teams have built internal frameworks, which let us boost development and save up to 50% of the development budget оn the initial stages.  
TeChnologies
Laravel

Node.js

Angular

Vue

React. JS

C#
Yii

HTML5

JavaScript

CSS3

Java

Symfony
Java

Objective-C

Flutter

Kotlin

Swift

React Native
Xamarin

Ionic
Kubernetes

Docker

Terraform

Google Cloud Platfrom

Microsoft Azure

AWS
Chef

Puppet

Ansible

Bamboo

TeamCity

Github Actions
GitlabCI

Jenkins
Zeplin

Figma

Adobe XD

Sketch

Balsamiq

InVision
SoapUI

Selenium

Apache JMeter

SpecFlow

nUnit

Postman
industries where we excel
HealthTech

Apps for doctors, CRM systems for clinics administration, patient data management solutions.

Logistics

Warehouse management, asset tracking systems, route planning, and optimization software.

Fantasy Sports & Gaming

White label fantasy sports software, flexible approach, any degree of customization.

FinTech

Financial marketplaces, cryptocurrency trading solutions, payroll solutions.

Ecommerce

Online stores, catalogs, POSs, retail shops.

Education

Let users progress at a pace using your app for learning and practicing when they have a free minute.