IT Staff Augmentation Services
We help idea, early, and growth-stage startups boost their development capacities, save up to 50% of their IT budget, and hire within tight deadlines with our tailored staffing services.
Let's discuss
IT Craft -

How we operate
IT staff augmentation offers a rapid solution for acquiring exceptional expertise, enabling you to swiftly access rare and desired talents from a reliable IT company.
Of limits for hiring experts
Of a team
senior & middle staff
Saving Up to 50% of
Budget
Problem: Average US and Western European software developer rates fluctuate $80 – $150, which might exceed budget limits.
Our solution: Our experts help save you around 50% of your planned IT budget with a lower hourly rate, yet the same expertise.
lower Recruitment &
HR expenses
Problem: On average, companies spend an employee's salary for 6-9 months on replacement. A senior developer will cost you $60,000 – $75,000 each time they resign.
Our solution: No HR & recruitment fees at IT Craft for you — they are a part of our solution path. Save time & money on office set up, devices, licences, certifications, taxes and more.
Flexible workload
balancing
Problem: Workload may increase or decrease temporarily. Contracting an in-house employee might be unprofitable or impossible due to budget limits.
Our solution: You scale flexibly, regulating the number of required experts based on your business needs and anticipated workload, both long- and short-term. 
Boosted Productivity &
Hiring Cycle
Problem: Productivity of the team may drop when members resign, and the team must redistribute their workload. The result is always an extended timeline & budget.
Our solution: IT Craft services let you move forward faster. You spend 3+ days getting CVs and 2+ weeks onboarding, reducing expenses while receiving the required expertise.
Check out the approximate rates of desired experts
With our staff augmentation calculator, you can find the cost ranges to build your product.
Calculate now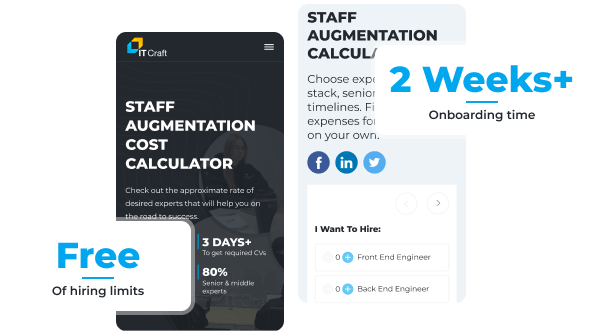 Our Technologies
PHP

Leverage its flexibility and versatility to build custom solutions tailored to your requirements.

Node.JS

Utilize the power of Node.js for scalable and high-performance server-side applications.

.NET

Reliability of .NET allows building scalable software solutions that meet your business needs.

WordPress

Create dynamic websites and seamless content management, enhancing your online presence and engagement.

React.js

Using reusable components can decrease your development time and bring your applications to life faster.

Angular

Our proven portfolio of deliveries showcases our ability to exceed clients' highest expectations.

Vue.JS

Elevate user experiences while efficiently managing data and components.

React Native

Harness the efficiency of the shared codebase, saving up to 30% of your development costs.

iOS

Capture the iOS market with sleek and intuitive applications.

Android

Deliver exceptional user experiences across a diverse range of Android devices.

Cross-platform

Reach multiple platforms and devices with shared code, saving time and resources.

Techstack

Comprehensive technology stack empowers your projects with cutting-edge solutions.
Our clients'

success stories.
We love to hear what they say about us.

Stories of people impressed by our service offerings
USA
Charles Sakkal, Founder at eLaundry
" IT Craft excels in this industry, and I'm happy with them. "
USA
Jan Goetgeluk, Founder and CEO
"...it's pretty seamless working with them. They take great initiative. They do the work on time and within budget. They don't overpromise and underdeliver typically, underpromise and overdeliver. So that's been a great experience."
USA
Chris Scheid, Founder at MyCarrier
"They make development easy for clients with more business expertise than technical savvy."
Discover skilled IT
professionals
Opting for IT Craft as your IT staff augmentation partner brings you the advantages of the following:
Solve Integration Concerns: To overcome this, we foster open communication, provide clear roles and responsibilities, and encourage team bonding activities.
Provide Quality Control: We set clear expectations, establish performance metrics, and conduct regular evaluations to maintain high standards.
Ensure Knowledge Transfer: By implementing knowledge-sharing platforms, we encourage documentation and organize regular knowledge transfer sessions.
Mitigate Dependency Risk: Maintain a balanced workforce by periodically evaluating the need for augmentation and considering permanent hires for critical roles.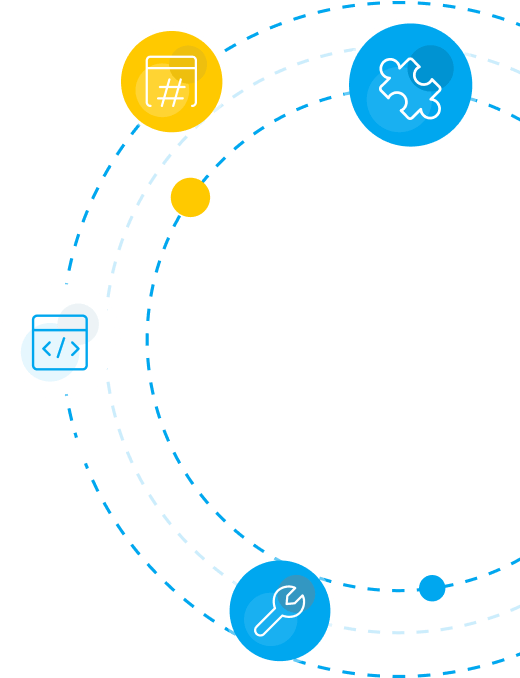 Cooperation
Dedicated specialists

You hire experts on a time-and-material basis who you integrate into your team.

Direct communication
Productivity boost
Staying within limits

Best for:

Prototypes and pilot projects
Adding rare skills
Fast team member replacement

Extended team

An IT Craft's team takes over a project part to help your team meet specific challenges.

Improved scalability
Agile approach
Minimum ramp-up time

Best for:

Meeting aggressive deadlines
Software upgrades and expansion
Project rescue missions

Service-level agreement

You pay a monthly fee for an agreed amount of services which quality level you can measure. 

Balanced costs
Quality guarantees
Performance improvement

Best for:

Infrastructure maintenance
Software optimization
Constant monitoring
Get your ultimate staff augmentation guide
Explore opportunities, benefits, how to avoid main issues, and squeeze maximum out of team extension.
Download now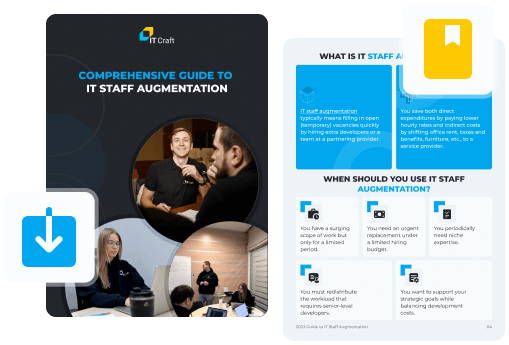 How we hire
Our meticulous selection process ensures that only top-tier talents make it to your projects.
We assess expertise, experience, and cultural fit, guaranteeing a seamless integration with your team and optimal project outcomes within 2 weeks+ for the whole process.
Receive initial request

Send a message describing your current project needs and situation. Our team analyzes your requests and prepares several candidates.

Select candidates

3 days+ to get CVs. We send the selected CVs of our team best suited to your requirements back to you together with a signed NDA.

We then schedule interviews with approved candidates.

Conduct interviews

You assess the candidates' hard and soft skills, ensuring you get the right people for the job.

Approve candidates & cooperation details

After you approve the candidates, discuss cooperation terms with the dedicated business development manager.

We coordinate all contract details.

Start onboarding and kick off cooperation

Once we agree on cooperation terms, scope, and involvement, the engineer(s) start working promptly.
Why IT Craft
Transparent communication

Developers' direct updates and reports allow you to retain project control. Also, our managers stay in constant touch with you on any project-related questions.

Flexible
scaling

Add experts as many as needed and as soon as your team needs them. We help find the relevant specialists matching best your needs and expectations.

Extensive expertise

For 22+ years in the market, IT Craft has acquired unique expertise in improving web, mobile, and internal enterprise solutions. We bring it to your project.

Value-based development

Our developers do not just write code. They focus proactively on your business goals and priorities, going the extra mile for your project's success.
TeChnologies
Kubernetes

Docker

Terraform

Google Cloud Platfrom

Microsoft Azure

AWS

Chef

Puppet

Ansible

Bamboo

TeamCity

Github Actions

GitlabCI

Jenkins

Github Actions

ArgoCD

Flux

CloudStack

OpenStack
Selecting an exceptional staff augmentation team involves a meticulous balance between technical expertise, cultural alignment, and a proven track record. It's about finding partners who seamlessly integrate with your vision and amplify your capabilities to drive success.
industries where we excel
HealthTech

Apps for doctors, CRM systems for clinics administration, patient data management solutions.

Logistics

Warehouse management, asset tracking systems, route planning, and optimization software.

Fantasy Sports & Gaming

White label fantasy sports software, flexible approach, any degree of customization.

FinTech

Financial marketplaces, cryptocurrency trading solutions, payroll solutions.

Ecommerce

Online stores, catalogs, POSs, retail shops.

Education

Let users progress at a pace using your app for learning and practicing when they have a free minute.
questions

from our clients
Do you provide guarantees for your services?
Yes, we do. You count on:
1-month probation period when you terminate the contract without any penalties.
What percentage of IT companies use staff augmentation?
According to the SIA US Gig Economy Report, over a third of companies use staff augmentation to any extent.
What is an example of staff augmentation?
Staff augmentation means you have an in-house team but want to scale fast by engaging outside specialists. 
For instance, you have an iOS app and a dedicated team managing it. Because your user base has grown, you want to expand by adding an Android app. 
You can recruit new engineers in your local market, but it takes time, and selection might be limited.
Instead, you find needed expertise at a specialized IT staff augmentation company, where you hire an engineer or a team.
What are the different types of staff augmentation services?
Several types exist.
Based on skills:
Commodity (basic – manual labor, basic factory work)
Skill-based (advanced – data processing, copywriting)
Highly skilled (high – law, design, software development) 
Based on length:
Based on involvement:
Single to several engineers
Team (including project management)