Many businesses worldwide choose to outsource web development.
It's a no brainer for businesses who need technical expertise.
Businesses keep pace with their 1-, 2- and 5-year plans and projections when they choose the right outsourcing strategy.
What happens to your business when you outsource web development?
Enrich your company's profile by filling in the gaps of missing expertise.
Enhance your digital presence of your business—quickly.
Your business becomes technologically flexible.
Outsource development becomes just a line item in your budget.
Choose a software outsourcing company carefully. The direct and indirect costs of choosing the wrong company can be crippling.
To stay ahead of your competition, you need a reliable resource known for keeping its promises and finishing required functionality within the specified timeline and budget.
You need to outsource web development to an experienced, reliable team.
How do you find such a reliable provider?
How do you get the best expertise for your money?
To make an informed decision best for your business, read our answers below.
Reasons to outsource web development
Why do companies choose to outsource work?
The biggest reason why businesses choose to outsource web development is lack of local professionals. When demand is high and supply low, possibilities to hire at a reasonable price are slim to nonexistent.
Why? Demand for IT work grows as technological progress grows.
Spending on various IT services keeps increasing in spite of challenges.
Businesses keep:
automating processes
optimizing costs
launching new services available globally
The demand for IT services continues to remain high. The end is not in sight.
To find, hire, and retain software engineers, businesses can either increase their annual budgets or simply line item outsource web development.
How does web development outsourcing help? What prevents businesses from starting to look for an outsourced web development company?
Here is a list of the most common benefits and concerns companies get when they are considering outsource web development:
Pros
Fast access to missing expertise
Improved control over costs
Decreased pressure on internal development team
Reduced development and maintenance costs
Overall process improvement via an "outsider's" look
Flexibility in adding or removing workforce on a project
Cons
Lost control on fundamental processes by choosing not to be part of decision making
Lost in-house skills and competences by becoming too dependent on outsourcing
Conflict of interest and internal resistance to changes
Possible provider's instability
Risks of exposing confidential information
Businesses that outsource web development maintain and improve a project at a lower cost while speeding up the software development process.
Businesses that outsource web development can launch a product faster and for less.
Businesses that outsource web development can focus on the running of business and remain competitive in the long run.
Check out how web development outsourcing helped two IT Craft's clients keep on track:
MyCarrier TMS is a startup focusing on the logistics industry. Its founder envisaged functionality that lets users manage less-than-a-truck carriages with just a few clicks. User groups include shippers and logistics companies.
MyCarrier software contains functionality needed to negotiate on delivery price and schedule and to monitor shipments. Both groups benefit from an optimized truckload and lower shipment expenses.
MyCarrier was implemented as a large Web portal the development team designed from scratch. The client chose Ukraine as the priority destination to outsource web development. The chosen IT Craft development team became a valuable resource and kept the project on track despite a tight deadline.

ASP.NET
MongoDB
MS SQL
AngularJS

Adorama is a NYC-based family business that focuses on consumer electronics and photography equipment and supplies.
Previously, Adorama's ecommerce system needed regular updates. The company chose to outsource web development to keep pace with the rapidly changing ecommerce landscape. The scope of work was too large for the company's internal team.
Adorama's own in-house team of software engineers worked with IT Craft's outsourcing team on various tasks but mainly on back-end development and testing. IT Craft's team ensured the company's clients enjoyed fast, uncompromised access to its online store.

ASP.NET
ASP MVC
C#
MS SQL
More cases
Do you want to outsource web development to a reliable team? Do you want to get the job done on time, on budget?
Contact us, we can help!
Common myths about web development outsourcing
Although many businesses have successfully used web development outsourcing, there are still nagging concerns. This is especially true for those who do not know the anatomy of software outsourcing and cannot make a well-informed choice between available options (in-house development? team extension? total project outsourcing?)
Sometimes, concerns turn into deeply rooted myths fueled by lack of a clear picture on how outsource web development companies work.
Below are the most common myths about web development outsourcing and commentaries:
Outsourcing is only for big companies

Businesses might worry service providers are not interested in small, inexpensive projects.

In fact, the market is big and every business can find a relevant provider.

For example, IT Craft provides services for businesses of all sizes, with vastly different project scopes. Completed projects vary from simple prototypes to redevelopment of fully featured desktop software into a SaaS system.

Businesses face loss of control on a project

Many businesses fear becoming too dependent on a service provider when they outsource web development.

Service providers prefer mutual trust. The client receives constant project updates and regular reports on completed work. All essential project decisions are confirmed. Also, well-commented source code and regular documentation updates ensure new developers can quickly dive into project details.

Web development outsourcing equals low quality of source code

At times, businesses think that outsourcing companies produce low-cost, low-quality code. You get what you pay for.

In reality, outsourcing companies offer lower hourly rates based on a lower cost of living. By contrast, it is easy to access knowledge in our modern world. Software development engineers acquire both excellent education and practical experience.

Cultural barriers are inevitable

Many business owners fear cultural differences might become a significant barrier.

Still, an experienced, well-established provider shares the same or similar values with its clients. The same practices apply to all software development projects—with minor adjustments.

A professional, reliable team always keeps its promises and is happy to adjust its processes. A client needs to spend as little time as possible on project management and coordination.

Time difference is essential

Time difference makes it impossible to get in touch with the team immediately.

In most cases, an overlap of 1 – 2 working hours is enough time to exchange plans and results and do some quick brainstorming.

On projects, where fast response is crucial, businesses ensure 24/7 monitoring by either hiring geographically distributed teams or organizing work in shifts.

Project outsourcing takes longer than in-house development

Time differences could cause delays. Confirmations and indirect communication might take longer than expected. This is why business owners believe project outsourcing is time consuming. But this is completely avoidable when the business owner ensures there is a product owner on board who is responsible for swift communication and decision making. A team of experienced professionals works fast and depends greatly on two-sided communication. The team delivers on time when the product owner commits to being part of progressing smoothly through the project.
An important note: Whatever destination you choose, look for a reliable, professional startup software development company. Do not accept an unreasonably cheap offer. That team might agree to everything just to get the outsourcing website development contract but fail to present a plausible plan. Such teams often fail to deliver any functioning software. You lose money, time, and credibility. It makes fiscal sense to outsource web development to an experienced, professional team.
Steps to successfully outsource web development
The entire process of outsourcing web development includes three essential steps:
Planning
search and selection
project development and launch
It is important to go through all three steps carefully to outsource web development with a service provider capable of launching on time and on budget.
Planning

Before you start your search, set up your own expectations. Make a list of requirements:

What parts of a project or project roles you want to optimize.
Be specific about your expectations from your development team.
Be clear on how an outsourcing team will help on your project.

Clarifying the above helps you decide:

type of services you require (outsource web application development totally or partially)
desired destination for outsourcing web development (Asia, Europe, Latin America)
cooperation model (time & material or fixed price)

Should you outsource web development to a company or a freelancer?

Unless you have already outsourced web application development, it is wise to search for a company with proven expertise and experience of finished projects similar to yours.

Search and selection

Three search and selection steps

Make a list of potential service providers suited to your requirements.
Conduct interviews with those candidates.
Select one best-suited provider. List your second choice in case the first is booked up.

How do you evaluate candidates?

Choose your outsource web development to a company:

interested in you project and considers it a priority
provided a reasonable estimate
transparent about pricing on outsourcing web development
willing to sign an NDA

To avoid having to pay hidden costs, clarify in writing all services included in the price.

Not sure whether you are going to outsource web development to a reliable partner? Ask for recommendations from former clients.

Project development and launch

In this step, your chosen development team turns project software into reality.

Check out the best way outsourcing web development workflow should progress:

Sprint 1-4 weeks ≈ 2 weeks

The same team continues to work on a project, Sprint after Sprint until it is launched and through the maintenance stage.

Remember these four crucial points for a successful Web app or website launch:

Timely communication – Each side has a dedicated point of contact to constantly keep in touch. This ensures continual project progress.
Documentation – The team prepares and updates project documentation in a timely manner to ensure smooth knowledge transfer.
Trust –You should treat and assist the outsourcing team as your own, so it can excel at what it was hired to do.
Cost flexibility – Be prepared that costs might vary from initial estimates due to unforeseen challenges and any shifting requirements you request.

Stick to these four crucial points to avert problems on a project or solve them quickly.
Rates for outsourcing web development worldwide
What hourly rates can a business expect from service providers when planning to outsource web development?
This depends.
Hourly rates differ based on:
chosen geographic location
company's expertise and specialization
project complexity and duration
Let's take a look at each one.
Geographic location

The countries with higher costs of living tend to have higher hourly rates. Conversely, those countries with lower costs of living, have lower hourly rates.

Based on geographical distance to the client, popular locations for web development outsourcing can be divided into three categories:

Offshore. Software development companies from South-Eastern Asia and India offer the cheapest hourly rates for services of web development outsource. However, miscommunication is possible due to different cultural backgrounds.

Nearshore. Eastern Europe and Latin America are more expensive but still cost-effective regions. Many US- and EU-based companies prefer to outsource web development there due to a strong quality-for-price ratio.

Onshore. North American, European, and Australian companies are the most expensive options. Businesses get clear, comprehensible communication when they choose to outsource web development to an onshore company. No cultural barriers.

Company's expertise and specialization

Hourly rates for Web app and website development outsourcing vary within a region based on a company's experience and specialization.

Companies with proven experience and expertise tend to ask for higher hourly rates. Companies specializing in a particular industry charge more for their accumulated knowledge. Keep in mind, knowledge and expertise mean faster work and greater efficiency. A company with relevant, proven expertise can be the perfect option.

You benefit. Your clients benefit. The product will be of higher quality. The total development and maintenance costs will be lower. And it will be done faster.

Project complexity

Complex projects are more expensive. Other factors affecting cost for Web app and website development outsourcing include:

rare technologies
expected number of users
badly documented legacy source code
need to work with rare hardware

Businesses need to be prepared for flexible budgeting when they outsource web development of complex projects. A development team, especially an inexperienced team, can spend more time trying to solve unforeseen problems—unforeseen by them.

Complex project? Choose expertise and experience. Always.

Minimum team needed to outsource web development

The number of team members engaged on a particular project depends on scope of work and project timeline. From our experience, the maximum size of a project team was 65 engineers working simultaneously on back-end development and testing at height of project.

The minimum size is four to five people:

Project manager (part time)
Front-end developer (part time/full time)*
Back-end developer (part time/full time)*
QA engineer
Product owner

On a simple web development outsourcing project, a back-end and front-end developer can be the same person.

Still, common roles on a Web development project look as follows:

A particular project might not need certain roles full time. Or not at all. For example, you do not need a designer if you already have a design.

However, if there is enough work to add a team member part-time, it makes sense to do it to ensure all required steps are covered by needed specialists.
Where to find providers to outsource web development
Try the following options:
Ask friends and colleagues – some of them might have outsourced web development or worked with a remote team.
Do a Google search – use the keywords "outsource web development" and go through websites of companies you find.
Use specialized resources – there are narrow-focused catalogs and services helping businesses find and hire a remote team.
Use the following resources to study potential candidates:
When browsing through Google search for rankings on a Web platform, take time to carefully read providers' profiles and reviews. Verification is important.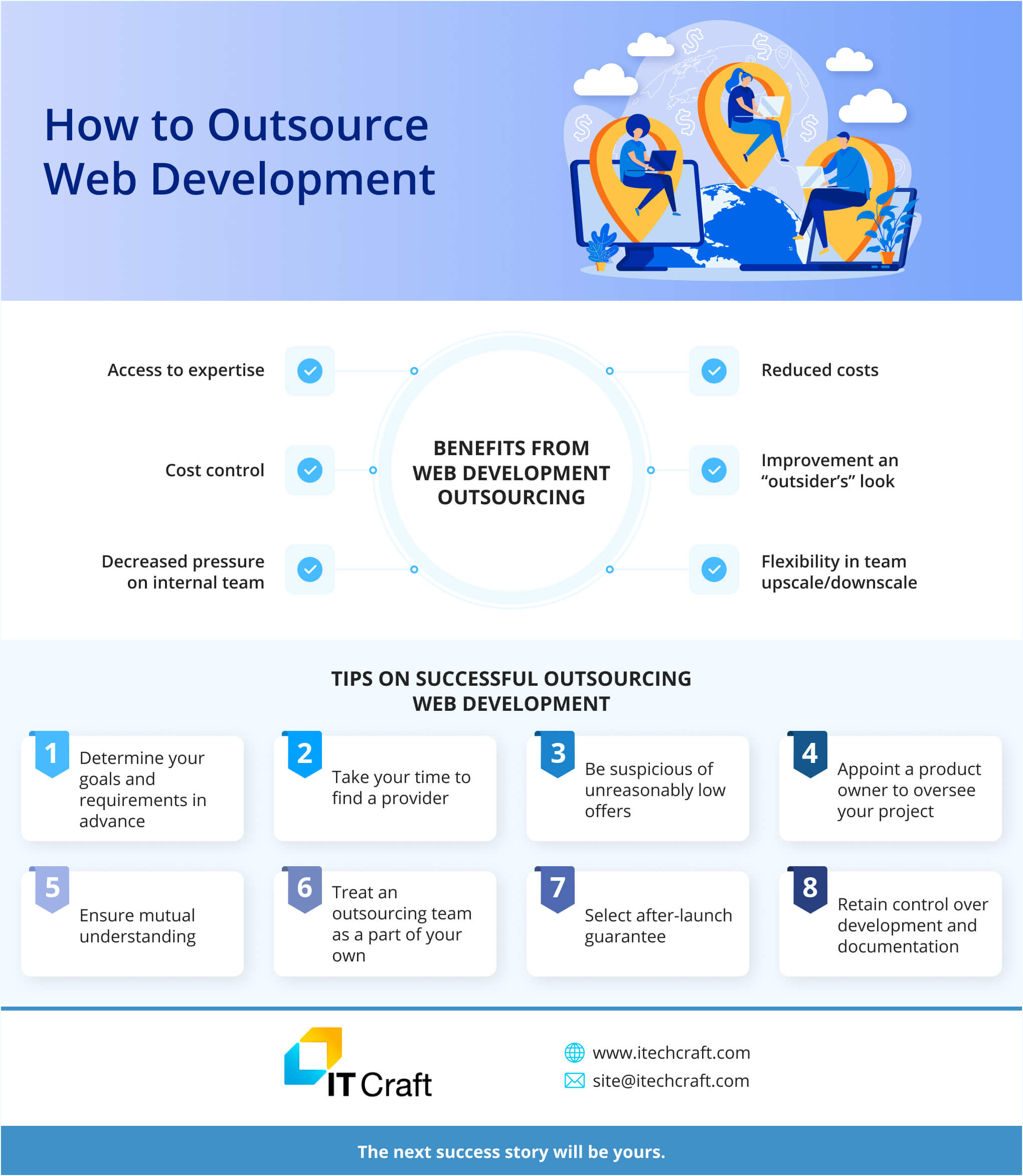 Why clients choose IT Craft
For over 20 years in web development outsourcing, IT Craft has helped over 300 clients launch and maintain their web development and services. It can definitely help you with yours.
Here are the main reasons why clients outsource web development to IT Craft.
Full-cycle development

getting help throughout the entire path from requirements to launch.

Wide range of services

working with different specialists to ensure all project needs are covered.

Transparency

always discussing what the team is doing and how much it will cost.

Flexibility

ensuring the project is based on technologies that best fit the goal.

Equal treatment

maintaining the same level of services on every project, no matter client size.

Communication

staying in constant touch with the project manager; receiving timely updates on your project.
Read clients' testimonials about the quality of services or check out the company's Clutch profile.
How to outsource web development projects: In conclusion
Web development outsourcing is popular. When companies, large and small, outsource web development, they get access to a wide pool of talented engineers. For some businesses, this is the only option to keep pace with competitors and launch their product on time.
However, web development outsourcing is only successful when both the client and outsourcing web development team stay on the same page, clearly understanding each other's capabilities and limitations, if any.
Below is a recap on how to outsource web development successfully:
Check provider's background

Make sure you outsource to a web development team that can deliver on its promises.

Check each portfolio.
Study the reviews.
Ask each team for client recommendations.

Schedule a call with the team to discuss your requirements and ensure it has relevant resources to implement them.

Ensure mutual understanding

Together with the chosen team, determine the right cooperation model for the project. Discuss your expectations from the project and make sure the team understands them. Ask for an NDA, if needed.

You might want to test the development team with a small pilot task to see how well it does.

Appoint a product owner

Assign a person responsible for project priorities and timely decisions. This streamlines the development process and eliminates idle development team time waiting for approval.

Guarantee and after-launch maintenance

Does the team provide a guarantee period? How long? Ensure the same team works during the guarantee period.

Every software requires regular maintenance. Do you need help from the same team? Or will you hire an engineer in-house? Decide what happens after the guarantee period ends.

Control over software development

Does the team develop well-documented source code? Does it accurately prepare and update project documentation? To retain control over your software, you need clarity. This way, you ensure smooth and fast knowledge transfer to other developers.
FAQs
How do you outsource web development?

Here is a seven-step approach to successful web development outsourcing:

Decide on what you need.
Search for a reliable outsourcing provider.
Discuss your project with the provider. Be direct about your expectations.
Make sure you insist on timely responses from a dedicated project manager.
Appoint a product owner or become a product owner.
Sign a contract.
Ensure transparent communication on the project.

Also, check out how to outsource an app development project

How much does it cost to outsource web development?

Costs of web development outsourcing depend on scope of work to be done and hourly rate.

A simple project takes $20,000 – $30,000.

Mid-size projects can cost $50,000 – $60,000.

Prices for complex projects can skyrocket to $100,000+.

Please note that numbers vary based on region and project details. For software maintenance, the client pays for the number of hours each developer or team spends on a project every month. Software maintenance costs usually take 10% – 15% from development costs per year.

Are you planning a marketplace website? Here is a post on how much marketplace website development costs.

What is outsourced development?

Outsourcing software development means that a company orders development of software, a part of functionality or software updates to a third-party company. Outsourced software development can be total or partial. It depends on whether the client's internal team participates in the software development project or not.

Benefits of outsourcing software development include lower development costs, access to missing expertise, quality improvement, and more.
Do you need a team capable of accurately handling your requirements?
IT Craft has years of expertise, experience, and a track record envied by many. Check out our portfolio. Or contact us today to discuss how we can help you.