Use iBeacon to Boost Up Your Business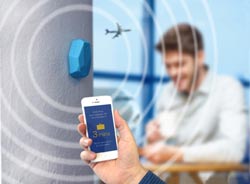 iBeacon-based indoor navigation is a solution developed to improve customer interaction by making your offers more personal. It allows providing clients with special notifications in order to reach higher loyalty level.
With help of our expertise, you can drive the development of location-based mobile applications to enhance customer engagement.
This is what iBeacons can do:
– Send proximity-based notifications to customers at a certain time point and at a certain location
– Collect customer information on time and location for further analyze.
– Improve customer loyalty with special offers created with the use of background information.
– Accept payments in order to make billing easy and on the go.
iBeacons has benefits for everyone

Health care
Provide detailed in-building navigation and auto check when a customer arrives. Reduce queues by accepting payments. Send offers and promo notifications based on customers' location.

Catering
Allow checking and reservations of free tables. Help making orders and payments as well as send special offers based on customers' preferences.

Retail
Engage customers by sending notifications with offers and deals. Improve customer experience by personalization based on purchase history, time and location proximity.

Museums
Create a personalized tour recommendation in any world's language. Offer tour plans with marked items as well as approximate length and time.

Enterprises
Track employees' presence by their location in the office. Make staff members' verification, check attendance and work time logging.
You'll be surprised at the quality for the price!
How it works?
Contact Us

Related Articles: