Germany has proclaimed its path towards the digital future of healthcare and setup a roadmap for its implementation.
Striving to bring a digital transformation to the EU's largest healthcare market and also support an export initiative, the German Federal Government plans to boost data exchange and improve Germany's digital infrastructure through innovative business ideas.
In February 2019, Jens Spahn, the Federal Minister of Health, took another step by presenting Global Health Hub Germany, focused on supporting such issues as cancer, tropical diseases, antibiotic resistance, and—crucial for the information technology industry—digitalization.
These actions indicate Germany wants to successfully manage the emerging challenges and also to catch up with its more future-flexible neighbors promoting Germany as the global center of innovative healthcare.
What does this mean for numerous German healthcare startups apart from that fertile ground is waiting for those eager to form a new digital ecosystem?
According to McKinsey's report on digital healthcare opportunities for Germany, digital—being the source of potential savings—will affect every step in the value chain.
One cannot agree more.
Let's take a more precise look at the current drivers of medical policy, opportunities for stakeholders, and custom digital medical app solutions to cover general and specific needs of patients.
Drivers of digital trends in the healthcare market
Healthcare is one of the largest economic sectors in Germany and keeps growing.
The drivers with the greatest impact on the healthcare market include changes in the social structure, constantly increasing costs and inequality, and increasing workload on clinical staff.
Social structure. Life and working standards have been rising constantly during the last fifty years resulting in higher life expectancy (78.4 years for men and 83.2 for women) and fewer children per woman. Now, Germany faces the following trends:
An aging society with a growing number of the population in senior age groups
Growing care dependency (data report by German Federal Statistical Office from 2018 states that the number of people requiring care increased from 2.1 million people in 2005 to 2.9 million in 2015)
Various chronic diseases (e.g., due to sedate and / or unhealthy lifestyle)
This means the number of healthcare service recipients and the services required will keep growing.
Healthcare costs and inequality. There is a direct correlation between poverty risk and heart failure and also between low income, excess weight and diabetes.
People with low income tend to develop unhealthy habits, have a less education and, thus, fewer chances for career advancement. Many chronic diseases and ensuing complications appear increasingly in the lower income groups. These groups also take more medical leave.
Therefore, low income groups require more attention from healthcare providers in general; they tend to have more repetitive / exhausting work (resulting in more sick days) and an unhealthy lifestyle (increasing risk of chronic diseases). Yet they either cannot afford better insurance plans or lack sufficient funds to cover all and any needs for their treatment.
Staff and workflow. The number of doctors and clinic staff has increased, but the demand for healthcare has outpaced everyone and everything involved in the industry. The number of hospital beds has decreased slightly with growing workload per single bed; that is, overall, hospital workers or caregivers have less allotted per-patient time.
To add to ever-increasing challenges, higher costs do not equate to improved quality of service or service affordability.
Altogether, challenges—both new and continuing—will continue to plague the system for a long time.
Opportunities for e-Health providers
While addressing the above-mentioned issues, digitalization of medical services targets all stakeholders. Everyone benefits from establishing digital chains: authorities, service providers (hospitals, pharmaceutical companies, producers of medical technologies), and patients.
Below is a short list of benefits for industries, medical service providers, and patients.
Industry
provide transparent rules for all stakeholders
encourage updating aging infrastructure and legacy technologies
unlock access to relevant patient data through electronic health records system
improve monitoring on treatment costs
Medical service providers
optimize workflow by eliminating paper work
reduce administrative costs
speed up patient information processing
establish a secure system for expert advice and monitoring
compete for patients outside of hospital facilities through chatbots and telemedicine
Patients
get faster access to healthcare services
request issuing medical reports and receive them in a convenient way
maintain control over sensitive medical information in accordance to GDPR rules
receive consultation from independent service providers
manage costs
Certainly, the list is longer and continues to grow because more people search for and find answers on their handheld devices then make demands on various e-Health services. This also means shifting value to those providers capable of offering their services through mobile apps.
Directions for startup development
On the bright side, the German e-Health law opens up the medical service market for startups. An Agile approach can be used from now on to deliver relevant custom solutions to the right audience.
Although e-Health is centered around electronic health record apps and electronic prescriptions, different kinds of custom healthcare software solutions is in demand.
What apps can be delivered in 2019?
They are listed below in several types.

Management software:
EHR management systems – for tracking, issuing, and transfer of patient records
Custom correspondence systems – for sending and releasing sensitive health information
Drug Medication plans – for ensured consistency of treatment
Insurance data and treatment costs management – for data exchange on treatment costs between hospitals and insurance companies
e-Prescriptions – for secure information transfer between hospitals and pharmacies
Workflow optimization software:
Alert and notification apps – for immediate notifications to doctors and nurses in emergency situations
BLE Gateway-based tracking apps – for monitoring location of expensive medical equipment
Custom intrahospital networks – for secure communication, knowledge, and data processing inside medical facilities
Software for patients:
Appointment management systems – for convenient management of appointment time and dates
Chatbots – for finding answers on common questions using AI-based apps
Telemedicine apps – for long-distance patient examination and consulting
Remote monitoring – for patients with chronic diseases
Virtual Reality-based treatment apps – for treatment of phobias using immersive VR experiences
From McKinsey's report above, the amount of potential gain from digitization comprises 34.0 billion euro based on authors adherence to a conservative forecast. The work is definitely worth the effort.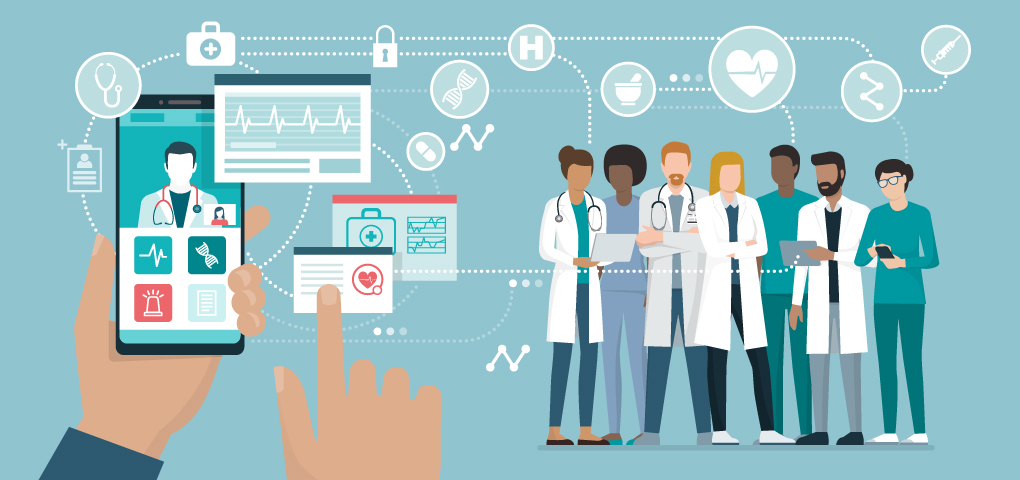 Examples of healthcare apps
Below are several examples from our experience working with startups when specific digital healthcare solutions worked extremely well for different stakeholders.
HIPAA-compliant Web app for secure medical correspondence. Arctrieval supports the complete patient request life cycle, processing all sensitive data in an encrypted way replacing paper-based work. The system was implemented at three large hospitals in Southern California and has processed over 200,000 requests since its launch time.

Аn automated auditing app. It helps identify overpayments through errors in diagnoses and procedure codes to be further used in negotiations between hospitals and insurance companies. The company claims that yearly savings can make up to $6 million of verified overpayments for 100,000 members.

А web platform for secure video communication. Xpertyme makes it possible to organize individual and conference calls with industry experts. Users can choose experts from any category based on their area of expertise, ratings in the system, and hourly rate. For experts, Xpertyme also provides a scalable white label solution so that they can get their own custom communication platform.

Аn extensive networking platform for biopharmaceutical industry. Partnering360 supports all and any features to help people stay in touch with each other between pharmaceutical industry events. It also helps plan conference activities, arrange meetings, and search for partners seeking investment or licensing opportunities.
To sum up, German healthcare is open for startups. There is a lot of work for everyone to make future technologies work today.
Now, when legislation allows, the Agile approach can be used to improve various directions faster, making it possible to start saving sooner in the development process.
Last but not least, the key element of the new e-Health strategy is collaboration between authorities, hospitals, and startups.