What is BLE beacon?
Beacons are a class of wireless sensors that use Bluetooth Low Energy (BLE) technology to allow mobile technologies to exchange data in close proximity. BLE beacons provide indoor navigation for smartphones, asset tracking possibilities as well as proximity notifications via Bluetooth 4.0.
BLE beacon or iBeacon?
The beacon technology is based on the BLE standard. It is marketed by the Bluetooth Special Interest Group and is supported by iOS v5+ , Android v4.5+, Windows Phone 8.1, and BlackBerry 10, as well as Linux v3.4+, and Windows v8+.
The letter "i" may imply that iBeacons are designed by Apple. iBeacons and BLE beacons should not be confused with other products or brand extensions. The name Estimote Beacons, for instance, pertains to a company's policy rather than a technology.
Who else makes beacons?
There are around 400 BLE beacons vendors on the market. And this number is growing.
Some companies are focused only on the hardware development. Like Kontakt.io or Estimote. Some others provide a complete platform for the BLE beacons usage. Examples are Aruba, Pole Star, BlueVision, Hipozone.
BLE beacons differ widely in size, power supply, price and services. Here are the main form factors from leading manufacturers.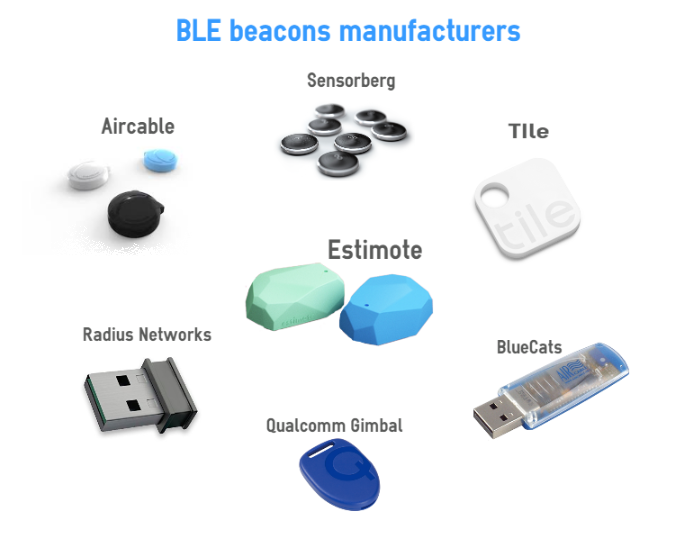 What is the best bluetooth beacon manufacturer?
Selection of the best beacon vendor depends on the area where you plan to install the beacon and the type of the power supply.
Examples of vendors with different power supply.
Battery powered: Estimote, BlueCat
USB powered: AIRCable USB Dongle, Rad
Ambient Electromagnetic wave powered: Airbeacon
In any case, will be wise to select one of the biggest beacon vendors.
Biggest Beacon manufacturers:
Aruba
BlueCats
BlueSense
Estimote
Gelo
Glimworm
Gimbal by Qualcomm
Kontakt
Sensorberg
Sonic Notify
BLE beacons in the office: Why is it worth implementing?
We have described the benefits of iBeacons technology for indoor navigation, retail, museums, and catering in our previous posts. To refresh your memory, BLE beacons can be used to track the location of smartphones and send them push notifications with "context relevant" information and/or offers. The goal is to optimize efforts while providing best service without invading the privacy of visitors. With beacons, everyone can easily create a smart and user-friendly navigation guide inside a facility.
It is for these reasons that beacons are indispensable to an office environment. Below are some examples on how beacons can increase employees' productivity:
Security – BLE beacons allow verification via smart phones and grant access only to relevant passageways.
Data analytics – Features a dashboard that allows human resource personnel to monitor employee attendance and time logs. This option simplifies data collection for accountants. Shifts taken by workers can be easily tracked, verified, and transmitted to the desired database.
Tracking occupancy levels at different stations – Allows you to remotely check whether a community space such as a conference room is occupied or not.
Safety – sending notifications to the workers in a specific area in case of emergency.
As with any smart device, the relevance of the BLE beacons' use depends on functionality. It should help you save time and focus more on more important work matters. To ensure the success of your BLE beacons implementation, plan carefully and consider the real-world scenarios where you can use the app.
Read more about beacons here.
Do you have an idea for your unique and personalized beacons app?
Contact us for your free quote.