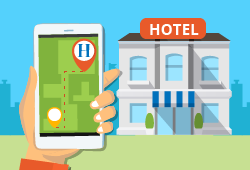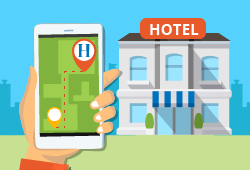 The Earth without Art is just "Eh".
Modern hotel business without beacon technology is honestly outdated.
What do these phrases have in common?
The quote states that our world without art would be bland, boring and dull. Art is what makes our Earth beautiful. And, if we did not have Art, everything would look lifeless. All of us want to be full of life, to be amazed.
The second statement means that a modern, digital hotel business model should be progressive, constantly reliant on communication, insight and trust with the visitors. Now, an indoor location technology tool makes it possible to personalize, customize and individualize a business. Using this technology, you boost connectivity and conversion with your new visitors/repeat guests.
So, what should hotel business owners know about indoor-location technology to make their business fantastic, not bland – not just "Eh"?
iBeacons is one of your options of indoor location technology. First of all, let me explain what iBeacon means. iBeacon is Apple's technology standard which allows mobile apps to run on both iOS and Android devices, and to pick up signals from beacons in the physical world and react accordingly. This means that iBeacon technology allows mobile apps to get signals and define the position on a micro-local scale and deliver notifications to users based on their location. iBeacons uses Bluetooth Low Energy (BLE) technology to allow mobile devices in close proximity to exchange data.
Traditional hotel owners implementing beacon technology in order to to keep pace with the trendy times are making significant strides. To find new ways of building a better hospitality experience for their customers, many hotel business owners have invested time and money in iBeacon software.
Here are a couple of things you need to keep in mind and use like a secret weapon
1) Check-in/Check-out
Being treated royally upon arriving in a new place gives a person a rush of self-importance. It is all about attitude – your attitude towards your clientele: your hotel guests. Upon arrival, let your guests check into your hotel without enduring long check-in queues. As they walk into your hotel, they receive a push notification with the reservation (the hotel app should be installed on their smartphones) asking for confirmation.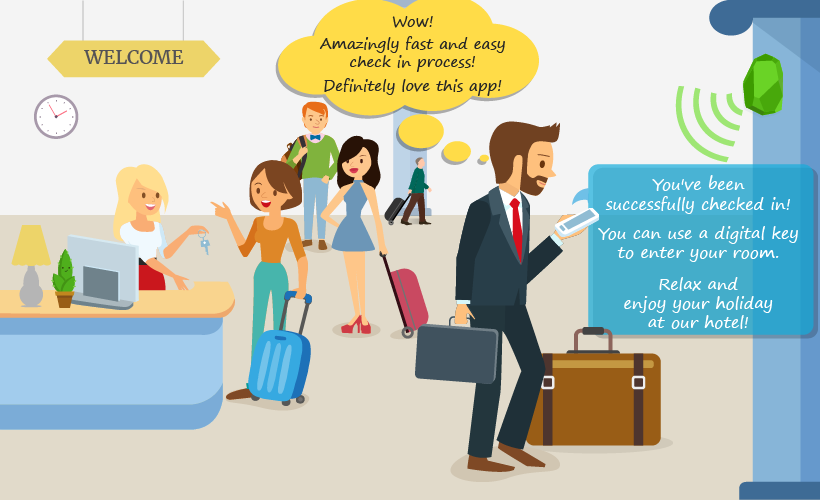 Done: your guests checked in digitally! No long queues, no waiting: each and every guest feels like royalty!
Repeat the same, simple process when it's time for your guest to checkout: a push notification asking whether to extend the stay or to check out digitally. If the latter, send a receipt including additional expenses, if applicable, and request payment confirmation. Done. That is all. The process is quick and seamless: no tedious queueing in the lobby. [And, yes, a digital key awaits your guest at the specified room: see #3.]
How do you think your guests will rate their recent rate at your hotel after that? Without doubt, 5 stars!i
2) Indoor navigation and your guest's room
The second step includes helping your guests find the right room, thus limiting any frustration or confusion: the larger your hotel, the more confusing. So, after your guests check in digitally, send them a map via your app showing the way to their room. And, yes, it is absolutely possible using iBeacons! These devices can easily determine your guests' location in a large hotel, create a route to their room – you can even provide them with a voice guide.
Please note that beacon technology enables indoor navigation similar to GPS without requiring GPS signals. Similar to mapping a route to a guest's room, it is possible to create a route to any destination inside the hotel (e.g., swimming pool, SPA salon, gym, etc.).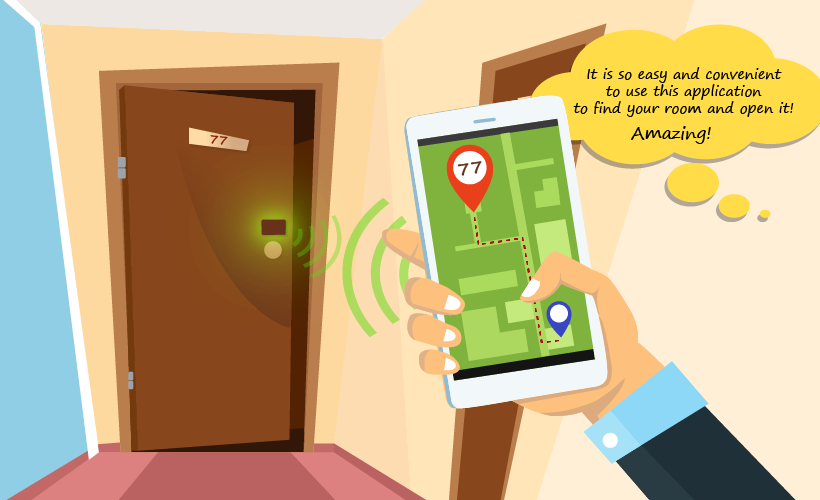 3) Keyless hotel room entry
Have you ever envisioned coming to a door and it opens without a key? Your dream from the future has arrived in the present – and you are still alive!  And yes, it's true: ibeacons can do lots of work for us.
When your guest checks in, a digital key is sent to the app installed on your guest's mobile device, which unlocks the room door without a key.
As you can see, the very first steps your guest takes when entering your hotel, checking in, getting a room key and directions can be done fast and efficiently. No need to ask your staff to work harder or overtime in order to be able to cope with a long queue of new guests. In fact, you can use this time wisely to get other things.
And, of course, in-room controls (temperature, air conditioning, lights etc.) and ordering room service can also be easily handled via the app on your smartphone using iBeacons. Furthermore, iBeacon software allows hotels to offer their guests immediate access to useful information and discounts (loyalty programs) for new or repeat guests.
There are more points we can share with you. We look forward to sharing those secret weapons with you to let beacons beat your business.
The Earth without Art is just "Eh". Beacon technology is created in order to enhance guest experiences. To help people feel more comfortable and relaxed – just like home.
Hotel business owners should put their energy and desire into helping their guests feel that way. Their efforts will reap the benefits. Definitely.
What do you think?
Do you want to help your hotel interact with your guests as never before so you can keep them coming back, again and again?
Would you like to discuss custom indoor positioning and navigation solutions to obtain your goal? If yes, let's talk. We are here to help you.