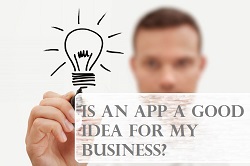 Mobile apps is a tool that small businesses should definitely consider. Both owners of small businesses and clients can benefit from them. Depending on the business needs of your organization you might take decision to purchase or customize an application. Sometimes owners of small businesses are so sure about the ROI that they decide to develop an application though mobile investments are not cheap.
It is estimated that the smartphone audience will total about 1.75 billion by the end of 2014. At the same time, around 50% of all searches are performed on a mobile device. When potential clients are going mobile small businesses have to follow them. Many small business owners are deciding whether to invest in purchasing, customizing, or mobile app development .
Here are two typical challenges owners of small businesses have to deal with.
1. Potential clients need information here and now. Users (potential clients) want to get access to more content on the go and benefit from the features that websites don't have (e.g. getting information about the discounts in the shops nearby from BLE-devices or bluetooth low energy devices like iBeacons or Estimote beacons).
2. Employees working for small companies need to interact with the management and/or the clients. Again, exchanging data here and now.
So, there are many applications with different features that might be useful for a small business. But all of them can be generally divided into employee-facing and consumer-facing apps. The former ones are supposed to improve the efficiency of the staff members. The latter ones support marketing activities of the companies. However both types of apps are aimed at achieving the same goal which is to increase its profit.
E.g., Apple CEO Tim Cook does 80% of his work on iPad. Whether or not he uses custom applications is a big question. But for companies with a small staff it will likely never pay-off if they invest into development of an app that is used by 5 employees. However the chances to find an existing app that addresses the business needs of a small company are very high. After all, there are hundreds of thousands of business apps published in Google Play and App Store.

Analyze your business needs, conduct a thorough search on the net and you will be able to save thousands of dollars (or euros, or pounds) if you purchase a SaaS application that addresses your needs or even find a free one. On the other hand, you might need a custom application for your business. In this case you should be ready to pay for development and marketing of such an app.
Our company has developed quite a number of mobile apps that are used by companies of different sizes in various industries. Feel free to get in touch with us and describe your idea.
We will be happy to make a mobile application out of it.