Field One
Company: FieldOne Sky
Country: USA
Category: SaaS / field service / CRM
Release year: 2012 first release
FieldOne System provides innovative SaaS (Software-as-a-Service) solutions for service companies of all sizes. It records, tracks, and manages technician activities, and all administrative tasks associated with those activities.
Microsoft Dynamics CRM
Sencha
Resco MobileCRM
Xamarin
SSRS
MS SQL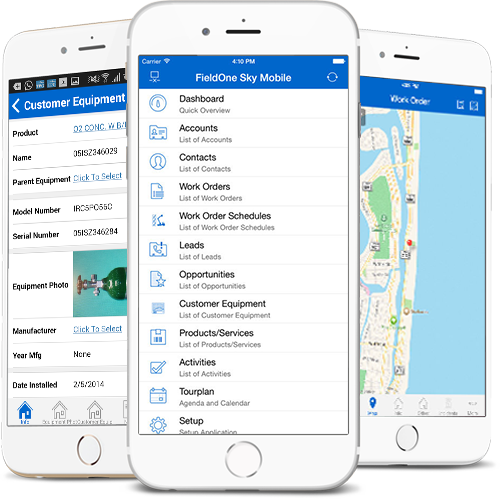 Apart from a high degree of customization and easy scalability, the benefit of using FieldOne online service lies in improved communication. Using mobile devices, workers in the field can easily keep in touch with office managers. They can assign tasks, update statuses, send reports, receive email, and much more. Every effort can be tracked on the go!
appointment booking and automatic dispatch
interactive maps with dynamic scheduling
extensive work order accompanied by agreement creation and control
automatic determination of best resource and route for any field call
crew and resource management
centralized administration and reporting on demand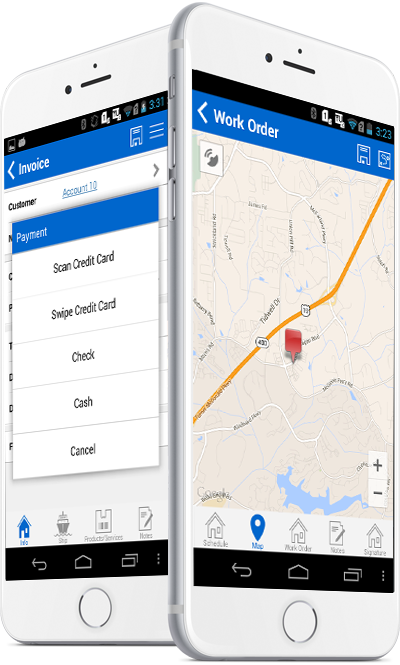 mobile application for transmission of sensitive data between a Web system and mobile device
automatic and manual emails sent directly from the system
creation of dashboards and charts on the fly
personalization of each user role with different screen layouts
cloud and on-premise deployment available
full, detailed audit log
activity feeds and micro blogging continually updated
native interoperability with Microsoft Outlook, Office, Office 365, and SharePoint
integration with all websites created exclusively for every new system customized with data collected from CRM
Background The owners of FieldOne Systems™ realized that only selling software was a losing proposition. To stay competitive and increase company value, they decided to change their strategy and develop valuable, recurring revenue services for field service automation.
Based on this decision, the company started to look for a partner able to develop the requisite software. One of IT Craft's clients recommended our company to the management of FieldOne Systems LLC as a reliable software development provider.
The collaboration started with several calls between the IT Craft ASP.NET Department Manager and decision makers at FieldOne Systems LLC. IT Craft prepared a technical test task, as per FieldOne Systems to verify the quality of its service. IT Craft successfully passed the given task and proved its ability to handle the entire project implementation.
IT Craft development team's main task was to transform desktop software—created using Delphi—to a cloud-based Web solution. When IT Craft took over, we initially supported Delphi. But as soon as it proved an ineffective strategy for an SaaS system, we switched to C#.
During 4 years of cooperation with FieldOne Systems™, the IT Craft team managed to develop FieldOne Sky software that was later acknowledged as an innovative, secure, and scalable service management system providing field service companies with powerful tools to streamline their business processes.
IT Craft dedicated 44 specialists to this project in order to create the Web-based software and mobile apps.
The software developed by IT Craft was acknowledged as having met Microsoft's highest standards. FieldOne Systems has subsequently become a leader in the field service industry, changed the game in customer service and expanded beyond the US border to Europe.
In 2014, FieldOne Systems showcased its FieldOne Sky solution at Microsoft Convergence 2014, the largest Microsoft Dynamics gathering of customers and partners with over 12,000 attendees. In 2015, Microsoft acquired FieldOne Systems.
Engineering Challenges and Wins
A framework was developed to implement functionality of Resource Scheduler.
Client-Server business logic was developed so both Dynamics CRM and MS Outlook could support it.
A framework for CRM Plugins was developed to facilitate and standardize the codebase. This enabled logging of both system entities and background processes events.
Team and time
FieldOne Core (the system FieldOne Sky):
Development28,276 hrs.
QA 17,170 hrs
Management and analysis5,030 hrs.
Total50,476 hrs.
FieldOne
Customizations:
Development3,670 hrs.
QA 2,888 hrs
Management and analysis774 hrs.
Total6,732 hrs.
FieldOne Terra (support of the old Delphi-based app):
Development3,304 hrs.
QA 933 hrs
Management and analysis413 hrs.
Total4,650 hrs.
Portfolio
This is our portfolio. Here you find examples of accomplished projects. And it is just a small part of our works!