What is the most important ingredient of successful software development?
Transparency. Software development needs transparency on both sides.
Problems can—and do—arise quite fast on either side: with both stakeholders and development teams. When there is no transparency, cooperation—or lack thereof—shifts almost immediately to worst-case scenarios.
Problems usually end up with a pile of half-baked source code. Budget wasted. Time lost.
Most risks can be eliminated before mobile app development starts.
This post analyses how to outsource app development and achieve a win-win working relationship.
Every business planning to outsource app development needs to consider the following four points:

As a product owner, you will need to ask these questions. The more precise answers you get, the higher your chances are to launch your app on time and on budget.
And you produce the app users will need.
Escape most common software development pitfalls. Use the points below to figure out realistic answers about mobile development outsourcing.
Why does a company opt for outsourcing app development? What kind of a project is it planning?
When a company plans outsourcing app development, it is crucial to articulate expectations. What are yours? Do you want to cut long-term costs? Add missing expertise in a specified area?
Expand rapidly to a new platform?
When you as a product owner formulate clear plans, this helps find the right team.
It is equally important to figure out the beginning and the end points of application outsourcing (launch? app updates? migration?).
The following questions are essential because they directly affect outsourcing app development scope and timeline:

Some answers might reveal obscure but essential information for the future development team.
At the initial stage, the product owner needs to determine the right strategy. He needs to consult a person with a strong technical background.
Two examples: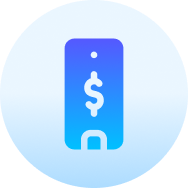 Do you want to know how much a mobile app costs?
Use this free app cost calculator. Figure out price, time, and the number of developers needed to finish a project.
What options exist? What type of outsourcing app development does the company need?
The market of application development outsourcing encompasses the entire world. There is a variety of offers in the market. Companies have flexible terms of pricing, technologies, and cooperation models. You can choose a cooperation model best suited to project needs.
The choice of outsourcing app model depends on: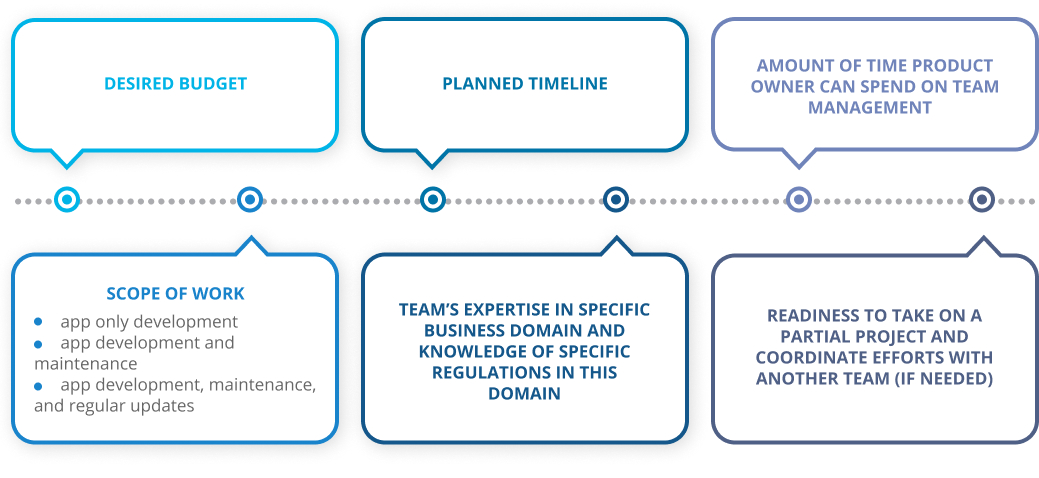 Pricing directly affects the budget. Company's hourly rate depends mostly on its location. Prices increase from East to West. Eastern-Asian companies are cheapest; US/Australian companies are most expensive. The truth is that you can find skilled software engineers in any region. However, there are huge cultural differences to factor in, e.g., in attitude towards deadlines, transparency, or promises. You must choose a location-based company most comfortable to you based on pricing or cultural similarity. By the way, Eastern Europe maintains a pleasant balance between development costs and cultural similarity.
Rule of thumb: do not hire the cheapest team who promises to deliver everything but struggles to show how they will keep their promises.
Technological stack and focus usually depend on company details, including:
general development companies
companies specializing in a specific industry (e.g., medicine)
companies with specialization in a certain technological domain (e.g., Virtual Reality, data mining)
General development companies have broad experience and lower hourly rates. Specialized companies have specific experience and higher rates (and, perhaps accomplish certain tasks more quickly). It makes sense to consider companies of both types depending on your requirements. There are different outsourcing app development models.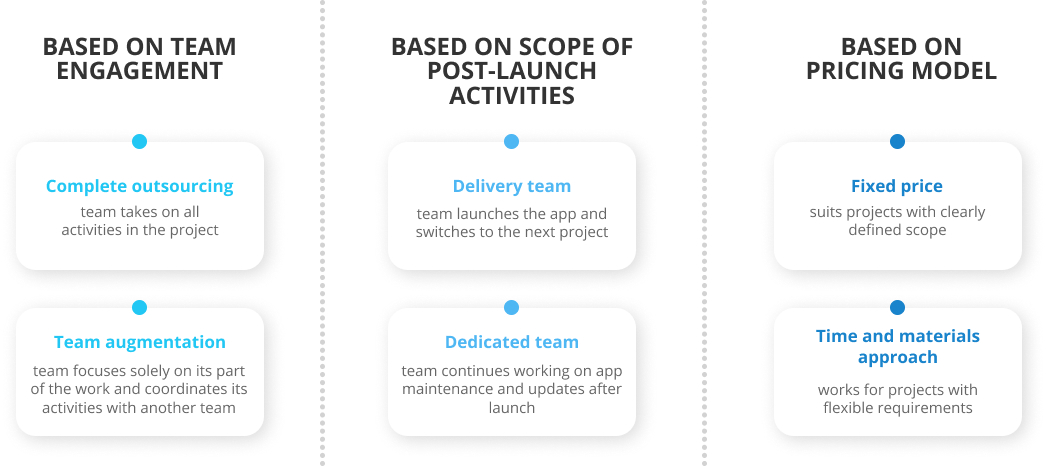 (Read more about team composition in "What Type of Remote Development Team Do You Need?")
For example, if you plan to build an app from scratch, do not have an in-house team, might need to change requirements, and will need updates, your clear choice is completely outsourcing to a dedicated team. It is best to choose the time and materials pricing model.
IT Craft's expertise in delivering custom software solutions
OrderPort

OrderPort is a mobile Point-of-Sale (POS) for wine businesses. This app makes it possible to manage different types of wine sales. Also, it supports inventory tracking, analytics on sales rates, and more—all from an iPad.

Field sales are simple with the help of Order Port. Sales managers can receive payments and print receipts using the app. All data is processed in real time eliminating idle time.

Managing marketing campaigns is also possible via OrderPort. For it, the app interacts with APIs of Mailchimp and Mailgun.

Cooperation with OrderPort started with an in-depth code review. The client had source code for part of the app. The team fixed errors and enriched the app with missing functionality. Eventually, the app was launched and the team continued working on its updates and optimization.

eBillity

eBillity apps makes it possible to manage and approve employee's timesheets in a swift manner. Employees can enter the time they spend on a task from any place, any device. eBillity app transfers information automatically to accounting or payroll software.

The client already had a Web app, an Android app, and an API developed by another team. He needed to expand to the iOS platform. IT Craft's task was to build a native iOS app using the client's UI design and ensure the app synchronized smoothly with other parts of the system. After the iOS app was launched, the team worked on app improvements—in addition to initial project scope. The team also helped eliminate bugs in Android app and API.
How does a business find a reliable team? What steps are necessary to outsource app development to the right team?
When you have a list of requirements and have outlined specifics of the project, it is much simpler to find the right team for mobile app development outsourcing.
You can divide the entire process of finding a team into six steps:
How to outsource mobile app development effectively?
Outsourcing means less control over a team's activities. This can be uncomfortable.
Transparency is crucial. Regular two-sided communication is the key to success. It helps outsource mobile app development with minimum risks.
Below is advice on building workflow.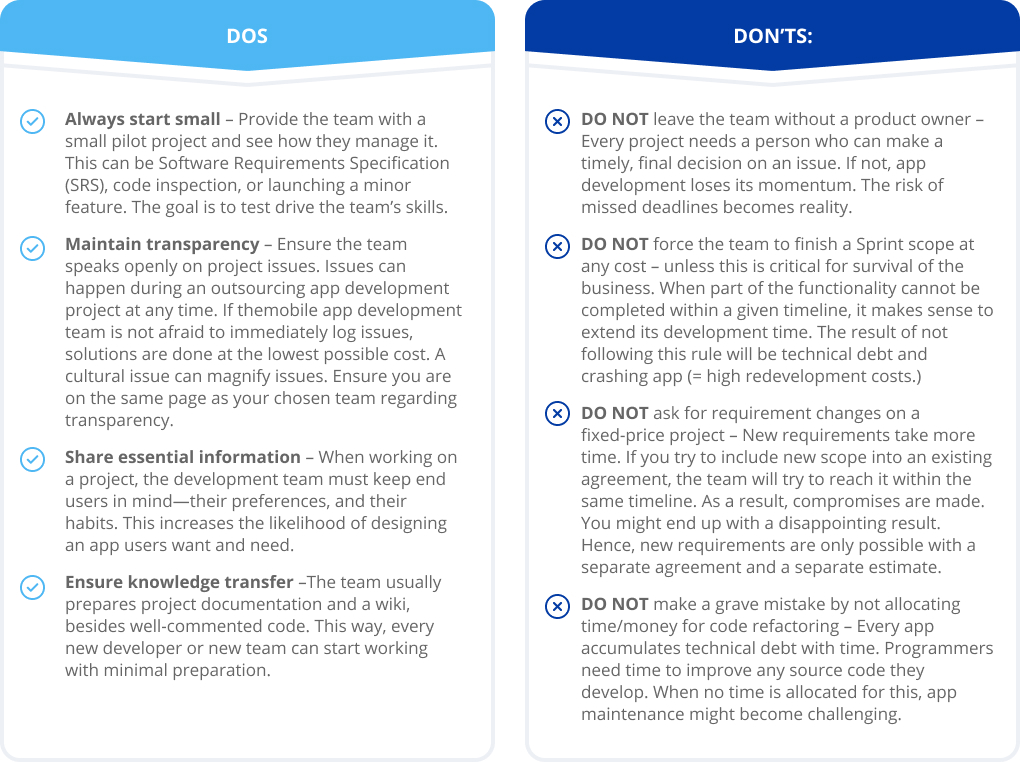 When outsourcing app development, the fewer unknowns, the greater the possibility for on time and within budget delivery.
Follow these DOs and DON'Ts.
To recap the five-step path to outsourcing app development:

Wishing you a successful launch!
FAQs:
Costs to outsource app development vary from $15,000 to $150,000. They can be even higher!

Costs depend on:
- desired feature list
- development technology (native, hybrid, cross-platform)
- anticipated number of users
- regulations and compliance

You can read more about costs of outsourcing mobile app development in the post, "How Much Does a Mobile App Cost?"

The choice is yours.

However, when weighing your decision, consider the benefits of outsourcing app development. A fine outsourcing software development company:

- can start a project immediately
- has stable team squads
- adheres to established processes
- is invested in meeting their client's expectations

Here is a quick reminder:
1. Prepare a list of requirements.
2. Research then send your requirements to a list of prospective companies.
3. Get their responses. Schedule calls with those on your short list.
4. Discuss your project with these companies.
5. Choose the best option.
6. Remember constant, open communication is crucial.

Directly. Software outsourcing means that part of the project scope or even the entire project is transferred to an external team. Software outsourcing helps reduce development costs and / or quickly adds missing expertise to a project.