As we continue to work remotely, the demand for new and innovative apps grows to help us stay fit, healthy, and productive.
Little surprise "how to create a fitness app" is one of the most popular Google queries these past many months. The demand for digital products and services has skyrocketed. Those health and fitness businesses who pivoted—pivoted to success. That is why Peloton is doing so well. For safety reasons, it had to close
its New York and London fitness studios
, but quickly pivoted and delivered live content to its avid followers. So, it makes sense that as remote and hybrid work becomes the new normal, remote training follows suit. Market research anticipates users will continue to use fitness apps. Working remotely means working out from anywhere to stay healthy. What about you? Are you ready to pivot quickly and grab one of the many opportunities? Do you want to meet the needs and demands of people all over the world? Isn't it time for you to create a fitness app and achieve financial success? Check out our
mobile app development
roadmap, so you get started and get launched.
What are key fitness app market statistics?
2020 was a year of immense opportunities for those who wanted to develop a fitness app. In March 2020, we were told to shelter at home (SAH). Sheltering at home meant we needed to stay fit and healthy. We started searching for an app to help us. Any high-quality app that helped keep our bodies and minds healthy within the confines of our home was a clear winner. The number of fitness app users across the USA grew by 27%—from 68.7 million in 2019 to 87.4 million in 2020. This statistic includes all smartphone users who opened a fitness app at least once a month.
Number of health and fitness app users in the United States from 2018 to 2022
Source: Statista
Projected numbers are forecast to drop in 2021 when safety restrictions are removed. But newly acquired habits will remain. The number of expected users will grow again to 84 million in 2022, which is still 22% higher than in 2019. Tracking devices are gaining popularity. Sales are growing and are expected to grow in the future. Probably, not at a bursting rate but no sign of decline is seen either.
Fitness tracker device sales revenue worldwide from 2016 to 2022
Source: Statista
Workout and weight loss apps were among
the most popular fitness apps
in 2020. We all know why….#COVID 19-20. According to SensorTowner, iPhone and Android top 10 fitness apps in June 2021 look like this:
Leading fitness apps by revenue on Google Play include:
Leading health and fitness apps in the Google Play Store worldwide in April 2021, by revenue
Source: Statista
Average app revenue
per user made $4.30 in 2020, increasing from $4.17 in 2019. Gen X and Millennials used fitness apps the most—41% and 35% respectively. Revenue from wearables increased from $41.47 in 2019 to $43 in 2020.
What are the most sought-after fitness app types?
What are the most sought-after fitness app types currently in the market?
Workout fitness apps"Small habits lead to big changes." This statement helped drive Seven app's monumental success. With over 30 million subscribers, Seven is one of the best examples of how to make a fitness app for workouts. Super motivating and easy to use, it offers a seven-month workout plan sorted by the level of difficulty. The plan contains a set of ready workouts. The workouts can be customized based on user needs. Gamification makes the 7-month challenge less stressful. Users have three "lives" at the beginning of a challenge. They must complete the set of exercises at least once a day. If they miss, they lose one life. With three lives lost, the challenge starts anew. Every exercise has instructions and audio guidance. To maintain motivation, the application offers a status system (from beginner to advanced). Users can also go online to share results and motivation. If the user has a paid subscription, the application offers recommendations from coaches and a personal training plan.
Personal training fitness appsTammy Fit application is one of the most popular fitness apps in the personal training category. Highly rated fitness instructor, Tammy Hembrow, has created her own fitness app to help people get the body of their dreams. App users enter information about their desired fitness goals. Based on the information, the app determines the current level of activity for them. Then it offers a plan:

basic training
post-pregnancy plan
full-body workout sessions

Each plan includes three to five workouts per week.
Nutrition and calorie tracking appsNutrition and calorie tracking apps make it possible to search for nutritional information using a barcode or a photo scanner. This type of fitness app helps keep track of consumed calories and see progress on burning fat. The app leader by the number of downloads is FatSecret app. It has a simple design, an intuitive interface, and a set of important functions. This fitness mobile app provides such features as:

scan codes
autocomplete
recognize products by photo

Users can also keep track of their eating habits by taking photos of what they eat. This fitness app can create schedules and compare calorie consumption and nutrients for a week or a month. The app works in offline mode.
Activity tracking appsThese fitness apps use data from wearable devices. Users can:

monitor their workouts
measure jogging distances
achieve their fitness goals
count calorie intake
track their progress
control heart rate

and more. Running by Daily Burn is among the top fitness apps of this type. This activity-counting application is rapidly gaining in popularity. Running by Daily Burn asks users a few questions about their goals. It then creates a list of running plans to address those goals. Or, users can select jogging plans based on various criteria, including pace, distance, etc. The app also offers a guided running session. Running by Daily Burn offers a selection of warm-ups and relaxing videos designed specifically for runners.
Workout music appsFitRadio is a fitness app designed to improve workouts. When users first launch FitRadio, they register with their email address or social network profile. This is all they need to do. The entire UI has only four tabs: 1. Music Genre – Users find a huge selection of music genres to match their preferences. 2. Stations – This contains a list of all popular radio stations that broadcast cool music for workouts; various genres are available. 3. Favorites – This tab lets users create a favorite playlist. 4. DJs – There is a list of DJs with their bios and the possibility to join their online broadcasting here. Users can add DJs to their lists of favorites.
Water intake control appsThe Water intake application is probably the most popular in this category. Users are asked to specify their gender, age, weight, and level of physical activity. They also must provide their location. The app needs it to provide information on the weather forecast. The weather is an essential parameter when calculating the required amount of water. It is simple to enter the volume of consumed liquid. Users tap on the plus sign, select the type of drink, and indicate the amount in milliliters. The app reflects liquid intake in percentage on their profile avatar. The application also offers push notifications about the workouts and reminders to drink water. Users can get different badges to show their achievements.
Do you have fitness app ideas and want a roadmap?
Contact us and get it for free!
How to make a fitness app (Development roadmap)
This short fitness app development guide helps future app owners correctly estimate efforts needed on their side to make a fitness app. It also helps form clear expectations from the development team. A fitness application development roadmap includes the following seven steps:
Select an app development provider.

Outline your fitness app ideas and requirements. Discuss them with your selected fitness app developers. Any concerns about confidentiality? Ask them to sign a non-disclosure agreement (NDA) before discussing your future fitness app.

Sign off application scope.

After the requirements and feature list are clearly defined, the fitness application developers estimate timeline, costs, and team composition.

Finalize proposal for fitness app development.

Both parties clarify the basics for ongoing cooperation. If both parties agree on the terms, they sign a contract. After signing the contract, the project is assigned to a project manager. The PM monitors the development progress and communicates with the client.

Create a fitness app prototype.

A prototype demonstrates how the fitness app will work. This responsibility lies with the business analyst. The business analyst works through the app logic and presents the client with the specifications. The specifications describe app functionality in detail, transitions between functionalities, business processes, main scenarios, and methods of data transmission.

Develop and test the first version of the app.

During this step, the designer and client determine the style of the app, including sizes of elements, visual effects, and animations. Based on the specifications, the fitness app developers release the first version of the fitness app. This is basically an MVP, a minimum viable product. If necessary, the development team develops a server for managing a mobile application and an API—a service for transferring data between the server and the application. A QA team checks the app for errors using manual and automatic functional testing.

Publish the app on mobile app stores.

The development team publishes the app on Google Play and/or the App Store. The client needs to pay a one-time $25 registration fee in the Google Play Market or a $99 annual fee on the App Store.

Choose either standard or extended guarantee support and maintenance

Guarantees might vary. Get clarification about guaranteed support once your app is launched. Standard: IT Craft provides a one-month guarantee for the application. This is included in the initial price. If bugs are discovered within a month, the team will quickly fix them at no extra cost to the client. Extended: Expand and maintain the app. It is possible to sign an additional technical support agreement. This team helps:

expand fitness app functionality in response to user requests
regularly check the application's operability
update the application for new devices and OSs

and more.
What are the basics of a fitness app?
Essential fitness app features
The typical list of must-have features of a fitness app includes the following:
My profile

My profile is the main section. This section contains personal information including gender, age, targets, and achievements. Users can monitor their performance and edit their goals.

Workouts

Workouts include a list of all workouts available for users. Each workout normally contains the name and description, list of exercises, number of repetitions, etc. Flexibility is essential when creating a fitness app. Users need to be able to:

edit workouts
add new exercises
combine them into groups
create a workout plan

Users benefit from:

audio and video support
categorization of training by complexity
workout plans with a defined timeline

Activity tracking

This function helps track duration, type, and consistency of sports activity. This can be an activity meter or calorie counter. This can also be a robust system for data collection. Your fitness app synchronizes with all user devices for data aggregation regarding sleep, calorie intake, and much more. Based on aggregated data, users can see how their training affects blood pressure, heart rate, and weight.

Sharing on social networks and chat

Every fitness application needs a powerful social component. In fact, synchronizing the application with social networks allows users to share their achievements, ask questions, and get information from peers. Your fitness app features can also include chat. This is important for personal training apps as chat lets users communicate with their coaches and with each other.

Gamification

Gamification helps users stay motivated. Gamification features can vary greatly. Jogging apps with challenging quests and winning competitions gain more interest. For example, Zombies, Run! offers a series of interactive missions. Users hear zombies chasing them through their headphones. They must speed up in order to escape. At the end of each mission, users distribute collected bonuses among citizens.

Push notifications

Timely notifications help users stay on track to achieve their goals. When the right motivating messages are sent at the right time, they tend to be the most powerful marketing tool.
Technical side of fitness app development
Basically, developers create a fitness app using all three approaches: native, hybrid, and cross-platform. Budget vs. app complexity determines the technical side of the question "how to develop a fitness app":
Native appsDevelopers make a separate app for each platform. Native apps enjoy the best performance, access to native features, and native design. However, native apps are expensive; development time is long.
Cross-platformDevelopers maintain one code base for two platforms. They reuse the same codebase by applying a cross-platform framework such as Flutter, React Native or Xamarin. Development timeline is shorter. Still, developers must adjust code for each platform. Access to native features can be challenging at times.
HybridThe same Web development team can repurpose Web app source code to make it work on mobile platforms. Hybrid approach works best for simple apps. They can be launched fast and within budget. However, hybrid apps are hard to optimize. Access to hardware can also be limited.
Most important fitness app development trends
Successful fitness and workout app development is hardly possible without knowing current trends. The market of fitness and health is growing and changing constantly. Below are six of the most significant trends to help you create a fitness app the audience will be waiting for:
Virtual assistant According to forecasts, the market of virtual assistants will reach $6.27 billion by 2025. Virtual assistants and virtual trainers will be in demand on sports and fitness apps. Aaptiv is a pioneer application that offers a virtual personal trainer. This trainer is available 24/7. It shares ideas and tips for an active, healthy, and happy lifestyle via a chatbot. The first virtual personal trainer not only educates users, but it also keeps learning. The virtual trainer relies on both user data and information from the community when adjusting to user needs. Interactive elements provide a gamified learning experience to help users stay motivated.
Augmented RealityAnother trend of fitness app development is Augmented Reality (AR). AR makes training become more intensive, both indoors and outdoors. AR makes it possible to completely get into the world where a user interacts with objects that exist on smartphone screens. AR suits best for real-time data visualization. Users can be sure they avoid physical fatigue. Also, users can increase efficiency because they will know exactly when it is possible to increase or reduce performance during the workout session.
Live video streamingHow to create a fitness app where every community member will benefit from face-to-face communication? Start real-time online classes. Instructors who want to create a fitness app and improve their personal brand benefit the most. For gym instructors, live streaming helps them reach their audience, answer questions immediately, and build a better experience from online lessons. It helps athletes keep their morale while feeling they are not left alone. They can adjust their old habits to their new routine.
Educational contentIt is equally important to provide access to a knowledge base. Users might miss a live training session for various reasons. They might want to refer to how to do a certain exercise. Or they may want to learn the basics of a healthy diet. Educational content increases time people spend on the app. It also provides added value saving users' time on finding (and purchasing) missing information. Thus, educational content can be an additional reason to decide on a subscription.
Multiple screensChoice of target platform is an important part of the question "how to develop a fitness app". Although smartphones accounted for two thirds of revenue share in 2020, demand on wearables such as smartwatches and fitness trackers continues to grow. They accounted for over a quarter of revenue. The reason: trackers collect and make sense of user data, send notification alerts and instructions, and more. Truly seamless experience is possible. Include a smart TV app (Apple TV, Chromecast, Amazon Fire TV) as another benefit. A live session or training instructions can be streamed on a big screen letting users focus on exercise and freeing up their hands from holding their smartphones.
Personalized trainingPersonalization remains one of the key trends. It cannot be underestimated when answering the question "how to create a fitness app users will love". People are looking for the training/diet plans that fit in best for their situation. On-demand programs and personalized plans will help users set up objectives and provide workout ideas that fit in with their lifestyle. Machine learning algorithms will help keep track of daily progress and correct the plan on its basis.
Typical fitness app development costs
Here is a short outline regarding development timeline and pricing.

Both Android and iOS apps have a similar development effort, as follows: for
both
basic Android and iOS apps with similar scope, the effort would take
450 – 900 hours (4 – 6 months)
for minimum functionality.
Advanced
fitness apps support real-time synchronization, interactivity, and database integration. Users enjoy animations and offline mode (e.g., downloading workout videos). In this case, app development would take
1000+ hours (6+ months).
In both cases, costs might vary. For example, an elaborate app design increases costs by 20%. Fitness app development costs depend on several parameters. The most important include:
Number of screens, controls, and fields – the higher the number of those items required, the more expensive the app.
Types of supported devices – the fitness app can run on smart watches, trackers, smartphones, or tablets.
Screen Orientation Modes – ability to recognize screen orientation type and angle.
Security – measures to keep data safe.
Number of supported languages.
Supported OS versions – the app will be available on Google Play and/or App Store.
Fitness applications usually work on multiple processes. Normally they have at least 10 screens. Also, fitness apps are integrated with a server and often require payments. Optionally, they have functionality for reviews and feedback and a feature. How much does it all take? Based on an hourly rate of $50 – $55/hour, typical for a Ukrainian development company, estimated costs to build a fitness app vary from $22,500 to $49,500 for the minimum functionality. An advanced app starts from $50,000.
How to create a fitness app monetization strategy?
App owners should not only make it clear for what they are going to charge users but also meet user expectations regarding price and provided options. They can provide access to advanced features, sell goods and services, or provide an app as added value to the main product. Fitness business can rest on one of the following (or several) revenue models:
Free app with ads

Users can launch and utilize the app at no cost to them. In return, businesses will regularly display ads. This can be banners, videos, or native ads. This model works best for simple apps with low maintenance costs. Or it can become a part of the freemium model—users pay for switching off ads. An app owner can also encourage users to watch ad videos for bonuses to maximize income. Pay attention to interruptions. When forced to watch too many ads, users will end up looking for better choices.

Freemium

When delivering the app using a freemium model, the app owner provides basic functionality for free. Users pay for extended features. For example, a training app can provide one free basic plan. Customized training plans will be available upon purchase. Depending on app complexity and value, app owners can try:

Upgrades – unlock the full version and remove ads.
One-time in-app purchases – buy items or in-app currency.
Subscriptions – pay for app usage on a regular basis.

The subscription model continues to gain in popularity because it helps app owners forecast their income. App owners are motivated to provide regular content and feature updates. One-time purchases can be a safe bet for users. App owners can opt for this model when promoting their MVP.

Data monetization

A rather recent monetization strategy lies in gathering depersonalized user data and selling it to specialized companies. In most cases, for marketing and market study purposes. For some free apps, data monetization can be more profitable than advertising. Still, app owners should be very cautious about data monetization. They must require user consent upfront and tell what type of data they collect, store, and process. Otherwise, they may ruin their reputation and face legal claims.

Indirectly as part of added value

Big brands can develop a fitness app as a part of a bigger game. For example, Adidas has launched a fitness app called adidas Training to reach a wide audience and increase its loyalty. Another case is when manufacturers of fitness equipment also create a fitness app. They have needed experience on how to help users make the most of their devices. For example, a renowned manufacturer of fitness trackers Fitbit also provides a special app Fitbit: Health & Fitness which is very popular (#6 in Health & Fitness on App Store). To add here, branded apps also offer paid premium subscriptions.

Reverse monetization

Counterintuitively, app owners can create a fitness app to actually pay users for their activities. For example, users get a certain number of points or in-app coins upon reaching the daily workout goal. If they keep meeting goals, they will collect a substantial sum of money which they can exchange for gift cards, certificates, discounts, etc. In some apps, they can cash in real money. Alternatively, a fitness application sends money for charities that users earn for every mile they walk, run, or cycle. Another feature to increase motivation and competitiveness is betting. A fitness app works like a betting company. Users make bets using the app on whether they get to the gym or start training at home. Losing money if they don't is their motivation to keep training.

Donations

Because why not? If the app owner is not sure how to create a fitness app the audience would like, the idea can be tested by starting a crowdfunding campaign. If users are interested in the app idea, they will back it up with money. In return, the app owner can offer lifetime subscription, early access to premium features, merchandise, and more options. In addition, the app will get the audience who will be the first adopters and provide feedback.
So, you've decided to develop a fitness app…
Moving from theory to real practice is a big decision which requires a deep reflection on how to create a fitness app that users will use regularly and pay for it. Consider these brief points to increase your success chances when you start developing a fitness app:
MVPAgain, focus on the core functionality to launch fast and on budget. Using the MVP approach, you test the waters to see what users are willing to pay. This is rarely possible on the first try. Develop and launch, market test and repeat.
Focus on paying audienceThink in advance how to create a fitness app for users who are going to pay you. Answer the following questions: Are end users ready to pay for regular subscription or only for a one-time purchase? Will they pay for content or services? Test different monetization models if you have no definite answer. Provide trials and discounts to help test at no risk. Think how you engage users to upgrade to the paid version.
Consider partnershipsProbably, you can monetize your app through affiliate programs. You can team up with a retail business that provides you gift certificates in return to promotion. Or collaborate with insurance companies. The latter can provide better terms for users who maintain a healthy lifestyle.
DesignDesign does require special attention. No matter how great the features are, if the app looks and feels cheap, users will lose interest. Think through what users want to see and what they will want to avoid at any cost.
CompatibilityFitness applications must work well on where users expect them to use. They must be compatible with as many computing devices as possible: smart watches, trackers, smartphones, PCs, and TVs.
SecurityData protection is a must-have. When creating a fitness app, enhanced data security is needed to prevent leaks of sensitive user data. Also, it's the law in EU/Schengen countries. Ref. GDPR.
Development teamInvest your time in looking for developers who know how to develop a fitness app unless you have an experienced in-house team. Find programmers who can provide your audience with a stellar app.
Do you want more flexibility in determining feature list of a future fitness app?
Configure options and get an estimate.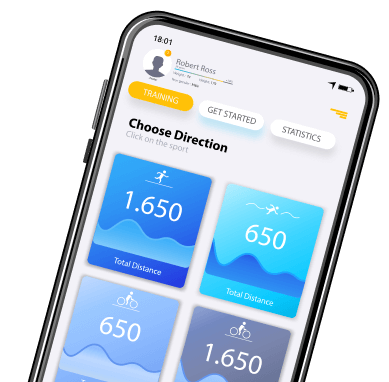 Conclusion
Mobile apps for fitness show the highest retention rates among all app categories. 96% of users use only one health and fitness app. Unlike other industries, fitness applications remain on users' smartphones for a long time. The forecast for the number of people using fitness applications is >353 million by 2022. However, fitness app users are becoming increasingly discerning. This means creating and launching a new mobile fitness app becomes more challenging for business owners. This is where business owners must unleash their creativity and follow best practices. Product owners' need for creation of a new fitness app:
a lot of work
a clear vision of audience's expectations
a well-built survival strategy
a team capable to turn a set of requirements into a polished app
Are you curious to know how much your fitness app can cost you at IT Craft? Contact us today and get a free roadmap with costs, technologies, and timeline.
FAQs
Are you curious to know how much your fitness app can cost you at IT Craft?
Contact us today and get a free roadmap with costs, technologies, and timeline.