Mobile health apps deliver amazing results. Healthcare mobile app development keeps changing and improving. With every app improvement, the entire healthcare industry advances.
Mobile-health-app innovations change patients' lives.
While the core of healthcare services remains intact, the industry itself is ripe for technical disruption. Technical companies are moving deeper into the healthcare space—and vice versa. CEOs of health plans and health systems seek partnerships with outside organizations. Top of the list? A guaranteed secure, efficient, and cost-effective way to store and manage patient data.
Healthcare apps are gaining trust among patients.
Patients share personal information with their doctors through apps. A Deloitte study shows 28% – 53%* of respondents shared their personal information with doctors and would share essential information with family members in case of an emergency. (*Wide range was region dependent.)
Electronic health or eHealth means helping patients via electronic devices. The eHealth strategy receives strong governmental support.
Technology-enabled care (TEC) remains the end goal of many programs. It is a major growth point for patient-centric medical services. Digital solutions enable patient independence and active participation in a treatment process. Norway's government encourages specialized health services in patients' homes. Remote interpretation is the core of this plan.
For similar or lower costs, TEC helps overcome negative trends in the industry, including:
growing care dependency
providing safe medical advice and aid during pandemics such as COVID-19
increase in chronic diseases
ballooning healthcare costs and unequal access to health services
overworked clinic staff due to an aging society
Despite the benefits, healthcare application development faces significant challenges. Digital transformation is inevitable. Demand outpaces this transformative undertaking.
IT Craft expertise in healthcare mobile app development
IT Craft provides the best possible solution at the most reasonable price. IT Craft developers help startups and established companies launch healthcare solutions. Complexity varies. High quality doesn't.
IT Craft is proud to be a trusted partner supporting the technical side of the following projects, among many:
Flexwise

Flexwise is a trusted platform for hiring temporary nursing professionals through a pre-selected pool of qualified employees.

Clinics administrators can directly negotiate with nurses on prices, schedule, and more. They can easily re-hire a temporary nurse when needed. In turn, nursing professionals can take jobs immediately after they are accepted.

Flexwise started as monolithic software that the development team turned into microservices. As a result, frequent updates are simple. Dockerization, test automation, and deployment automation decrease time and increase quality.

Arctrieval

Arctrieval is a Web system for easy, secure communication between patients and medical institutions.

Arctrieval replaces an outdated paper-based process with a trusted digital system. It helps securely issue, receive, and exchange sensitive information from hospitals to patients. The system supports the entire cycle of patient request. Personalization and customization are available to synchronize with each user's mailbox.

XPERTyme

XPERTyme is a Berlin-based startup specializing in software for billable video-calls. Video-consulting, workshops, and seminars are possible through a secure platform. XPERTyme meets the needs of both individuals and groups.

consultations are among the platform's top-priority categories. Secure calls are available via a link or a special invitation. This makes the call accessible only to the intended users. Integration of billing systems ensures professionals get paid for their services.

XPERTyme also offers white-label solutions for businesses. The platform provides easy integration, enhanced security, instant scalability for group calls, and more.
Contact us
Main healthcare mobile apps user groups
Four large end-user groups in the healthcare services market benefit from healthcare mobile apps:
Doctors

get tools for diagnostics, treatment control, and patient management.

Patients

receive consultations and treatment, track health conditions and activities.

Hospital administration

manage treatment process and treatment costs, patient history, staff workload, recruit missing specialists, and more.

Insurance companies

exchange information with clinics and clients — securely.
Healthcare app developers help these groups in different ways. All processes must be done securely meeting both rigid standards of HIPAA and GDPR.
Trends in healthcare app development
New trends arise to meet the challenges of healthcare industry. These challenges include:
providing equal treatment for all patients
optimizing workflow and reducing treatment costs
reducing risks of infection (crucial for post-COVID-19 era)
When planning a healthcare app, consider the following healthcare app development trends:
Telemedicine

Telemedicine tops the list of healthcare apps. COVID-19 patients often need help but do not want to put doctors, clinic staff, and others at risk. Telemedicine renders boundaries insignificant. Patients receive an appointment with a specialist from anywhere in the world. "Doctor-to-doctor" telemedicine apps are used to share advice between peers.

eHealth management systems

Different European countries have updated their eHealth legislation. Health institutions can now update legacy infrastructure with fewer hassles. The industry needs management systems to ensure consistency and security in treatment processes. Sensitive information will neither be lost nor stolen but shared between interested parties. eHealth management systems open up opportunities for startups in various healthcare areas.

Cloud solutions

Many players in the healthcare services market already use internal custom systems. But this is convenient only when information circulates within an organization. Organizations need cloud-based services for users to access, process, or share information constantly outside of an organization's network e.g., enable patients to book an appointment from home.

Big Data and Artificial Intelligence (AI)

Healthcare industry generates a vast amount of impersonal, scientifically significant data. Analytic solutions help make use of collected data. Doctors can specify treatment methods. Clinics can assign workload. Insurance companies can build forecasts. AI helps refine models performing routine calculation tasks.

Remote monitoring and technology-enabled care

New cost-effective medical devices help doctors assist patients living in remote areas. Precise diagnoses, personalized care, and immediate reactions in emergency situations become possible. Wearable devices for constant patient monitoring become cheaper every year helping doctors' track patients' state. A privacy-first approach is the cornerstone for development of any new medical devices.

mHealth

Smartphones have become the primary devices for almost everyone worldwide. Where they go, so, too, their smartphones. Healthcare apps can be a patients' first choice when they need to book a consultation, receive medical records, find out the results of medical tests, pay for medical services, and more. The list of possible services is endless. A mobile-first approach is the future of healthcare services. And a must when you're planning for one.
Types of in-demand healthcare apps
Medical apps for hospital administration
Clinical management apps – manage staff workload, boost recruiting process, plan activities, etc.
Software for data collection and processing – make sense of aggregated data.
Apps for referencing – include medical coding, current standards, and reference about treatment monitoring.
Apps for release of health records – safely and securely exchange sensitive health information.
Apps for emergency alerts – send push notifications to on-duty doctors, nurses, and EMS.
Healthcare apps for patients
Telemedicine apps – make long-distant consultations with a trusted doctor possible.
Navigation apps – BLE beacons-based indoor navigation apps map out the shortest way inside a medical facility.
Electronic appointment systems – help users make online appointments.
Health condition apps – track body parameters—usually combined with special sensors.
Reminder apps – help users manage prescriptions, remember appointments and medicine.
Apps for a healthy lifestyle – step-tracking apps, sleep monitors, exercise monitors, baby development help, calorie calculators, nutrition apps, and more.
Web and mobile apps for doctors
Patient management apps – access patients' health records, test results, diagnoses, and treatment.
AI-based diagnostics apps – help manage data from remote tracking devices. Devices are worn daily by patients.
Reminder apps – facilitate remembering appointments, patients' names, and relevant details.
Reference apps – find important information on diseases and treatment methods. These apps can contain functionality for connecting with colleagues and asking for advice.
Apps for insurance companies
App solutions for secure data exchange – receive treatment information, negotiate costs, and manage communication with other user groups, especially with hospital administration.
Reimbursement apps – help hospitals and insurance companies securely exchange treatment costs and refunds.
Features of healthcare apps
When starting healthcare app development, it is important to determine the feature list. Some features are common for many, if not all apps. The others will make the difference to help you stand above your competition.
The list of basic features for healthcare app development includes the following:
For users:

registration

user profile management

calendar and appointments

search

chat

select, preview, and confirm

notifications and reminders

file sharing

video/audio calls

payment integration and/or insurance details

encounters

history

FAQs

collect and send body parameters (for tracking apps)

support chat

level of privacy settings

For app administrators:

dashboard
password recovery

user management
log-monitoring system
Implementation of basic and specific features highly depends on the end type. And note: every healthcare app must be HIPAA compliant 100% securing sensitive information. GDPR compliance is a must in the EU countries plus for anyone visiting the USA
Best healthcare apps
Here are some of the best healthcare apps.
Best healthcare apps
For organizations

CareAware
Connect

mClinic

HealtheDataLab

AppInstitute

Meditech

HealtheDataLab

For doctors

Medscape

Epocrates

Zocdoc

IsabelPro

visualDx

For patients

ZipDrug

Medisafe

FH® Cost Lookup /
FH® CCSalud

Healow

Ortholive

For wellness

Tammy Fit

Fatsecret

Headspace

Habit Minder

UrbanSitter

For insurance companies

United­Healthcare

Aetna Health app

DRG Claims management

Allianz MyHealth
Here is a tool to help you estimate how much it takes to launch an app for your idea.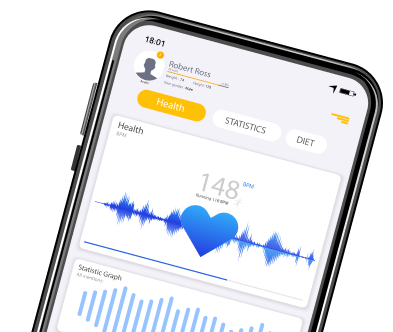 Challenges of healthcare mobile app development
Healthcare mobile app development is complicated at every level:
concept
reconciliation
technical implementation
adjustment to existing practices
introduction to end users
Every product owner needs to consider the following points:
Meeting stakeholders'
needs
Regulations
Integrity
Points every product owner should consider
Security
End-user centricity
Quality and equality
Meeting stakeholders' needs
The number of stakeholders is larger than the number of end-user groups. The treatment process includes several stakeholder groups interacting with each other:
regulators and policy makers
pharmaceutical enterprises
hospitals
insurance companies
manufacturers of medical devices
health retailers
technology developers
When designing a new healthcare app, a product owner must keep in mind all possible stakeholders. They have different interests and interconnections.
Regulations.
Healthcare apps must comply with HIPAA (USA) and/or GDPR (EU) regulations. Governments take an active part in creating legal framing for eHealth. Hence, product owners be mindful of legislative updates. Regulatory requirements are often seen as the biggest challenge.
Integrity.
Locale-specific design with intent to integrate to a large market does not work yet. Custom solutions must be adjusted to the realities of a certain healthcare provider and workflow. To securely exchange data, healthcare apps might need to work well with existing, locally developed solutions. They might also need to work on available infrastructure or need a small investment into hardware.
Security.
Medical apps process sensitive user data. Hence, they impose high requirements of coding standards, data exchange, and storage. Mistakes are costly. Avoid costly errors by using a third-party code inspection for a healthcare app.
Apps might cause indirect or unintended consequences. Product owners must be vigilant and insist on thorough user-acceptance testing.
End-user centricity.
Medical treatment provides patients with medical help. This is what it's all about. Patients get help at the right time, in the right place, using the right treatment methods—all at affordable costs. Mobile medicine apps make on-demand healthcare possible.
Quality and equality.
The end goal of healthcare mobile app development is granting the same high level of medical services even in 'medical deserts.' People living in remote areas will also get timely consultations and receive treatment and observation from relevant specialists. Healthcare apps make the outpatient model possible.
Typical checklist for healthcare apps
To correctly determine the scope of work for your healthcare mobile app development project, check out this guide.
Ask the following questions. Write down your answers
These answers provide medical app developers with key information about any future product.
Six-step process for successful healthcare mobile app development
The essential six steps for successful healthcare mobile app development include:
Digitalization in the healthcare industry mostly stems from evolved technologies. It directly affects organizational development and changes in work processes.
Every organizational transformation is successful when it improves user behavior. Apps need to exceed user expectations.
This is possible when the development team helps the product owner define and design the app.
The following six-step healthcare mobile app development process will help design the software:
Discovery
At the discovery stage, a development team discusses system requirements with the product owner. They also discuss functionality, timeline, budget, and possible implementations. Both a business analyst and a project manager conduct interviews with stakeholders to establish what the stakeholders really need. Software developers do code inspection if the product owner already has source code.
The discovery step saves client's money in the future ensuring clients get what they want.
Mapping
The business analyst and project manager draw up a project roadmap. The team prepares technical requirements and estimates.
The mapping step provides a detailed project plan with exact project goals, timeline, and scope.
Design and development
UI designers prepare visual elements of the future app. When needed, UX designers help establish the right user flow. Software developers produce source code for app functionality and ensure it corresponds to app requirements.
The design and development step produces an intuitive system where users benefit from existing best practices.
Testing and software launch
Healthcare app development is successful only with thorough testing. For big projects, QA engineers introduce test automation. This saves time on testing activities and improves overall app quality. After source code is tested, DevOps engineers help deploy the latest version of healthcare app to the server.
The testing step prepares the software for a successful launch.
User acceptance and adjustment
When the app goes live, stakeholders test it to ensure the new software corresponds to set goals. Stakeholders check app elements, app usability, response time, and other parameters. Based on their recommendations, the development team makes adjustments.
The user acceptance and adjustment stage fine-tune app quality and readies it for the market.
Maintenance and evolution
The team works on app updates. They introduce new features. Also, they monitor servers and install security updates to eliminate breaches. When needed, the development team helps with migration activities and integration of new third-party services.
The maintenance stage is ongoing throughout app's life.
Anything else important?
Yes. Training.
Right after a healthcare app is launched, it is time to schedule a webinar or zoom call. Or, when life permits, train in person on site. Make sure users clearly understand how the new healthcare app improves their experience. This helps break any barrier of rejecting novelties.
Do you want to know how IT Craft delivers your app?
You get a secure solution, all regulations accounted.
Contact us
Why should healthcare providers consider help from custom healthcare software development companies?
Every product owner needs a team able to help launch their app while keeping in mind specifics of a healthcare domain.
Be wise! Choose a team able to collect and process needed information and build a relevant, reliable solution.
The right custom healthcare software development company substantially boosts speed of implementation.
When looking for a reliable healthcare software development company, consider these relevant factors:
Transparency
crucial on both sides. Ensure the development team clearly understands the project's main goals. Together discuss possible risks. Ensure the team keeps open dialog with you to discuss problems during the development process.
Flexibility
look for a team able to adapt to changing requirements. Your future healthcare app might need modifications. Make sure your team can do these with speed and accuracy.
Pilot task
start with a small, Sprint-long testing task. This helps you test drive the team's services. Track how well the new team manages requirements. Ensure their workflow suits your needs.
Knowledge transfer
make sure the team provides essential information about the project. Documentation and source code commentaries help you—the product owner—maintain control over the project.
An established custom healthcare software development company helps launch your app faster. It also helps maintain and update the app for reasonable costs.
IT Craft: how we work
The essential six steps for successful healthcare mobile app development include:
When a client contacts us and leaves a request, the request goes to a business development manager.

Based on the level of detail provided in a request, the business development manager forwards it either to a business analyst (BA) or to a project manager (PM). A BA clarifies all requirements. A PM provides a general estimate with possible timeline, budget, and cooperation model.

At this step, both the company and client sign an NDA to legally ensure information is kept secret. IT Craft always respects client confidentiality. The NDA gives clients the added assurance they might need.

The parties negotiate the details. If the parties agree, IT Craft prepares a contract which is then signed by both parties.

After the contract has been signed, a development team starts working on software.

The team usually consists of the following experts:

PM – supervises project progress, discusses project activities with the team and the client.
BA – analyzes project requirements, gathers estimates, updates project documentation.
UX/UI designer – prepares visual elements of an app (UX designer focuses on app usability).
Front-end developer – programs the client part of a Web app.
iOS/Android developer – develops a mobile version of an app.
Back-end developer – designs server side of both mobile and Web apps.
QA engineer – tests source code to fix bugs and flaws.
DevOps – automates routine tasks on the project, helps with source code deployment.

Please note, the number of developers and engineers assigned to a project is dependent on project size and complexity.

IT Craft teams use the Sprint approach when developing an app. Each Sprint lasts two weeks.

Each Sprint begins with planning and ends with debriefing. At the end of a Sprint, the client gets deliverables which he or she can test on a server. The client also gets a detailed report on all team activities and plans for the next Sprint.

Most often, team members work in parallel to shorten development timeline.

When app functionality is ready, the team launches the app. After it goes live, the post-release guarantee period starts. During this time, the team fixes all bugs and flaws, if any, in its source code at no cost for the client.
Usually, the development team designs several healthcare apps for a healthcare solution. The goal is to reach the most devices. This approach could be expensive for a startup building an MVP. Consult with the development team and decide which development strategy best suits you.
Conclusion
Innovations in science and technology today transform healthcare of tomorrow.
Digital transformation of healthcare continues. Healthcare apps improve the entire healthcare industry.
Digital solutions:
save time
save taxpayers' money
provide equal access to medical services
make it possible to cope with growing healthcare workload
provide level of patient services not possible with other, older instruments and methods
Stakeholders want further digitization of the healthcare industry.
We can do this with the current level of technologies.
Are you in or out?
Contact us
FAQs:
About
Anton Suddia is a content specialist at IT Craft, a Web and mobile software development company. He is a big fan of cutting-edge technologies and enjoys wr iting about how new technologies improve our everyday activities.