Flexwise
Marketplace for on-demand healthcare professionals
React
Node.js
MongoDB
AWS
Company: Flexwise Health
Country: USA
Category: Healthcare, Marketplace
Release year – 2018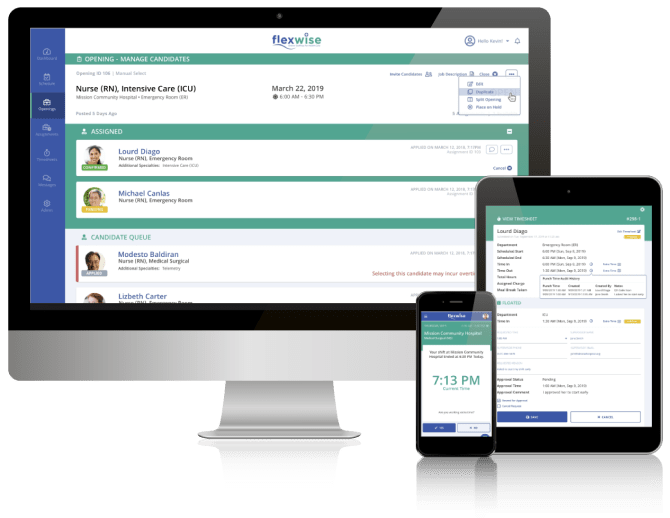 Project background
Flexwise provides a secure, trusted platform for medical institution administrators and nursing professionals. The former to hire and oversee temporary employees; the latter to control their chosen workplace, schedule, and workload.
Medical facilities, such as hospitals and clinics, join Flexwise to post temporary jobs and get access to Flex Pool—selected, pre-qualified nursing professionals. The Flex Pool idea dramatically decreases the time it takes to fill a temporary position at a facility. Decreasing recruitment time decreases costs.
Flexwise software supports the entire essential workflow to recruit, manage, and pay temporary nursing professionals. All online.
IT Craft's client had two main goals for Flexwise: 1) develop a practical system to simplify the process of hiring nurses and 2) help nurses manage their work schedules to better suit their needs. And, our client wanted to develop an MVP within a short period of time. IT Craft assigned a team of six professionals.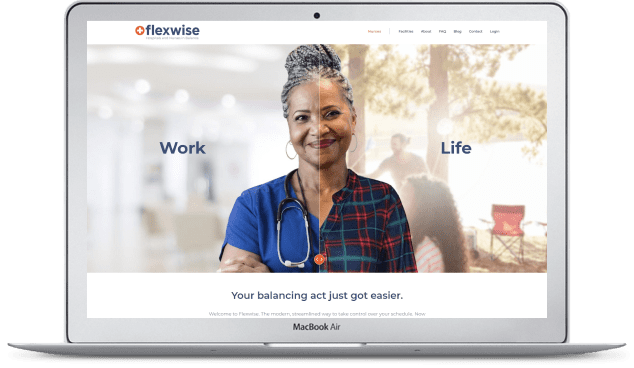 For medical institutions
Flexwise employs only nursing professionals allowing the facility to avoid any employment risk.
Flexwise provides employment basing on daily shifts streamlining the process of hiring part-time working professionals.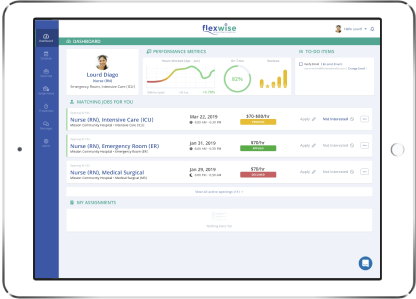 Unlike a traditional staffing company, Flexwise makes it possible for medical facility administrations to directly engage part-time workers, negotiate price, schedule, get in touch fast through chat messaging, and view online reviews—all without any intervention from recruiters.
Flexwise allows administration of healthcare facilities to designate and create talent pools (called "Flex Pools"). Nursing professionals can apply; once accepted, can take jobs immediately. This eliminates the need to apply for individual jobs every time. A Flex Pool is just another way of describing professionals who have pre-qualified for working at a specific facility (usually in a specific unit of the facility).
For professionals
Unlike a typical healthcare marketplace, Flexwise employs only professional nurses. Nurses who sign up for Flexwise go through extensive profile and credentials onboarding workflow and apply to be included in "flex pools" for specific facilities. After qualified nursing professionals have been added to a flex pool, they can be hired quickly and efficiently. They can be re-hired when need for a temporary nurse professional arises.
At the end of each shift, the nursing professional submits a timesheet. The relevant facility manager approves the timesheet. Flexwise pays the nursing professional.
Features
Main features for professionals:

Recruitment
discover benefits of subscribing to Flex through online or offline advertising

Sign up & Account
answer a few basic questions about what kind of nurses they are (called "discipline"), add main information such as name, location, and email address

Profile
complete an extended profile. The purpose of this profiling allows Flex to better match them with openings (and flex pools)

Apply for Flex Pools
get to the special pools

Opening Notifications to Professionals
receive notifications of new assignment opportunities and respond (apply, accept, decline, submit, send message to facility)

Assignment
complete an orientation process at a new facility (if it's the first time working there) for the first assignment

Calendar
view, update, and edit monthly or weekly calendar to display professionals' availability

Chat
get in touch with the facility for further details

Virtual Timeclock
use app and department's specific QR Code for Clock In/Clock Out records
Main features for facilities managers:
Sign up
create a profile of a facility in the system

Advanced setup
fill in extended information about medical facility

Create profiles
create separate profiles for single units inside a facility, if needed

Create a flex pool
establish a new pool from selected professionals noting their names and units where they are supposed to work

Create an opening
use this option to post job openings referring to Flex pool, location, specialty, job titles, dates, shifts, rates, etc
Select professional(s)
choose the best-suited professional(s)

Assign awards
assign rewards for top performers

Calendar and chat
get in touch with professionals and manage activities

Virtual Timeclock
supervisors verify and approve professionals' time based on records kept by Flexwise
Technologies
Client
React 16 + Redux
Material UI
Server
TypeScript
Node.js Web API + Express
NestJS
MongoDB + Mongoose
Infrastructure
AWS EC2 Servers + Docker
AWS S3
AWS CodeBuild
AWS Lambda
AWS CloudFront
Jenkins
Elasticsearch
AWS CI/CD
GitHub
Engineering Challenges and Wins
1Back in the early days, the project had started as a monolithic app, but the development team broke it down into a microservices architecture. All communication between microservices is unified and standardized with help from Swagger.
2Dockerization, deployment automation for all the environments, and automated tests made it possible to significantly reduce deployment time and increase quality.
3Elasticsearch selected as a more powerful search tool for finding and matching candidates.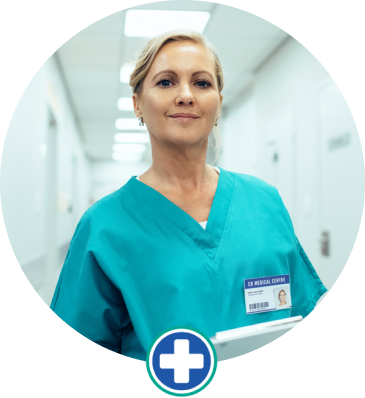 4Component-based architecture made it easier when it came to global redesign of the website.
5Storybook made developing of UI components more efficient and communication with the design team more structured.
6Through Virtual Clock, Flexwise records time, and geolocation of the professional for verification. Upon changing department, they only need to scan the new department's QR Code. If professionals work overtime, they send an email to their supervisor. The supervisor can approve extra time without logging into Flexwise.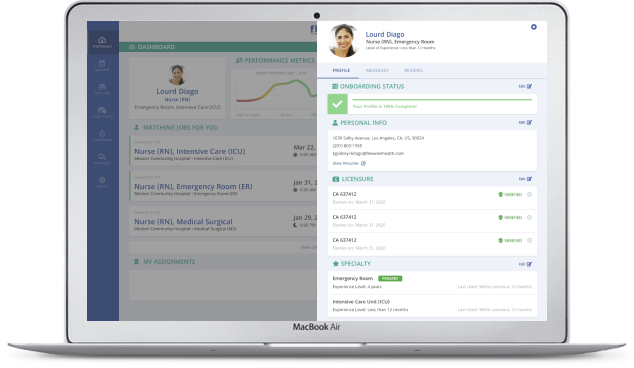 Team and duration
Time: 2018 – ongoing
Team included: 1 Scrum master, 3 back-end developers, 2 front-end developers, 1 HTML/CSS developer, 2 manual QAs, 1 automation QA, 1 DevOps.
Average monthly workload around 1,600 working hours.
visit the website
Check out more software projects IT Craft developers have accomplished for company's clients.