Have you ever thought of how smartphones have changed our behavior? According to a Daily Mail article, gargling or washing one's face is no longer first on smartphone users' to-do list upon waking up. Instead, they tend to start their day by checking their e-mail and Facebook profiles on mobile devices, most likely, while still in bed.
Moreover, smartphones have become more of a "go-to-gadget," replacing desktops and laptops, which people only turn to for an average of 140 tasks. Every week, the average smartphone user picks up his or her gadget 1,500 times or 224 times daily. The daily average in 2013 was 110.
However, we know for a fact that we live in an imperfect world where smartphones don't always live up to expectations. One example is upon receiving a notification, there are times when the phone's screen would freeze or die on you.
In the world of 5.5-inch plus screens it gets much easier to interact with the UX but harder to handle the device; it is far too big to take it easily out of the pocket. It is not that convenient for sports, but that is not to say that it is unacceptable to use it in some situations like meetings.
But what if I could decide when to activate my smartphone by accessing it via an additional screen with low power consumption?
A clamshell mobile phone like the Motorola RAZR V3 comes to mind when I think of a similar solution. The device, which became hugely popular in the early 2000s, featured an external screen for essential information like time, incoming calls, events, and even enabled changing user profile.
And because smartphones have a dizzying number of features, the idea to access them through an additional screen seems like a good idea. Here are a few ways to do it:
a) linking an additional screen to the smartphone, by way of a smartphone e-ink cover or a physical second screen,
b) linking it with an autonomous device such as a smart watch or smart band.
However, the problem lies in the concept, specifically, with regards to how much value will the second screen add to revolutionize the way we use smartphones? For instance, both smart watches and second screens have their limitations: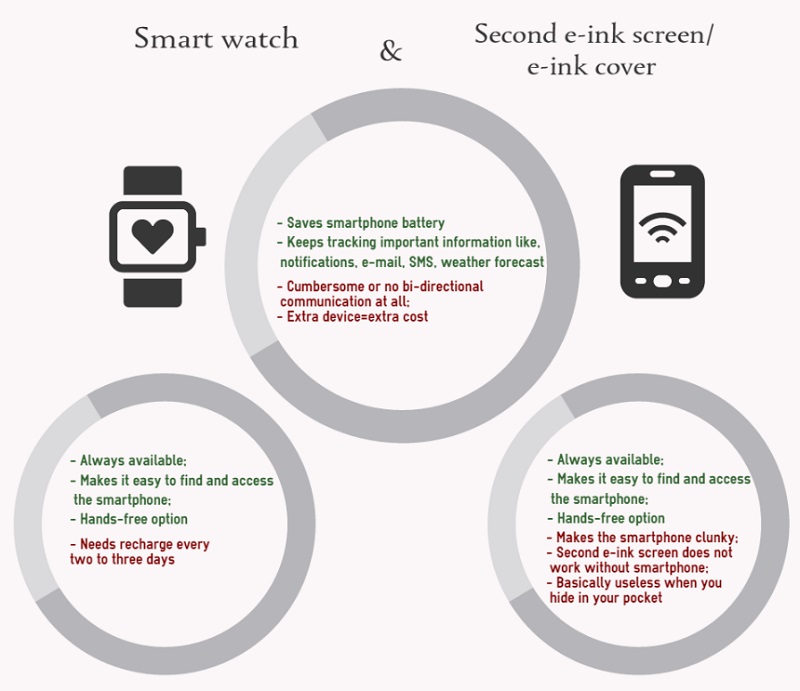 As for now, smart watches look more promising. They allow people to hide their smartphone in their pocket while staying connected. However, it is hard to answer a call with the watch's tiny screen (the same is true with an e-ink screen). On the other hand, e-ink has its own palatable features that make interaction more comfortable while saving battery life.
In a nutshell: My money is on the smart watch because it can function autonomously. When developers discover how to use it more effectively for searching things on the web and creating emails, it would be a killer feature assuming the battery does not discharge within three to four hours.