iBeacon App Development
Enhance your indoor capabilities with a next-gen solution. Asset tracking, security alerts, or instant payments—IT Craft remains responsible for building a top-quality solution.
I want a free consultation
How does
iBeacons app development

help?

iBeacons help in many ways:
Improve
visitor
experience
Deliver notifications or start playing audio descriptions when a visitor reaches a point of interest at a certain time.
Create an extra promotional channel
Trigger context-based events such as best deals and discounts. Display product description on the widescreen when a customer takes an item from the shelf.
Receive
feedback and analytics
Collect analytics on customer interactions with advertised items. Use background information to improve customer loyalty.
Automate
inventory maintenance
Provide control over equipment or products inside large spaces. Ensure workers know the exact location of items in the store.
Ensure
product
quality
Use advanced iBeacon models to measure in real-time an item's parameters such as temperature and humidity to eliminate spoilage.
Our services
Indoor positioning and navigation systems
An indoor navigation system combines several technologies within one complex system. Our engineers provide all required integrations ensuring the best route calculation and precise instructions.
voice instructions
fast search and filtering
adjustment to special needs
moderate battery consumption
Alert iBeacons apps
An alert app simplifies two-way communication. Ensure that Specialists can activate emergency alerts immediately. Send notifications to responsible persons. Guide users to a safe route. IT Craft builds a system for immediate response.
critical situations detection
precise location tracking
emergency warnings
fast setup
Custom iBeacon apps for asset tracking
iBeacons can be mounted on moving objects to better track processes in a facility. Sensors are used to monitor location of valuable assets and their conditions. We use cutting-edge technologies to maximize business value of tracking software.
built-in sensors
flow optimization
idle time detection
rental tracking automation
Proximity-beacons marketing solutions
iBeacons trigger personalized messages based on user proximity to the store. This can be special offers, deals, notifications on upcoming events, and more. IT Craft iBeacon app developers build software for superior customer experience.
personalized messages
promo campaigns
products on shelves
heat maps and analytics
Interactive tours
Provide the lowest-possible entry barriers to museums, exhibitions, and traveler attractions. Make descriptions and instructions available in visitors' local languages. Provide extra in-app content. We integrate it all in your app.
interactive instructions
digital guides
multi-language support
gamified experiences
iBeacons apps for mpayments
Save customers' time. Add an alternative contactless payment method. Tie a beacon-carrying item to a specific device or account from which users want to make a purchase. Our team ensures seamless integrations of all modules.
contactless payments
two-factor authentication
automated identification
enhanced security
Proximity-based social networking
Add an extra option to your proximity app. iBeacons can help friends find each other in a crowded or an unfamiliar location by sharing precise positions. IT Craft has experience in delivering this type of functionality.
guidance to friend's location
sponsored content
alerts on a friend's proximity
freemium features
Product identification software
When attached to items, iBeacons can detect user interactions with products. They activate information when an event is triggered. We help you build and set up an identification system and then keep it up and running.
various use scenarios
onboard sensors
analytics on user interactions
high accuracy
Our clients'

success stories.
We love to hear what they say about us.

Stories of people impressed by our service offerings
UAE
Mustafa Alhashemi, Founder at Smart Navigation Systems
"IT Craft was distinguished by their wonderful sincerity, professionalism, attitude, punctuality, and effective commutation."
USA
Charles Sakkal, Founder at eLaundry
"IT Craft is honest and straightforward. They're a good partner to work with."
Germany
Abhinav Goel, Head of Technology at Plugsurfing
"They catered to all the requirements we have. I do not think I have worked with such a supplier before, highly impressive attitude."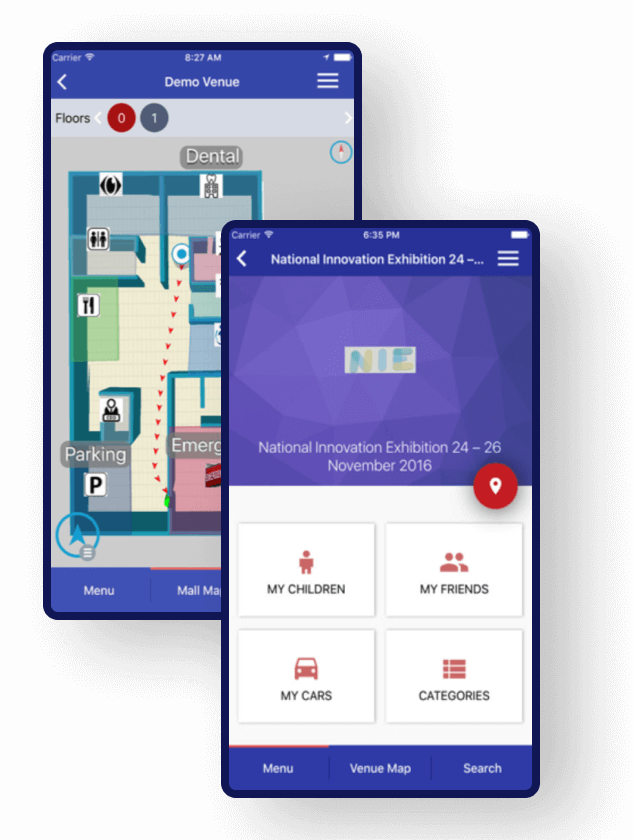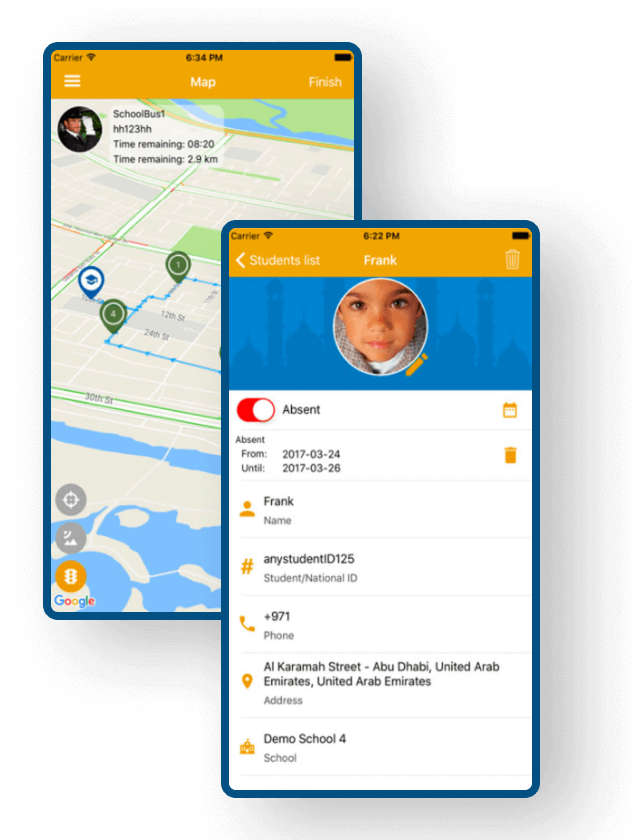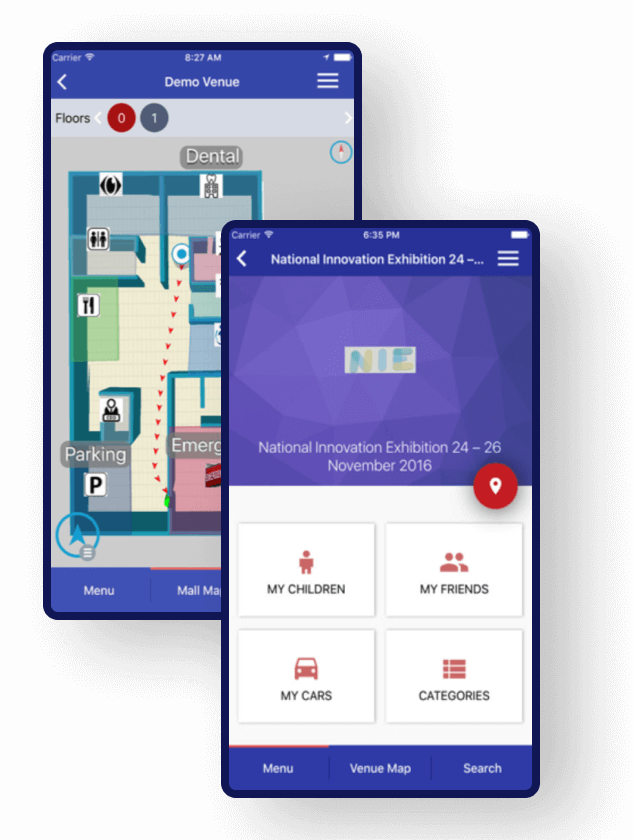 InNav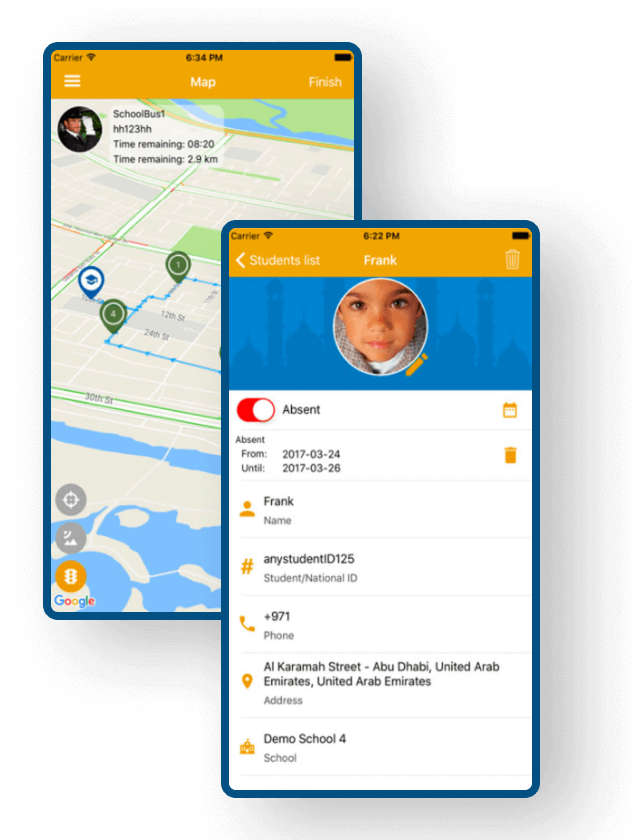 Our School Bus
Do you want to start an iBeacon app?
Contact us for a free estimate. Let's determine the best path to your launch.
contact us
Industries
iBeacons benefit everyone. Check out how iBeacon app development helps your industry:
Hospitals

Provide detailed, in-building navigation and patient auto check-in. Reduce queues by accepting contactless payments. Send alerts to doctors in emergency cases.

Shopping malls

Engage customers by sending notifications with offers and deals. Improve customer experience by personalization. Eliminate queues via NFC payments.

Museums

Create a personalized tour recommendation in any language. Offer tour plans with marked items. Start playing audio information when a visitor approaches an artifact.

Logistics and warehousing

Track the exact location of any tangible assets (equipment, property, valuable objects) using moving BLE beacons. Use BLE beacons with sensors onboard to monitor storage conditions. Receive immediate notifications when conditions deviate from set parameters.

Banks

Provide personal greetings to clients. Manage queues, collect analytics on waiting time, and gather feedback on client satisfaction. Let clients carry out contactless, yet safe, ATM operations using smartphones.

Offices

Let Specialists track their time automatically. Automate authorization to certain restricted areas. Send alert notifications when an employee is needed.
questions

from our clients
What is iBeacon used for?
iBeacon is a special protocol designed by Apple Inc. It is used on small transmitting devices called BLE beacons.
iBeacon helps with the following:
Indoor positioning and step-by-step navigation
Tracking solutions
Promoting products and services
Improving in-store experience
Automation solutions
Can iBeacon work without an app?
Yes and no.
Yes, an iBeacon is just a small device that periodically transmits signals into an environment.
No, such signal transmission makes little sense. A smartphone can neither recognize nor use it. End users need to install and launch a native app. Plus, to start action after receiving a signal, they must have Bluetooth turned on.
Both Android and iOS support iBeacon detection.
If you are concerned that users might ignore your app, try iOS 14 App Clips to demonstrate the core functionality of your app at a glance.
Beacons are small, inexpensive, low-powered devices equipped with Bluetooth Low Energy (BLE).
Beacons broadcast signals. Beacon signals contain unique ID numbers which a smartphone app can recognize and use for navigation. Smartphones with relevant apps and Bluetooth are turned on to pick up these signals when they are near.
Beacons can also trigger events and send proximity-based notifications with relevant content to user devices. For instance, when people pass by a restaurant, they receive a notification about daily specials.
How much does an iBeacon cost?
iBeacons are relatively cheap devices.
Kontakt Anchor Beacons 2 cost $117 for the pack of three.
Estimote sells its Proximity Beacon at €140 ($150) for four units in a kit.
Beaconic offers 4 iBeacons Retail Kit for €89 ($95).
Heavy-duty beacons or beacons with various sensors onboard cost more.
Three is the minimum number of a pack due to the triangulation effect. All manufacturers offer large-order discounts.
What is the main problem faced while developing the iBeacon app?
The biggest challenge of iBeacon app development is making measuring as precise as possible.
iBeacon signals might:
Have issues with Wi-Fi interference because both use the same frequencies.
Incorrectly display when beacons toggle.
Lose contact with the user's smartphone due to unexpected, moving obstacles.
Lack of precision in open spaces and large places without walls (e.g., parking garage).
The following actions help increase signal precision:
Switch to a channel with different frequencies.
Ensure optimal hanging height and density of iBeacons.
Tune signal strength and range.
Develop a hybrid positioning system that uses geofencing and iBeacons.