What makes on-demand delivery apps different?
What functionality does a typical on-demand delivery business need and how does it differ from other digital service solutions?
Every Uber-like application contains only four steps for both clients and service providers: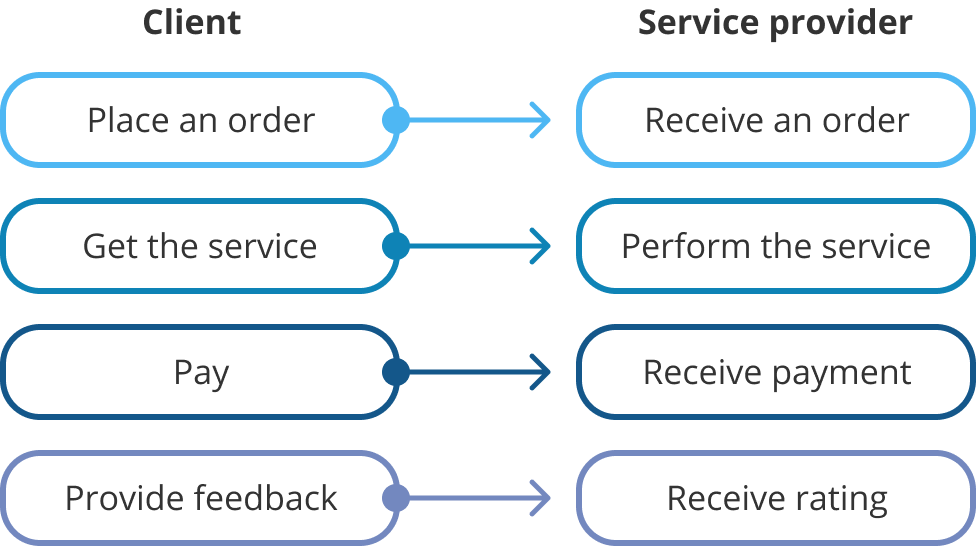 That's it. Four easy steps make users' lives easier and more pleasant.
These steps determine the functional core and technological stack used for the application. These four steps are not straightforward when developing your on-demand application. They directly affect costs to develop an on-demand food delivery app.
Why? Because there is an immense amount of intense behind-the-scenes work completed by many parties.
Types of on-demand apps
On-demand delivery apps depend on their focus.
This can be an aggregator which collects offers from single businesses (e.g., DoorDash, Uber Eats). Or this can be a platform / an alone-standing app which is owned and operated by a certain business (e.g., Walmart+, Domino's).
Aggregator.

Provides third-party platforms where customers and businesses meet each other. Users get access to available offers. They can pay safely and track order execution in real time.

Businesses receive functionality for order management and access to analytics. They can integrate aggregator's API to their app and save on the delivery fleet.

Aggregator is responsible for timely delivery.

Platform.

Business giants, such as Amazon, Walmart, and Domino's, have their own custom platform for fast grocery/food delivery.

Amazon Fresh/FreshDirect are special apps deeply integrated into company businesses. With these large businesses, the apps provide a limited service—that of an aggregator—just getting people to order. The company owning a custom on-demand platform is responsible for a correct order and timely delivery.

Alone-standing app.

Small businesses can also benefit from an on-demand delivery app. In this case, the business is responsible for the entire order management process and delivery logistics.

Of course, small businesses determine their specific delivery and pricing terms and how to serve their customers more effectively and most efficiently.

Pros of aggregator lie in its low costs for food businesses.

Pros of custom platform/app lie in their independence from technical flaws or sudden change of an aggregator's policy.

User statistics by age

On-demand delivery solutions enjoy constant revenue growth, increasing from $8.7 billion to $ 26.5 billion from 2015 – 2020.

On-demand apps target a wide audience. Are there user groups that enjoy on-demand delivery more frequently than the other?

Millennials and Gen X enjoy both delivery and takeout the most. Still, all user groups have started using on-demand delivery apps more often.

The statistics below show ordering based on generation:

Source: Deloitte

Did lockdown affect the current situation with rising interest in on-demand delivery?

Yes, it definitely contributed to a habit shift. Convenience marks one of the main trends. And there's no turning back time: 46% of consumers do not plan to return to pre-COVID-19 habits.

On-demand market trends

The on-demand services market keeps changing apace to meet challenges. Services hope to reach and convert as many users as possible to frequent customers. This is the only solution for them to become profitable and survive in the long run. For it, they must offer greater convenience.

Best food delivery apps share same or similar ideas striving to please their users. The following trends are common for the majority of them:

Expansion through merge and acquisition

Businesses enter new territories, markets, and niches by buying out successful competitors and gaining access to both business processes and customer base.

For example, Caviar, a haut-cuisine delivery service, is now a part of DoorDash.

Just Eat Takeaway acquired GrubHub to set up a presence in the US market.

Many smaller businesses announce merges hoping to expand either horizontally or vertically.

Delivery subscriptions

Retaining users remains a challenge for many services. Users download and launch several on-demand delivery apps while looking for the best deal. The reason: delivery prices vary greatly for the same order. Users need to do their math applying delivery conditions and looking for special discounts to figure out the best deal for them.

Delivery subscriptions offer predictability for both on-demand delivery services and end users. It's a win-win. Users get a set delivery charge. Services get a regular income plus the likelihood subscribers will order more often.

Last-mile delivery optimization

Both delivery timeline and price remain a challenge. On-demand delivery services do their best to expand service availability (=user base). Most food delivery services set a one-hour delivery. Uber Eats offers a 30-minute delivery.

Users who live beyond the one-hour-delivery zone cannot enjoy online orders.

Not yet anyway.

Services that deliver on bikes, motorcycles, and on-foot might provide lower delivery prices, but limit delivery size and weight.

Accessibility only from online

Dark stores and ghost kitchens belong to this trend. On-demand services offer users grocery and food available only online. No customer brick-and-mortar store.

For this, on-demand deliveries usually cooperate with food and/or grocery businesses (e.g., restaurants and supermarkets).

This trend serves two purposes at once:

Reaching out to areas with an exclusive offer where there is high demand and no delivery options.
Helping businesses start for minimum-to-no upfront investment, thereby establishing exclusive cooperation.

Services expansion

No one is surprised when on-demand services with similar specializations merge (e.g., grocery delivery and food delivery). However, many go beyond it, e.g., Glovo. A Glovo courier makes a purchase in the name of a user. This allows everything to get delivered. Even deliveries between two app users are possible.

Other on-demand delivery businesses try including pharmacy, beauty, and other kinds of deliveries.

Another example, Walmart offers on-demand delivery as a part of its Walmart+ program. Users can choose grocery and many other kinds of products available through brick-and-mortar stores.

Multiple delivery within one order

A grocery shop is seldom the only place a user visits with a shopping list in hand. Users benefit from one harmonized delivery that picks up orders from several places. Combining several orders into one—delivery cost saves time, effort, and money for a user.

So, another task for on-demand delivery businesses after their expansion to other domains lies in organizing effective courier logistics, so end users get all their orders at a lower delivery price.

Ownership over delivery

This trend is crucial for food businesses. When the COVID-19 pandemic broke out, many food businesses were caught off-guard.

Businesses that had considered online on-demand delivery apps only as an extra source of revenue before COVID-19, were unprepared for high processing costs. But there was no other option as long as clients were not allowed to come in person.

The trend for ordering food online remains today. For food businesses, a branded on-demand delivery lets them retain control over processes and manage delivery costs and quality.

Owning an on-demand delivery app also helps a business avoid any dependency on third-party providers and their policies.

Benefits from using on-demand apps for businesses

For anyone sitting on the fence, know this: the on-demand service market keeps growing. Why? Users like them. On-demand services are convenient, predictable, and affordable.

What's in it for businesses? Below are the main benefits:

Access to a wide audience

For many businesses, an app helps them expand. For example, only people who have time can visit a store within its working hours. But those who do not can get their order delivered at a convenient location when ordering online.

Improved quality of services

Apps dramatically decrease sales time by removing uncertainty. With a glance, users can see what they are ordering. They can check product availability and convenient delivery hours. Or easily book an appointment and get a reminder.

Cost optimization

Managers spend less time handling and confirming customer orders. The same team can cope with an increased number of orders. This reduces costs due to increased accuracy.

Staying competitive

In 2021, online presence is not an option. Do it or lose competition. Fortunately, on-demand services make it possible to establish online storefronts without huge investments. Businesses can start competition just in 10 – 15 minutes when signing up for an on-demand marketplace or in 2 – 3 months when launching their own on-demand delivery app.

Comprehensive analytics

A good on-demand delivery app generates different kinds of reports. Businesses do not need to spend much time gaining insight on user activities, popular categories/items/services. The app helps formulate a data-driven strategy.

Flexibility

With detailed analytics, decent marketing strategies become real. Businesses can make more accurate recommendations. They can retain customers by providing personalized offers based on users' tastes and habits.

And, on-demand fits in well with many types of businesses—anywhere users need a product/service instantly or at a certain time point.

Businesses that use on-demand apps

The list of possible on-demand services is almost endless. Any consumer service can be connected with its customers via an on-demand app.

Below are the most required services:

Food and grocery delivery

Order specific cuisine, beverages, grocery, alcohol, and much more. Get it delivered within one hour or sooner.

Taxi and transportation

Reach a destination point with minimum hassles. Provide transportation services right when users need it.

Rental

Find a vacation house for the best price. Help renting a car, yacht, or plane at a desired location.

Learning

Connect learners with the right professionals. Provide functionality for successful online learning such as video calls, electronic dashboard, tools for making exercises, etc.

Home services

Find a professional with required skills: plumber, electrician, carpenter, etc. Negotiate on price and time, schedule a visit, and get the job done.

Beauty

Book a time or schedule a home visit by a beauty expert. Work on style, everyday look or prepare for a special occasion.

Repair and maintenance

Find a reliable professional who can repair or maintain a device. Get a preliminary estimate on defects and costs before visiting the repair shop.

Pharmacy

Get prescribed medication fast and easily, especially useful when a user is unable to go outside for medical reasons.

Healthcare

Book nursing time or a personal consultation from a doctor. Hire a qualified professional for a part-time or full-time job.

Telemedicine

Get an instant, qualified consultation from almost anywhere in the world. Share information securely.

Logistics

Find the best provider for a specific load to be transported. Negotiate on delivery terms and track delivery via the app.