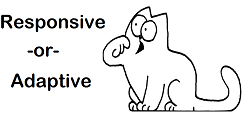 Responsive web design has long become the gold standard in making sites available for a variety of devices, with 55% of Internet usage in the United States coming through mobile devices. Compared to a separate mobile version of a site, having a responsive website is easier on the pockets and provides a more fully integrated experience on the part of the user.
However, responsive design is nothing more than a tweaked CSS page that allows the website to adjust to the device's screen. It has the same HTML code base delivered to every device, which means that the mobile version of the site has the same size and complexity as the desktop version. Thus, responsive websites tend to be slow in mobile devices, eventually killing user experience and resulting in poor conversion. Furthermore, with all the new types of content like 3D images, 4K resolution, and 3D printing, scaling web pages to various screen resolutions is no longer enough. Responsive websites have now become limited when it comes to visualizing content.
If you want to prioritize the convenience of your users when they browse your site on a mobile device, go for an adaptive web design rather than a responsive one. Adaptive design is a technology that relies on the device to generate an HTML and CSS code for the website. Hence, the design is tailored not just to the size of the device, but to the device itself, allowing a seamless connection between the user and the content.
The server can choose how to optimally render pages so that the content remains viewable without excruciatingly slow load times. It enhances functionality based on the detected capabilities of the device as well as information known about the particular user.
For businesses, an adaptive website is better than a responsive one because you get to engage your user in a very specific way. Even advertising differs from device to device, as the ads adapt to differences in design. For instance, if your user is viewing your site through a smartphone, you can craft your call to action in such a way that it displays your phone number—just one click and he can call you. When viewed through a tablet or desktop, you can tweak your call to action so that your email address pops up first.
Many companies are already moving toward this direction, as it improves website performance—a crucial factor in determining visitor conversion especially in e-commerce websites.
More about web design you can read in our previous article Flat and thin design: New Technology Trend