Why Are Airports A Better Place To Implement Indoor Navigation App?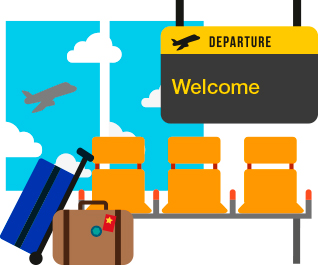 In our previous blog post we wrote about the common approaches for the design of indoor navigation systems inside large shopping malls. This time, we would like to discuss the key points of starting indoor navigation inside large airports and train stations.
Airports and train stations are perfectly suited for indoor navigation because they have the right audience. Visitors need to find their way inside a large building within a limited time — just before check-in is over or the train departs. An app that travelers can download and utilize will greatly reduce the stress and anxiety that they often experience while traveling.
It is no wonder that experimental projects have started in several airports in North America and Europe.
As for the technical side of the problem, the challenge remains the same. Airports are hard to manage for several reasons: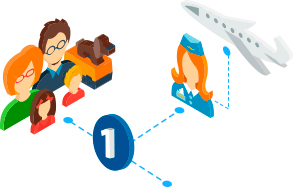 There are many locations with various purposes. Some of them are used very intensively, some not, and some areas are restricted for passengers. Developers should be very careful when they place beacons or design algorithms that calculate things such as the path for pilots and for passengers. A probable solution is to isolate roles. Passengers can reach the lounge zone but they cannot access the security room or crew rest area. Therefore, the app should not suggest directions similar to a left turn on a busy highway.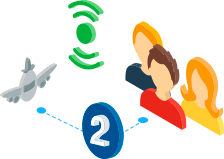 Besides navigation devices, there are too many signal transmitters inside airports so there is a high possibility of the loss of an important signal. To find out more about how to avoid this struggle, read our blog post "Indoor Navigation. Three Simple Steps To Increase the Precision". A short list includes:
put enough beacons over passengers' heads
choose the channel other transmitters do not use
tune your network using fingerprinting
employ the Kalman filter for distance calculation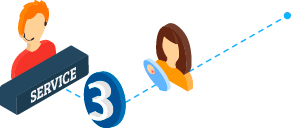 The passengers will demand instant access to the service, while the variety of devices will be huge. At the same time, the reliability of the navigation service is more crucial than inside a shopping mall. The app should not lag as this might cause more stress, incorrect actions, or even delays.
The choice between Wi-Fi or Bluetooth depends on the context, as both systems have advantages and drawbacks. However, a hybrid system where both BLE beacons and Wi-Fi hot spots could be used as transmitters would be much preferable. This hybrid system would be able to reach the majority of travelers and it would be possible to switch to the alternative system when something does not function properly. A backup system is also needed in case some elements such as the online API are not available.
Moreover, the type of mobile navigation app can be Web, hybrid, or native. It depends on the service availability and the response time you find suitable. In a nutshell, if you are planning to reach a wide audience, it is best to start a native app for best performance and a Web service for those who want to get to know the facility in advance. On the other hand, when you expect a limited number of users and want to start a test project just to collect feedback or relevant experience, a cross-platform will be quite enough. Besides, the plugin for indoor navigation can be integrated into your mobile app if you already have one developed.
Now we'd like to say a few words about the features that make the apps valuable for the end users.
Mobile indoor navigation apps for airports either utilize or need the following features:
–  Maps with a menu of destination points like gates, lounge zones, and shops. The app also calculates distance and has timers that show how much time is remaining before passengers' flights. (These solutions already exist for the John F. Kennedy International Airport NYC and Amsterdam Airport Schiphol.) Needed: the app could display the average time based on the passenger's walking speed and highlight the path with green, yellow, or red, as well as send notifications when he has to leave the store.
–  Schedules and information about flights or trains in real time (There is an app for the central railway station in Frankfurt). Needed: Integration with e-ticket or boarding card systems so the user is automatically recognized when he arrives at the gates or the train. Also, notifications for personnel that a passenger is hurrying or stuck in a location would be appreciated.
–  Voice directions for the visually impaired (This type of indoor navigation app has been tested inside Terminal 2 at San Francisco International Airport).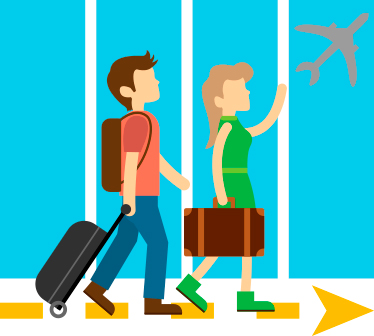 For airport personnel as well as for managers, the app provides:
statistics on the busiest areas, number of visitors, and time spent inside the airport
basis for indoor location analytics in real time
alarm functions triggered when any unauthorized person accesses the restricted areas
In conclusion: Indoor navigation in airports is relatively simple to build even if it has its own specifics. Certainly, some features like calculation of individual speed are hard to implement right now. But here we are optimistic because both Wi-Fi and Bluetooth manufacturers are working on how to make signal transmitters more accurate and available for more options.
In return, mobile indoor navigation apps will be demanded not only by passengers who struggle to orient themselves inside big spaces, but also by airport service personnel who will receive statistics that had been previously unavailable. Indoor navigation will help businesses that work in airports make strategic decisions, save money, and increase revenues.