With the development of retail as a part of the entertainment market, more and more indoor shopping malls are over 200,000 m2(2,150,000 ft2). The malls contain not only multiple stores, but also cinemas, aqua parks, restaurants, cafes, bowling clubs, karaoke bars and multi-storey car parks all under one roof.
Such building complexes are not just multi-leveled like Berjaya Times Square in Kuala-Lumpur, Malaysia, which consists of two 48-storey, 203 m (666 ft.) towers, but they have composite architecture designed as a little city under the dome with its streets, crossroads, numbers for every business, and, certainly, with maps.
They all need a mall navigation app. Here is why: Map stands inside indoor shopping malls are inconvenient and do not really help customers orient themselves.
However, the map stands which are installed in shopping malls are inconvenient and do not really help customers orient themselves. On the other hand, GPS navigation is unavailable inside due to limited access to the georeferencing system. This is why customers face issues such as orientation within a large territory and doing a quick search for their cars inside a multi-leveled underground parking complex. The businesses which operate inside indoor shopping malls are faced with the challenge of how to best present themselves and not get lost in all the variety of services, i.e. point out the location of their business and the way to it via an intuitive navigation system to provide customers with quick access.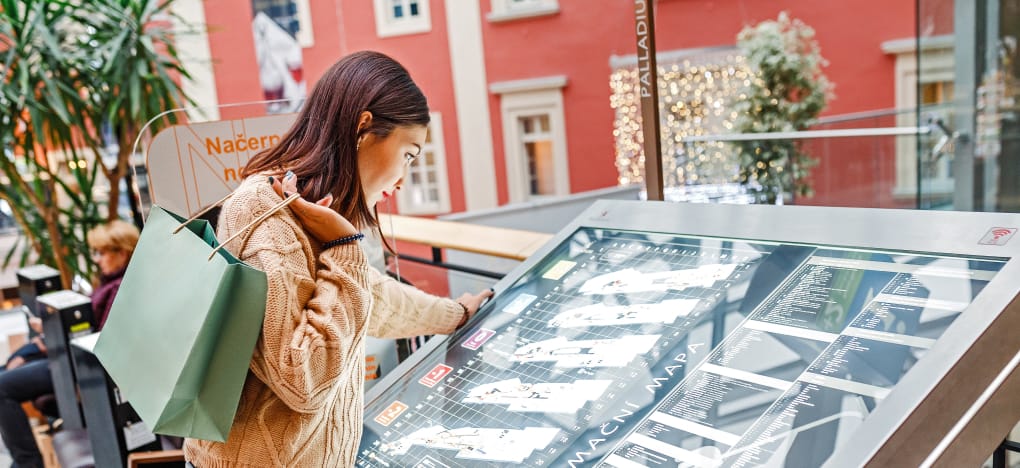 On the other hand, the availability of advanced mobile technologies and services allows customers to use their mobile devices to navigate to the mall, search for points of sale, find their cars in the multi-storey car park, locate friends in the shopping mall, save different points of interest for future use, receive notifications about all ongoing events (special offers and discount coupons) or just get to where they want to go.
The features of a mall navigation app will be highly appreciated by the people who love shopping and by those who value their time and do not wish to just travel from one store to another to look for the things they need, but who create a shopping list and get the optimal route to all necessary goods and services, get detailed information, and take advantage of navigation to reach the destination point more quickly.
For the owners of stores, restaurants, and cafes, this app makes it possible to highlight their services among many similar services and establish trusted relationships with customers. Moreover, this is an extra marketing channel for sales promotion and makes it possible to receive statistical information on customers' movements inside the shopping space. This provides information about the most popular items and the most visited places.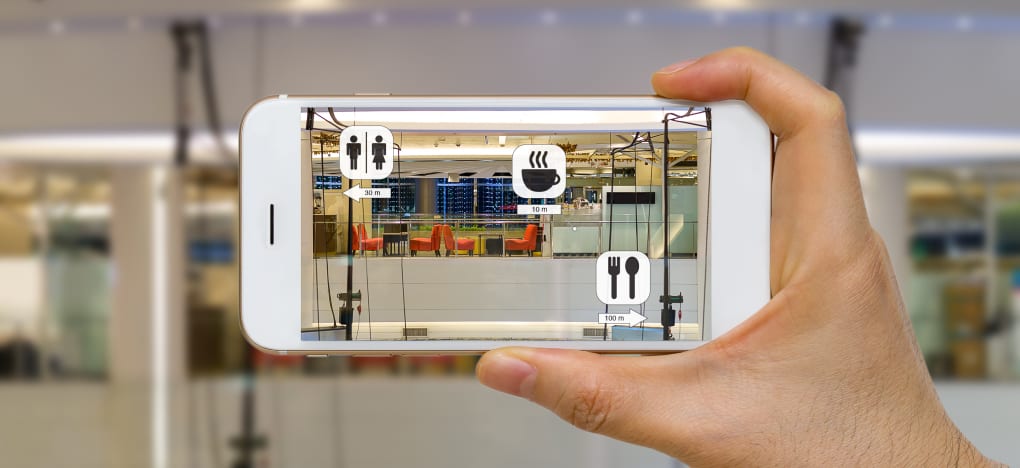 IT Craft's expertise in delivery of an indoor navigation solution
InNav

InNav helps visitors find their way inside large, multistoried facilities such as hospitals, airports, shopping malls, etc.

Both native iOS and Android apps are available. InNav's feature list includes route building, 3D map support, advanced search, "find-the-car" feature, child tracking app, and more.

App administrators use a Web administration panel with several access levels. They can collect statistics on user behavior via heat maps. Also, administrators can send notifications and emergency alerts. Store owners can manage products on shelves. InNav uses BLE beacons and geomagnetic positioning technologies to build the most precise route to a destination point.
Nowadays, following navigation approaches can be integrated to a shopping mall app

Passive navigationPassive navigation via attributes is the simplest approach for implementation, but it is not a very convenient one as the customer has to mark his location on the map manually as well as the location of the point of destination. The system just displays the possible route from one pointed object to another.

QR code-based navigationQR code-based navigation is also quite simple but resource-intensive for implementation. For it, QR-codes need to be placed within the whole area. The customers can read them with their mobile devices and thus define their location.

Navigation using mobile communications or Wi-Fi signalsNavigation using mobile communications or Wi-Fi signals – this approach is basic as mobile OSs make it possible to measure the distance between the device and the base station nearby or Wi-Fi points of access, given that their location is already known. Typically, the distance is measured by the signal strength which the device receives from every point of access. This means that when three or more points of access are available the coordinates can be calculated on the map. However, this approach deals only with the signal strength/power and the reasons why the signal is weak are not considered: because of the distance to the point or because of such dampers as walls, columns, etc. Because of these problems, the systems have accuracy from 50 meters and more in real conditions.

THE FINGERPRINTING METHODThe fingerprinting method is the most common approach on the market of mall navigation apps for retail and allows the measurement of radio signals every several meters inside the whole facility. All radio signals are stored in the mall navigation app and then they are compared on the device. This approach solves the problems caused by the distortions because data is gathered from several sources so it allows the system to eliminate disambiguation caused by signal discrepancies. However, the imprecise nature of strong signals makes this system quite unstable. As a rule, this approach grants accuracy up to 5-8 meters and makes it possible to calculate the location relatively quickly and without any requirements to the infrastructure. However, it needs a big number of adjustments and data collection at intervals of several meters along the whole facility.
Recently, these systems started to use another type of radio signal apart from Wi-Fi, namely Bluetooth low energy (BLE), which allows them to work with iOS devices, as the latter cannot handle the Wi-Fi signal strength data.

Motion sensingMotion sensing – this method utilizes on-board sensors to control the motion step by step. The sensors include an accelerometer, a compass, a gyroscope, and a barometer. Their combination helps measure 3D motion. With the combination of the above-mentioned sensors, precision of 2-3 meters can be achieved for the user who starts moving inside the building. The main task is to maintain the accuracy level for a long period of time while the drawback is the necessity to determine the primary location from the other sources.
Positioning technologies based on the geomagnetic field like IndoorAtlas allow the mall navigation app to function even in places where there are no Wi-Fi or Bluetooth signals which are used by other systems. This allows the technology to function underground as the geomagnetic field is formed inside every facility with the influence of all interior items, architectural forms, steel beams, etc.; it is unique for every room. IndoorAtlas recognizes the picture of the magnetic field, and based on that information, creates a map where the user's location is displayed. Such systems can function on almost every mobile device and have an accuracy from 10 cm to 2 m. So far, many mobile devices are equipped with a magnetic field sensor; this is why his or her mobile device is all a user needs to navigate to the mall or an unfamiliar building and inside.
Indoo.rs developed a solution for indoor location positioning based on Wi-Fi and Bluetooth technologies with an integrated motion detection sensor. This approach enables users to work with the maps even off-line and to map the route to the desired point. With the signals which are transmitted via compact BLE beacons, Indoo.rs algorithms allow you to estimate your location with an accuracy of 1 meter. However, the use of this technology implies its tuning for every room on both the software and hardware side.
The Estimote indoor location solution is based on miniature beacons which have a processor, a memory card, a battery with a one-year shelf life, an accelerometer, and a temperature sensor. At least three beacons need to be installed inside the room in order to cover the whole space. The number of beacons can be determined more precisely with this calculator. Mobile devices read signals from the beacons and use them to determine the location. However, the reality is that when any reflecting surface or large shielding objects, including people, are situated near the beacons or a large number of beacons are gathered together in one place, positioning is made difficult and the calculation results will have an accuracy of up to 3-6 meters.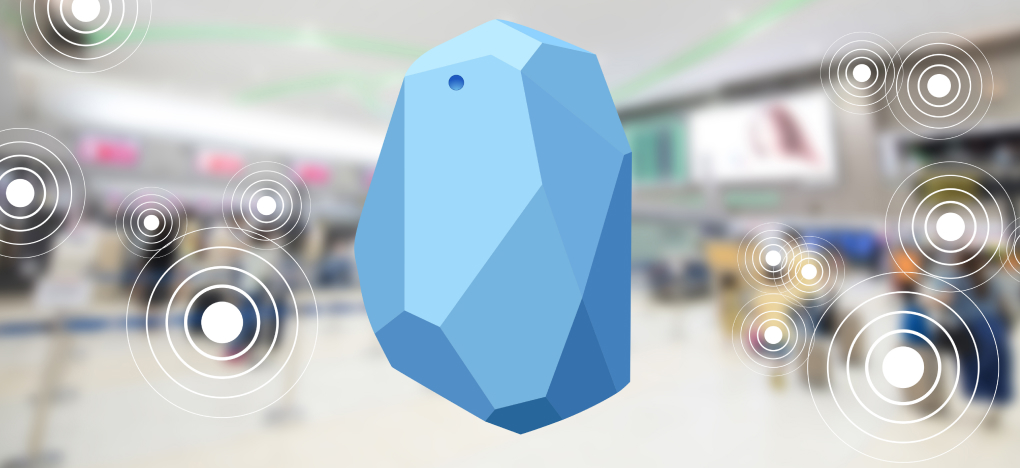 Still, each of the above-mentioned technologies has its disadvantages. As IndoorAtlas processes the magnetic field which is formed in every given room, this field will vary with any changes in the interior. For example, when using iron in construction even for a short period of time, the magnetic field will be impacted and lead to fluctuations on the map so it will be necessary to create the map afresh or make alterations focusing on all changes in the magnetic field. Indoo.rs, the Wi-Fi and BLE based technology, depends on the Wi-Fi signal level and requires custom maps for every separate room. The use of beacons only does not provide accurate results and is not always safe because the beacons are usually situated in accessible places so they can be replaced by the visitors with new ones which may have malicious settings.
Combining different technologies to navigate to the mall and inside
Therefore, the most popular approaches to development nowadays involve hybrid methods in one single shopping mall app with map building based on magnetic fields, the use of indoo.rs for map presentation of the shopping space, and with iBeacon for the detection of visitors' locations. This approach guarantees positional accuracy and high quality of users' navigation inside enclosed spaces and even inside underground parking.
Apart from the display of the room maps and user positioning, the system faces the task of finding and mapping the optimal route to the destination point. To perform this task, the app must display all available options such as elevators and stairs, different entrances and exits from and to the stores, restaurants, entertainment areas, possible shorter routes, and more. This task utilizes mathematical apparatuses in order to map the shortest route with the consideration of all environmental factors.
At the moment, Estimote has released Estimote Nearables – little stickers which have ARM processors, their own memory, a Bluetooth connection, and are designed to be used mainly as attachments to everyday things. As they are also equipped with an accelerometer and temperature sensors, their applicability is much wider than just indoor navigation. Thus, with the help of the accelerometer, the motion can be identified so any changes in the beacons' position can be detected. For example, recordings can be made of how many times the item with the attached beacon was touched, which can help determine the item's popularity with customers. Or it will watch over the objects which cannot be moved like mannequins or decorations of the indoor shopping mall.
The visitors will also be able to receive on their mobile devices information about the environmental temperature, for example, inside the fridge for milk products in the supermarket in order to confirm that all the standards concerning its storage and freshness are upheld. For the store owners, administrators, and managers, this function can become essential for the monitoring of the storage conditions and observance of all required standards.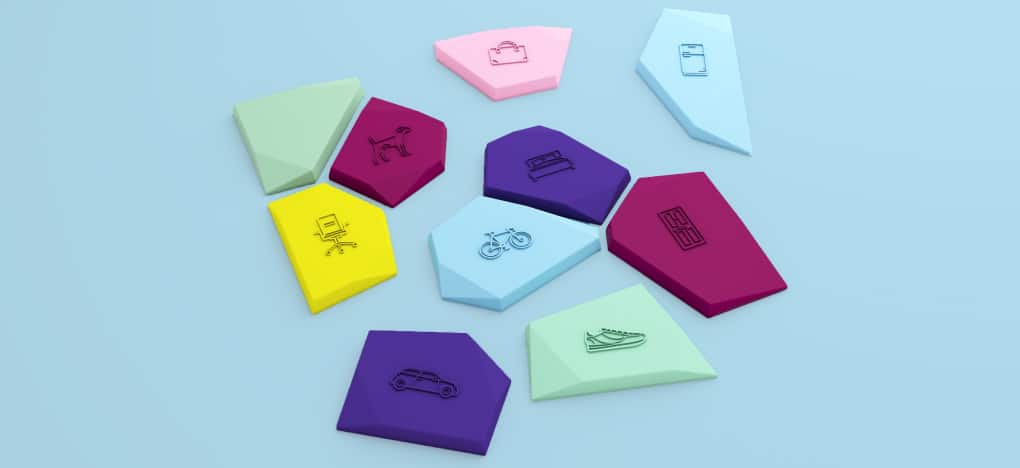 The company Kontakt.io offers even more sensors for installation into every beacon with the possibility of choosing the desired components from the following list:
accelerometer
environmental temperature sensor
weight sensor
gyroscope
humidity sensor
light sensor
linear acceleration sensor
magnetic field sensor
orientation sensor
pressure sensor
and rotation sensor
All of these sensors help monitor the environmental conditions and their changes in real time which can be applied widely by the system called "smart house".
Nowadays, indoor navigation has become so significant within the last two years that about 170 companies, including not only startups but world leaders like Google and Indoo.rs have released both hardware and software solutions for indoor navigation.
For a shopping center, an up-to-date, highly available navigation via a shopping mall app provides an immense opportunity not only to distinguish themselves among the range of other similar shopping malls, but to improve their status among world leading ones as well as to increase their competitive advantage. This is crucial when we consider that there are a large number of trading platforms and shopping centers in every big city. The attraction of customers will lead consequently to an increase in the number of tenants inside the mall. Therefore, we can say that indoor positioning and navigation services is a sure way to build an advanced but efficient marketing tool.
Do you want to know what an indoor navigation app will cost you?
Contact us with your requirements. Get a free cost estimate and a roadmap.