Get a free idea evaluation. Click here to opt for a project roadmap.
On-Demand
Food Delivery
App Development
How can on-demand food delivery app development be accomplished quickly? With IT Craft's robust, on-demand-delivery engine.
Scalable. Optimized. Fine-tuned to your needs.
Let's start today
Safe, fast, affordable food delivery app development
Do you want to offer exceptional on-demand food delivery services?We have an engine for that. A reliable, robust engine.
We can help you. Our on-demand food ordering software engine helps:
Startups

Launch your MVP product idea fast. Try new delivery models and formulas. Get instant user feedback. Gain followers.

Cafés and restaurants

Enhance your digital presence. Provide contactless mobile experience. Manage customer orders with precision.

Food businesses

Reach a larger user base by offering predictable, flexible, and reliable on-demand food delivery services.
What you save on food delivery app development:
You save up to 1,700 dev. hours when you choose on-demand food ordering mobile app development services: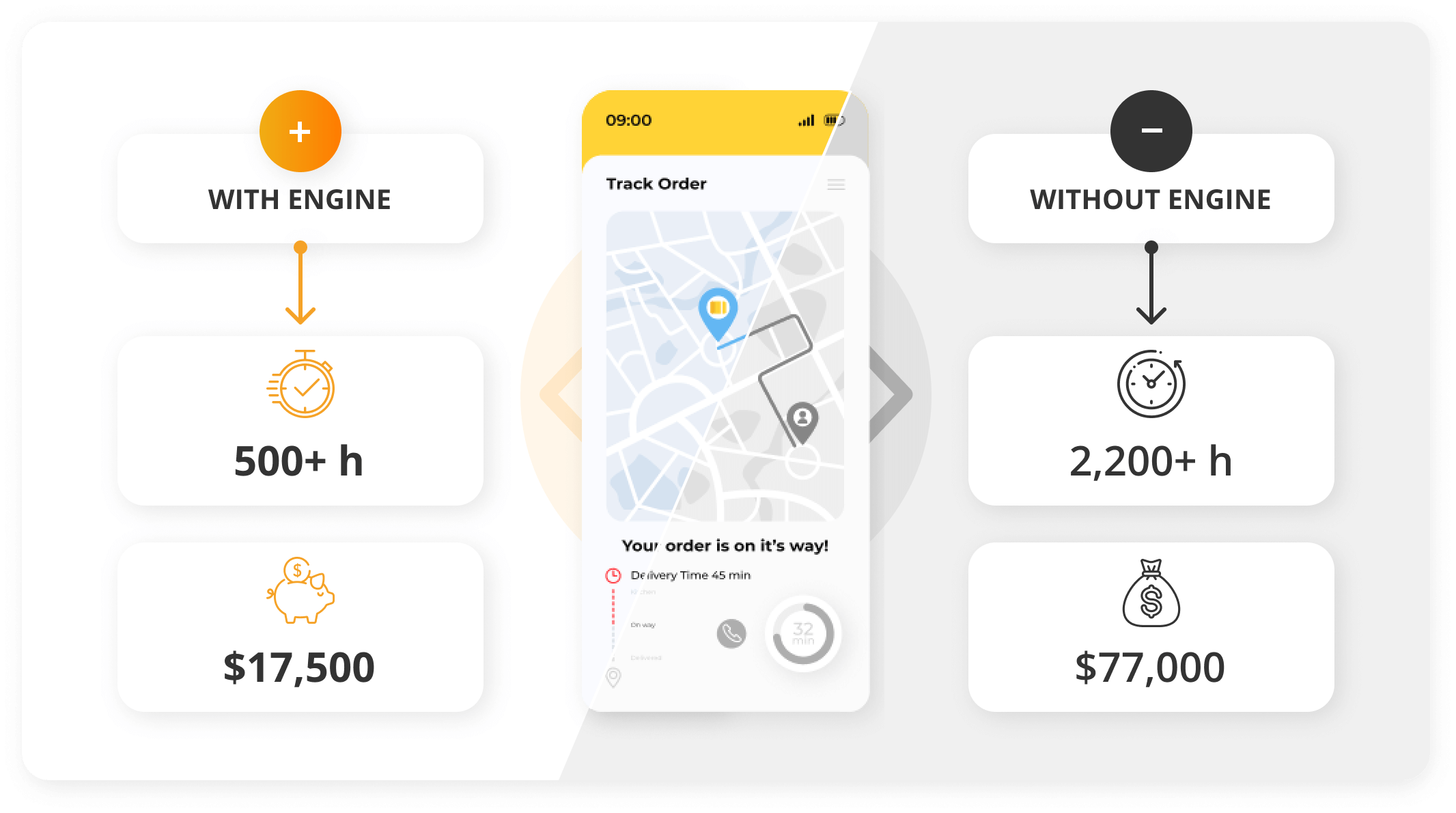 YOUR ONLINE PRESENCE IMPROVES YOUR BUSINESS.
Contact us! Let's grow together.
contact us
How you benefit with engine-based on-demand food delivery app development
No more headache-inducing choices to make regarding budget, project timeline, number of features, etc.
Your benefit in many ways when you choose using IT Craft's robust, core engine:
Fast launch

Decrease on-demand food ordering app development up to four times.

High performance

Our engine has been thoroughly optimized and tested to work efficiently and effectively on all platforms.

Scalability

App source code is scalable. This helps your business scale. It seamlessly handles orders as the number of users continues to grow.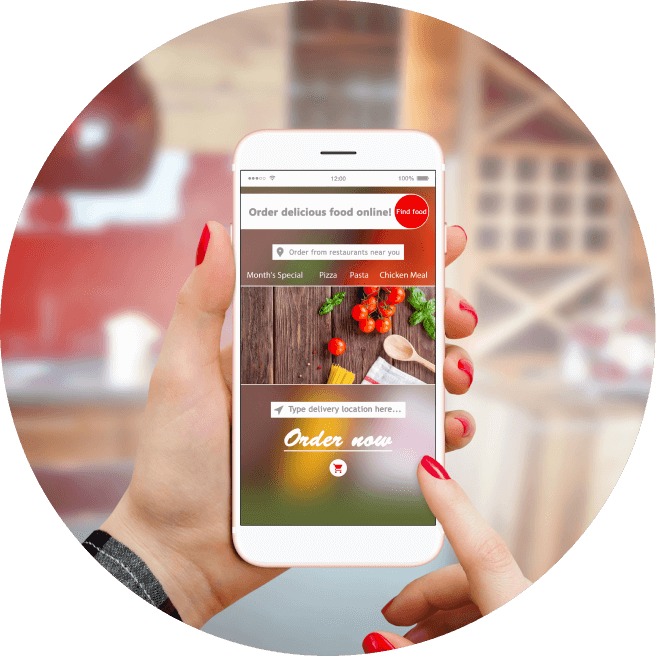 Third-party integrations

The team can add specific services or payment options popular in your location.

Customization

Source code can be extended when you want to integrate a great feature. Just tell us what you want.

Support

Choose the type of support service you want after launch to ensure timely updates and fixes.
Food delivery app development functionality
We help you streamline food delivery via an on-demand app. You get all functionality required for different user roles.
Basic functionality includes:
App for customers on-demand food ordering app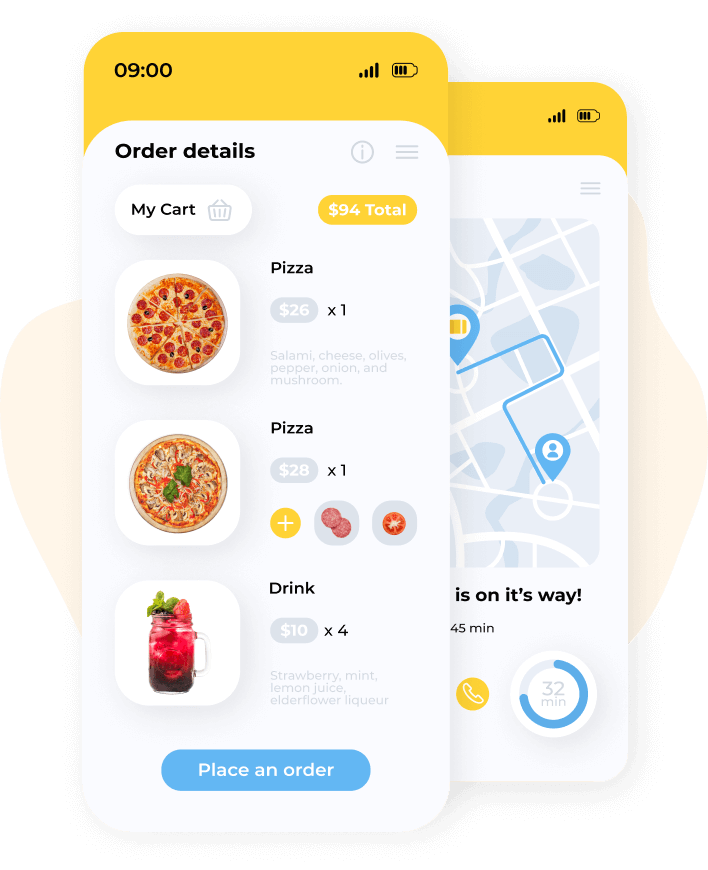 Ordering app for users
Sign up/Login/Registration using social media/Guest mode
Product/Dish search
Order management
Real-time delivery tracking
In-app payments
Profile management
Order placement
Delivery for now
Notifications
Order history
App for businesses an on-demand food delivery app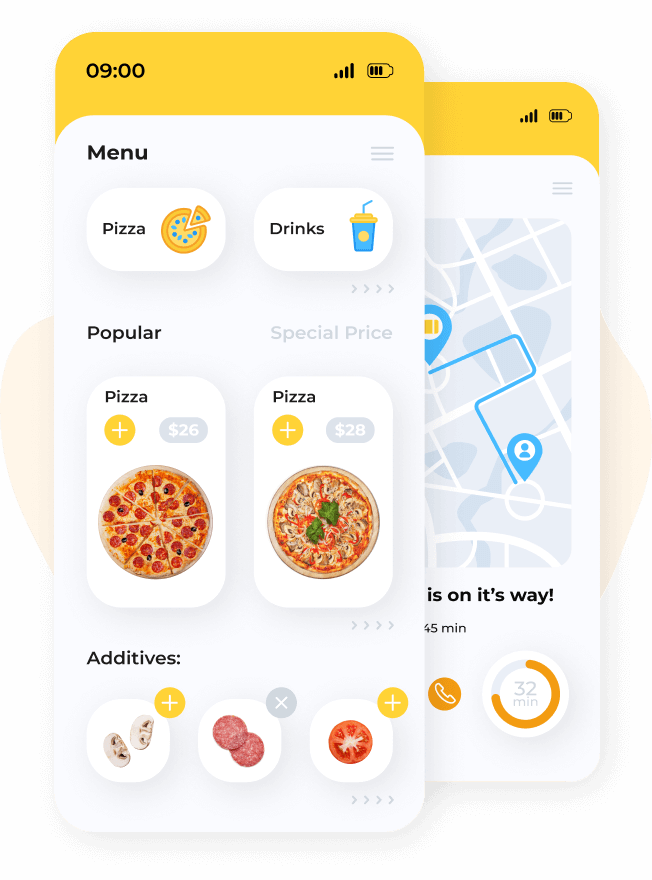 Food delivery service app for delivery drivers
Login
Order management
Payment tracking
Profile management
Order details
Viewing order location
Administration panel management panel for app owner's team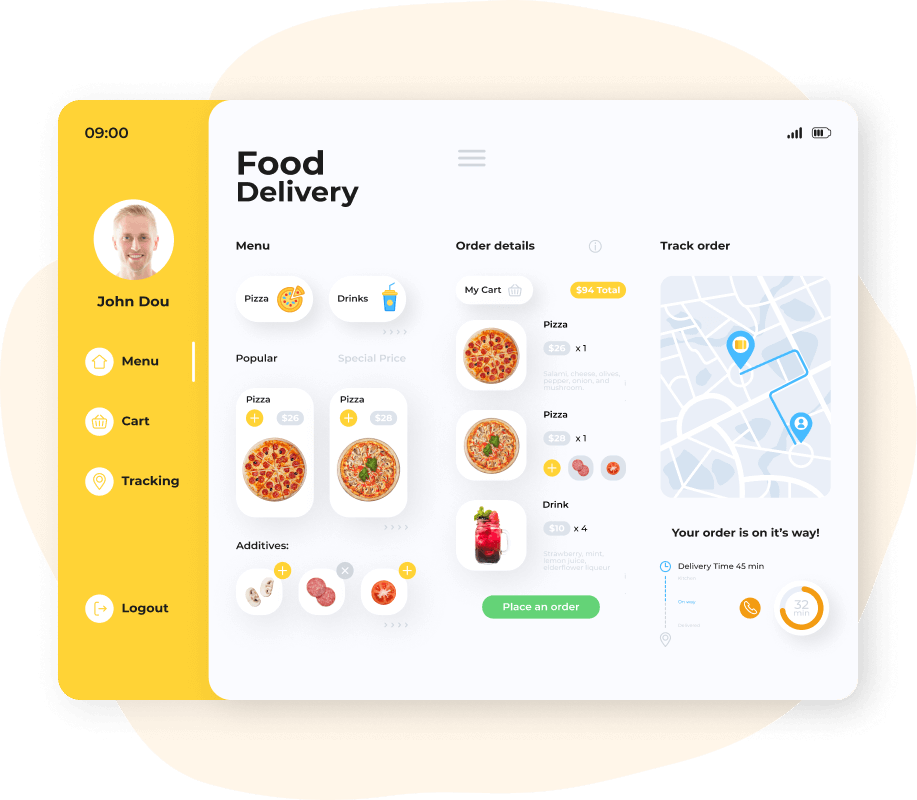 Administration panel
Role management
Catalog management
Delivery scheduling
Addresses management
General info about the app management
Establishment management
Order management
User management
Products/Dishes management
Food delivery app development steps
IT Craft's on-demand food delivery app development process includes:
Drop us a message.

Discuss features
and requirements.

Prepare a design
for your app. /
Apply your design.

Make needed integrations.

Test everything.

Deploy on the server. /
Launch in stores.

Start
maintenance.
Let's get your app going now!? Contact us. It's free!
contact us
Food delivery app development technologies
Language: Kotlin
Architecture: Clean Architecture + MVVM
Logic: Databinding, DI, MVVM
UI: Native
DB: Room Persistence Library
Auth: FB SDK, Firebase signup
API: Rest, Socket IO
Location: Native
Maps: GoogleMap
Payment: Stripe
3rd party: Retrofit2, SocketIO, Stripe, Facebook, RXJava3

Language: Swift
DependencyManager: SPM
Architecture: MVVM + FlowController
Logic: Combine
UI: UIKit, SwiftUI
DB: CoreData
Auth: FB SDK, SignInWithApple
API: Rest, Socket IO
Location: CoreLocation, MapKit
Maps: MapKit
Payment: Stripe
3rd party: Kingfisher, SocketIO, Stripe, Facebook, SwiftLint

Language: Python 3.8
Frameworks: Django 3.1, Django REST Framework 3.12
WEB Server: Gunicorn
DependencyManager: PIP
DB: PostgreSQL
Auth: OAuth2
Payment: Stripe
3rd party: Django MPTT, SocketIO, Celery[redis], Stripe, fcm-django,
django-push-notifications,
django-rest-swagger
Choose IT Craft for food delivery app development
Clients from many industries choose IT Craft as their trusted service provider. IT Craft is reliable. Trustworthy.
IT Craft keeps promises made—high-quality services, on-time delivery, within budget.
When you work with IT Craft, you always get high-level food ordering app development services, including:
IT Craft helps startups and established companies deliver on time, on budget.

The IT Craft team starts working on your app as soon as you clarify your goals, we determine scope of work needed to reach them, and you sign our agreement.

IT Craft specialists work on all components of your solution simultaneously to get it done quickly. We provide all required specialists to deliver your high-quality app.

Stay in touch with your project manager as often as you need. Regular, detailed reports are a part of development process.

The same development team helps with any post-launch issues and quickly fixes bugs found after launch.

IT Craft developers excel on all projects. No exceptions. We care for your success, not for the size of your project.
FAQs about on-demand food delivery app development: