MVP development services
IT Craft has all the expertise you need to launch, maintain, and expand your MVP. 
With us, you get an expert team that helps you:
Stay on track. Deliver on time. Improve fast.
Our MVP development services have a full focus on business value.
Let's discuss
Want to get early adopters' or investors' interest?
Test your idea, raise capital, and get crucial feedback with our minimum viable product development expertise.
Learn more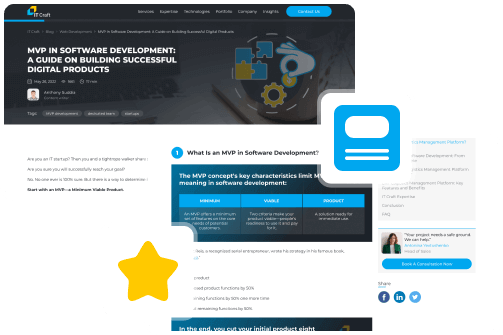 Our clients'

success stories.
We love to hear what they say about us.

Stories of people impressed by our service offerings
USA
Jared Vishney, Founder & President at Arctrieval
"The team's honest, straightforward approach to relationship building made them a valuable resource."
USA
Chris Scheid, Founder at MyCarrier
"They're tremendous at documenting progress and follow through. Their diligence gives me more freedom to run my business."
Germany
Co-Founder at XPERTyme
"Their approach is clear and the lead on the project is both capable and committed, which is echoed by the team of subordinates."
Are you planning to
verify your idea?
Our clients raised more than $100M. We know how to deliver results.
Contact us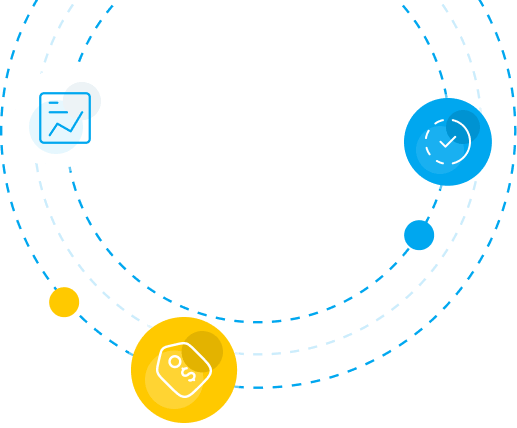 MVP development
process
Initial call
Planning and roadmap
Product development
Product launch
Improvement, expansion, and evolution
At this stage, we discuss your vision and goals, and introduce you to our MVP development company. We sign an NDA to ensure you are confident that all your ideas remain safe.
Business development manager
Project manager
Lead developer/Business analyst
The team examines all and any details. It provides you with the best plan for your budget and priorities. The plan includes scope, tech stack, and timeline.
If your project is too complex, the team might suggest a discovery phase as a part of MVP development services for startups to clarify specifics and make a detailed estimate possible.
Business development manager
Project manager
Business analyst
Software architect
UX/UI designer
Software developers
QA engineer
The team works on each project in Sprints. After each Sprint (lasting 2 – 3 weeks), you get detailed reports and deliverables (documentation, functionality). You test each Sprint deliverable. Our MVP development services are Agile and flexible. Need to change priorities?
Business development manager
Project manager
Business analyst
Software architect
UX/UI designer
Front-end developers/Mobile developers
Back-end developers
QA engineers
DevOps engineers
After the entire codebase is ready, tested, and polished, the team launches it on internal servers or in the cloud. If required, our MVP development company publishes your app in app stores.
Project manager
Front-end developers/Mobile developers
Back-end developers
QA engineers
DevOps engineers
When you get feedback from your first customers, our MVP development agency helps you analyze feedback and incorporate the outcome into new releases. This ensures your incremental business growth. The team continues improving project architecture and automating routines to meet increasing user demands and decrease maintenance costs.
Business development manager
Project manager
Business analyst
Software architect
UX/UI designer
Front-end developers/Mobile developers
Back-end developers
QA engineers
DevOps engineers
Who can benefit from MVP
development services?
An MVP approach works for businesses of any size and complexity. 
Why? An MVP reduces risks of irrelevance. 
Savvy businesses release a minimum, functional product with key features to test their assumptions and decide further steps. 
As a result, MVP development services enable fast business outcomes and higher ROI rates. Truly a win-win for you.
Best suited for:
Key Benefits of Our MVP

Development Services
Up to 30% Reduction in
Development Time
Problem: Due to lengthy development cycles, many businesses need more time to gain market opportunities.
Our solution: We prioritize essential features, enabling up to 30% reduction in development time and allowing for a quicker product launch, giving businesses a competitive edge.
Improved Decision
Making
Problem: 64% of businesses that make uninformed decisions without user feedback struggle to gain market acceptance.
Our solution: Our minimum viable product development approach enhances decisions by validating assumptions, identifying challenges, and leveraging feedback.
Cost
Savings
Problem: 56% of businesses fail due to a lack of experts or budget.
Our solution: Minimum viable product development prevents resource waste. It focuses on core features, optimizing resource allocation, and reducing overall costs.
Approx. 40% Increase in Early
User Feedback
Problem: 72% of businesses that fail to gather user feedback early in development struggle with product-market fit.
Our solution: Minimum viable product development involves releasing a simplified version, leading to about 40% increase in early user feedback. This feedback helps refine the market fit.
Awards and certifications
Why
is

IT Craft

best for your next MVP?
90% Startup Survival Rate

Committed to excellence, we have achieved a 90% survival rate for the startups. We ensure our software solutions are reliable and user-friendly with industry-leading standards and thorough testing.

Proven Track Record

With over 300 startups successfully launching their MVPs, our MVP development company has a proven track record of delivering results and helping businesses achieve their goals.

6 years avg. Cooperaion

Our MVP development agency fosters long-term partnerships with clients. An extended collaboration allows us to deeply understand their needs, provide tailored solutions, and deliver consistent value.

20+ Years of Excellence

Our specialized team, backed by 22+ years of excellence, ensures effective MVP development services that align seamlessly with your business goals.
questions

from our clients
Minimum Viable Product (MVP) in software development means the smallest functional product possible. An MVP solution contains only a basic design and core functionality. MVP development services are usually reduced to building one key feature solving one crucial problem of the target audience.
Why is an MVP important for startups?
In short, startups save costs while testing the waters, both on their own and by turning to an MVP development agency.
Instead of spending a fortune on a fully featured product that might attract no interest, startups focus on a key problem facing their audience. If their assumption is correct, they can then add more functionality and custom design to attract more customers.
The result? Higher customer appeal; lower costs of minimum viable product development services
How much does it cost to build an MVP?
The price depends on two crucial things: feature list complexity and the development provider's location. An MVP of medium complexity requires 950 – 2,500 working hours. On average, a Central/Eastern European MVP development company asks $50/h.
Therefore, MVP development services for startups will cost from $47,500 to $125,000.
Please note numbers might vary based on requirements of each project.
Why do startups outsource MVP development?
They can start immediately when they hire an outsourcing MVP development company.
When startup founders plan to develop software on their own or assemble an internal team, they add development and/or managerial activities to their to-do list. In its turn, this might extend the delivery time.
An outsourcing MVP development agency promptly adds missing tech expertise. The outsourcing company is responsible for people and process management, saving time that startup founders can spend on product development, marketing, and promotional activities.
An MVP development company's reputation is crucial. Avoid delays. Hire a reliable, experienced company to launch faster.
Consider these four crucial parameters:
MVPs always work! No exceptions. Users will not want to use half-baked software. 
Provide straightforward UX. The fewer steps towards goal completion, the better.
Users must enjoy using your product. Even if you and your MVP development company focus on basic design and functionality, it must be nice and polished. Otherwise, they would not want to return to it. 
Focus on what users DO rather than on what they say when analyzing feedback. This helps you identify and address flaws using MVP development services.
What should an MVP include?
MVP should include ONLY essential, must-have features. Everything else is not part of scope.
Are you not sure about a certain feature?
Follow this exercise:
Consider each feature on your list and ask this question:
Will people still buy from me without this feature?
No. Keep it on your list. Ask your MVP development company to make it priority.
Yes. Schedule it for some time in the future.
industries where we excel
HealthTech

Apps for doctors, CRM systems for clinics administration, patient data management solutions.

Logistics

Warehouse management, asset tracking systems, route planning, and optimization software.

Fantasy Sports & Gaming

White label fantasy sports software, flexible approach, any degree of customization.

FinTech

Financial marketplaces, cryptocurrency trading solutions, payroll solutions.

Ecommerce

Online stores, catalogs, POSs, retail shops.

Education

Learning management systems, content authoring software, online learning marketplaces,
corporate learning portals, virtual classrooms.