WEB DEVELOPMENT / ENTERPRISE
World-class ecommerce website for one of the largest photography equipment retailers worldwide
ASP.NET
ASP MVC 5.2.3
.NET Framework 4.6.1
C# 6.0
Castle Windsor
MS SQL 2012
IIS 8.5
Country: USA
Year of launch: 2008-ongoing
adorama.com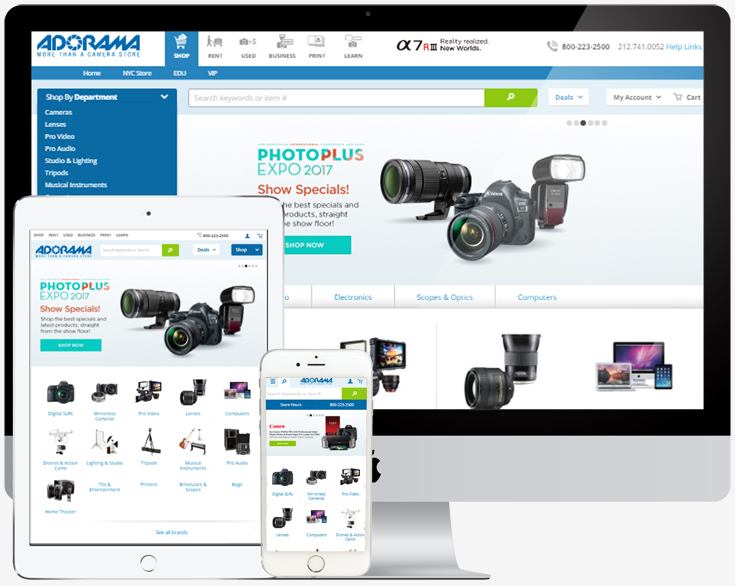 Project background
Adorama is an extensive NYC-based family business focused on consumer electronics, photography, and imaging equipment industries offering literally every device and gizmo that might be on customers' shopping lists.
Ecommerce
The ecommerce era became an almost-overnight competitive market in response to customer demand. Adorama, always attuned to its customer base, quickly stepped up its game. The company started its online presence with a simple, internally built system, but ramped up to an ecommerce system capable of competing with giants like Amazon and providing an equivalent or better customer experience.
Dedicated team
Our cooperation grew and eventually required a dedicated team to deliver high-quality code for greater functionality and capability to promptly respond to any technological or market changes. To raise the satisfaction level of end-users, the development team ensured stability and reliability of the existing features and improved system performance.
Fixed-price project
Adorama's cooperation with IT Craft .NET development department started in 2007 with a small, fixed-price project that was completed within the given timeline and budget.
Business analysis and UX
Business analysis and UX design of all ideas was done on the customer side while the execution was part of IT Craft's responsibility.
Features
In the 90s, Adorama Inc. made a strategic decision to use Microsoft platform as its production environment. That is why ASP.NET became the foundation for its new ecommerce system.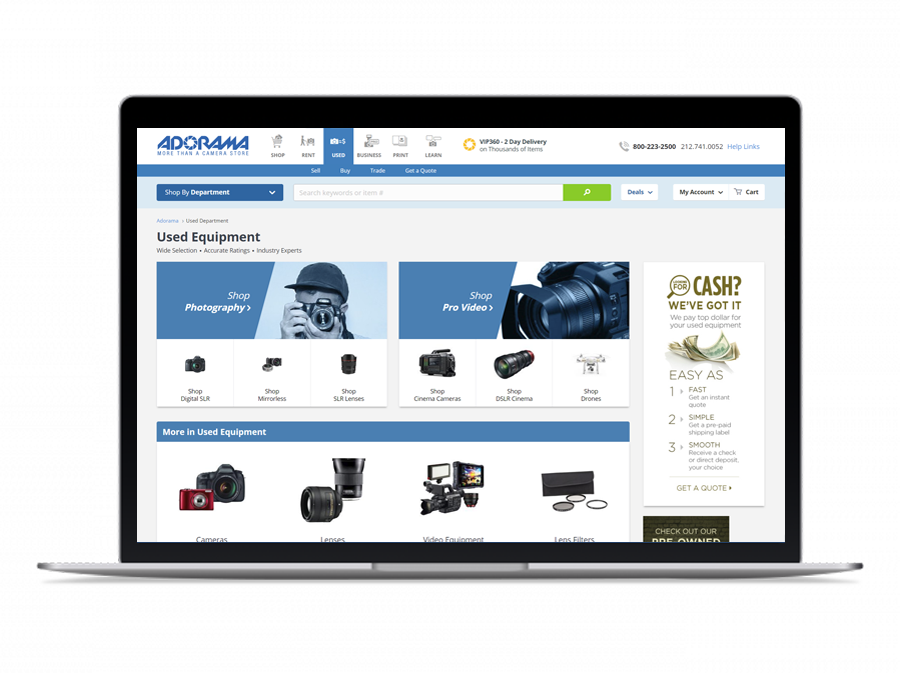 Ecommerce system
IT Craft started with small, incremental tasks to completely rebuild the whole ecommerce system and introduce its own platform.
Ginormous system
Adorama has a ginormous system. It demanded a custom-built web platform that could be attuned to their many businesses. This made it possible to quickly add new features, extend the system, and scale with growing popularity.
User perspective
From a user perspective, Adorama.com has been devoted exclusively to the photo and video equipment business. The website makes it possible to buy photo and video cameras and related equipment, and to choose from a myriad delivery options, coupons, rebates, and much more.
Speed and security
From the business side, the system must always ensure high page load speed, maximum availability, and security delivering a higher level of customer satisfaction than its competitors.
responsive design
Adorama.com has a responsive website design. This means that its level of service remains in sync and matches mobile customer demand.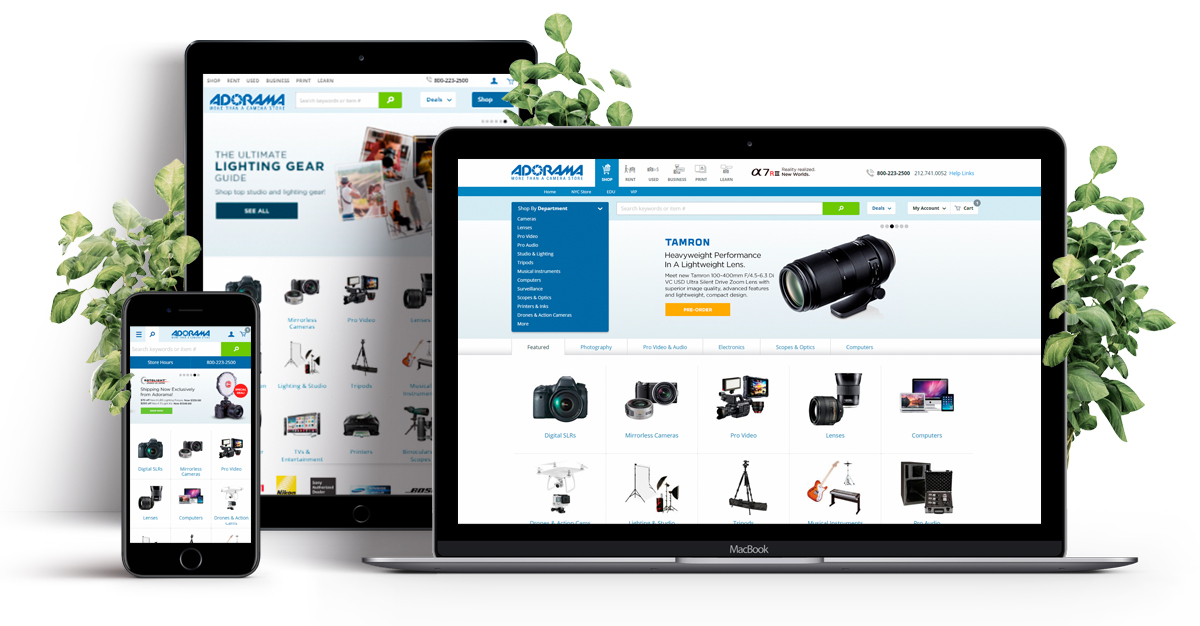 Project technology
ASP.NET
ASP MVC 5.2.3
NET Framework 4.6.1
C# 6.0
MS SQL 2012
IIS 8.5
Endeca
Castle Windsor IoC framework
JQuery
JavaScript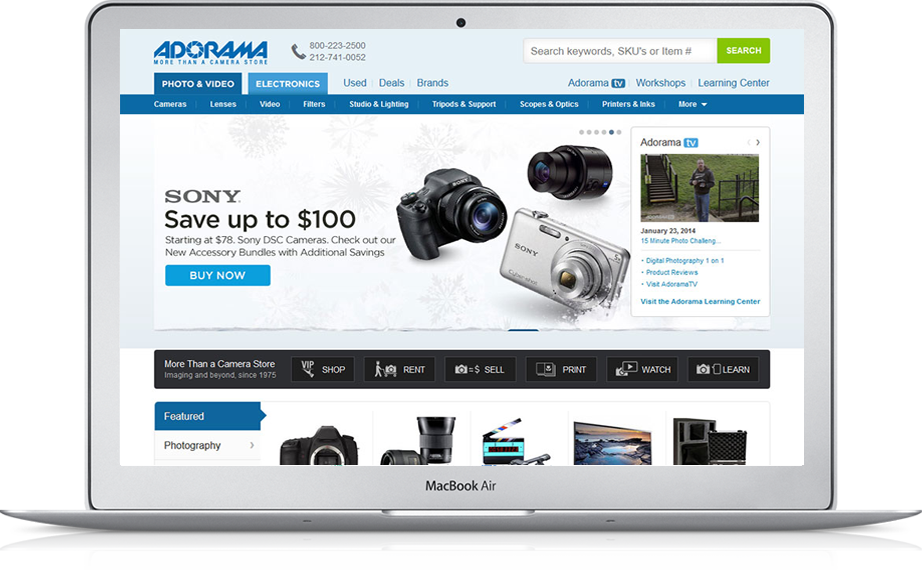 Team and timeline
2007 – 2017: initially 5-person team; now at 54 team members
A team of 54 people is currently working on a project totaling 432 working hours a day or one working year each week.
What our customer thinks about the project
Every year, customers are grading the online stores in the United States. In 2014, we were number four, and there's a reason for that. All of our businesses are using the very same platform, which IT Craft developed from scratch. They started at the end of 2011 to rebuild everything and, at this point in time, it's 99 percent rebuilt. The technical challenges of using the same platform for multiple companies is significant. It's as if you were developing your own open-source project. They were successful in building a platform like this and keeping it efficient, reliable and scalable. This means adding new features, maintaining, and making a high-performance website, which has great performance speeds. This gives me some indication about their quality.
Chief Technology Officer, NYC Media Retailer
View at Clutch