How much does a mobile app cost? $5,000, $50,000, or $500,000? As with anything, it all depends on what you want. Remember: the devil is in the details. Costs also depend on the country where software developers live.
A Clutch survey states median costs of native iPhone (iOS) app development varies from $38,000 – $171,000. Or, as high as $500,000—or more. It all depends on what's under the hood.
A Tin Lizzie costs a lot less than a Beamer: basic functionality vs. lots of power, bells and whistles.
So, too, with a mobile app. Your call: your cost.
Are you a non-techy? Before committing to anything, a non-tech person must learn the best solution and best location of developers to fit a given budget. Is a mobile app the best solution for functionality within your budget? Before choosing an outsourcing software development company, request a cost-range with detailed line items from a few mobile development companies.
Start small. An app idea quickly outgrows the low- to medium-cost price range as soon as the development company itemizes project details.
Mobile app development costs vary based on the technological sophistication of a project. To make a wise pricing decision, understand factors that affect pricing. Avoid fiscal disappointment and disaster. Because we are on your side, we gathered information to help you figure out costs.
In this post, we discuss the following points:
TL;DR:
The basic formula is simple: a company's hourly rate multiplied by scope of work. The scope of work depends on what you want.
Elaborate design is expensive.
Results from back-end programming cannot be seen immediately. Results take considerable time and effort.
Levels of costs include MVP (Minimum Viable Product—basic app with one basic feature), basic app with several features, and a complex custom app.
There is an ever-present risk of unexpected scope of work. Be prepared for a bump up in costs.
Hourly rates for app development increase from East to West. Companies with representatives in the US/EU have higher rates than those who live elsewhere.
Expenses don't end with launching your app. Factor in maintenance costs, costs for subscriptions, and updates.
What best suits your business? Possible options

Businesses can build a strong mobile presence in other ways: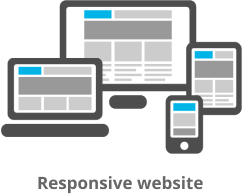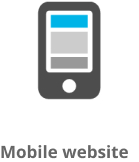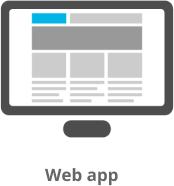 Businesses use these options to provide basic functionality for users to easily access via a mobile browser (e.g., read news, write commentaries, search in a catalog, change model color, etc.).
1. A responsive website is a regular website that adjusts to the device screen size.
2. A mobile website is a website specifically developed for mobile devices and contains simplified design and functionality.
3. A Web app is basically a website page that lets users interact with dynamic content. And, it adjusts to user screen size.
Google changed the playing field: an advantage for mobile apps
Having a mobile presence is the main reason for mobile app development. Web apps and adaptive websites provide a relevant, less-expensive option for business. They are also easier for users to access.
A year ago, Google made its mobile-first indexing official. It drives businesses to devices where most users have been for quite a long time: smartphones and tablets.
Pros of responsive and mobile websites compared to mobile apps:
Cost effective – cheaper to develop and maintain.
Upgradable – can be updated anytime; no impact on users.
Visible – can be found easily via Google search.
Accessible – all devices can access websites. Not true with mobile apps. Mobile apps are platform specific (Android apps are incompatible with iOS device and vice versa).
However, mobile apps are a better option for the following reasons:
Pros of mobile apps
Users can work offline with your service.
Users benefit from being able to have long sessions.
Users and your service exchange information constantly.
Your service needs access to smartphone native features (e.g., GPS module or accelerometer).
Your goal is to create a strong connection between users and your brand.
Timing is essential – your users demand timely notifications on current or upcoming events.
You aim at saving smartphone resources (primarily, the battery).
You want to provide your clientele with omni-channel experience; i.e., they can reach your service from any device, any platform. (Facebook attempts to meet all its users' needs. It offers a desktop website, a mobile website, native mobile apps, and a separate Facebook Messenger.)
Price formula for calculating costs to create an app
The basic formula all companies use to calculate mobile app development costs is simple:
scope of work × company's hourly rate
*Scope of work depends on functionality provided.
*Company's hourly rates depend on its global location.
Still, different companies provide different estimates for the same project. Requirements and work needed determine estimates. (This especially applies to projects with flexible requirements.)
Also, risks are either factored into app estimates based on technological novelty and complexity of the project. (Bugs in newly minted APIs can directly affect project timeline.) Or, risks can be included in a higher hourly rate to align with the time needed for rework.
Scope of work
Scope of work includes all activities on a project needed for a successful app launch and maintenance: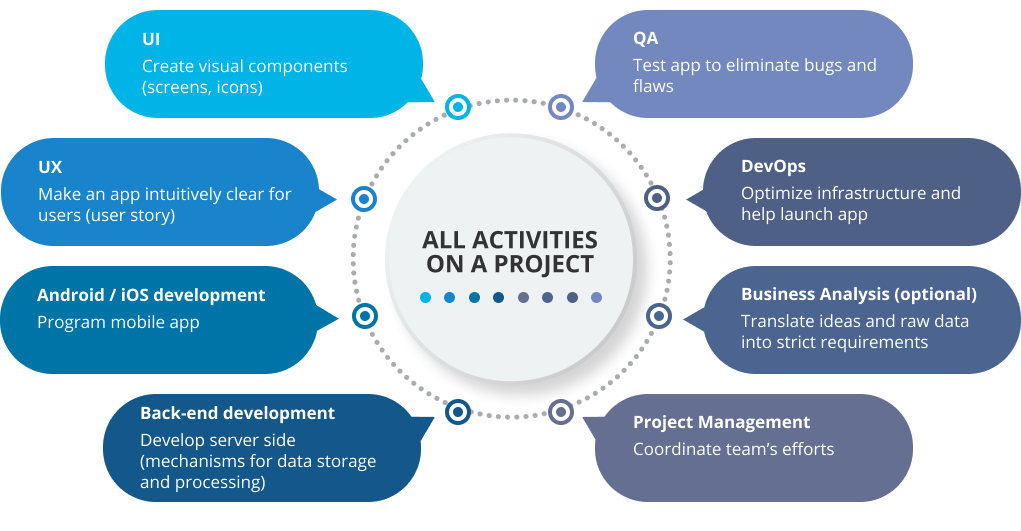 What makes mobile app development complex?
Technically speaking, a mobile app usually consists of the following parts: iOS, Android, back-end and API. The API connects all parts of the app.
Everything relies on app complexity and anticipated popularity growth by its users.
This is the real starting point: the effort for back end and API development depends on the complexity of planned functionality.
Basic: simple apps consist only of iOS and Android.
Complex: if you want your users to create profiles in your app, you will need a back end to store user-related information. Any app that connects two or more users with each other or enables data exchange between them requires a complex back end plus API.
Complex with cloud storage: when a mobile app stores any user data, it requires cloud storage to ensure data availability. And that adds to the total costs of app development and maintenance.
Certain activities on the project might prepare unforeseen challenges. Design, back-end development, and security have the least degree of predictability.
Users do not like disappointment. Users tend to have a short attention span. For you to succeed, users must love what they see and the ease of how the app works.
Users see 'visual' components. What powers up their new app interests them little. They want their mobile apps to be available anytime, anywhere. If it doesn't, they quickly move on to another app. Today's users want instant gratification with no hassle.
Allegiance is so yesterday…
Hence, it is crucial to build a reliable back end although it remains 'hidden' under normal conditions.
Security of user data is a must. Sensitive user data must be stored, processed, and transmitted ensuring there are no leaks.
Hence, design, back end, and security measures are the most expensive and most unpredictable parts of mobile app development.
Built from scratch vs. third-party services: what to choose
Integration of third-party services for a certain function in your mobile app is an important component. It either decreases or increases mobile app development costs.
As a rule, these are vendor services that support some features in your app offered by subscription. For example, until medical and healthcare apps are HIPPA compliant, these apps will not be published in a store. Integrating a third-party module by subscription is less expensive than making one from scratch and is more beneficial.
Functions integrated by subscription include chat, currency converter, and various services. But with every subscription, subscription payments come. Prices vary. Be wise, check them out before you sign on the dotted line.
Determining app complexity and timeline
How complex is the app you plan to develop? Do you know?
Simple vs. complex = less vs. more costly: be wise.
A mobile app for ordering food at a restaurant has fewer features and is simpler than a mobile banking app.
A mobile app that lets users watch videos based on their preferences is far simpler than an app that collects user preferences and recommends videos based on a complex algorithm hidden under its hood.
In both examples, the latter are more complex: they have a more complex business logic. More complex: higher cost.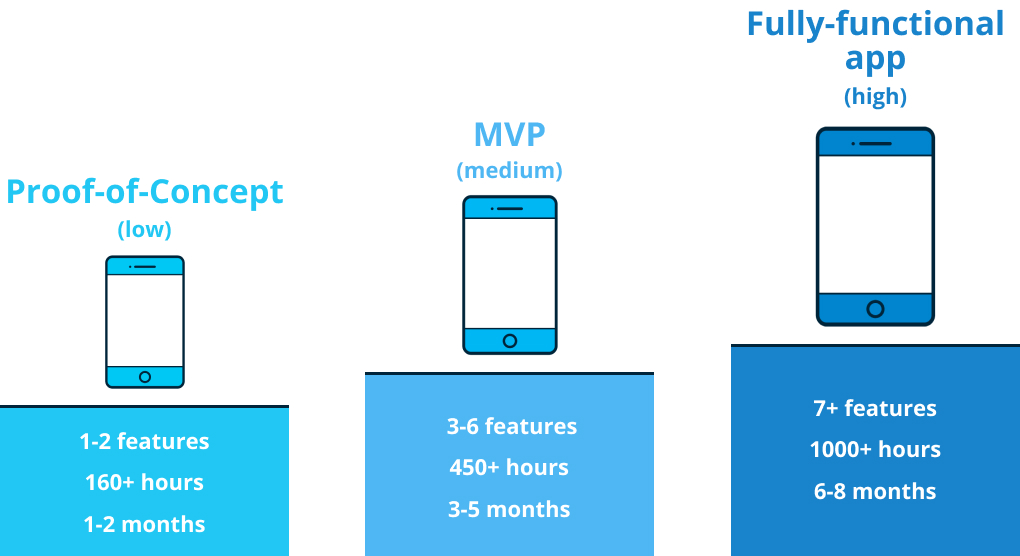 *Nominally here means based on app complexity of back end. Even MVP development can easily extend to 5-6 months before everything works smoothly.
An MVP has 1-2 key features designed to test user interest.
A basic app has several features to optimize user interaction with a certain service.
A complex app provides freedom of interactions while offering a wide range of features and instruments for feature customization.
An apt example of an MVP is RocketRoute, a flight planner app. Its killer feature is a custom-built auto-route calculation algorithm. With RocketRoute, you can create a flight plan in minutes and send it for approval to authorities. The team kept working on the MVP until they integrated all APIs (weather, winds, NOTAMs, etc.) needed to process flight plans.
Below is a rundown of activities on the project. This will help you figure out the complexity and median cost of an app idea.
Activity
Notes
Time per hr.

1.

Analysis of requirements and documentation preparation

Some clients have a precise list of app features. Other clients have only an idea. With the former, we give an estimate. With the latter, we help turn an idea into a list of app requirements.

10–40

2.

Design and icon
Branded design costs time and requires experienced designers.
MVPs are often released with a basic design.
They are reworked when app gains traction.


20–80

3.

Number of screens

If the number of app screens is high, a study on user story might be required to create a smoother user experience.

2/each screen

4.

Login

When app has a login system, developers must design a system for safe storage and processing of user data. The app must integrate enhanced encryption to prevent data exposure.

20–60

5.

Search and sort
Complexity of search system relies heavily on number of parameters from which users can choose (by name, numbers, date, etc.). It also relies on number of items available in database. Developers must anticipate growth in numbers.
To prevent slowdown as the base grows, they must prepare the right architecture.

60–100

6.

Features:
Rating system

As with login, information about user ratings must be stored and managed properly.

40

Content managemen
When your app needs regular content updates managed by you/your administrator, you need to add a CMS (content management system) to your back end. Then you can update product information, manage prices, items, and categories. You can also set up your own custom algorithms without outside help.
Type of content dictates complexity of a CMS. From simple to complex: text, images, video content.


40–60

Device synchronization

If you already have a working website that clients use on a regular basis, synchronize user data in the background every time they switch from one device to another.

20–60

Geo-location
Users can pinpoint their coordinates on a map and find their way to their chosen destination.
Crucial for navigation apps.
Nice-to-have for finding restaurants and businesses.

20–40

Native device features

To work correctly, app uses smartphone hardware.

4/each screen

mPayment

Developers integrate a third-party service through Gateway APIs. To prevent loss of sensitive information, app must provide enhanced data encryption.

40–100

Analytics and recommendation system
App can integrate Google analytics. It also can contain its own custom analytics system to study user behavior, prevent thefts, or help users make informed decisions.
A custom analytics system can be based on AI frameworks such as ML.NET or TensorFlow.
Calculated time to develop this feature separately is based on complexity of requirements.


100–160

Social engagement
Integration of social media features increases app development costs. Features include:
-likes
-sharing
-logging in using a social network account, etc.
Do you plan on having user data and content-sharing features in your app? Here are two ways to implement them:
-Integrate the app with social networks like Twitter, Facebook, etc.
-Develop these features inside the app.
You now have an attractive amount of functionality for users' social activities.
Be precise: what types of social objects app needs?


100-160

Offline mode
Offline mode: top choice for users to install a new mobile app. Even without an Internet connection, users can still get their data, manage it, or search through history.
Prevent losses when switching between modes: synchronize data storage and offline work properly.

40–60

Data encryption

To prevent leaks and exposure, data encryption is crucial for any app that collects and stores user data. Medical and banking apps have their own very high standards for data encryption.

40–60

Administration panel

Necessary to manage user data and content.

20–60

3rd API integration
To speed up development, developers use solutions done by third parties (e.g., Google Maps).
Ongoing challenge with third-party APIs: keep their app code current.
New APIs can provide unprepared challenges due to unpolished source code.

50–100

Tablet version
Tablet apps must be treated separately from smartphones. They have:
– larger screens
– different OS
– used differently


25-30% to initial estimate

7.

QA and testing
Nothing is perfect the first time. Bugs happen. Bug fixing is an essential step when developing quality software. Never skip QA: you will pay dearly if you do.
[IT Craft never skips QA and testing.]


30% of development time
Please note: there can be different numbers or additional steps depending on your provided list of requirements and project goals. Therefore, both timeline and budget can vary based on project details.
Don't see your feature on the list? Contact us. We will get back to you within 24 hours to find out any relevant details. You will get your estimate within 72 hours
How much does it cost to create an app based on software development hourly rates?
Hourly rates increase as you go from East to West. And, they can vary even within the same region. There is no clear-cut formula for hourly rates. Company rates depend on:
area of expertise
technological background
experience
office/representatives in North America or Western Europe
A company with a solid proven portfolio, 10+ years in the market, and an office in the USA has a higher hourly rate than a younger, less-experienced company with a small portfolio and no offices in the US or EU.
Below is an overview of hourly rates on the most popular destinations for outsourcing software development. This gives you a guide to estimating costs to create an app.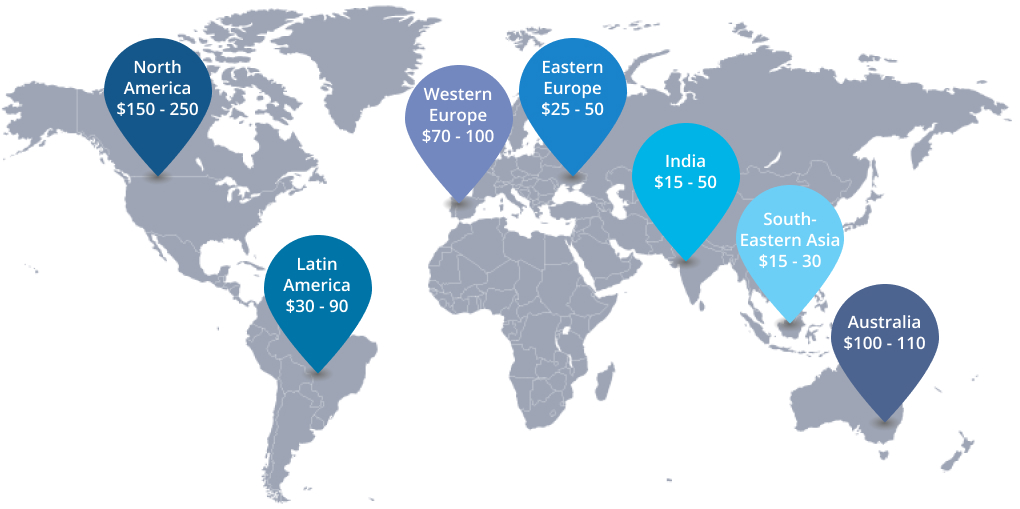 North America: $150-250/hr.
The biggest markets worldwide are in the US and Canada. There is a wide pool of talented engineers using cutting-edge technologies for various products. (Often, these are the people who design technologies.) North America has the highest development hourly rates worldwide. It also has the highest hiring and onboarding costs. Google, Amazon, Facebook, and other tech giants create market pressure and affect high costs by hunting top talents.
Latin America: $30-$90/hr.
The nearest outsourcing destination located in a similar time zone lies the almost 30 countries of Latin America. Latin America is a big region with strong governmental support of the IT industry among most of the countries.
According to a Forbes report on Latin America, bureaucracy can be burdensome in some countries, such as Brazil or Costa Rica, but, overall, the region provides solid infrastructure and talented engineers.
Geographical proximity means saving time on business trips. It also means working within close time zones.
Western Europe: $70-100/hr.
Western Europe has a powerful economy, high cost of living, and high hourly rates. Most of the local outsourcing providers focus on onsite software development for medium and large EU companies.
Eastern Europe: $25-50/hr.
This location provides a great money-for-experience ratio. Low cost of living and strong engineering background of companies benefit you. Convenient time difference makes Eastern Europe a perfect nearshoring destination for Western European companies. US clients value these tech companies for their high quality and flexible work culture; i.e., teams work based on their client's time zone. And it has one of the fastest (and cheapest) Internet connections worldwide.
India: from $15-$50/hr.
India is one of the most popular destinations for outsourcing development worldwide because of seemingly cheap prices and its large labor force. Also, India offers friendly IT policy and access to a wide technological stack. But when outsourcing to India, businesses should be assiduous in searching for a reliable provider. Low hourly rates might bear hidden costs, delays, or undeveloped infrastructure. Deeply embedded cultural differences lead to misunderstandings and disappointments.
South-Eastern Asia $15-30/hr.
South-Eastern Asia is a recent outsourcing destination. Malaysia, Vietnam and other SEA countries strive to repeat India's success. They introduce a favorable business environment and low development prices. They claim to be 50% cheaper than Indian developers. The goal of SEA countries is to become the top destination for cost-effective software development in the future.
And then there is China. With its immense population, low cost of living and huge internal market oriented towards on both inland and foreign clients, it is like India but provides more affordable labor costs. For some, the question/concern of "Big Brother"/the Chinese government is a major concern.
Australia: from $ 100-110/hr.
Like the USA and Western Europe, Australia has its own strong internal market with a growing demand for skilled contractors. Many Australian companies prefer to outsource software development to get quality services. Fair warning: Outsourcing development companies in Australia focus on onshore development—their own Australian market.
How much does a mobile app cost: post-launch activities and costs
The new polished app appears in app stores. This is the point when it becomes a continuous drain on the pocketbook for an app owner. The app owner must keep the app up to date and available to users for a reasonable amount of time. When the app reaches its end-of-life, the app owner must ensure users can easily retrieve and save their data. App owners must also be aware of updates OS vendors provide to prevent an app not working with OS update.
Here are a few sources of expenses:
Server maintenance costs – costs depend on whether you decide to host the app on a major cloud provider, such as AWS or Microsoft Azure, or develop your own server infrastructure. Either way, you must have an established hosting with advanced hardware and broadband channel.
Subscriptions and licenses – third-party solutions help to significantly decrease development time. You must factor in regular payments. Payment plans are often segmented into payment categories based on certain criteria. Include and evaluate them thoroughly in your business plan.
Updates – both mobile OSs and third-party services get constant updates. In some cases, apps stop working after an update. Unfortunately, no one can forecast how much time app updates could take.
Upgrades – an app might require new features in order to take on competition or attract new users. However, adding a new feature to an existing app must be analyzed separately. Also, it is hard to predict how much time an upgrade might take due to unexpected challenges.
App migration – third-party services get disparages or shut down for various reasons. This directly affects hundreds of app owners. Service providers often offer free migration tools to help mitigate migration-related risks and losses. However, it is always wise to know other solutions if such a situation occurs.
Scalability – scalability must also be mentioned. You must prepare to scale up server infrastructure if your app gets more traction than expected. Never fail your users: every user needs to access your app easily. Otherwise, you could risk losing user base to another app with no delays.
In conclusion
The amount of work needed to make an app function seamlessly – directly impacts app development costs. There is 'visible' amount of work such as design and front-end. Costs can be predicted with a high amount of precision. But every app contains 'hidden' works in its back end. Although they critically affect app functionality, back-end development can seldom be calculated accurately.
Hence, the question "How much does a mobile app cost?" has no direct or precise answer until app development begins. App owners need to consider flexible budgeting.
App owners must also be precise in choosing an outsourcing software development company best suited to their needs. You need a software development partner capable and willing to understand your business and goals. A partner with technical expertise and experience to build you the mobile app—on time and within budget. A partner who exceeds your expectations and helps you profit.
IT Craft is a well-established business spanning almost two decades. This includes 10 years' experience developing mobile apps. Time and cost for mobile app development vary greatly. For a simple photo-sharing app, it takes about 1.5 months. To turn custom, field management desktop software into a SaaS solution, it took 1.5 years.
Located in Ukraine, IT Craft has proven to be an ideal nearshoring software outsourcing company for Europe.
IT Craft's development fees can be approximately 66%-75% lower than charged by North American developers. And because IT Craft delivers the same high-quality software, it is the go-to company for many US businesses.
IT Craft has prepared a special package for startups to help them launch their app faster. It is a preassembled set of standard components and instruments for their automated testing. This saves the development team up to 160 hours at the initial stage of MVP development. That means it saves you money.
P.S. We have prepared an FAQ section for you not to miss any important information.
App costs vary greatly. $10,000 – $40,000 for a simple app to $150,000 for custom solution. If you want a global reach, app costs can skyrocket to $500,000.

Cost depends on:

-planned features-degree of customization-use of third-party services (saves development costs but increases maintenance costs)-level of security

Hence, no accurate estimates can be given without your feature list and number of anticipated users.
If you want a more specific answer, get in touch with us.
Absolutely free. You are under no obligation.

MVP development costs depend on three main factors:

-project scope-chosen developers-development method used by developers chosen.

An MVP project takes between 1,000 – 1,700 working hours. Time needed depends on development process used by development team: silo or Agile. The amount could increase if the future app requires more work on the back-end.

Another significant factor is a company's (or destination's) hourly rate. Geographic rate range includes:

North America ($150 – $250)-Latin America ($30 – $90)-Eastern Europe ($25 – $50)-South-Eastern Asia ($15 – $50)

Do the math. Multiply the number of hours times the hourly rate. But remember you need to fully understand cultural differences, if any.

Per-year app maintenance expenses tend to comprise 15% – 20% of initial app development. To ensure you encounter no hassles with updates or scalability, you should estimate a higher range.

Costs of app maintenance depend on number of servers and type of web hosting you choose. Shared hosting is the cheapest. Cloud hosting is the most expensive. Virtual private server and dedicated server fall somewhere in between.

The choice of the right server depends on:

a) type of information – From least to most expensive: texts, images, audio, video files. Videos require the most computational power and storage capacity (= better servers).
b) number of users and duration – Costs increase as the number of anticipated users and amount of time they will spend interacting with your service increases.
You should also keep in mind costs of regular performance testing and security testing. You must ensure secure 99.9% uptime for everyone.
c) regular third-party subscriptions – Third-party modules make it possible to substantially save on development. Expenses then shift to app maintenance. Most of the third-party modules require regular subscription payments based on number of users, etc.

Also, if a service shuts down, gets deprecated or reaches end of life, be prepared for migration (costs incurred, of course).

Like costs for app development, app development timeline depends on front-end and back-end complexity. You can get a simple app with several screens and a simple data storage within 1-2 months.

However, many apps take much longer. A "regular" app needs UX, integration of several modules, and elaborate back-end. This is possible within 4-6 months.

Complex innovative apps require custom algorithms, data integration from various sources, and enhanced data security. Development team time range: 9-18 months.

A good question. Prices often tend to increase.

But not at IT Craft. Our prices are stable.

You will have your app developed by IT Craft in 2020 for the same price as in 2019. At our company, costs of outsourcing software development do not increase even though salaries of our software developers do.

How is this possible?

IT Craft's developers–who are always at the front line of innovative ideas–introduce best practices to accomplish the same scope of the same high-quality work for less time (= same or lower budget.)