How much does a mobile app cost today? $5,000, $50,000, or $500,000? As with anything, mobile app development costs depend on what you want. Remember: the devil is in the details. Mobile app development costs also depend on the country where your chosen developers live. 
A Clutch survey states median costs of native iPhone (iOS) app development varies from $38,000 – $171,000. Or as high as $500,000+. It all depends on what is under the hood.
A Tin Lizzie costs a lot less than a Beamer: basic functionality vs. lots of power, bells, and whistles. 
So, too, with a mobile app. Your call: your cost.
What is the starting point? There are different starting points. The topic "How much does a mobile app cost?" is vast. It includes a series of interconnected questions. 
This post contains a collection of FAQs mobile app development costs. 
There are two main sections. General section describes common problems of estimating costs of outsourcing app development. In specific section, you get information on how much it will cost you to develop a mobile app with IT Craft.
Fundamental factors related to mobile app development costs
Q. 1: What must I absolutely know about mobile app development costs?
There are nine fundamental factors, as follows:

Cost formula: The basic formula for mobile app development is scope of work multiplied by a company's hourly rate.
Discovery: The discovery stage takes time but saves money in the future. During this stage, development team refines requirements, offers technological basis, and prepares a roadmap. The better you and your development team formulate requirements, the fewer are the risks of unexpected cost increase.
Scope of work: Scope of work depends on number of features and target platforms (iOS, Android) and chosen development approach (native, hybrid, cross-platform).
Company location: Custom app development costs increase from East to West, that is, from far eastern countries to western countries. US developers receive the highest hourly rate, followed by Canadian, Australian and EU companies.
Features: There are three levels of mobile app development costs including Proof-of-Concept with 2 – 3 features, Minimum Viable Product—basic app with 3 – 5 features, and a complex custom app with 7+ features.
Design: Elaborate design with branded elements is expensive.
Back-end programming: Results from back-end programming take considerable time and effort and cannot be seen immediately.
The unexpected: There is an ever-present risk of unexpected scope of work. Be prepared for a bump up in costs.
Post-launch expenses: Expenses do not end when your app launches. Factor in costs for maintenance, subscriptions, and updates.
Costs of outsourcing app development worldwide
Q. 2: How much does it cost to create an app based on software development hourly rates?
Smartphone app development costs increase as you go from East to West. They can even vary within the same region. There is no clear-cut formula for hourly rates. Company rates depend on:
area of expertise
technological background
experience
location of offices and representatives
Thus, a company with a solid proven portfolio,10+ years in the market, and an office in the USA has a higher hourly rate than a younger, less-experienced company with a small portfolio and no office in the US or EU. US, Canada, Australia, and Schengen countries have the highest developer rates.
Below is an overview of hourly rates on the most popular destinations for outsourcing software development starting from highest to lowest. This gives you a guide to estimating costs to create an app.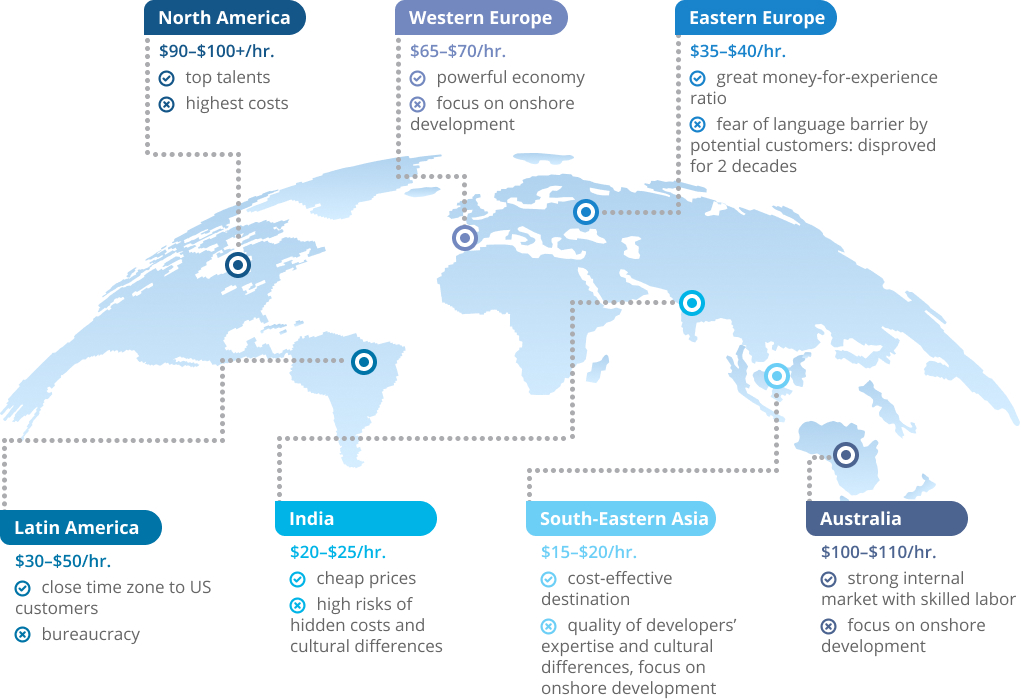 Do you want an estimate for your idea within only several minutes?
Get information on price, time, and team squad.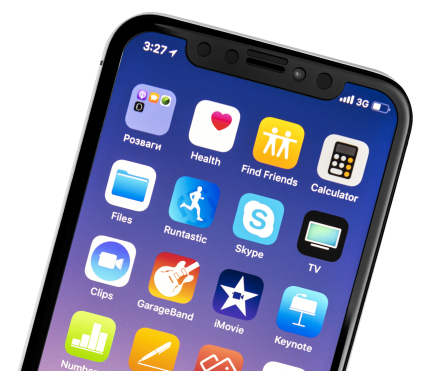 Q. 3: I understand what "onshore" means but am confused about the difference between offshore and nearshore. Please explain.
This is geographical. Nearshoring software development means the development team lives in a neighboring country (e.g., from the USA to Mexico, Eastern Europe to EU countries). Offshoring means the team is on another side of the Earth (e.g., from the USA to Ukraine.)
Images help: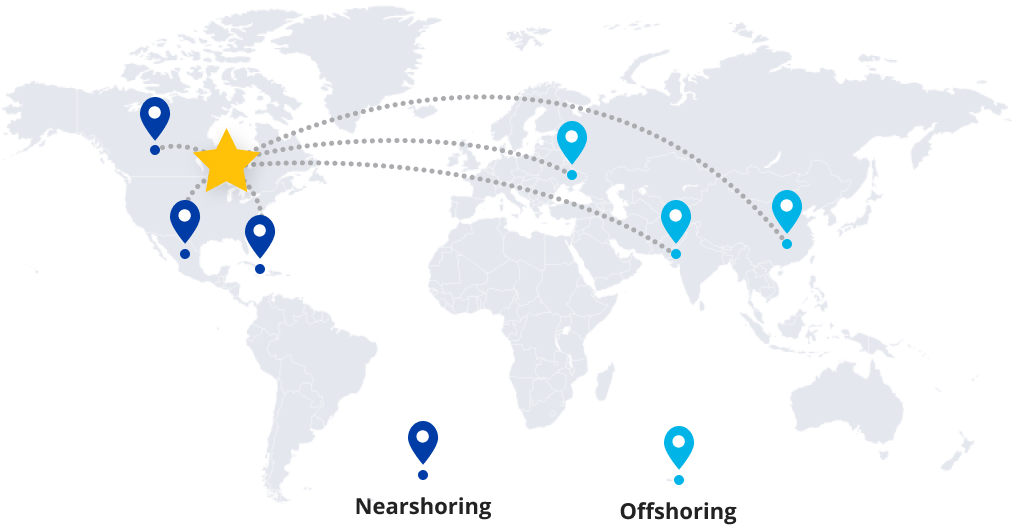 Q. 4: When should I choose a nearshore / offshore software development company? How much does it cost to build an app?
Here are the reasons to outsource mobile app development to another country.
You…
require a team of seasoned workers
want a head start today
need to replace your current development team
want to quickly add expertise to your project (e.g., model when businesses outsource app development costs to an extended team suits best)
seek mobile app development cost optimization with no losses in quality (lower rates equal lower cost of outsourcing app development)
Final note regarding local development companies. Often, local companies hire offshore delivery teams. The project manager resides in your country while the development team is located on the other side of the world. In this case, ask for a direct contact with the delivery team so you can remain current with progress.
Factors that affect end price
Q. 5: How do you calculate costs to create an app?
The basic price formula all companies use to calculate mobile app development costs is simple:

Scope of work depends on functionality provided.
Company's hourly rates depend on its global location.
How does this formula affect cost to develop a mobile a mobile app? Here is some quick math for you.
Based on minimal numbers needed to launch an app (ref. Q. 7), app development costs make:

Q. 6: How does scope of work affect mobile app development costs?
We will discuss different aspects of scope in greater detail later. Here is a high-level view.
Mobile app development costs depend on:
number of planned features
degree of customization
target platform
use of third-party services (saves mobile app development costs but increases maintenance costs)
security level
use of automation tools (increases initial mobile app development costs but saves on later development stages)
Until your feature list and number of anticipated users have been firmed up, you cannot get any accurate estimates.
Q. 7: How do development technologies affect the result?
Software developers can offer you three possible paths to build an app: native, cross-platform or hybrid. A hybrid app is the least expensive. A native mobile app development costs the most. This is how the three approaches differ:
Native apps

use specific language of the target platform: Kotlin/Java for Android and Swift/Objective-C for iOS. Hence, you need two different apps (=different codebases).

Cross-platform apps

share the same codebase which is translated into a target language. You will need to maintain two codebases, too. However, many updates are easier.

Hybrid apps

basically use capabilities of built-in smartphone browser. They can be developed with HTML/JavaScript/CSS. Hybrid supports the same codebase.
Below are pros and cons of these three approaches: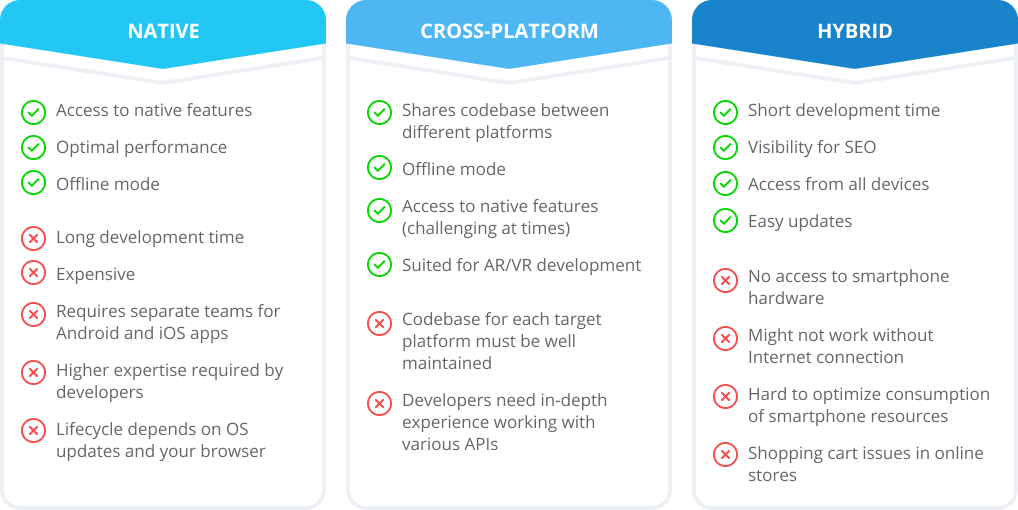 Q. 8: How long does it take to make an app?
Like mobile app development costs, app development timeline depends on front-end and back-end complexity.
You can get a Proof-of-Concept app developed with several screens and a simple data storage within 1 – 2 months.
However, many apps take much longer. A "regular" app needs UX, integration of several modules, and elaborate back-end. This is possible within 4 – 6 months.
Complex, innovative apps require custom algorithms, data integration from various sources, and enhanced data security. Development team time range: 9 – 18 months.
Be wise.
A mobile app for ordering food at a restaurant has fewer features and is simpler than a mobile banking app.
A mobile app that lets users watch videos based on their preferences is far simpler than an app that collects user preferences and recommends videos based on a complex algorithm hidden under its hood.
In both examples, the latter are more complex—have a more complex business logic—and will certainly cost more.
All apps can be nominally divided into three categories.

*Nominally here means based on complexity of app back-end. Even MVP development can easily extend to 5 – 6 months before everything works smoothly.
A Proof-of-Concept has 1 – 2 features designed to test user interest or to illustrate an idea and get funding.
An MVP has 3 – 5 key features to optimize user interaction with a certain service.
A fully functional app provides freedom of interactions while offering a wide range of features and instruments for feature customization.
Types of mobile apps, associated features, and development costs
Q. 9: Can you provide any examples for app development numbers?
Yes.
The table below contains minimal scope the most popular mobile app categories. You can see how much it takes to prepare an MVP app in each given category and then calculate basic app development costs.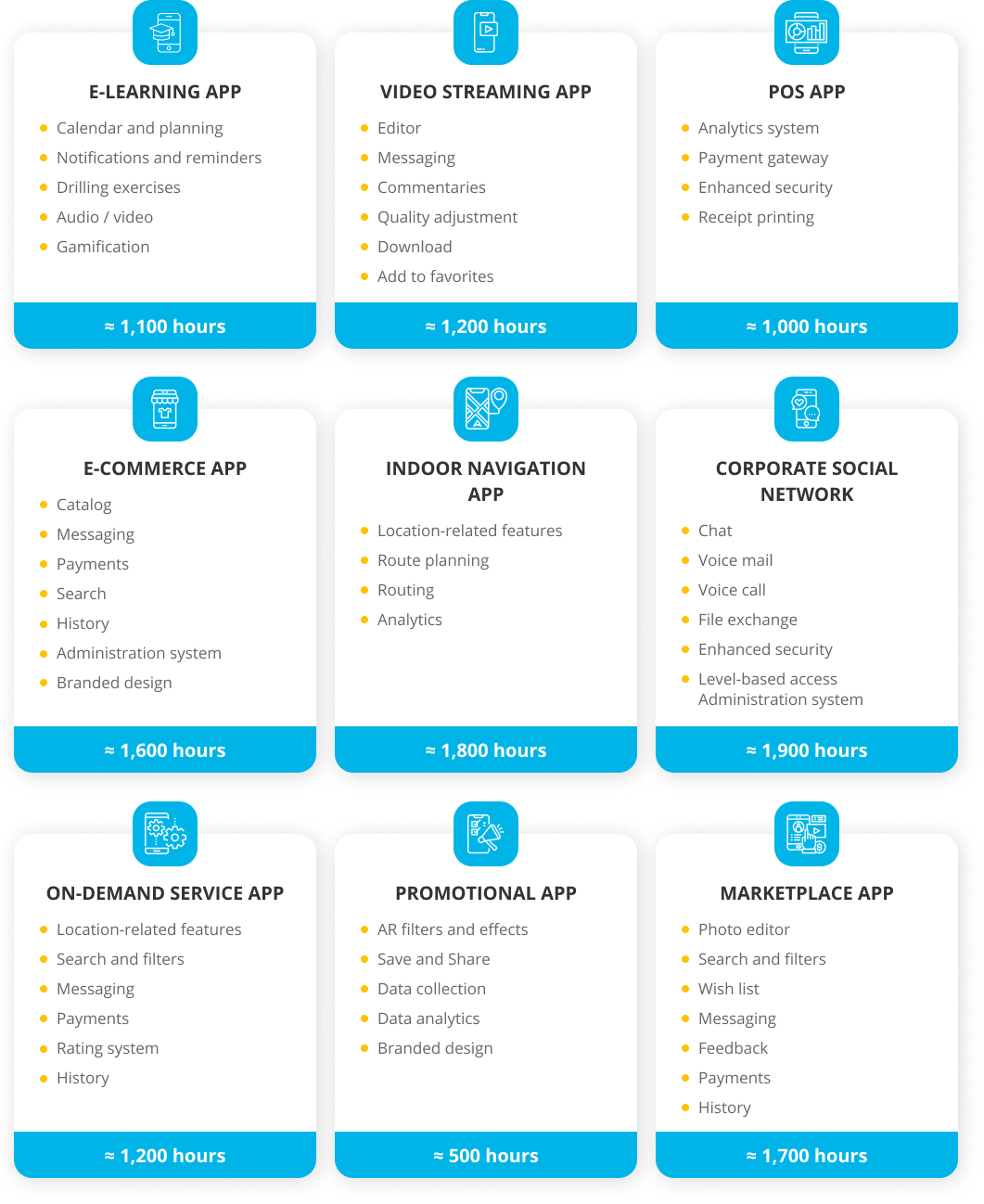 Do you want to see real-life examples? Check our portfolio.
Q. 10: Built from scratch vs. third-party components: which is better?
This depends on your long-term goals.
Integration of third-party services for a certain function in your mobile app is an important component. It either decreases or increases mobile app development costs.
As a rule, these are vendor subscription services supporting some features in your app. For example, medical, and healthcare apps will not be published in a store until data inside these apps are HIPPA compliant. It is expensive to create such a module. Integrating a third-party module by subscription is more beneficial.
Functions integrated by subscription include chat, currency converter, and various services.
An important note: with every subscription comes subscription payments. Prices vary.
Be wise, check them out before you sign on the dotted line.
App development workflow and roles on a project
Q. 11: What stages does mobile app development include?
Normally, a mobile development project undergoes the following stages:
Q. 12: What are typical roles on mobile app development project?
Typical roles in a development team include: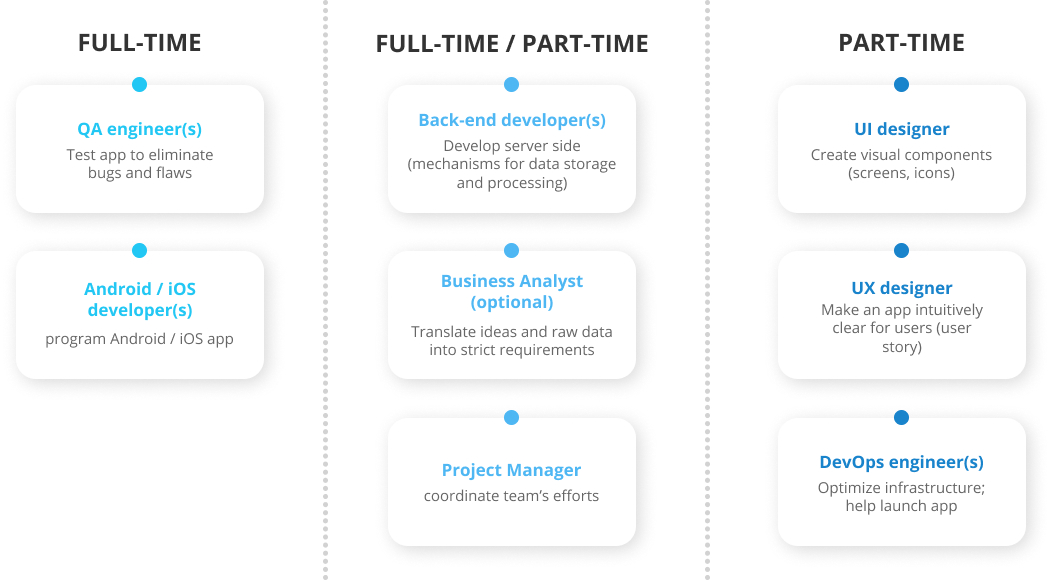 Q. 13: What hidden factors affect mobile app development costs?
Everything relies on app complexity and anticipated popularity growth by its users.
Technically speaking, a mobile app usually consists of the following parts: iOS, Android, back-end and API. The API connects all parts of the app.
Design, back-end / API development, and security have the least degree of predictability. They can easily skyrocket costs of mobile app development.

DesignUsers do not like disappointment: they must love what they see and how they use the app. Be prepared for several iterations before you find the right formula.

SecuritySecurity of user data is a must. Sensitive user data must be stored, processed, and transmitted ensuring there are no leaks. For example, HIPAA compliance substantially increases mobile app development costs. Healthcare apps are expensive.
When a mobile app stores any user data, it requires cloud storage to ensure data availability. That adds to the total costs of app development and maintenance.

Back-end and APIThis is the real starting point: the effort for back-end and API development depends on the complexity of planned functionality. They can significantly increase basic app development costs.
Simple apps consist only of iOS and Android. But if you want your users to create profiles in your app, you will need a back-end to store user-related information. Any app that connects two or more users with each other or enables data exchange between them requires a complex back-end plus API.
Users see "visual" components. What powers up their new app interests users little. They want their mobile apps to be available anytime, anywhere.
It is crucial to build a reliable back-end although it remains "hidden" under normal conditions.
Calculating costs of app maintenance
Q. 14: Why do I need app maintenance?
Short answer: To keep your users happy. Do not give them a reason to leave. They will.
Long answer: Imagine your new, freshly launched app appearing in app stores.
This is the point when it becomes a continuous drain on the app owner's pocketbook. The app owner must keep the app up to date and available for users for a reasonable amount of time. When the app reaches its end-of-life, the app owner must ensure users can easily retrieve and save their data. App owners must also be aware of updates OS vendors provide to prevent an app not working with OS update.
Q. 15: How much does it cost to maintain an app?
Per-year app maintenance expenses tend to comprise 15% – 20% of initial app development. To ensure you encounter no hassles with updates or scalability, you should estimate a higher range.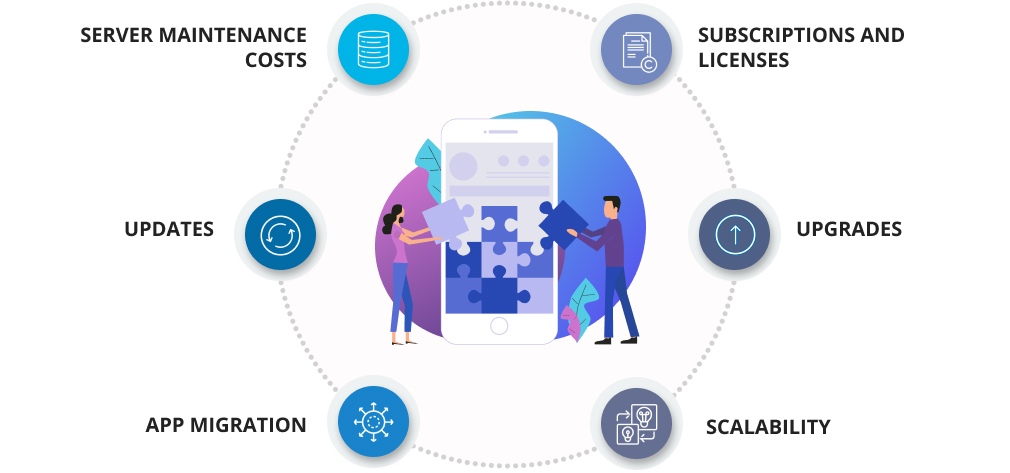 Server maintenance costs – Costs depend on whether you decide to host the app on a major cloud provider, such as AWS or Microsoft Azure, or develop your own server infrastructure. Either way, there must be an established hosting with advanced hardware and broadband channel.
The choice of the right server depends on:
a) type of information – From least to most expensive: texts, images, audio, video files. Videos require the most computational power and storage capacity (= you need more expensive hosting).
b) number of users and duration – Costs increase as the number of anticipated users and amount of time they spend interacting with your service increases.
You should also keep in mind costs of regular performance testing and security testing. You must ensure secure 99.9% uptime for everyone.
Subscriptions and licenses – Third-party solutions help significantly decrease development time. You must factor in regular payments. Payment plans are often segmented into payment categories based on certain criteria. Evaluate them thoroughly in your business plan.
Updates – Both mobile OSs and third-party services get constant updates. In some cases, apps stop working after an update. Unfortunately, no one can forecast how much time app updates could take.
Upgrades – An app might require new features to take on its competition or attract new users. However, adding a new feature to an existing app must be analyzed separately. Also, it is hard to predict how much time an upgrade takes due to unexpected challenges.
App migration – Third-party services get deprecated or shut down for various reasons. This directly affects hundreds of app owners. Service providers often offer free migration tools to help mitigate migration-related risks and losses. However, it is always wise to know other solutions if such a situation occurs.
Scalability – Scalability must also be mentioned. You must prepare to scale up server infrastructure if your app gets more traction than expected. Never fail your users: every user needs to easily access your app.
Or would you prefer the risk of losing your user base to another app with no delays?
Costs of mobile app development in 2020 and ways to save
Q. 16: How much does it cost for app development in 2020?
A good question. Prices often tend to increase.
But not at IT Craft. Our prices are stable.
You will have your app developed by IT Craft in 2020 for the same price as in 2019. At our company, costs of outsourcing software development do not increase even though salaries of our software developers do.
How is this possible?
IT Craft's developers—who are always at the front line of innovative ideas—introduce best practices to accomplish the same scope of the same high-quality work for less time (= same or lower budget.)
Q. 17: How can I be wise with my limited budget? Are there any other mobile-friendly options?
Before you start answering the question "How much does a mobile app cost?" you should determine the following:
Is a mobile app the right solution for you? Even if you say "Yes", you should be aware of other options.
Businesses can build a strong mobile presence in other ways:
Businesses can use any of these options to provide basic functionality for users to easily access via a mobile browser (e.g., read news, write commentaries, search in a catalog, change model color, etc.).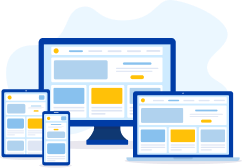 Responsive website

Mobile website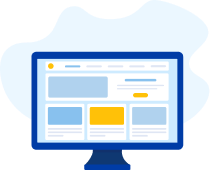 Web app (including PWA)
A responsive website is a regular website that adjusts to the device screen size.
A mobile website is a website specifically developed for mobile devices and contains simplified design and functionality.
A Web app is basically a website page that lets users interact with dynamic content. Also, it adjusts to user screen size.
Q. 18: How much does an MVP app cost?
An MVP project takes between 1,000 – 1,700 working hours. Time needed depends on development process used by development team: silo or Agile. Mobile app development costs could increase if the future app requires more work on the back-end.
Here is an estimate of costs to develop a mobile app

Here are more on MVP development costs.
Tips on finding right software development company
Q. 19: How do I find a reliable company?
Rule of thumb: do a market study, as follows:
Make a research using Clutch or Upwork.
Make a list of 5 – 10 prospective companies.
Conduct interviews.
Choose the best one.
Do not hire the cheapest company. Always ask for proof.
Here is IT Craft's guide on hiring developers for a startup.
Approaching mobile app development costs at IT Craft
Q. 1: I am not sure about mobile app development costs. Why does your company's estimate differ those of other companies'?
This often happens when different companies provide estimates for the same project. They vary, especially when projects have flexible requirements.
Both technical solutions and work requirements determine estimates.
Risks are factored into app estimates based on technological novelty and complexity of the project. Bugs in newly minted APIs can directly affect project timeline.
Be aware that the total number of hours on a project might be different from the initial estimate—even from the same company. Be prepared for flexible budgeting.
Or, to align with the time needed for rework, risks can be included in a higher hourly rate.
Q. 2: How much time does it normally take IT Craft to develop a mobile app?
Time and mobile app development costs vary greatly. For a simple photo-sharing app, it takes about 1.5 months. To transform custom, field-management, desktop software into a SaaS solution takes 1.5 years.
An apt example is RocketRoute, a flight planner app. Its killer feature is a custom-built auto-route calculation algorithm. With RocketRoute, you can create a flight plan in minutes and send it for approval to authorities. The team kept working on the MVP until they integrated all APIs (weather, winds, NOTAMs, etc.) needed to process flight plans. The entire project (web, iOS, Android app) took approximately 1,500 hours or 8 months.
Q. 3: Do you accept a fixed-price model?
Yes. A fixed-price model works well for small projects with a clearly defined scope. When you have a specific set of requirements, we can do a project for you based on fixed-price model.
Please note that fixed-price model does not work for project with flexible requirements. Hence, any changes to requirements will be discussed separately to keep up with mobile app development costs.
Q. 4: Do you accept a fixed-price model?
Price depends on scope. For small projects under a fixed-price model, we require 50% payment before development starts. The remaining sum is due when the project is launched.
For large projects with flexible requirements, we charge by milestones.
If you want a more specific answer, get in touch with us.
Absolutely free. You are under no obligation.
Q. 5: How does IT Craft help me save both time and money?
It is important to select the best development company for you. You need a software development company willing and able to understand your business and goals. A company with technical expertise and experience to build your mobile app—on time and within budget. A company who exceeds your expectations and helps you profit.
These are the main points how IT Craft development teams help you keep mobile app development costs low: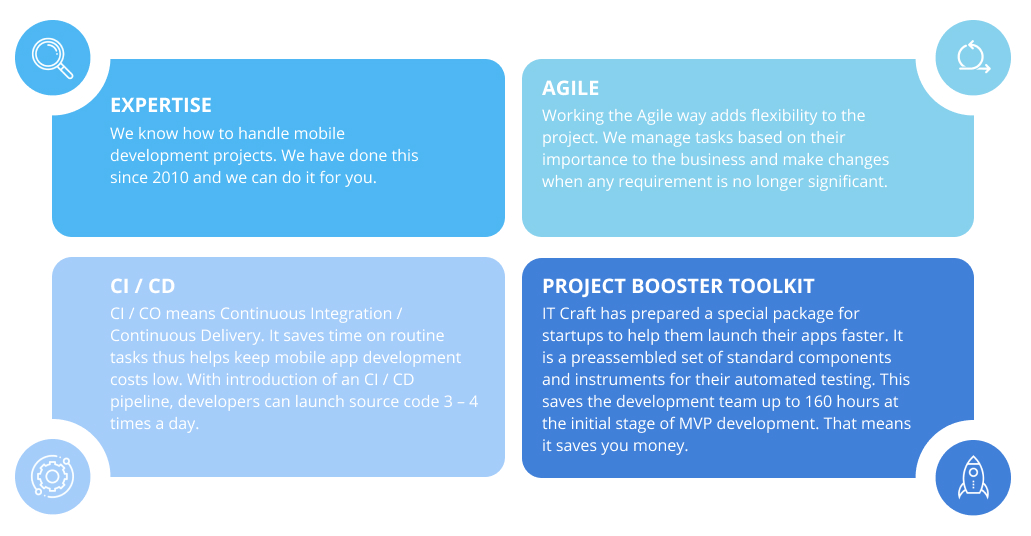 And who doesn't want to save money?
Q. 6: I already have source code. Can you help me?
Yes. Many of IT Craft's most successful collaborations started when businesses approached with source code in hand.
We do a thorough code inspection before we start to find out what code quality we might work with. Based on results, we decide what is more beneficial:
1) improve existing source code or
2) start anew.
From our experience, mobile app development costs are sometimes lower by starting from scratch than trying to improve provided source code.
Q. 8: Can you start immediately?
Yes. All you need to do to start mobile app development:
Send your requirements.
Discuss scope and mobile app development costs.
Sign a contract.
Q. 9: I need to change my project requirements. Is this possible?
Yes. As above, this is a part of Agile development process. Get in touch with your dedicated project manager when you plan to change scope. Together, we will figure out how it fits into the roadmap.
Please note. Although we always do our best with budget alignment, changes might significantly increase the amount of work, which, in turn, might increase mobile app development costs.
Couldn't find your question on the list?
Email us and ask. We will send you an answer.
Conclusion
The amount of work needed to make an app function seamlessly directly impacts cost of outsourcing software development. There is 'visible' amount of work, such as design and front-end that can be predicted with a high precision. Custom app development costs contain 'hidden' work in its back-end. Although they critically affect app functionality, back-end development often cannot be calculated accurately.
Hence, the question on costs of outsourcing app development has no direct answer until you start building your app. App owners need to consider flexible budgeting.