How much does it cost to make an app today? $5,000, $50,000, or $500,000?
As with everything, mobile app development costs depend on what you want.
Remember: the devil is in the details.
A Clutch survey states median costs of Native iPhone (iOS) app development varies from $38,000 – $171,000 (the survey includes only costs based on common US hourly rates.) Costs go as high as $500,000+. It all depends on what is under the hood.
*the survey includes only costs based on common US hourly rates.
Why the wide range? No two projects are alike. Every request differs in the details. The cost of creating an app depends a lot on:
project requirements
team or developer performing the job
design
unexpected scope of work—>scope creep
Are there any extra numbers?
Depending on app complexity, costs to develop a mobile app range the following way:

Curious? Check out below what determines how much it costs to make an app.
Examples of estimates are included.
Two key criteria of determining costs to build an app
A development company located in North America charges 2-3 times more for the cost of app development than in an Eastern European company and 5 times higher than in an Asian country.

Project requirements

A precise list of project requirements is the most important document development companies want to receive and review before proceeding with the project overview and estimates on how much it costs to make an app.

In their calculations, developers consider the two following aspects:

complexity – functionality, business logic, and server infrastructure
details – features, integrations with 3rd-party, users, and app screens

Both criteria are inherent pitfalls. Why? Too often clients make mistakes if they:

Expect too much from an app software development company.
Choose the wrong app software development provider.
Choices you make can often lead to failure.
Expecting too much

Development companies often receive requests to create an app similar to already-existing software (the next Instagram, Uber, etc.).

Prospects expect it fast.

But it just doesn't work that way. Project discovery does not take much time because similar products are in the market. Nonetheless, it is impossible to create an app with 150+ screens within 2-3 months.

Clients must give a detailed list of their app requirements to avoid incorrect estimates. If they had to answer the question, "How much does it cost to make an app?", they would have to realize how much time and effort project implementation takes. The "visual" components can be developed fast. But, just like a powerful engine under the hood, building a reliable backend demands a lot of effort, even though the backend remains "hidden" under normal conditions. You don't see it, but you know it's there when everything runs smoothly.

Choices you make can often lead to failure.

Choosing the wrong software development provider

Choosing a provider that fails to deliver its promises turns your dreams into a disaster. When expecting estimates on how much it costs to make an app from development providers, ensure you include the following key points:

Proven successful experience in project development for medium and large projects.
Business expertise in the project development for different startups.
Ability to assign a team to ensure all required work will be delivered.
Deliver unique software.
Transparent control system and flexibility in development.
Proven ability and willingness to become a tech partner after the app goes live.

As effort and time increase, so, too, app development costs.
Choosing iOS, Android, or both
Development of iOS app development and Android development services differ.
Different programming languages mean different specialists required for each.

Testing processes differ because there are more Android devices available.

More QA engineer time needed.
More testing and debugging time needed.
Higher app development costs required.
How do you choose which platform is better for you?
Study the market where you intend to promote and sell your future app.
Analyze which devices people use more often.
Choose either one of the two platforms—iOS and Android—or both.
The backend or server part is also required when you develop a mobile app. It is needed to exchange, update, and store user information. For example, the backend ensures data synchronization between an application and database.
This job requires a back-end developer and also increases app development costs.
An Admin Panel is required in some mobile apps to:
manage goods in an online store
update information on a blog
manage new users
The back-end developer also carries out this work.
Technological stack affects costs to make an app
Another important question directly affecting how much it costs to develop an app is which approach should the team choose for mobile app development: Native, Cross-platform or Hybrid?
Let's figure out the difference between both development approaches.
Native apps use language specific to the target platform:
Kotlin/Java for Android
Swift/Objective-C for iOS.
Hence, you need two different apps (=different codebases).
Cross-platform apps share the same codebase that is translated into a target language. You still need to maintain two codebases, but updating is easier.
Hybrid application development is a mix of Web and mobile development approaches. Hybrid apps can be developed with HTML/JavaScript/CSS. Hybrid supports the same codebase.
Below are pros and cons of these three approaches:
Native

Access to wide range of features
Optimal performance
Offline mode
Availability of frameworks
High security level
Big developer community

Longer development time
Higher app development costs
Requires separate teams for Android and iOS apps
Greater expertise required by developers
Lifecycle depends on OS updates and browser

Cross-platform

Shares codebase between different platforms
Offline mode
Access to native features (challenging at times)
Suited for AR/VR development

Codebase for each target platform must be well maintained
Developers need in-depth experience working with various APIs

Hybrid

Short development time
Visibility for SEO
Access from all devices
Easy updates
Low app development costs

No access to smartphone hardware
Might not work without Internet connection
Hard to optimize consumption of smartphone resources
Shopping cart issues with online stores
Complex animation could become an issue
Use the points below to decide the best for you: Hybrid, Cross-platform or Native.
Remember to take the following factors into account:
actual cost of app development
goal of your product
necessity to work smoothly on several platforms
target audience
Costs to make an app based on hourly rates
Smartphone app development costs increase as you go from East to West. They can even vary within the same region. There is no clear-cut formula for hourly rates. Company rates depend on:
area of expertise
technological background
experience
location of offices and representatives
Thus, a company with a solid proven portfolio,10+ years in the market, and an office in the USA has a higher hourly rate than a younger, less-experienced company with a small portfolio and no office in the US or EU.
US, Canada, Australia, and the Schengen countries have the highest developer rates.
Below is an overview of hourly rates on the most popular destinations for outsourcing software development starting from highest to lowest. This gives you a guide to estimating costs to create an app.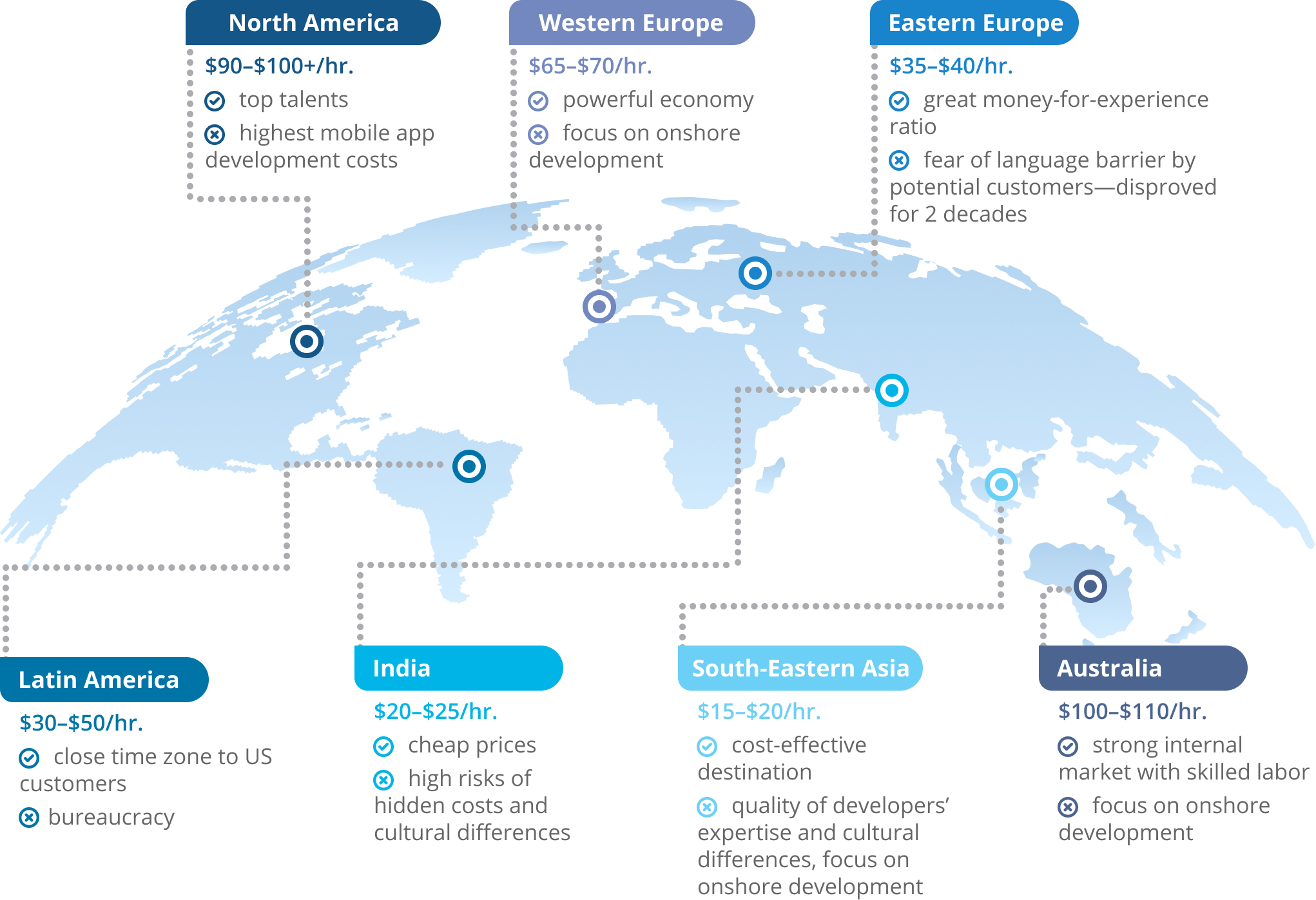 Based on app complexity, how much does it cost to make an app?
Every client wants to know: How much does it cost to develop an app?
Let's be clear about basic app development costs.
Here is the basic formula to calculate how much it costs to make an app.

How do features determine scope of work?
It depends. Below are some of the most common features.
Scroll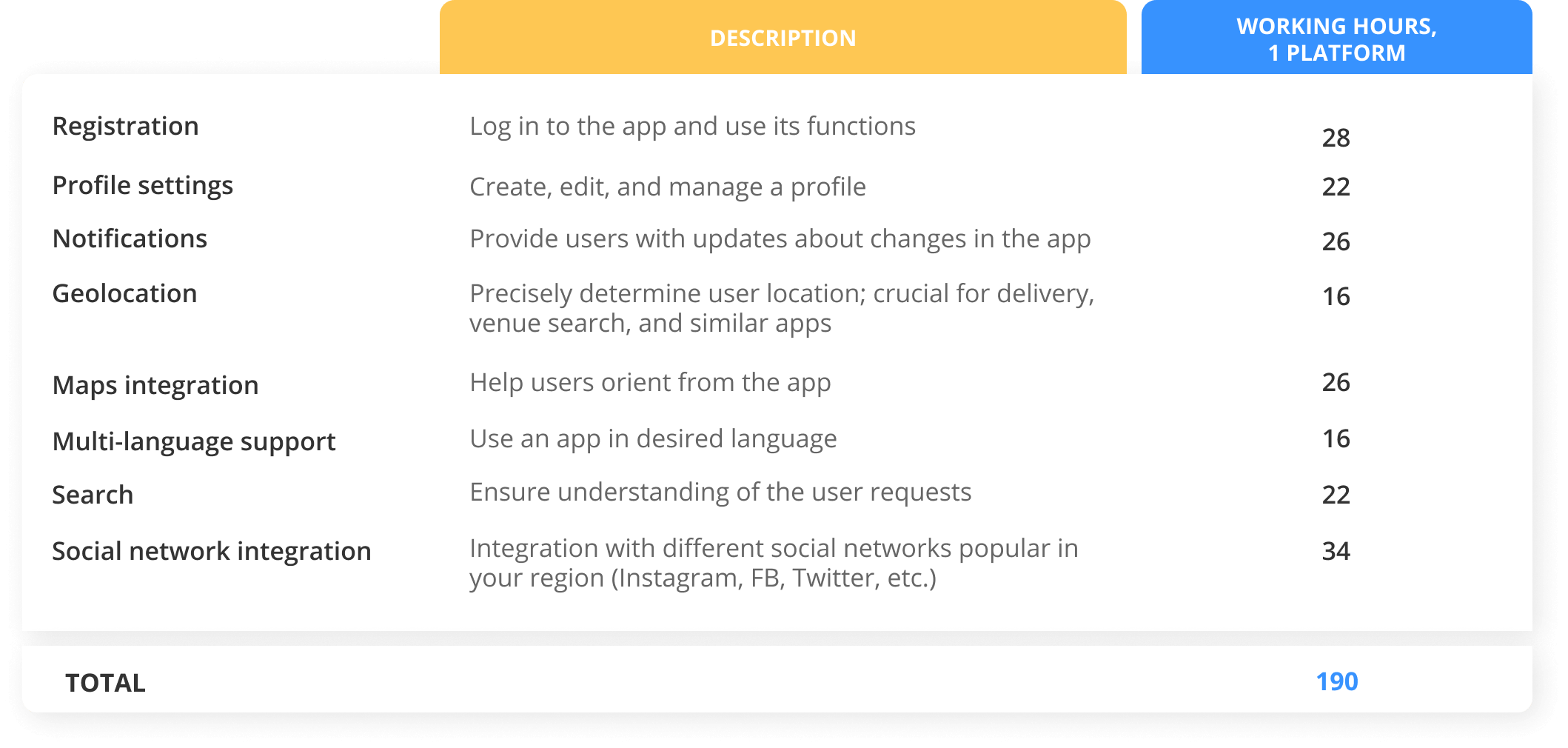 The above list is a possible basic feature list of an application.
Now let's determine the minimum app development costs for development based on their complexity. All apps can be nominally divided into three categories:
basic
average complexity
complex
Estimated app development costs based on geographical region: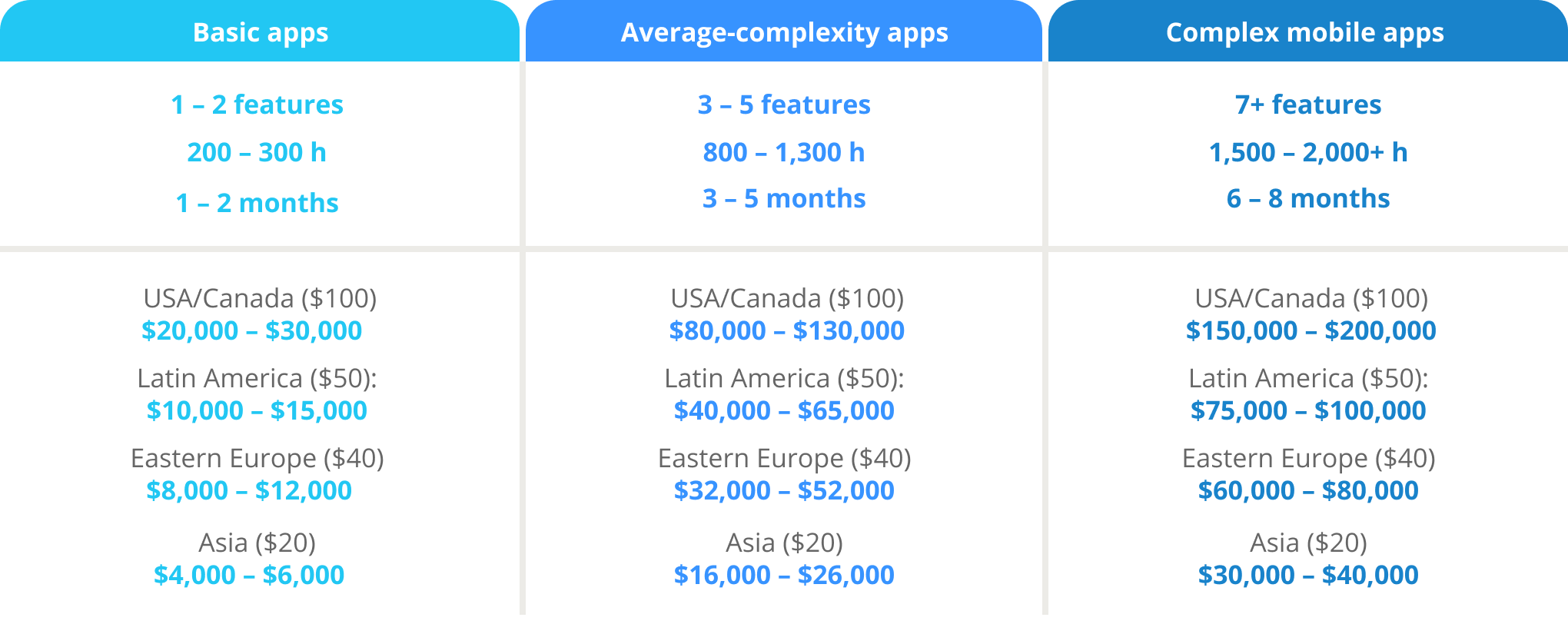 Based on the table above, you can see that cost estimates fluctuate within each category. Does this mean that you can save on mobile app development? Yes, this is possible, depending on your requirements.
Do you want to know how you can save?
Send your request and get a free consultation with possible implementation paths.
Basic apps

A basic app has five to eight screens. It neither exchanges nor synchronizes data with a database, so, no data analysis. Basic apps provide some static data such as business cards. They enable making one or two very easy actions, such as choosing an item and adding it to a user profile, list, etc., but cannot change parameters of the item.

A team takes a month to build an app with basic functionality. It takes around 200 – 300 working hours to create an app. Implementation includes design, development, testing, and deployment.

Average-complexity apps

These apps can have several functions, some quite complex. For example, an online store app can have 10+ screens, integration with the company's website, and payment systems. Shipment options and rating features are also possible. Such an application requires at least 800 – 1,300 working hours to implement. The timeline is 4+ months.

Outsourcing companies most often receive requests for this mid-range option. App development costs to build an app of average complexity tends to be within the price range of most businesses.

Complex mobile apps

Complex mobile apps top the list in terms of app development costs. Implementation takes 6+ months. Required working hours range from 1,500 – 2,000+. A complex app can include:

different integrations
admin panel
database and API
complex features related to the indoor, outdoor navigation, tracking of the statuses
data collection and analysis
chat or video calls

….and more.

Is there anything else you need to know in advance about app development pricing?

Yes. Be extremely cautious when you receive an unreasonably cheap option.

App development price can be higher at a company with a proven portfolio of completed projects than at its less-experienced competitors. Expertise and high-quality code are never cheap.

An experienced software company can build an app within the promised timeline ensuring high-quality source code.

Less-experienced developers often provide misleading estimates and timelines but lower the quality of their work trying to catch up with a fast-approaching deadline.

This results in:

Necessary improvements in source code—if at all possible—causing delays and additional app development costs.
Missed deadlines resulting in losses.
Increased maintenance costs caused by low-quality source code.

(To check out what is "unreasonably cheap", look at your list of requirements, refer to our list below on how many hours is required for them, then divide number of hours into the low estimate. The answer is an approximate indication of the per-hour rate. Also, ask them to break down the estimate of number of hours required per task.)

Remember, it always makes sense to ask experienced professionals for help.
Do you have different ideas for functionality? How much does it cost to make an app based on your requirements?
Try this handy app calculator. Choose options you need and see how much it costs to build an app.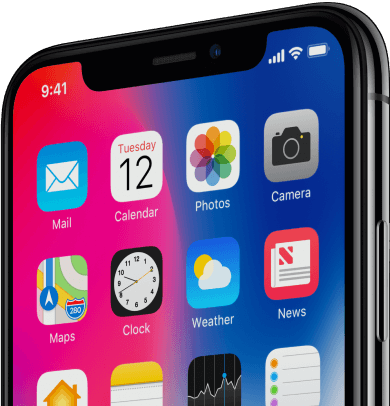 Essential stages of a mobile development project
As with all projects, the development team does more than code to create an app and successfully launch it. Other stages are an integral part of the implementation process to ensure the app runs smoothly after it goes live.
The number of stages in a mobile application development project might vary. The correct answer to the question, "How much does it cost to make an app?" depends on:
project size
work already completed (e.g., analysis, project specification, mockups, etc.)
IT Craft provides full-cycle development services no matter at which stage of development it begins working on your app. The difference will be in total cost of creating an app and timeline.
Below are all necessary stages of the full development cycle:
Functional requirements of a future app

A detailed list of requirements makes it possible to get a correct estimate. A software development company provides its clients with questions about the proposed app and finalizes the answers in a document.

In some cases, only a preliminary estimate on how much it will cost to make an app is possible.

Signing an agreement

The parties agree:

concept
functional requirements
budget
timeframe
payment terms

Both parties can sign an agreement and an NDA, if required. It serves as a guarantee of implementation and copyright protection for the future product.

Design

A development team reproduces the basic logic of the app. The team prepares wireframes and forms a map of screens to present logical connections between screens. After the customer approves of the map, designers start working on the UI.

This stage ensures app is intuitively clear and easy to use.

Server part and Admin Panel development

This stage critically affects both how much it costs to develop an app and maintenance costs.

Without open and immediate client-server interaction, efficient work of an app and staying on track is not possible. Server part and server logic require skills and experience from developers.

Client application development

A separate app is developed for each mobile platform when using the Native approach. When using Cross-platform or Hybrid approach, the same codebase is adapted to platforms.

Quality Assurance

QA testing must be carried out at every development stage and affects how much it costs to develop an app. QA determines if there is full compliance with both concept and functional requirements. The deadline depends on timely detection of bugs and resolving issues.

Mobile application deployment

The review process takes time.

To pass the review fast, create your own content consisting of:

title
short description
detailed description
several screenshots

A fine description helps users find the app easily.

If you hire a software development company, the team can also take care of this stage.
App development costs depend on managerial approaches
A managerial approach is a way of organizing work on a project. It determines the development workflow and interaction between customer (product owner) and development team. An incorrect approach might affect app development cost and especially deadlines.
The two most common project management models are Waterfall and Agile.
Waterfall

Waterfall is linear. Each step must be completed before the next step can begin.

You understand and control the entire process.
Suitable for projects where all requirements are established at the beginning.
Budget is set at the beginning. Processes and results are documented.
Waterfall is not suited for changes. All project work is based on the terms of reference established at the beginning.
Final testing begins only after the product is ready.
Corrections are done only at the end of the project. Hence, corrections are more expensive than when going with Agile.

Waterfall is best suited for short projects under 6 months having a firmly defined scope of work.

Agile

With Agile, the implementation process is divided into Sprints. Sprints have the same duration of 2-3 weeks to ensure flexibility. All processes are done in parallel, including development, testing, debugging, and deployment.

The customer is actively involved at every stage.
A functioning product after each Sprint is the main indicator of successful work. There is a greater guarantee of getting a working product.
Changes to the scope of work CAN be done along the way.
Active owner participation in regular calls and discussions is required.
Possibility of serious scope creep and missed deadline.
The final app development price could increase because of unexpected changes or add-ons.

Agile is best suited for startups that want to get to the market quickly. They can make changes to initial requirements. As a result, they can attract customers or investments for the next stages.
How much does it cost to build an app at IT Craft?
A good question. With other companies, prices often tend to increase.
But not at IT Craft. Our prices are stable.
The cost of your app to be developed by IT Craft in 2021 remains the same as in 2020. At our company, costs of outsourcing software development haven't increased even though salaries of our software developers do.
How is this possible?
Ever-greater efficiency.
IT Craft's developers—always at the front line of innovative ideas—introduce best practices to accomplish the same scope of high-quality work in less time (= same or lower budget.)
However, you need specific requirements to get a solid answer when you ask, "How much does it cost to build an app at an experienced company?"
Time and development costs for mobile apps vary greatly. For a simple photo-sharing app, it takes about 1.5 months. To transform custom, desktop software into a SaaS solution takes 1.5 years.
For example, RocketRoute, a flight planner app, has a killer feature: a custom-built, auto-route calculation algorithm. Using RocketRoute, it's easy to create a flight plan in minutes and send it to the authorities for approval.
The IT Craft team kept improving the MVP until they had integrated all APIs (weather, winds, NOTAMs, etc.) needed to process flight plans. The entire project (Web, iOS, Android apps) took approximately 8 months to launch.
Two more examples of how IT Craft helped create an app:
OrderPort is a Native mobile solution for wine businesses. The app turns an iPad into a full-fledged POS (Point of Sale). Customers can buy wine using any payment type and get their receipt printed or sent via email. The app displays statistics on sales channels, available stocks, and more.

Swift
Objective-C
WorldPay API
ScanAPI
GooglePlaces

99Coaches is a Hybrid mobile solution to help basketball trainers organize and plan team training, manage squads, and monitor progress of single players. A large library is available for trainers to help them plan each training session with a few clicks. When a training plan is ready, trainers can automatically synchronize it with their smartphone app and use it offline.

JavaScript
Meteor
MongoDB
AngularJS
Ionic
contact us
Mobile app development costs: three examples of estimates
Below, we would like to share how app development price depends on requirements.
Estimates for three types of apps available give you a clearer understanding of typical project costs.
Click on the link below and download the estimate as a PDF file:
Please note that the estimates above include only working hours for basic functionality. Hence, costs to build an app might vary from those estimates based on requirements provided to the development team.
Do you want to see those real-life examples with numbers of hours spent on a project? Check our portfolio.

In conclusion
The amount of work on each project determines app development costs. Precise requirements determine whether or not you get precise estimates on how much an app costs.
A business must be prepared for flexible budgeting when requirements change throughout the development cycle. In case of changing requirements, it makes sense to apply for Agile development. Businesses might initially pay higher app development costs but save on app expansion and maintenance.
Businesses can save on software development if they have some work already done. e.g., some source code or app layouts. However, the development team initiates a code inspection to ensure they can turn existing source code into a smooth mobile app for estimated app development costs. If this is not possible, businesses should start app development anew.
FAQs
How much does it cost you to make an app? Do you want an answer?
Send your requirements or schedule a call with IT Craft today!