When starting any online business, you must immediately choose between in-house or a remote development team. There are costs for both in time, money, etc. The first option seems clear—time spent searching, selecting, and hiring followed by fixed costs for salaries, taxes, etc.
The second option—choosing programming outsourcing—gives you greater flexibility with choices and more questions to answer.
What does programming outsourcing mean? Basically, when companies choose to outsource programming, they transfer selected responsibilities to an outside source. An outside company or an individual with specific programming expertise provides them with outsourcing software development services.
You choose whether you want partial or complete outsource programming. If you choose partial outsourcing, you assign selected tasks to a subcontractor. If you opt for complete outsourcing, the selected outsource development team takes over the entire project scope.
Do you want to know what people thought after they used outsourcing programming services? Check out IT Craft's customers sharing their experiences—how programming outsourcing made their lives easier:

more testimonials
eLaundry
Web platform
eLaundry is a custom CRM solution designed to automate laundry services easily.
eLaundry helps businesses save time via online data processing, scheduling order pickup, applying costs of services, and more. Customers can easily estimate costs of laundry services using a
pre-programmed calculator. They can choose pick-up and delivery dates in a calendar with no hassle.
HTML/CSS/JavaScript
Yii
MySQL
Google Maps
How to outsource computer programming?
You decided to hire an outsourcing development company.
Where should you begin? How do you choose the best provider?
It takes time. This might help.
First, determine in which region your future offshore partner works. North America, Latin America, EU, Eastern Europe, and Asia—all these regions offer a range of outsourcing software development companies.
For example, IT Craft's development center is in Ukraine. Why? Because Ukrainian providers have continually proven their professionalism over many years. With their employees' strong engineering backgrounds, Ukrainian companies can meet different clients' needs in programming outsourcing. All business types and size: fresh-baked startups, established businesses, and large enterprises.
After you have chosen the outsourcing destination, you must then search for a provider:
Google, searching for "outsource programming in Ukraine"
Groups specialized in IT outsourcing via LinkedIn
Clutch is a rating platform listing IT companies experienced in programming outsourcing. Each company is ranked on a scale from 0 to 5. The rating is based on detailed feedback from former or current customers. You can read descriptions of projects and scope of work a contractor worked on. You can also find a lot of insights on programming outsourcing. Use these to determine strengths and weaknesses of selected outsourcing development companies.
What are pros and cons of outsourcing programming?
The great popularity of programming outsourcing is a sure sign it is beneficial to businesses.
Benefits of programming outsourcing
Price
Software developers located outside North America and EU countries charge considerably less than their NA/EU counterparts. Their qualifications tend to meet the same high standards as those of developers in the NA/EU countries. Thus, programming outsourcing saves you money without compromising quality. The image below presents hourly rates of the technical experts worldwide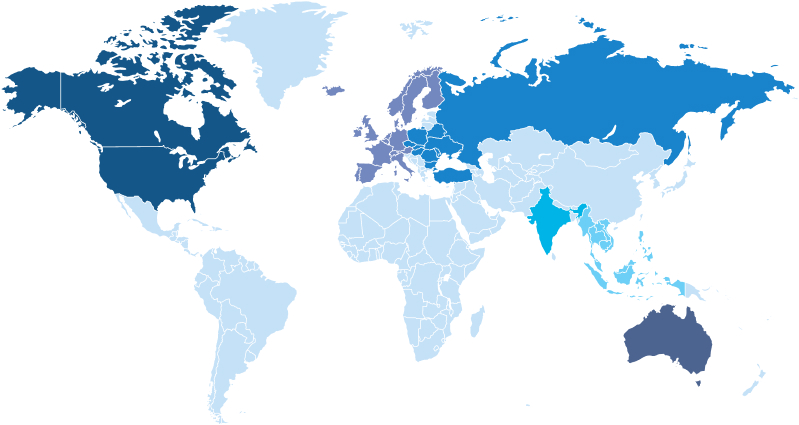 It is important to note that a low hourly price does not mean the least-expensive option. In choosing a provider, price is a fundamental but not the deciding factor. When you compare risks and value of an offer built solely on the lowest price, the picture changes drastically.
Time
Choose programming outsourcing when you must quickly onboard a development team, organize a project implementation process, and get your product launched within a specified time. Taking sufficient time at the beginning to carefully screen potential providers means saving time in the long run. If, in haste, you choose the "wrong" contractor, your chances of losing both time and money are great. Check out our detailed guide on how to choose a provider:
How to Find Programmers for Your Start-Up in 2023
Freeing up company resources
According to our observations, freeing up company resources is especially relevant for start-up companies. For example, the CEOs or co-founders wear several hats. They need to focus on strategy and marketing, while their chosen outsourcing company focuses on project programming.
Risks of outsourcing
Without a good manager, a project could go out of control. You need a leader who communicates clearly and often with the outsourcing team. A leader who understands the requirements for a successful launch and ensures the outsourcing company also understands. The product owner's essential daily tasks include monitoring compliance with standards, reviewing source code, checking latest builds, examining the error tracker. If the product owner is too busy for this important role, a designated project manager must be assigned.
Lack of constant
management usually means the project could slip out of control. Every outsourcing development company has horror stories about that. Customers hand off their list of requirements to assess and think their job is done—all they need to do is pay and the outsourcing company will do the rest. Development is not a vending machine spitting out a can a Coke with input of money. Outsourcing
programming is a process during which both the product owner and project manager at the outsourcing company must be actively involved.
Expected quality level
Anything less than whatever elevated expectations you might hold will be a disappointment to you. Of course, you can successfully outsource coding and finish different tasks with the help of an outsourcing company. But you need to clearly state the expected quality in advance. To understand the level of their clients' expectations, outsourcing companies should always invest time in
communicating with the client during the pre-sale stage. They must pay special attention to the analysis of business requirements. Mutual understanding turns into fruitful cooperation.
What is crucial for effective programming outsourcing?
At IT Craft, we know successful IT outsourcing is not simply doing coding. Well-thought-out company processes mean assigning the right people with the right skills to the right projects at the right time.
People first

Programmers develop software for people. Clear communication between designers, engineers, stakeholders, business, and product owners is crucial for success.

People who develop, maintain, and update a system need to understand how everything works. If this is server-side code of a complex system, other developers will read this code.

Source code must be well documented. Business analysts prepare documentation because it is important for other team members.

Give them what they need.

Learning is the key

The most talented technicians always thirst for knowledge. Even  during breaks, they enthusiastically discuss new trends and technologies. They read a lot—online and offline. They often try
something new and learn from their experience.

IT Craft offers a specific set of services to our potential clients as part of our outsourcing software development services. However, most of our experts are not afraid or trying new coding
languages or new platforms. For this reason, IT Craft opened an IT Research and Development Laboratory, a place where anybody interested can realize their idea at the company's expense.

Practicing opportunities help our specialists keep their skills sharp. Our clients are happy we are at the top of our game. Why? Because they are also winning when they outsource programming to our company. This approach makes us different from our competitors and allows us to offer effective implementation paths.
How much does programming outsourcing cost?
Programming outsourcing is a process, not a finished product. Cost depends on many factors. Programming outsourcing can cost $200 for a hot fix made by a freelancer. Or it can cost a company $100,000+ a month to hire a large development team for updates and expansion of an ecommerce platform. Still, this saves seven-digit sums the company would have spent otherwise on IT services.
The costs of IT Craft's services depend on the cooperation model selected:
Time and materials

The client pays for the time team members spend doing certain tasks. This option works very well if the project requires fast development and every single requirement is not defined in full detail. Instead, a high-level roadmap is available.

Price per unit

The service provider specifies the cost of the service and the customer pays to use it. For example, if you require support and maintenance for a web-based or mobile application, code review or server management, you either pay for a fixed number of hours on demand or a set sum each month.

Fixed cost

In this case, the cost of services is determined at the beginning of the collaboration. This payment model fits well only if the client has clear and final system requirements. On one hand, this model can be considered beneficial for the business, since it allows calculating the costs involved in advance when they outsource coding. On the other, the client should factor in additional
charges for any extra changes no matter how small. Overall additional costs depend on size and number of changes requested.
What factors affect outsourcing programming costs?
Apart from direct costs, project outsourcing can bear indirect or hidden costs. Costs depend not only on the development team's engineering background but also
on soft skills and managerial style.
Hence, every client needs to keep in mind these factors when forecasting future costs of programming outsourcing:
Cheapest hourly rates do not guarantee lowest costs – experienced engineers have greater productivity. They complete the same scope in less time and with higher
quality. The total cost of project development and maintenance is lower.
High-level requirements need flexible pricing – scope of work might vary when requirements are vague and/or change. Software developers might need additional time
to complete functionality.
Cultural fit is important – when the team shares similar values with its clients, it is likely to have the same or similar working habits or attitudes. Less time is spent on project coordination and management.
How to outsource programming to IT Craft?
In order to best serve our clients, IT Craft uses a three-step path for programming outsourcing:
Discover and discuss
Develop and launch
Support and maintain
This path ensures sustainable project workflow needed to meet clients' expectations from software development. What and when expected. Quality source code ensured.
Here are more details:
Discover and discuss

This step starts when a prospect client sends a request. Based on the level of detail of requirements, the team either prepares a project estimate or an initial call is scheduled to clarify requirements and then provides an initial estimate.

When the initial estimate is ready, the parties discuss it. An assigned development team focuses on project discovery to prepare a detailed plan.

For some projects (e.g., porting an old system onto modern technologies), an estimate is not possible. In this case, the team completes a small test task up to 40 working hours to evaluate project challenges and team's pace.

If the client already has source code, the team does code inspection to ensure it's possible to fulfill requirements.

After the team prepares a detailed plan and the parties agree on cooperation terms (best means of communication, cooperation mode, payments), they sign a contract and an NDA, if required.

Develop and launch

The team divides the entire development process into Sprints. Each Sprint lasts 2 weeks on average. Each Sprint starts with planning. The team decides on Sprint priorities and estimates the tasks. The aim of each Sprint is a piece of working source code.

The client-side product owner takes an active part in the project ensuring key decisions are made on time, and any problems that might arise on the project solved as soon as possible.

The development team works on:

analysis of requirements and project documentation
UI/UX design based on requirements
Source code development (front-end, back-end, mobile app
development)
QA and testing
DevOps

At the end of each Sprint, the team either releases a piece of working functionality of the future solution on the internal live server or integrates it to the existing system. The client can test it and make sure it corresponds with the Sprint plan. The client also receives a detailed report.

Support and maintain

When the project is complete and the client has accepted it, part of the team stays with the client during the guarantee period. We know that some flaws might become visible after real users start using the system.

The guarantee period lasts 1 – 3 months, depending on complexity of the delivered system and amount of source code. During this time, the development team reacts quickly to client requests and improves any flaws in the produced source code at no cost to the client.

If the client has no in-house team, app maintenance is also possible. The scope of work decreases dramatically after project launch. Still, IT Craft strives to dedicate developer(s) who already know the system to save on the client's budget on software support.
Why choosing one of the best programming companies is a win for you?
Successful outsourcing strategy depends on the criteria you use to select an outsourcing programming company and how you manage the processes. You need a clear, detailed plan for managing the contract and ensuring quality control.
With a proper approach to software development for startups, outsourcing programming services gives you a competitive advantage by adding missing skills and experience.
Choosing an outsourcing programming company is a business decision that requires a detailed assessment and careful planning before making the leap.
Here is a short checklist to help you design your best scenario on programming outsourcing:
Is there a clear, final list of requirements? Will it
change?
What is project's top priority: quality? costs? timeline?
Is time difference between you and an outsourcing team important to
you?
Is there any source code available? Do you want to enrich it with
new features?
How many users are there? Do you plan to grow?
Do you want software maintenance, too?
Write down your answers. Use them to refine your search criteria.
FAQs
What are three different types of outsourcing?
The three main types of outsourcing are based on geographic proximity.
They include:
onshoring – client and contractor reside in the same country
nearshoring – contractor is located in a neighboring country
offshoring– contractor has its office in a distant location
Generally, if you live in North America, EU, or Australia, onshoring is the most expensive option, offshoring the cheapest, and nearshoring lies somewhere in between.
Apart from geographic distance, cultural fit is important. Cultural nearshoring can be an effective alternative.
What are the positives of outsourcing?
Advantages associated with outsourcing usually include:
Fast access to a wide talent pool.
Focus on a company's core activities.
Increased technical flexibility.
Access to cutting-edge technologies and competencies.
What is outsourcing and how does it work?
Outsourcing means an outside party (a company or a freelancer), not affiliated with the client, takes over a part or all of a certain project.
This is how it works:
A prospective client contacts a company with a request, including requirements.
The company provides the client with an estimate and a project plan
based on information and requirements sent.
The parties negotiate on details, come to an agreement, sign a contract.
The contracting company delivers the project, in accordance with timeline and requirements in the contract.
The client does acceptance testing. The product is adjusted, if needed.
The contracting company supports the product during post-release guarantee period.
What are the pros and cons of outsourcing?
Outsourcing makes it possible to balance costs, quality, and
workload.
The main benefits of outsourcing include:
Adding missing expertise
Project head start
Cost savings
Process improvement and flexibility
The cons of software outsourcing include:
Possible loss of control on fundamental business processes
Shortage of internal skills
Risks of quality degradation in the long run
Becoming too dependent on an unstable supplier
To make an informed decision, carefully weigh these factors.