A marketplace benefits both businesses and customers. It keeps businesses visible virtually and provides a safe space where customers meet sellers.
Businesses benefit from platforms where they can:
list their offers
advertise and promote
meet relevant prospects
sell safely to customers
In 2020, shopping had fundamentally changed. It had to. Online is safer.
And during this still-challenging time, marketplace development has become extremely popular.
Online marketplaces replace customers wandering in malls and window shopping along city streets. Now customers can wander virtually—and buy safely.
Is designing a marketplace difficult? Yes.
It is best to follow in the footsteps of today's online marketing giants: launch a Minimum Viable Product (MVP) first.
Many of today's giants, such as eBay, Kickstarter, or Etsy, began their successful journey by first opting for marketplace MVP development. Responding to user valuable feedback, they gradually improved their products and grew to billion-dollars-worth businesses.
Learn how to create an online marketplace in this article. It helps pave your way to a successful launch and registration of your first customers on your platform.
Best practices for creating an MVP for an online marketplace
Not sure how to build a marketplace? Use the tried-and-true MVP approach.
An MVP is a safe, relatively low-cost way to verify a business idea. Instead of doing expensive launches of fully fledged software, a business starts with a basic version targeting a narrowly defined user problem and solving it. The business gets a response from the market. Based on user feedback, the business refines its idea and works on its next launch.
Rinse and repeat.
A good MVP helps product owners get to market soon and build a sustainable business for less. How do you launch a good MVP of a marketplace?
Here are tips to help you do this:
Start small

Determine one key activity people need to solve one of their problems. Decide how you are going to stand above your competitors (e.g., enable sales in local currency). Make a feature list. The feature list for your MVP of a marketplace lets users complete this key activity. Stay as narrowly focused as possible.

Use Agile for software development

Flexible software development is crucial for startup survival. Requirements might change when you discover important details about user needs or habits. Hence, you need a team that can work with changing requirements and launch features users want even when this means reworking part of a program.

Maintain transparency on a project

Clear, transparent communication decreases development time and costs. On one hand, you articulate your expectations ensuring the development team understands what and why it develops. On the other, the development team provides detailed reports on the work they do. This ensures you get what you expect and when you expect it.

Keep pace with the plans

A successful, sustainable business might take time. Be patient. Many startups invest considerable time and effort building a marketplace users would recommend to their friends and colleagues and also promote it.

For success, ensure you have these two roles on your project covered by reliable people:

marketing manager – responsible for marketing activities
product owner – responsible for technical decisions on a project

This balances both sides of startup development—technological and marketing.

Save where it is possible

This is where saving is possible:

Avoid expensive creative designers when launching your MVP. Use a basic design.
Third-party modules make it possible to add required functionality (e.g., for safe payments) saving hundreds of working hours.
Back-end can be simple.
Important note. For initial success, a marketplace can be simple but must be reliable. Do not save on testing, poor design of app architecture, or quality of the source code.
Follow these tips to build a marketplace MVP users will want to try.
How to create an online marketplace MVP: best five-step approach
Now let's focus on the technical side of the question "How to create an online marketplace?"
Development of an MVP for an online marketplace includes five steps. For optimal success, none of the five can be skipped or omitted. Some steps can be done simultaneously when using Agile development.
Here is the five-step path on how to create an online marketplace:
Discovery

At the discovery stage, there is laser focus on project goals. The team does a deep dive into project details to help a startup decide requirements and determine a more precise budget range.

Mapping

During the mapping stage, the product owner and development team plan a detailed roadmap. When the development path is ready, the work on the project starts.

UI/UX design

The design stage is done separately but with both UI and UX designers in sync. UI designers prepare layouts of the app screens and different visual elements (e.g., icons, buttons, etc.) A UX designer is needed when user flow is not clear. A UX designer ensures users understand intuitively how the marketplace MVP works.

Code development and testing

The code development testing stage is a series of iterations during progress on the code. Software developers program source code for present and future functionality. Software engineers with different specializations work simultaneously on different parts of the solution. When a section of source code is complete, QA engineers check it and send it back for improvement, if required.

Also, performance testing becomes crucial when rapid user-base growth is anticipated. It ensures software can withstand user influx.

Project launch

After the codebase of an MVP for an online marketplace is ready, functional, and stabilized, the development team deploys it on the production server and/or publishes the app on the app store.
The development team works continuously on one Sprint after another to deliver the software. At the beginning of each Sprint, the team sends the product owner a plan on estimated Sprint activities. At the end of each Sprint, the product owner gains access to the finished part of functionality and a detailed report on work completed.

IT Craft's expertise in building MVPs for an online marketplace
There are three main options for startups when building an MVP for an online marketplace.
Startups can:
ask a development company for help
hire freelancers
build a marketplace MVP on their own
The choice of the best option depends on managerial and engineering background and an available budget range. Still, if there is little-to-no experience, we suggest choosing a software development company. This way, startups benefit from an established workflow and accumulated expertise.
Two good IT Craft examples of how an established company decreases an MVP's time to market:
MyCarrier

MyCarrier startup founder envisaged an MVP for an online marketplace for shippers and logistics companies. Shippers find the best prices for less-than-a-truck loads by communicating directly with carriers. They can also use MyCarrier functionality to book and track their shipments.

Logistics companies optimize delivery costs by managing shipment deliveries from one place. They can also automate sharing required information. This increases the level of services without extra workload.

The development team ensured timely delivery under a tight timeline. After six months of intensive work on software development, an MVP was launched. The carrier portal was ready after nine months from the project start. This made it possible for the startup to find its first clients among big transportation companies. With new clients, the startup focused on product improvement and delivery of new features.

Upwedding

With Upwedding, IT Craft helped launch an MVP for an online marketplace for wedding services. Finding the best-suited wedding service provider can be exhausting. A young couple from the USA learned this from their own experience. They wanted to create their own marketplace for other soon-to-be-married couples. Potential customers find providers, evaluate their offers, and negotiate the cost. All using their platform.

For service providers, the service offers an opportunity to publish their services and market them to potential customers. They can include client feedback. Also, the service makes it possible for vendors to see the net income of their offer. The development team ensured algorithms for complete pricing transparency freeing vendors from tedious calculations. This made flexible pricing in the system possible.
contact us
Core functionality of a marketplace MVP
All successful MVPs for marketplaces contain unique, killer features differentiating them from competitors.
However, as long as they serve the same purpose—providing a safe space where customers meet sellers—startups need the same or similar functionality when they build a marketplace MVP.
All marketplace MVPs target two primary user groups: buyers and sellers. They also have administrators to supervise system activities and help both user groups, when needed. Three roles need relevant functionality.

An MVP for an online marketplace needs the following functionality: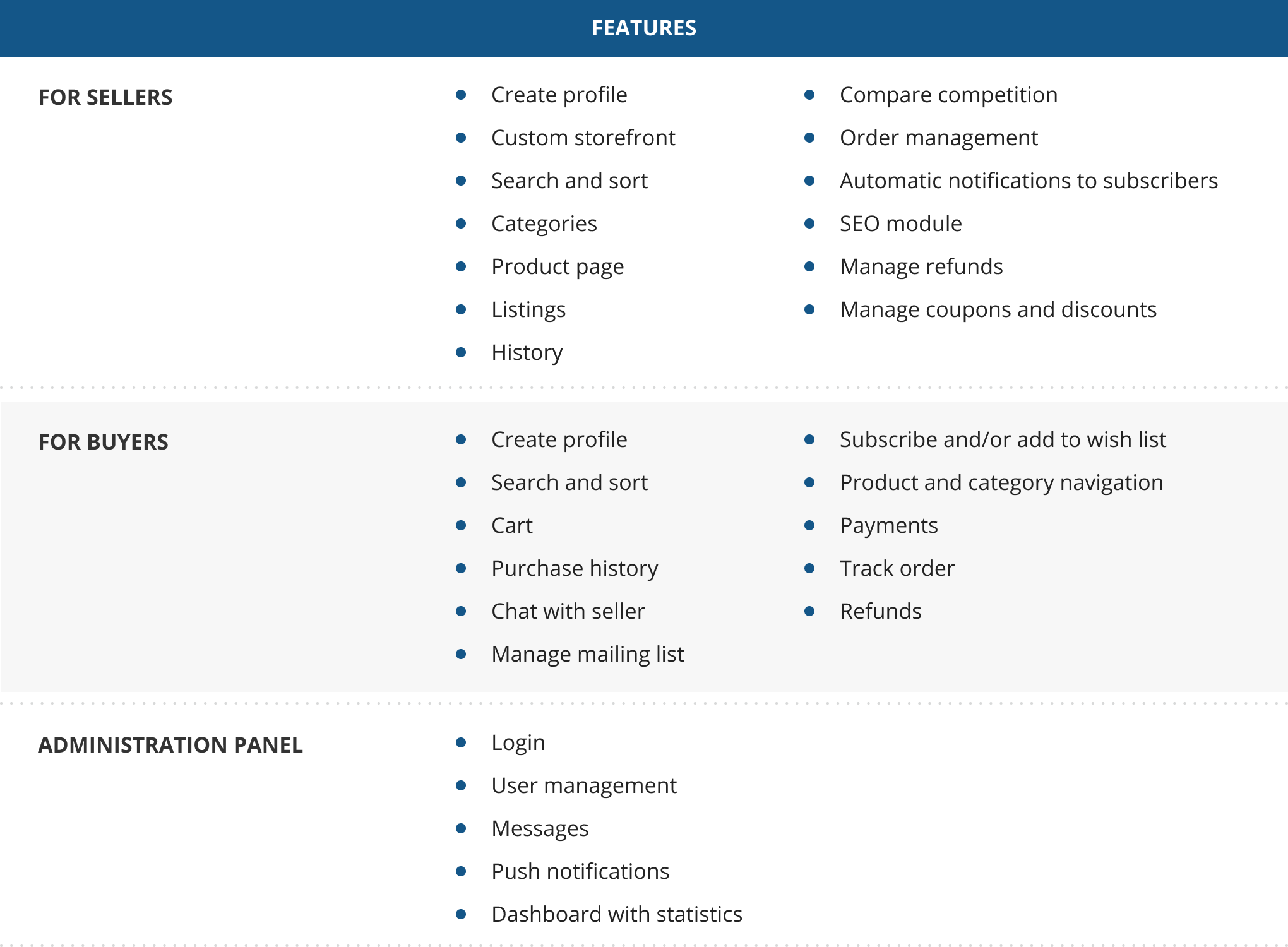 Last but not least, a mobile-first approach for a successful marketplace MVP is crucial. Users prefer online shopping from their smartphones. Ensure they can do it without stress.
Further reading: What Does Marketplace Website Development Cost You in 2020?
Final thoughts on an MVP for an online marketplace
The best time to start working on an MVP is now. Starting up is an endurance activity. It takes time until a sustainable business is ready.
An MVP is usually followed by a series of experiments to figure out what users really need. The result of the first attempt might not be as mind-boggling as anticipated. Listen and learn from the feedback, correct assumptions—then start again.
Think in advance about these two crucial points:
Why are users going to pay?
A business survives only when it has a stable base of paying clients. Think why people are going to choose your service over any competitor. Also, think about monetization (premium features? ads and promotion? transaction fees?)
Who helps you design software?
You can do it on your own. You can hire an in-house team or order single development activities at different freelancers. Or, you can find a reliable software development company and benefit from an established, predictable workflow.
Over the past 20 years, IT Craft has been helping startups succeed—and succeed greatly. IT Craft can also do it for you. This is what has made IT Craft an ideal partner for the startups that strive for a successful MVP marketplace launch:
Strong engineering background

Development teams consist of experienced professionals who keep improving their skills. A special R&D department tries new technologies ensuring your project is based on a relevant tech stack and a prolonged software life cycle possible.

Expertise in launching MVP marketplaces

Development teams have helped many startups launch MVPs for their marketplaces. They know where possible pitfalls occur and how to avoid them. Developers and DevOps help optimize resource consumption ensuring lower maintenance bills. Also, developers design flexible architecture to ensure scalability when the startup gets traction.

Immediate start

IT Craft has 280+ engineers of various specializations. It is easy to find the right team who can take over the project. The company estimates the scope then negotiates with its client on project details. As soon as they both sign the contract, the IT Craft designated team starts working. No time wasted.

Communication

The dedicated project manager and a business development manager are responsible for smooth workflow. They provide timely reports on all project activities. They always stay in touch with the client and respond swiftly within business hours on client's questions.

Post-launch guarantee support

Every project includes post-release guarantee support. Every marketplace startup enjoys 1 – 3 months of support when the same development team efficiently fixes bugs and flaws in their source code at no extra cost to the startup.
FAQs
Do you want to know what we can do for your project?
Contact us to schedule a consultation.