Most of today's tech giants were once small garage startups. Their ultimate successes center on their tenacity and diligence. Year after year, they listened to their target audience, kept improving and fine-tuning their products until they hit on a formula the market needed and wanted.
An MVP helps startups.
An MVP helps startups stay afloat.
An MVP helps startups go the distance from "here to there" much faster.
MVP development is key to a startup's success.
What problem does every innovative, startup business face? Users do not know they want the product until they try it. Even if users try it, they might need it in a completely different way. Or, they might need different options. No startup really—or rarely—knows in advance.
Therefore, MVP development is key to a startup's success. It is rarely possible to create a product an audience immediately loves. By using Lean methodology, you get closer to the bullseye through iterations. This makes it possible to polish your product to perfection in the public eye.
What is an MVP? Why is MVP so important in a startup's life?
MVP stands for Minimum Viable Product. It is a basic, limited version of a product, aimed at solving one key pain point.
Every word in the acronym is essential:
Minimum

– oftware has only one key feature set: nothing extra.

Viable

– it provides a smooth, user experience: users know exactly what they are paying for.

Product

– ready to use software that works.
MVP always solves a specific user problem, and—this is mandatory—the market is willing to pay for the offered product.
MVP is an experimental way of business development. With an MVP, a startup always strives to answer these two questions:
Does this solution tackle a real pain point users face?
Is this a real problem? Or exaggerated?
An MVP makes it possible for startups to structure the right development strategy and focus on the most important thing: validating market interest. Instead of wasting limited resources on unsolicited functionality, startups use MVP development to identify a solution to a problem then develop a full-fledged solution.
This is the common scheme of startup development: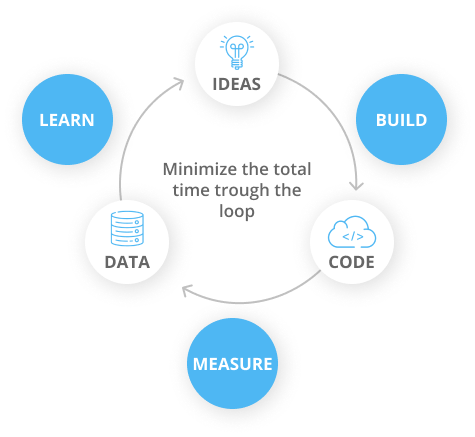 Every step of the cycle supports the next one.
Rule of thumb: one idea at a time. When there are many ideas, a startup must focus on the most promising and start implementing it.
For a startup to develop an MVP, not everyone needs to be a techie
Consider this: Jeff Weiner did no programming; he studied economics. Reid Hoffman studied philosophy. This did not block either of them from building LinkedIn—probably the most successful network for professionals worldwide.
Programming knowledge would be a valuable option when one is a startup co-founder.
Knowing clients' habits, pain points, and expectations are the keys to success.
Building an MVP for startups: things to consider
Every journey is more pleasant with a defined destination and a map to get there.
Being a startup is a long journey: you need a roadmap. No, not a treasure map to show a direct path to a chest full of gold coins (if only…).
However, a startup roadmap helps you find growth opportunities in grey areas or pivot in a place that seems to be a dead end.
Below are tried and tested practical steps to help you prepare a startup roadmap:

1 Is your solution an answer to a real problem?
What is substantial pain point for your clients?
When a problem does not exist in other people's minds and no one is trying to solve it by improvising, it might be not worth a startup.
Often, when people experience a pain point, they do not know what they need to solve or tell you explicitly what they need.
Rob Fitzpatrick's book, "The Mom Test: How to talk to customers & learn if your business is a good idea when everyone is lying to you" is well worth a read. In it, he discusses in depth how to prepare and conduct interviews in order to get relevant information.
Also, Ryan Levesque has designed the successful ASK Method. This method helps fresh-baked entrepreneurs discover what is important to their audience.
By asking questions, you can determine if the problem exists and find possible ways you can tackle it.
2 List your ideas
A profitable idea for a startup MVP can be succinctly described in one sentence. It describes a pain point and offers a path to solution.
Develop several ideas. Imagine:

Keep all your ideas on the list, even the most unusual. You might need this list when you start working on improving your app in the future.
3 Prioritize your ideas
Based on priority of appearance on your MVP feature list, there are three levels for startups ideas: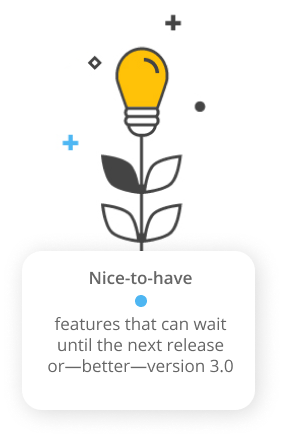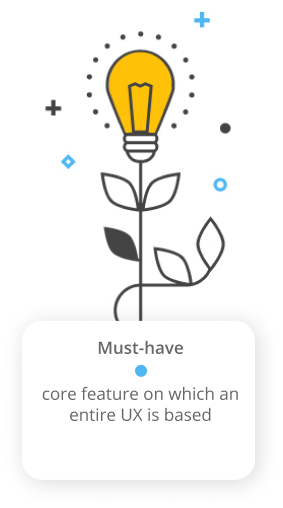 How do you know what your clients consider important?
Imagine you delete a step or a feature from your product. If users abandon your product because it lacks this feature, then it is essential. Reinstate it.
Not sure? Ask your audience. Or, get in touch with our business analysts to sort out priorities on your feature list.
During stages 2-3, you can start testing your startup by launching a Facebook campaign and collecting prospects' email through a landing page even before you start MVP development.
Interest? This is probably, the best time to start designing software.
No interest? You might need to refine the idea.
4 Determine what is possible for your given budget and timeline
Set up realistic expectations to avoid unanticipated costs: the amount of work on MVP development starts at $5,000, mid-range at $35,000-$50,000.
Be aware: it could easily skyrocket to $150,000—or more. Avoid this by establishing well-defined parameters so this does not happen. We can help you define these parameters.
To avoid a startup's common dilemma—running out of money before completion and ending up with a half-baked solution.
A few words of advice:
Set up realistic expectations to avoid unanticipated costs.
Determine the right implementation strategy to balance risks and expenses.
To adhere to budget and timeline constraints, startups often turn to an established, reliable outsourcing software development company.
For the best outcome, make a list of requirements in a set form and send it to several companies. Ask them to fill out the form, so you can correctly compare quotes. Check out responses, compare numbers and reasons behind estimated numbers.
We prepared an ultimate guide for hiring outsourcing software developers to help choose the right team for your project.
Click on the link and get a copy sent onto your email.
5 Set up your success criteria
To know you are progressing, you need milestones This ensures you are moving in the right direction.
Set up the goals for your solution based on your business plan. For example:

Focus on fine-tuning them.
In case you do not reach your intended goals, reach out to your audience and ask what is stopping them from using your product.
You might need to take your list of ideas and figure out a backup plan.
6 Determine your next steps
When you are building your solution, it is equally important to plan one-step ahead. Quite often, startups get traction, enjoy interest but struggle to scale.
Growth potential needs to be visible quite early.
Can you answer these questions?
How does your startup manage technical debt when you expand functionality?
How does your startup respond to growing expenses?
Where does your startup find investments to add new features? To the MVP?
You will probably have to face all these and many other questions eventually.
Your answers do not have to be precise, but you should at least have an idea of how to handle emerging problems when developing your startup.
You must also consider the right price point of your product. Sometimes users enjoy the free product but do not upgrade it to a pro version. Your startup needs to keep that in mind and offer only basic functionality needed to taste the product.
MVP creative services for startups: what makes outsourcing software development a profitable strategy?
Time to market.
Outsourcing software development frees up resources which startups can use to speed up their travel from here to there. Keep key expertise in-house and outsource all the rest. A startup's crucial competence is knowledge of the target market.
Many startup founders turn to outsourcing software development companies specializing in MVP software development for startups to save their most valuable resource: time.

It is good to know the main benefits you enjoy when using MVP services for startups from an experienced, reliable company:
Agile or Scrum approach to software development – ensures flexibility on a project so the team can respond rapidly to unforeseen challenges.
Full-cycle development – supports the entire production pipeline, from BA through design, programming and testing to DevOps.
Coding standards – established teams have their own standards and conventions producing source code that can be easily read by other programmers (= ensure its maintainability).
Proactive attitude – source code should not be done based only in accordance with the specifications. When there is no proper reflection on how the system works and specifications miss something crucial, source code might end up with unforeseen flaws, e.g., security breaches or exposure of sensitive information. This is quite the case under always-changing requirements.
To sum up, it is a long journey for a startup from initial idea to overall success. But it can be sped up through the right strategy by building an MVP and using it to figure out the target audience's pain points and expectations, then finding a team ready to work flexibly in a changing environment.
Bonus
Unsure how to choose the right company for your project?
Download our special checklist for hiring software developers and start selection process today.
Yes! Please send me the checklist!

By submitting your email, you accept Terms and Conditions. Please refer to Privacy Policy for more details.