APP AND SOFTWARE DEVELOPMENT FOR startups
Work with a dedicated web development company focused on your startup.
See tangible results of your startup app development with every sprint.
Save up to 4 – 5 weeks on software development for startups with our Startup Booster Toolkit.
20

years

of startup
development

280+

professionals

number of
tech experts

3–5

months

average app
development time
Software development services for startups
Every app needs a well-planned and agile core for future maintenance and updates.
Let's make it happen! Here's how:
MVP development

As a startup with a limited budget, you need to present your idea to the world as quickly as possible. With IT Craft, we streamline your product to core features only. Getting your core product into the market quickly to test user response saves you money, time, and resources.

Project rescue

You already have some source code but need a stronger team to keep pace with your timeline. You get a comprehensive technical audit, a recommended project path, and assistance to get back on track.

Full-cycle development

You get any and all expert services to handle your software development and maintenance requirements in one place. You focus on what to deliver and to whom. You get technical implementation and all the support you need to achieve your dream.

Product pivot

When user feedback suggests a different path to successful market acceptance, no need to panic.

No problem. No lost time. Together we figure out the best option.

You get changes implemented with minimum hassle.

Technology migration

To ensure a fast and efficient development process, startups often rely on third-party services. At IT Craft, we design mobile app architecture to ensure fast migration when a service shuts down or if you decide later to replace any third-party utility with custom code.

Team augmentation

You seek growth while your team is overwhelmed with an infinite number of tasks. Hiring and onboarding new team members are not what you want to do with your time. Instead, hire a software outsourcing development team for the same price. You get needed expertise to keep pace with your goals—and save a lot of time and hassle.
Do you also want to be on the list of flourishing companies?
Tell us your startup idea and get your roadmap to a successful launch.
What you get—what you can always count on
with IT Craft

:
MVP development for startups is crucial
MVP stands for Minimum Viable Product, a basic, limited version of a product, aimed at solving one key pain point.
Here is how you build an MVP then build a sustainable business out of it:
Should you or shouldn't you use Scrum for startup development?
Scrum helps form—and keep on track—a team able to manage software development for startups and provide timely delivery under changing requirements.
Scrum focuses on an iterative and incremental approach towards a clearly defined goal. Choose Scrum for startup development when these following points are crucial:
High adaptability
Open communication and active collaboration
Absence of micromanagement
Automation of processes
Improved process control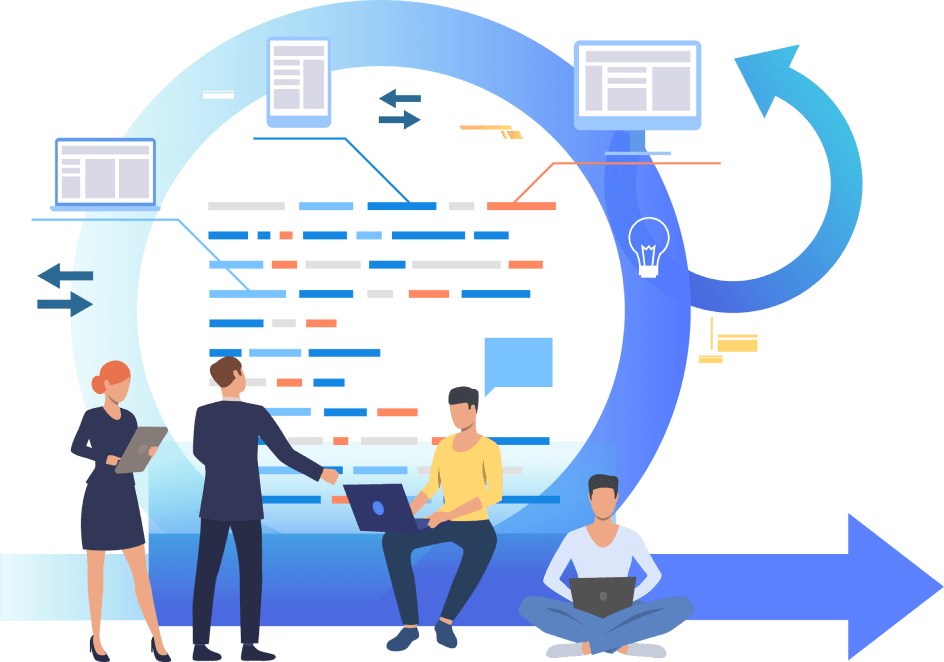 Save development time with Project Booster Toolkit
Each project has its special features and unique characteristics, but still shares common principles with other projects. Project Booster Toolkit can be used as the core for your project. This saves developers' time and saves you money. The toolkit contains a set of already-prepared building blocks for a new system and proven solutions for automated testing. You choose the blocks your product absolutely needs. IT Craft merges them into a seamless app, then tests and delivers to target platforms.
No hassles. No headaches. All promises kept.
Onion Architecture
JWT-Token Authentication Service
OAuth 2.0 Authorization Service
User Registration Module
System Settings Module
Data Caching Module
Email Notification Module
Content Service
Localization Module
Logging Module
Job Scheduler Module
Zendesk Integration
Database manager
Web API client
Logging and soft check
Integration of UI and API tests in one application
Test runner
Multi-threaded test run
How you save on startup development with Project Booster Toolkit
Download A Guide to Outsourcing Software For Startups to get the answer how outsourcing software development will work for your startup.
Resource saving software development process for startups
Can software development ideas for startups be implemented faster and for less? Of course, they can.
You can save when working with IT Craft startup app development company. Here is what makes resource saving app development for startups possible:
1

Agile

The Agile approach makes software development for startups possible. A startup is research. Using app development, startups validate ideas. You build an MVP, validate your hypotheses, and make updates based on feedback you get. This is only possible when your team is Agile. We develop what you really need to succeed, not what is on the list of requirements. This saves you months of developing useless code.

2

CI / CD

Continuous Integration / Continuous Delivery makes several releases a day possible. Users get new updates without being distracted from their work. Developers focus on significant activities. They have more time to focus on code development. Introduction of CI/CD best makes instant deployment possible.

3

Test automation

This works best for fully functional projects with a large codebase. By introducing test automation on your project, you free up human resources instead of hiring more and more engineers. Machines do boring, repetitive, routine tasks, leaving more time for your team to be creative. You are always assured new features do not adversely affect old functionality